The best hideaways with outdoor bathtubs
Penned on the 15th May 2023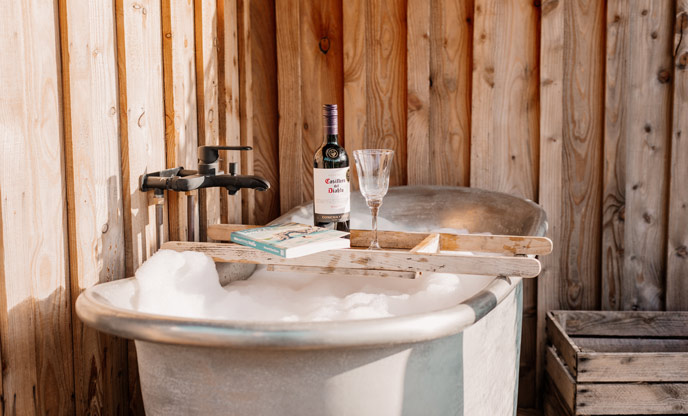 Outdoor bathing offers you a magical, immersive way to experience nature like never before. As the stars illuminate the sky above you, embrace a magical dip in one of our dreamy alfresco bathtubs. This unique feature will add something truly special to your stay. After a blustery walk and delicious pub lunch, head back to your romantic haven and treat that special someone to a relaxing bubble bath and glass of their favourite. Here is a selection of our bespoke getaways with outdoor bathtubs… turning daydreams into reality.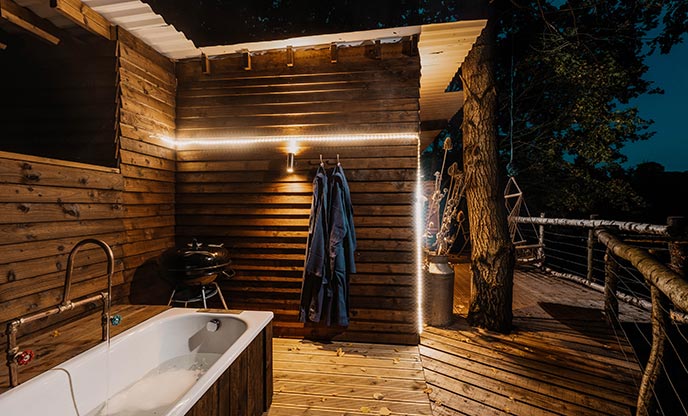 Tawny Owl Treehouse is the optimum of a Unique hideaway. It holds a special place in our hearts, being our very first hideaway in Cumbria. Nestled amongst the treetops, the magic of this quirky retreat is all encompassing and awe-inspiring. As you take your first steps across the bridge to your woodland paradise, you will discover the alfresco bathtub sitting pretty with views overlooking the idyllic lake and sweeping countryside. There is also an outdoor shower, should this take your fancy! Your busy mind will instantly feel at ease here, it is the perfect place to practice forest bathing. Forest bathing allows you to slow down and feel more. At Tawny Owl the trees surround you in a safe cocoon, take this time to engage your senses and allow your mind to be absorbed by nature… the perfect antidote to life's everyday pressures.
Inside, you will find a mix of industrial features and sumptuous soft furnishings, creating the most inviting ambience. As dappled sunlight dances on the deck, enjoy your morning coffee on the lovely swing sweet and get lost in your favourite book. For lovers of the outdoors, spend your days exploring the picturesque Lake District, knowing you can return to your peaceful haven for a relaxing starlit dip, listening to the wind kissing the trees. Whether it's a romantic break or solo adventure, if you're looking for an utterly special space, then Tawny Owl might just be the perfect getaway for you.
Explore our collection of treasured things to take glamping, it's got some wonderful ideas to make your stay extra special.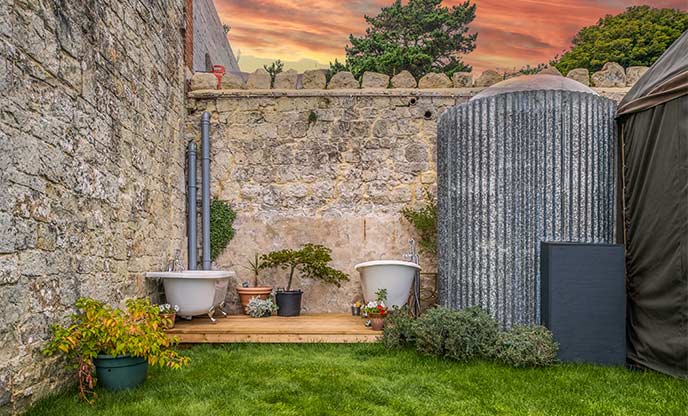 Sea, stars and serenity… Stargazers Retreat is our dreamy island escape with wonderful panoramic countryside and sparkling sea views. You will fall in love with its special charm and unique character. This heavenly glamping abode is the ultimate family retreat. The little ones will love climbing up the ladder to the mezzanine floor and stargazing out of the traditional Toono window. And for the adults, you are in for a truly special treat… two alfresco tubs, sitting side by side in tranquil seclusion. When the kids are tucked up in bed, enjoy some precious quality time with that special someone and bathe side by side under the stars. This area has been voted one of the top ten spots in the UK for stargazing, you are promised a special display on a clear evening. The yurt itself is oh-so-cosy, the perfect all year round escape. And its vibrant colour palette is utterly endearing. Not to mention, there is so much beauty just waiting to be discovered on the Isle of Wight. This hideaway has all the ingredients for the most memorable retreat back to nature.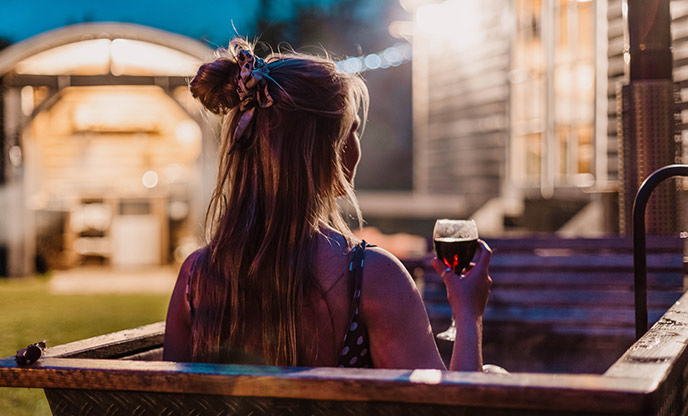 Pretty Posy… our pocket-sized paradise in Somerset. If you're dreaming of a romantic countryside escape, you will adore a trip to Posy. She has the sweetest character, with lots of lovely quirks. The unique alfresco tub is wood-fired. Treat yourself to a twilight dip, glass of wine in hand and immerse yourself in the tranquillity this hideaway offers. Inside, you will find wooden, chic interiors. The clever design of this hut allows the comfy bed to unfold from the wall, allowing you to utilise the space perfectly. Outside is the rustic outdoor kitchen, complete with cooking spices and a variety of utensils. After an intimate dinner, enjoy a steamy soak in the bathtub, candles glowing softly. Or why not embrace a refreshing cold dip on a peaceful morning, recommended to clear a sleepy head and set you up with a positive mindset for the day ahead. After, explore your surroundings, strolling through the idyllic countryside overlooking neighbouring hamlets and beautiful churches. Posy truly is a dream come true.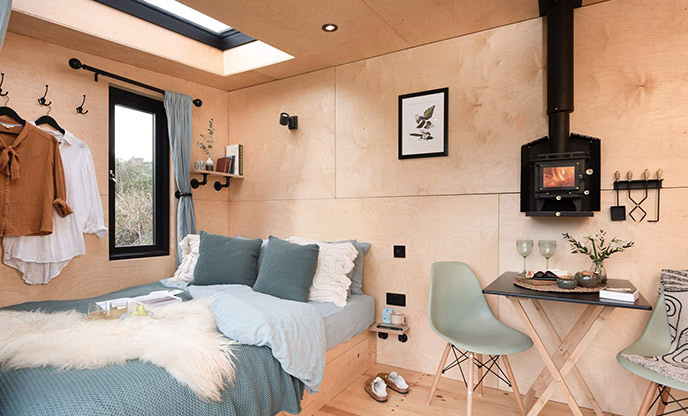 Re-awaken your senses at our scandi-chic, rustic cabin in Cornwall, close to the rugged Bodmin Moor. Its tranquil unspoilt surroundings feel a whole world away from reality, the perfect place to practice mindfulness in nature. Melt into the dreamy hammock and get lost in your favourite book, as the sound of birdsong fills the air. Or why not relax your mind with some yoga? The whole setting is utterly enchanting. Pretty festoon lighting surrounds the blissful alfresco tub, creating a magical ambience. It is utterly luxurious, best accompanied with a glass of fizz! Adding to this is the unique fire pit area, perfect for snuggling up and reminiscing over fond memories. When it's time to rest your head, immerse yourself in the earthy charm of this cabin and enjoy stargazing from the comfort of the cosy double bed. Not only is there a stargazing window, but the full length window at the end of the bed offers you the most spectacular view of your beautiful surroundings.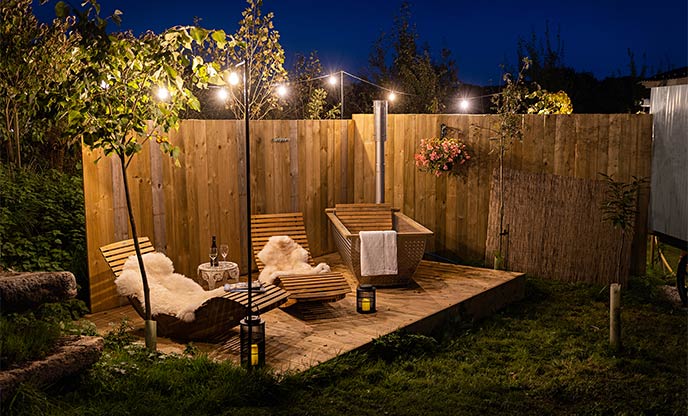 These gorgeous shepherd's huts are perched in a pretty meadow just a short distance from wonderful Dartmoor, boasting an array of picturesque walking routes. Their interiors are utterly dreamy and oh so romantic. Both huts have been crafted with love and to a luxurious standard, but have their own characteristics and aura. Rodin's Retreat is soft and sweet with olive green furnishings, whilst DaVinci's Den is rich colour palette creates the most warming romantic space. Both huts are equally as romantic and simply gorgeous. What's more, they both have their own totally secluded decking areas complete with sun loungers and quirky Swedish bathtubs… wood-fired of course! If you are looking to getaway with another couple or friends, these two hideaways are the perfect solution. A special place to retreat together, but with your own private areas to enjoy. These heavenly retreats have their own stargazing windows, directly above the sumptuous king-size bed. Here, you will be transported to a magical fairytale, as night falls and stars illuminate the sky above you. Treat your loved one to a bespoke getaway at one of these magical little retreats!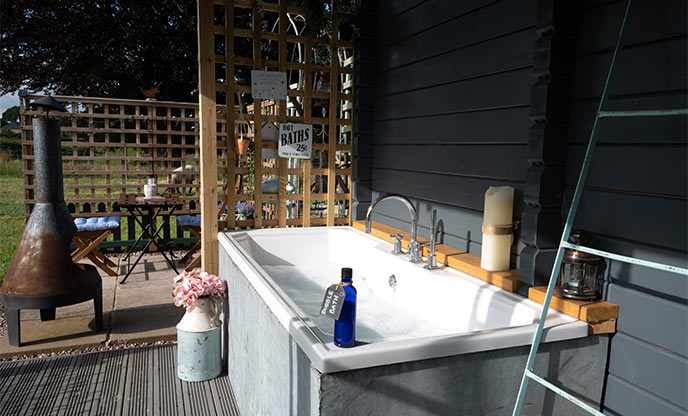 Gorgeous wildflowers surround this cute cabin in Staffordshire. The heavenly bathtub sits pretty on the veranda, totally secluded and looking out over the glorious countryside surrounding you. Treat yourself to a relaxing bubble bath after a day of exploring lovely Staffordshire. Guests are encouraged to use pedal power to explore the local area, there are free-to-borrow bikes available for your use. Or, why not take a romantic stroll along the Staffordshire Canal or head to Cannock Chase for the most serene settings. As dusk falls, return back to your humble abode and light the warming wood-burner, keeping you toasty throughout the seasons. This eco-retreat is simply idyllic and a dip in the gorgeous tub is an absolute must, completing your romantic getaway to The Potting Shed.
You can also find Shepherd's View onsite, a heavenly little hut with a gorgeous view and a dreamy wood-fired bathtub.
Little Lesquite |Shepherd's Hut |Cornwall |Sleeps 2
This magical Cornish haven promises far-reaching views of the historic Bodmin Moor. These views can be admired from the stunning al fresco bathtub, situated on the secluded decking area, tucked away behind the hideaway. During your stay, rambling walks, pub lunches and wildlife spotting will be on the agenda. You will feel utterly content at this wholesome getaway, it is the sweetest little space, finished to perfection. There is a cute garden area, perfect for soaking up the Cornish sunshine and indulging in a scrumptious picnic. Or take a seat on the front bench with a G&T in hand… bliss! As the sun sets over the mystical Helman Tor, fairy lights begin to glisten, creating the most magical, immersive atmosphere. Now, it's time to pour a glass of your favourite and head round to your secluded decking. The dreamy copper, roll-top bath takes center stage, bathe under the stars for the most unique experience… it will definitely be one to remember.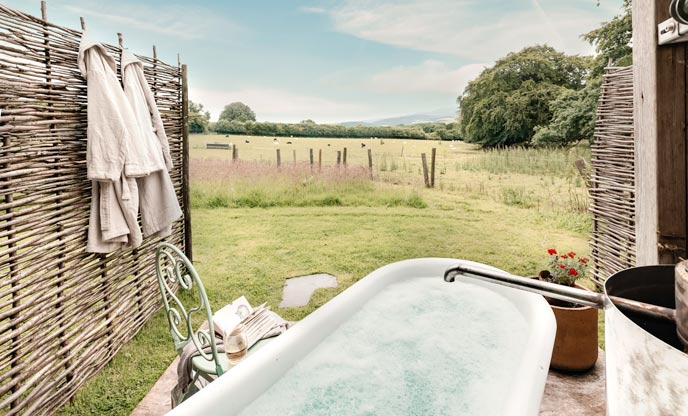 Little Links is a charming family-sized yurt, nestled in the Devonshire countryside. With views out to Dartmoor National Park, this hideaway is in the perfect position for exploring this truly gorgeous corner of Devon. Not only does Little Links have an outdoor bathtub that is heated by wood-fire, but it also has its very own wood-fired hot tub and there's even a barrel sauna for guests to book during their stay. If you are looking for the idyllic hideaway for a mindful retreat to nature, then look no further, as Little Links really does tick all the boxes! The yurt itself completes the magic, it is light and airy with beautiful furnishings throughout, creating the perfect ambeince for the most peaceful night's sleep. And, with plenty of idyllic Devonshire countryside to discover, the location is nothing short of a dream. You are spoilt for choice with wonderful activities for a family day out.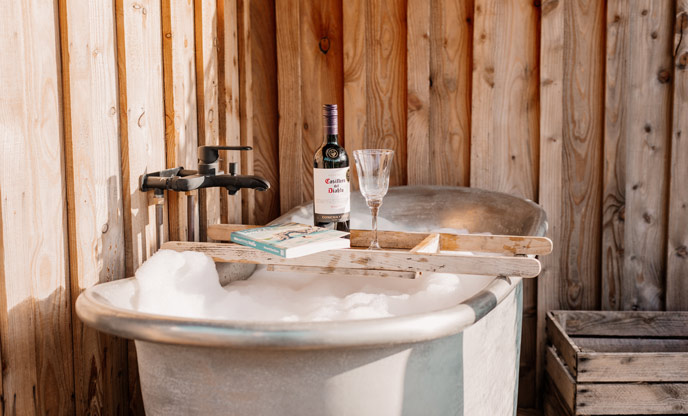 Climb the path to find a retreat that is quite simply out of this world. As you step inside your humble abode, you are welcomed by the warmest aura. The interiors are subtly lavish and with a vast array of open windows, the outdoors is welcomed in. Nestled in a valley close to the quirky market town of Totnes, full of eclectic independents and an array of wholesome eateries, you'll love exploring here! Once returning to your humble abode, run yourself a luxurious alfresco bath as the sun begins to set, pour yourself a glass of your favourite tipple, and sink into the bubbles. Similar to Little Links, you are spoilt for choice and Brownscombe Roundhouse as you also have your own private wood-fired hot tub! What a dream...
Brownscombe Tabernacle is also situated on the same site as the roundhouse and has a gorgeous wood-fired Hikki bathtub. Take a look here.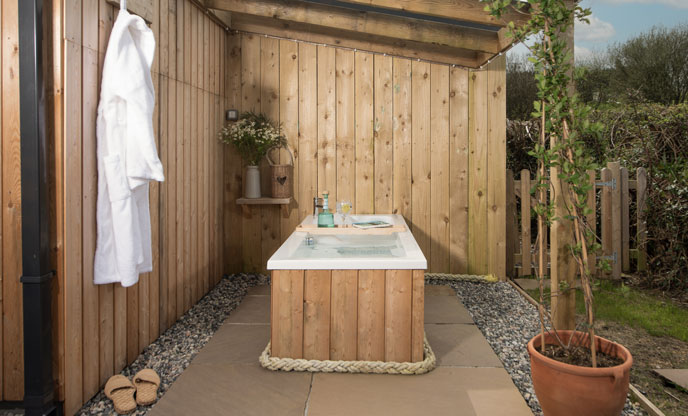 As you step outside this dream-worthy cabin you can't help but admire the spellbinding view. The best spot to take in this sweeping vista? The alfresco bathtub of course! When bathing in nature looks this good, why would you ever shower and take a bath inside again? Pour yourself a crisp G & T and simply sink into the bubbly tub and watch your worries melt away. The patio where the bathtub is situated truly is a dream. There's a barbecue for outdoor cooking and a quirky outdoor wood burner. After your soak under the stars, why not light the fire and cosy up with marshmallows and a steaming mug of sweet hot chocolate? Ginger Hideaway is a space where all your dreams come true.
Nellie's Nook | Shepherd's Hut | Devon | Sleeps 2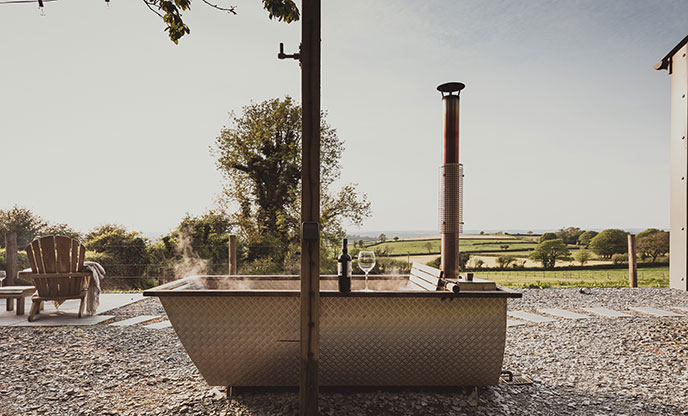 Soak in the dream-worthy ambience of this romantic haven, nestled between Dartmoor National Park and the Tamar Valley. Luxury living is promised at this serene Devonshire sanctuary, boasting stunning interiors and a magical outside space. Here, you can indulge in a slice of rural life, admiring sweeping vistas of patchwork farmland, as cattle and sheep quietly graze in the field beyond. Spend your days rambling across the moors and discovering the quaint nearby villages, before returning to Nellie's Nook for a romantic moonlit eve. The wood-fired bathtub takes centre stage, positioned perfectly to admire the view. As the sun slips away, creating golden and lilac hues across your retreat, pour a glass of bubbles and hop into the streamy alfresco tub. Pretty festoon lighting illuminates the outside space and the warm glow from the flickering fire pit is sure to keep you toasty after you've hopped out of the bathtub. Embrace romantic fireside moments, sharing stories under starlight with a warming hot chocolate or soothing glass of red, the choice is yours! Nellie's Nook promises a restorative break, where you can slow down, relax and reconnect in a spellbinding location.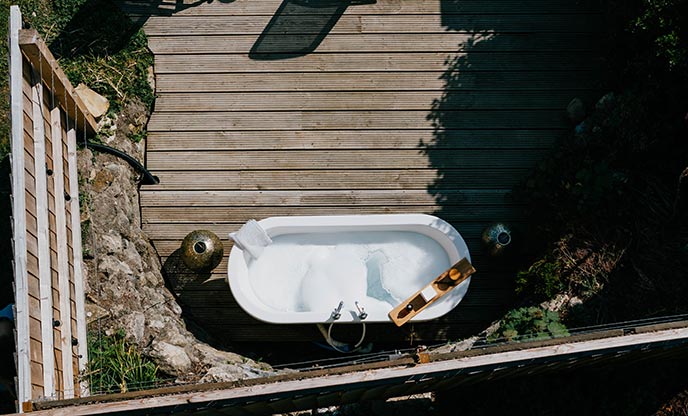 How does island life sound? This heavenly circular abode, nestled at the most southerly tip of the Isle of Wight is just the spot to retreat too. Home to its very own microclimate, with some of the sunniest summers and warmest winters, it's the perfect all-year-round retreat. Soak up the blissful sunshine as you sit back and watch the rays dance across the ocean waves, the view here is truly breathtaking. Roam the lush green garden, cook over flicking flames or delve into good read on the sunloungers. The secluded outdoor bath is oh so special. Whether you prefer a morning dip to refresh for the day ahead or would rather unwind in the bubbles as stars twinkle above, the outdoor bath at Lazydays is just idyllic! This part of the Island has actually been voted as one of the best stargazing spots in the UK, so you're promised a dazzling display. When you're feeling snoozy, head inside the yurt and continue stargazing through the traditional Toono, softly lulling you to sleep.
Embrace the magic of bathing in nature at one of our heavenly retreats with hot tubs and outdoor bathtubs, to make your stay that little bit more unique.