Best eco-friendly hideaways in the UK
Penned on the 17th August 2022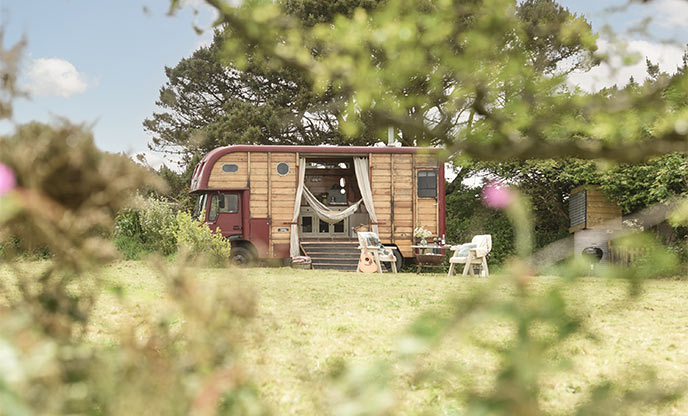 If you are deciding to have a staycation in the UK, you've already taken a step in the right direction to a more eco-friendly getaway. A glamping retreat allows you to appreciate the beauty of our natural surroundings, whilst reducing air miles by choosing to holiday a little closer to home. We have put together a selection of our favourite eco-friendly hideaways, from eco-chic shepherd's huts to completely off-grid cabins. We will also be sharing our tips and tricks on how to have a 'green' getaway full of fun new experiences and adventures…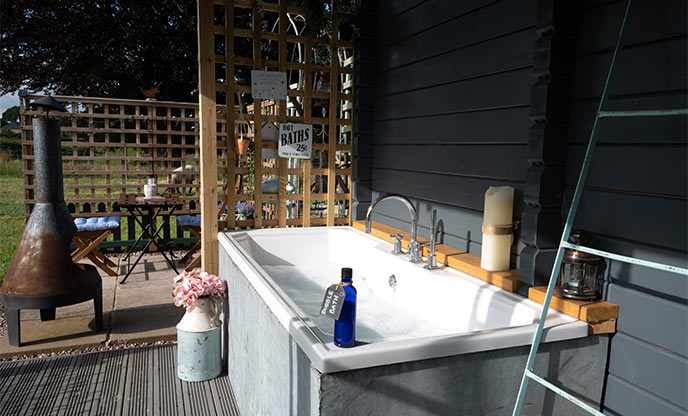 Our lovely cabin in Staffordshire is the perfect eco-getaway, nestled amongst unspoilt woodland and picturesque countryside. Feel utterly at peace in the delightful al fresco tub, such a dreamy spot to unwind and watch the natural world go by. The cabin is surrounded by a gorgeous wildflower meadow, with native hedging plants and a 'long grass' policy during the spring and summer months to attract pollinators. If you are a wildlife lover, there are bird feeding stations, an insect hotel, hedgehog house and bee feeding station all on site.
Using local, seasonal produce is a great sustainable alternative to shopping at a large supermarket. The lovely owners provide fresh eggs from their farm, free of charge. Breakfast and barbecue hampers are also available to pre order, everything is produced on the farm or from a local award-winning butcher. What's more, you're welcome to help yourself to seasonal fruit and veg from the shared vegetable patch, there are so many benefits of seasonal eating. As tempting as it might be to reach for the exotic fruit and veg that we associate with summer, it is important to embrace in-season fruit and veg from our own home soils. Some delicious examples include; courgette, squash, radish, tomatoes and berries. This not only reduces our carbon footprint but also connects us with the cycles of the natural world. The Almanac 2022 offers some great guidance on seasonal eating.
Where possible, items are supplied to guests in refillable bottles and all cleaning products are eco-friendly, supplied by a local plastic free shop. Solar panels are used to help supply electricity to the hideaway. The owners encourage you to use pedal power to explore the beautiful local area, kindly offering free to borrow bikes. Just around the corner is Loynton Moss Nature Reserve, which boasts a rich, diverse wetland. Trentham gardens has awards winning scenery, whilst Cannock Chase is perfect for walking and cycling.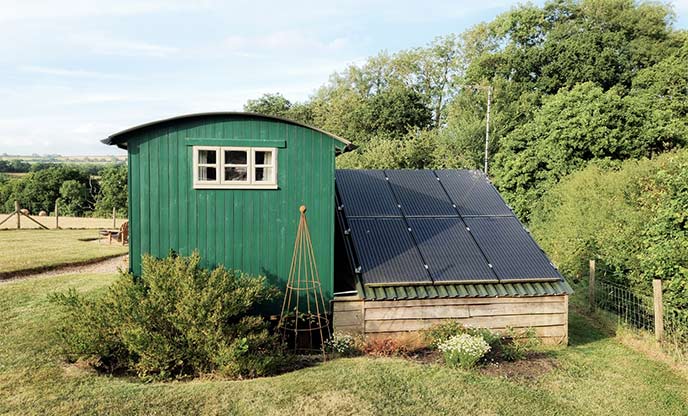 From its homely décor to glorious outside space, you will fall in love with this little slice of heaven! The incredible owners have really gone the extra mile to provide the greenest getaway possible. Thoughtfully refurbished with reclaimed wooden furniture, handmade curtains and cushions, the interiors are simply stunning. This dreamy hut uses low energy lightbulbs and is powered by 100% renewable energy from its solar panels. The garden is extra special and has been planted to complement native wildlife, along with sweeping countryside views as far as the eye can see. There is even a bicycle storage in the outside shed, so don't forget to bring your bike to explore your unspoilt surroundings.
Again, we encourage you to shop locally, Thorne's Farm Shop is just a 30 minute walk away from this heavenly retreat. You can even pick your own berries and green beans, as well as other dry goods in zero waste dispensers. Why not have a go at making your own berry jam to compliment a delicious Devonshire cream tea? Or visit a local pub, The Ring of Bells is a favourite, serving locally-sourced and incredibly good food, the perfect pit stop whilst exploring the countryside. Evenings at Shepherd's Sky Super Hut will be spent getting cosy around the firepit before rising with the sun as it creates delicate hues of lilac and amber across the picturesque countryside hills.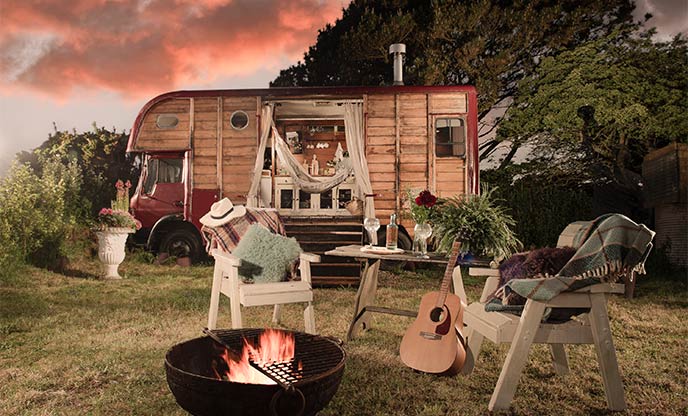 The charming Lady Oakley is full of rustic beauty, secluded in the tranquil Cornish countryside. She offers a wonderfully peaceful escape, with unspoilt surroundings making the perfect place to practice mindfulness in nature. If you are a keen yogi, there are also plenty of serene spots nearby for getting into the flow, or you could take part in a nearby yoga class in St Ives. Switch off from the pressures of daily life and experience a digital detox as there is no Wi-Fi or TV at Lady Oakley. Instead, turn on the Roberts radio and listen to music play softly in the background on a balmy summer evening. The off-grid bathroom is just a few steps away from the horsebox, complete with shower, sink, compost loo and the sweetest tiny bathtub!
Located in the quaint village of Zennor, this hideaway is in reach of the gorgeous St Ives. Here, you can support local businesses at the many vintage shops, art galleries and restaurants. Not only is it important to eat locally, but it is just as important to eat consciously. There are many health benefits of a veggie/vegan diet, as well as its overall positive effect on the environment. We have put together a selection of our favourite vegetarian and vegan eateries in Cornwall, with a few suggestions near St Ives.
As the evening draws in, head back to this heavenly haven and sink into the hammock for a spot of stargazing… pure bliss. You will be transported into a peaceful fairytale at Lady Oakley… your four legged friend is welcome to come along for the adventure too!
Otter's Holt | Shepherd's Hut | Devon | Sleeps 4 | Hot tub | Wood burner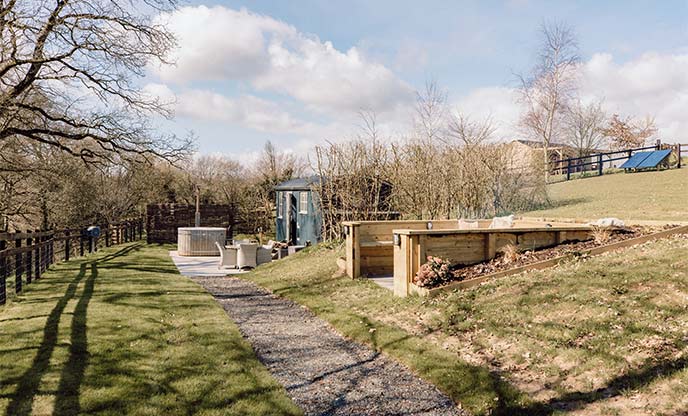 If you're looking for a 'green' getaway complete with all the luxuries then Otter's Holt is the hideaway for you. Situated in the glorious Devonshire countryside, you may be lucky enough to spot a variety of wildlife. Herons, deer, badgers, otters and even beavers are known to have made a secret home by the river bank at the bottom of the meadow in which the shepherd's hut sits. In keeping with its luxurious feel, why not pack some essential oils to enhance the experience of your trip. From calming lavender to earthy cedarwood, we have put together a helpful guide on what essential oils to pack for your glamping getaway.
Otter's Holt is solar-powered, there is no mains electricity, making it the perfect hideaway for an undisturbed retreat. There is enough power for the lights and phone charging. Perfect for a family escape, the inside space has been cleverly designed with a sumptuous double bed and the sweetest bunk beds for the little ones. As mentioned, this dreamy haven doesn't fall short of luxuries, from a wood-fired hot tub to a delightful pizza oven. Who knew a retreat back to nature could be so lavish! If you can pull yourself away from this heavenly hut, Wildwood is home to a variety of native endangered species from the red squirrel to wolves. Their aim is to help repair these amazing animals' habitats. There are also many quaint surrounding villages with narrow streets, thatched cottages and country pubs to discover.
Beavers Lodge Safari Tent is on the same site as this picture perfect hut both hideaways are great for an eco-getaway.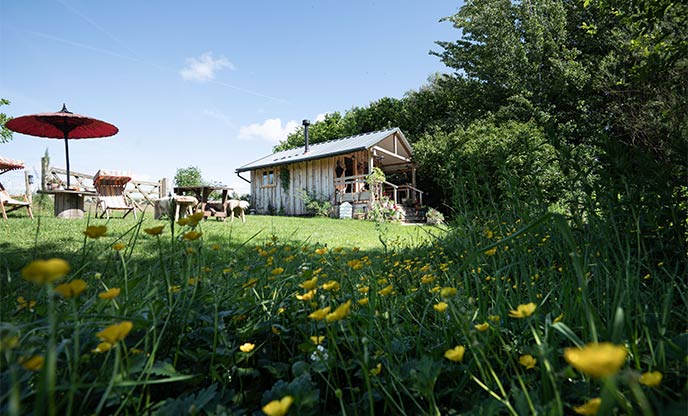 It's time to go off-grid at Lazy Bear Hideaway - our quirky nordic cabin tucked away amongst peaceful woodland in Cheshire. Natural light floods through the large windows and the solar lamps and log burning stove will provide a warm glow whatever the season. Lazy Bear is completely off-grid, making it a very eco-friendly retreat. It allows you to escape to another world and switch off from the pressures of everyday life. Rejuvenate the soul and connect to the natural world with some forest bathing.
There is so much space to enjoy at this peaceful haven from its own idyllic lake to magnificent showman's wagon. After some summer foraging, enjoy cooking al fresco over the firepit, what a special experience! Neston Market is also great, offering excellent fresh weekly produce. The most sustainable way to explore the beautiful surrounding area is of course by foot or bike, you can hire a bike locally to be delivered to the cabin if you don't have your own. Then join The National Cycle Route (The Wirral Way) which is just down the lane from your humble abode or head to Burton Marsh Wetlands on the Dee estuary, one of the UK's premier wetland birding locations. This charismatic retreat will capture your heart, you will want to return time and time again!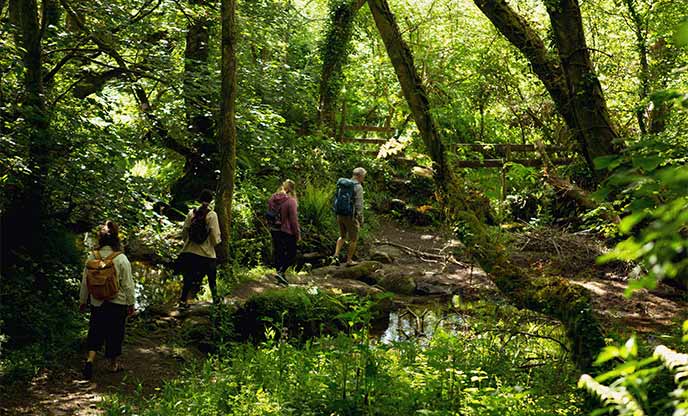 We hope you feel inspired by our eco-friendly hideaways and like us, keep finding ways to reduce our impact on the natural world. What better place to start than with a glamping retreat back to nature. View our full collection of lovely hideaways here.