The best walks for exploring Somerset
Penned on the 16th December 2021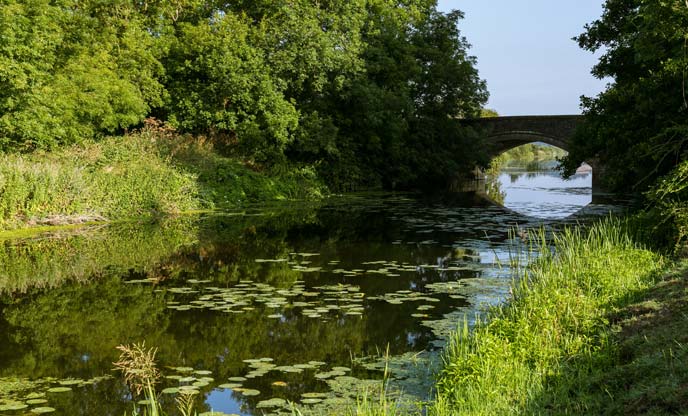 In the heart of the southwest, the verdant county of Somerset offers some of the best terrains for exploring the UK by foot. From the mysterious tors and flat coastal plains of the Somerset Levels to the steep combes and gorges of the Blackdown, Mendip and Quantock Hills, each step brings with it something new and alluring. Including diverse landscapes, dramatic seascapes, timeless landmarks and scenery galore, in this guide, we share our favourite walks in Somerset for making the most of this varied region. Plus, a route through the splendorous streets of Bath, the only city in the UK to be a designated World Heritage Site. Once you have built up an appetite, choose from one of these delicious places to eat in Somerset, whether you're after pub grub or local seafood, there is something for everyone.
1. Selworthy and Bury Castle Circular, Exmoor Walk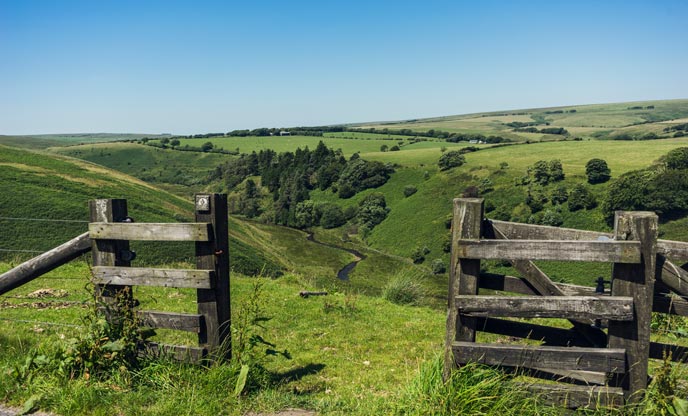 Great for anyone wishing to immerse themselves in the countryside, this 3-mile walk offers a taste of Exmoor's beautiful and contrasting landscape, including open moorland, enchanting woodland, stunning coastline and flowing streams. Incorporating an appreciation for the natural world and an exploration of Exmoor national park, it also introduces you to some of the area's ancient and local history.
Starting in the church car park of Selworthy – a charming village full of whitewashed thatched-roof cottages – the route takes you up the hill, over a footbridge and past a burbling brook. Make your way amongst the trails and tracks, rising and falling with the undulations of the Exmoor uplands before arriving at Bury Castle, an Iron Age hill fort and scheduled ancient monument. Next is a steady climb up Selworthy Beacon, from which there are impressive views of north Exmoor and the Bristol Channel. From here, make your way back down towards the South West Coast Path where you can enjoy fine vantage points of the Somerset coastline. Upon completing the route, relax at one of Selworthy's quaint tea rooms or treat yourself to a meal at Dunkery Beacon Country House a short drive away.
Rated medium in terms of difficulty, this circular loop is dog and child friendly. The start-point can also be accessed via public transport.
Click here to view our glamping hideaways in Somerset.
2. East Quantoxhead, Kilve and the Jurassic Coast Circular, Quantock Hills Walk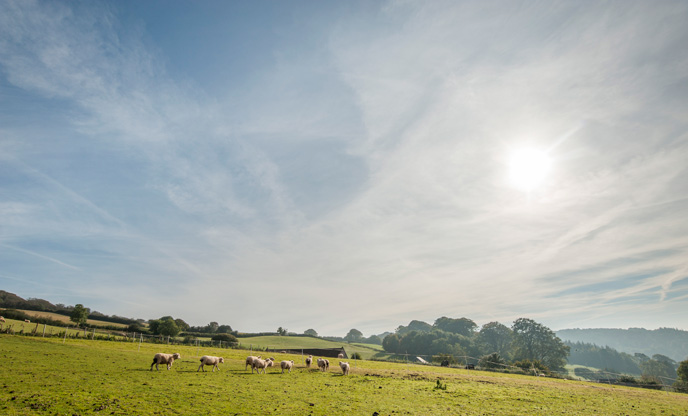 Another 3-mile walk, this route takes you through the Quantock Hills, along a section of Somerset's wildlife-rich coastline and to a beach laden with ancient fossils. Covering an Area of Outstanding Natural Beauty (AONB), you can expect extensive vistas of the Bristol Channel, fields of rolling countryside and wildflower adorned hedges in the summer.
The walk begins in the sleepy hamlet of East Quantoxhead, where medieval architecture and an exquisite manor house creates an ambience of timelessness. Departing from the village, make your way through the fields and over the bridge, where you can stop off for lunch at Chantry Tea Rooms on your way to the beach. A visit at low tide allows beachcombing for fossils or taking a refreshing dip in the ocean. From here, continue up the hill towards the coastal path, which leads you back towards East Quantoxhead. On the return journey, you can pay a visit to the old limestone kiln, now in ruins. Once arriving at the village, visit the estate or drive 5 miles to the Cat's Whiskers for Mediterranean tapas in an intimate setting.
With a difficulty rating of easy, this is a great walk for those with children and dogs. If you wish to access the start point via public transport, there is a bus stop in the village.
For family-friendly glamping accommodation click here.
3. Brent Knoll Circular Walk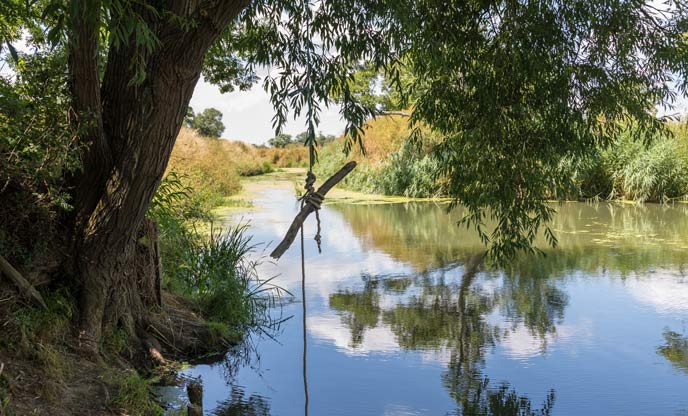 Offering coastal scenery from the extensive plains of the Somerset Levels, this short but occasionally strenuous 3-mile walk takes you up one of the most prominent hills on Somerset's wetlands.
Starting in the pretty farming village of Brent Knoll, pick up the well-maintained footpaths heading northeast towards the summit of the hill. The result of erosion from a shallow sea during the Jurassic period 300 million years ago, the knoll is also the site of Brent Knoll Camp, an Iron Age hill fort and earthworks. As you make your way around the crest, notice multiple ramparts following the contours of the mound, whilst also enjoying a spectacular far-reaching panorama of large parts of the Somerset landscape extending towards the Bristol Channel. Next, descend northwards towards the village of East Brent, home to a 15th-century church and the Brent Knoll Inn – a family-run free house and ideal stop-off point for hungry hikers and fans of a good beer garden. From here, continue on your way curving around the foot of the hill and back towards Brent Knoll, where the Red Cow is a favourite for traditional food and beer.
Rated easy in difficulty, this walk is suitable for children and dogs. Brent Knoll is well serviced by the London to Penzance railway and easily accessed from the M5.
4. West Mendips Way and Cheddar Gorge Walk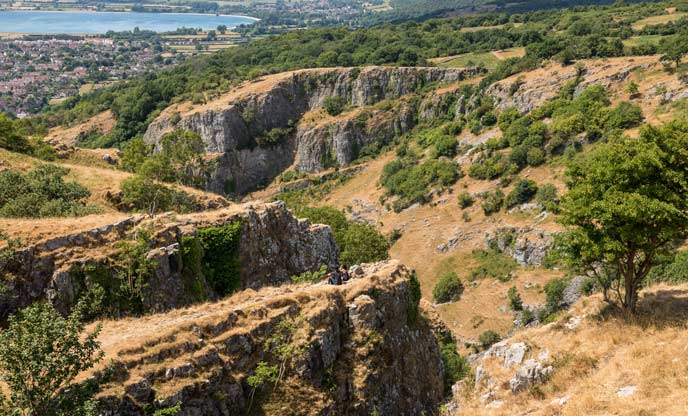 The longest trail included in this guide, the West Mendips Way is a 30-mile linear walk that extends from Uphill near Western-super-Mare to Wells, the smallest (and arguably most beautiful) city in England. A well-traversed trail, you're likely to see other walkers as you make your way along the varied route, which passes through nature reserves, grassy paths, woodland and farmland. However, with plenty of open space, you're still likely to find yourself alone for large parts of the way.
Expect to immerse yourself in some of the most scenic sections of the Mendip Hills – another of Somerset's AONB – and to climb Crook Peak for breathtaking views over the Bristol Channel and Somerset Levels. Other notable attractions include a visit to the impressive 400-foot deep Cheddar Gorge, which was formed around one million years ago towards the end of the last Ice Age. There are a variety of inclines and declines, and each of the five route sections brings you to a town appropriate for seeking sustenance and accommodation at the end of the day.
For the most enjoyment, we recommend taking several days to hike this medium difficulty trail. However, depending on experience and equipment, it's possible to complete it in one. Full details on the route can be found via the official guide.
5. Glastonbury Tor and Abbey Circular Walk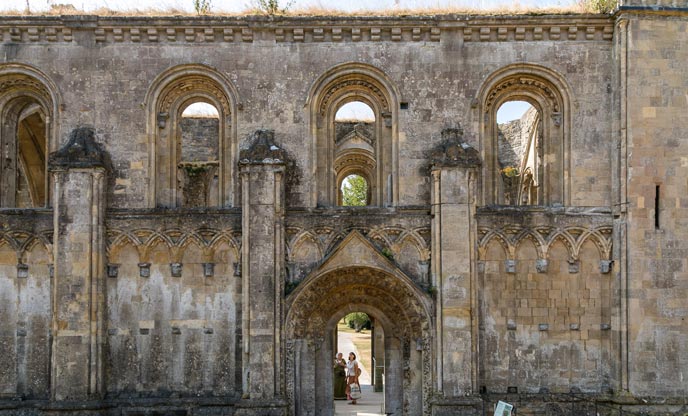 A trip to Somerset wouldn't be complete without visiting the iconic Glastonbury Tor. Steeped in mystery and magic, as you reach the top of the rocky outcrop, you can expect far-reaching views of the Somerset Levels and flat wetlands.
This popular 3-mile walk starts at Draper Factory before heading past the holy Chalice Well and Gardens, a peaceful location well worth a visit in itself. The route is well sign-posted and takes you into National Trust land, which leads you through meadows towards the foot of the incline. From here, work up a sweat as you climb to the top to enjoy stunning views. On fair weather days, it is possible to see three counties – Wiltshire, Dorset and Somerset – from this atmospheric vantage point. After descending the tor, make your way back towards the town centre, stopping off at the crumbling yet mesmerising remains of Glastonbury Abbey, a grade I listed building and scheduled ancient monument. From here, replenish at the King Arthur, a traditional pub with a beer garden, or for something more substantial, visit the Mediterranean-inspired Queen of Cups.
Rated medium in difficulty, this route is a favourite for those with dogs and children. Limited all-day parking is available at Draper Factory (BA6 8DP). Alternatively, pick up the route in Glastonbury town centre if you're arriving during busier periods or by public transport.
For dog-friendly glamping accommodation click here.
6. Bath City Walk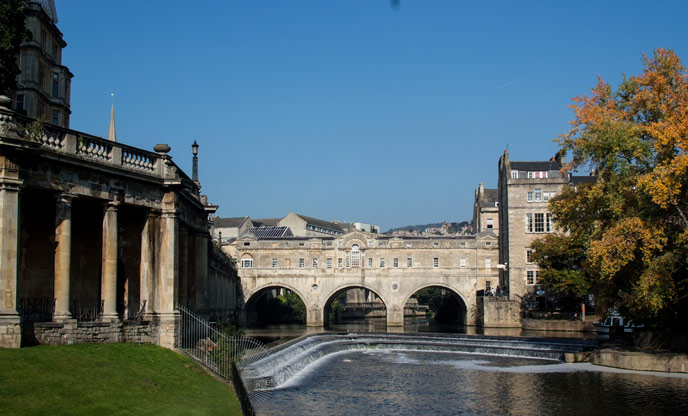 If you're looking to explore the city, this 2-mile linear walk offers a fusion of Roman history and Georgian architecture as well as some of Bath's most captivating sightseeing locations.
Starting at Pulteney Bridge – one of only a handful of shop-lined bridges in the world – make your way towards the Royal Victoria Park, a luxurious 57-acre greenspace. As you navigate towards the centre of the city, lap up the fascinating Bath Abbey, a gorgeous Gothic cathedral revered for its spectacular stained-glass windows and the Roman Baths, famous for their spring-fed geothermal heated waters. Other attractions include Bath Street, the Circus and Royal Crescent – some of the finest examples of Georgian architecture in the UK. For fans of art and literature, the route passes the Theatre Royal and Jane Austen Museum.
A great walk for all, this easy route gets more footfall than the others in this guide. Parking can be found at a number of locations around the city, which is well-serviced by public transport. There is an excellent selection of eateries and amenities along the way. Our favourites are Sally Lunn's Bakery and Tearoom for light bites in one of Bath's oldest buildings and the Chequers, a 2 AA Rosette-awarded stylish gastropub with a reputation for great food.
7. Castle Neroche and Staple Fitzpaine Herepath, Blackdown Hills Walk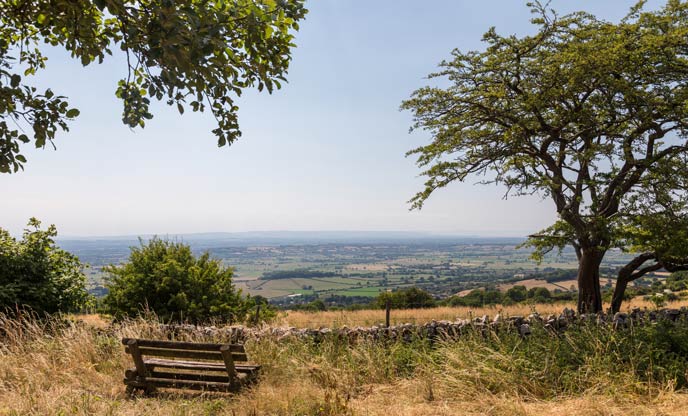 Perfect for those wishing to immerse themselves within the leafy canopies of Somerset's woodland, this peaceful 14-mile circular walk is also an excellent cycling bridleway. Forming a loop around the tiny village of Staple Fitzpaine and the beautiful Blackdown Hills AONB it navigates through a number of wooded areas, including Staple Park Wood, Piddle Wood, Thurlbear Wood and Birkenhall wood.
Starting at the car park of Castle Neroche – an intriguing prehistoric Iron Age hill fort – the route primarily follows off-road tracks and trails. Expect gravelled forest roads, grass fields, stone tracks and the occasional steep incline as you make your way around coniferous and broadleaved woodlands full of wildlife. Along the way you can climb Staple Hill, the highest point in the Blackdowns, from which there are views stretching as far as Exmoor, the Quantocks and the south coast of Wales.
Rated moderate in difficulty because of its length, this is a fun walk for those with older children. Regarded by some as a hidden gem, the Herepath is less busy than many of Somerset's other walking routes. However, there are two great picnic spots at Staple Hill and Castle Neroche and the trail is well signposted.
For inspiration on where to stay, view our Glamping in somerset page here.