Our favourite things to take on a glamping getaway
Penned on the 7th November 2022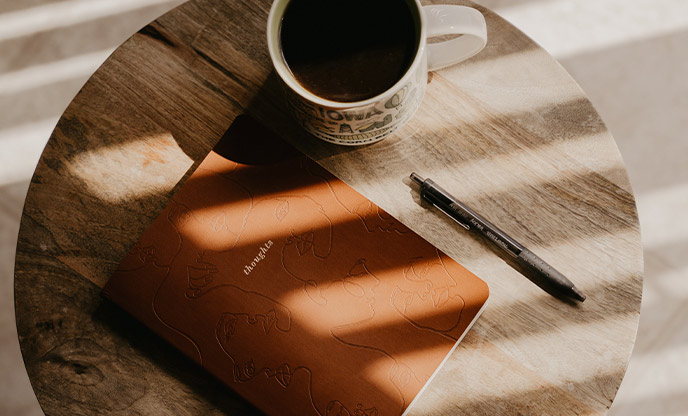 Heading off for a blissful retreat into nature is such a special thing. Full of excitement and anticipation, it can be a flurry getting yourself together and the bags packed – and that's only after you've settled on what you're taking!
Essentials aside, we've asked our wonderful team at Unique hideaways what they like to take glamping to help give you some ideas outside of the ordinary to help make your stay unforgettable. From entertainment to classic ways to capture your memories, here are some of our favourite things to take glamping…
A pack of cards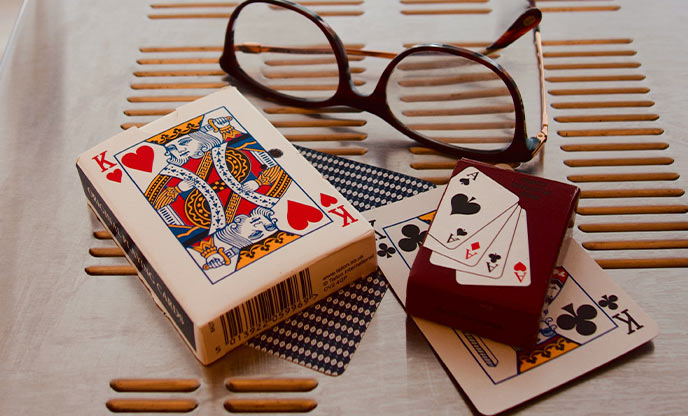 Playing cards are always top of my list when going glamping. Light and compact, they are so easy to pack and really do provide hours of fun. After a long coastal walk, is there anything better than sitting in a cosy pub by a roaring fire and playing a game of Gin Rummy with a glass of red in hand? Whatever your game of choice, a pack of cards has to be one of the best things to take glamping!
Beth, Brand Manager
Polaroid camera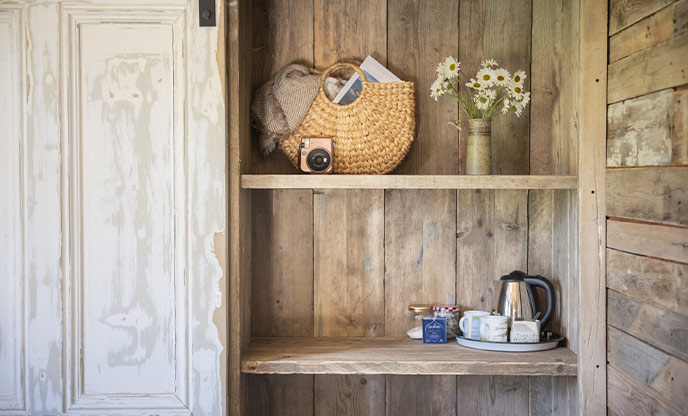 While a camera is a trusty companion for any glamping getaway, a polaroid camera is an extra-special one. Having just a handful of photosheets encourages you to consider each capture, carefully choosing moments from your experiences and beautiful surroundings that you can hold on to and cherish. From gatherings around the warming wood burner, to leisurely afternoons spent roaming the countryside or coast.
I recommend exploring second-hand shops where you might just stumble across a vintage gem - you can't beat the pastel colours and ink bleeds created by older polaroids!
Rosita, Content Specialist
Peshtemal towel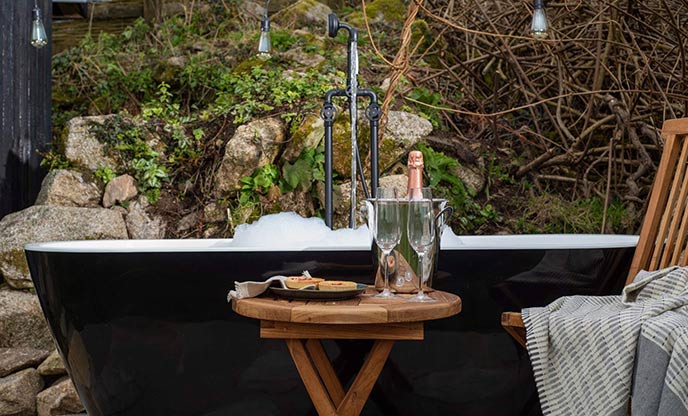 I think a peshtemal is a must-have while glamping. Used for hundreds of years, these towels are hand-woven with cotton threads and have all sorts of great properties – being super-cosy, fast-drying, long-lasting and easy to carry around.
With lots of different uses, you can drape them over your shoulders or bed as an extra layer to keep warm, use them as a towel to dry off after a soak in your very own hot tub or a refreshing dip in the sea, or even as a make-shift robe. Perfect for picnics, you can also spread them across the ground for a comfortable layer while you lay back and let yourself relax into the moment.
Lizzie, Group Writer
A big cosy jumper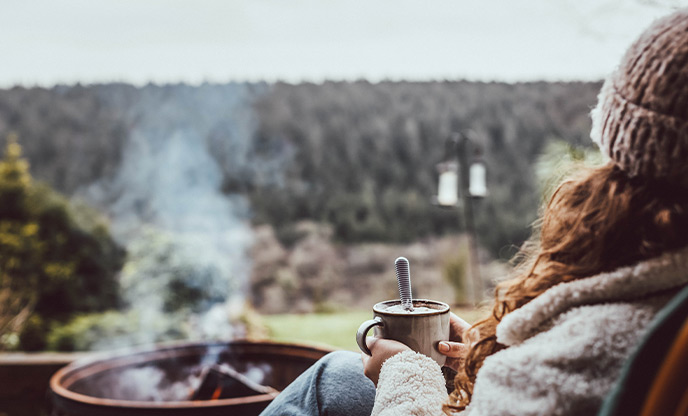 It doesn't matter whether it's the middle of summer or in the depths of winter, snuggling into a giant jumper in the evening by the fire is one of the best feelings. If I were to be particular about jumper type, I'd have to pick the woollen guernsey - they're just so sturdy. Post swim, cold crisp mornings with a coffee, evening barbecue – it's the one item I just couldn't do without when glamping as it's such an essential for the more outdoors way of living!
Penny, Marketing Manager
Games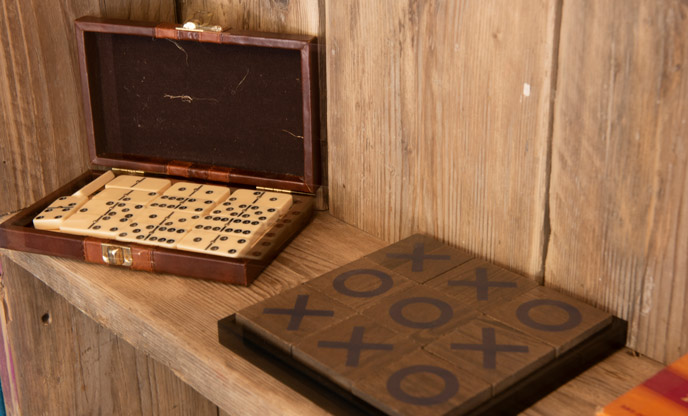 Another advocate for a pack of cards, we love taking cards and other small games when we escape to a Unique hideaway somewhere. There's nothing better than taking time with friends and family to do something that doesn't involve a screen and that gets us chatting, laughing, and into the spirit of the holiday. They're great for evenings curled up by a log fire or perfect for popping in a rucksack when we head off for a walk – there isn't a pub stop in the world that isn't improved by a quick game of Go Fish!
Never fear if you forgot to pack the games, though, as lots of our hideaways offer a selection!
Annie, Group Writer
A journal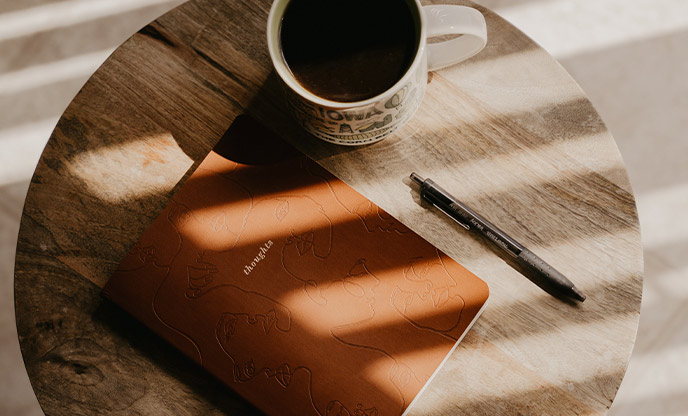 A retreat back to nature allows you to truly slow down, making it a great time for reflection. Whether glamping with a friend or taking a solo adventure, I always remember to pack my journal (and my favourite pen!) with me on any glamping trip. Slow mornings are a wonderful time to journal; making a cup of coffee and sitting outside or by a window, watching the world go by.
Let fresh air fill your lungs as the coffee warms you up inside. Take a few minutes to think about what you are truly grateful for, this can be anything, big or small! Write down these thoughts and anything else that is taking up space in your mind, you might be surprised with how much you write down, recognising thoughts and feelings you didn't know you had. Being away from your everyday routine will allow you to view things from a different perspective, leaving you feeling refreshed and uplifted.
Not only is a journal good for personal reflection but it's great to keep as a diary, I always jot down my favourite parts of the trip so I can keep them as a cherished memory forever.
Jodie, Marketing Assistant
A good book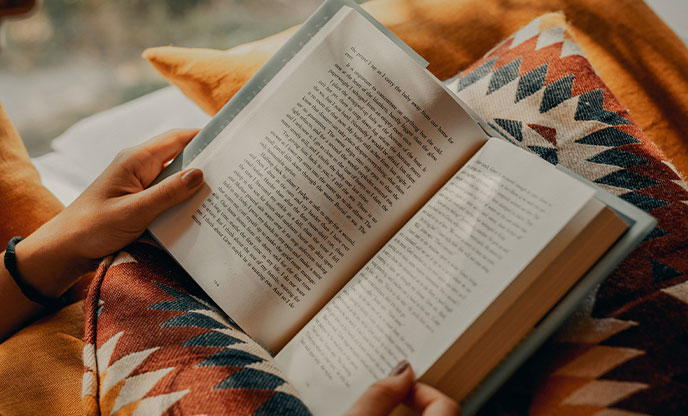 Sometimes, the best things in life are the simplest, like a good book and a cosy chair. I always take lots of options as I never know what I'll feel like settling into. Sometimes I want to be taken away to another world and sometimes I want to learn more about the one I'm already in! And when I find a cosy armchair with a magical view, I can easily go through all the books I bring!
Wilding by Isabella Tree is very hopeful about the regenerative ability of nature when allowed to thrive with only a light touch management. Surrounded by the green outdoors, glamping is the perfect setting to read it in - especially when paired with the restorative powers of forest bathing.
Rachel, Business Intelligence Developer
Foraging guide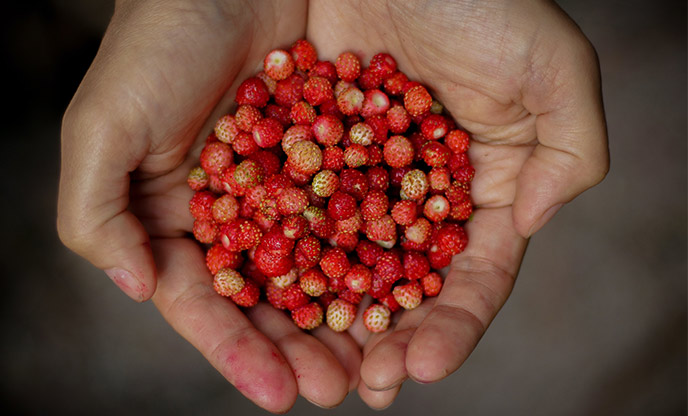 When surrounded by nature in my glamping haven, I find it's a wonderful opportunity to go foraging and delve into my surroundings even further as I make the most of the bountiful harvest the wild provides. Spring, summer, autumn, and winter each provide endless opportunities to head out on the winding countryside lanes and coastal paths.
With a handy guide by your side, you can find some delicious and nutritious delights from salty seaweed to stinging nettles – yes really! Once I have my bounty, I like to return to my hideaway and turn the finds of the day into a delicious alfresco feast. I've even been known to knock up a warming herbal tea with my foraged ingredients.
Linda, Commercial Manager
A camera and tripod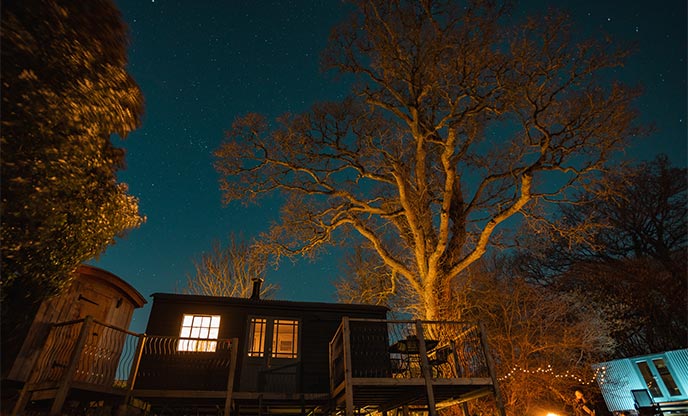 When staying in a wonderfully remote hideaway (especially those with sea views), I make sure to always pack my camera and tripod. One of the many joys of being somewhere that's away from it all, is that you can enjoy uninterrupted views of the night sky - perfect for stargazing and some truly out of this world images. I like to set up my camera and tripod and, with a woolly hat, blanket and hot chocolate (or sometimes a hot toddy), sit back and enjoy the sights and sounds of night.
When the sun rises, my camera then comes with me across windy clifftops and to cosy evenings gathered around a fire pit. There's no better way to capture all the moments I want to remember and share for years to come.
Adam, Digital Marketing Manager
Explore our collection of idyllic hideaways and discover for yourself, what turns a holiday into a cherished stay. And, for our full packing guide to help create the most magical glamping getaway click here.