Cooking in Nature
Penned on the 7th April 2021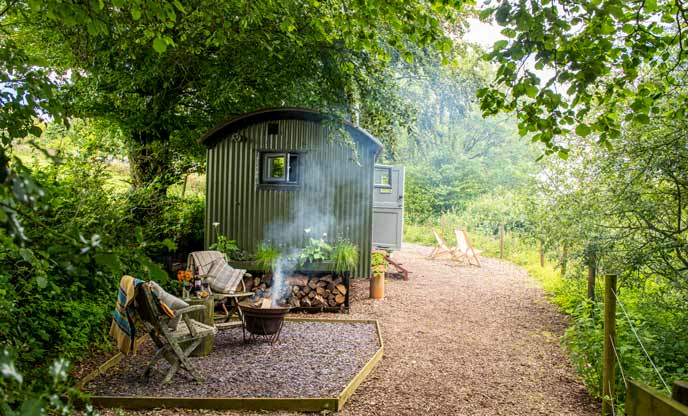 The smell of BBQ sizzles through the warm summer breeze. Setting the table outdoors, instead of in and toasting marshmallows on the campfire, under the starry sky have both become the new normal. Alfresco dining has arrived and we couldn't be more delighted, as spending time in nature from dusk till dawn is one of the best bits about spring and summer in our opinion. We have put together our favourite Glamping sites for cooking in nature and a selection of scrumptious salads to serve up alongside your outdoor feast!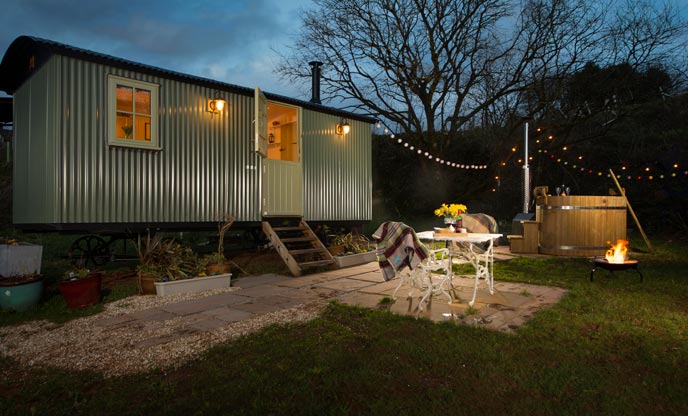 Set amongst wildflowers and green pastures, Rosie's hut is a delightful escape to nature. With twinkly lights to admire as you cook your dinner on the fire pit BBQ, allow yourself to truly unwind and recharge. Once you have finished feasting, hop into the woodfired hot tub and embrace the star lit sky. Rosie's Hut really is, the perfect romantic break.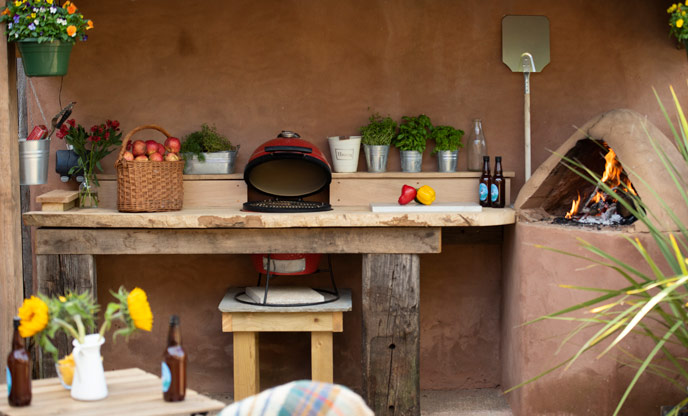 Swallows Nest, a rustic cabin nestled in the Devonshire countryside. This earthy retreat has a spectacular set up for outdoor cooking. Not only is there a BBQ and ceramic smoker, but there is also a woodfired pizza oven. Delicious decisions are to be made every evening during your stay. This property truly transports you to the Mediterranean.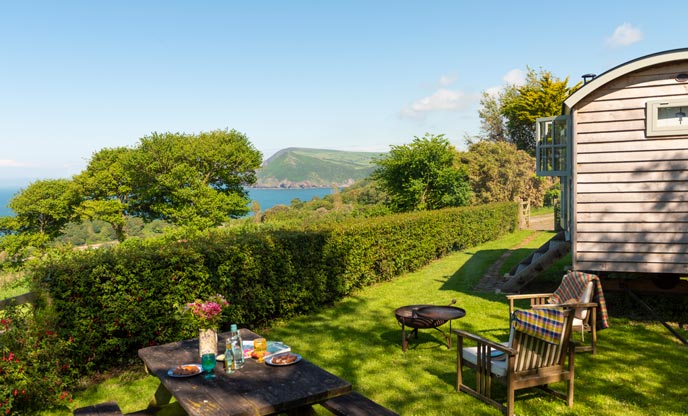 The picturesque, Wild Pear Shepherd's Hut has unspoilt, dazzling sea views right on your doorstep! While you prepare your tasty supper on the fire pit and sip your favourite drink, you will find yourself, relaxing into natures paradise. This secluded hideaway, allows you to escape reality and totally unwind.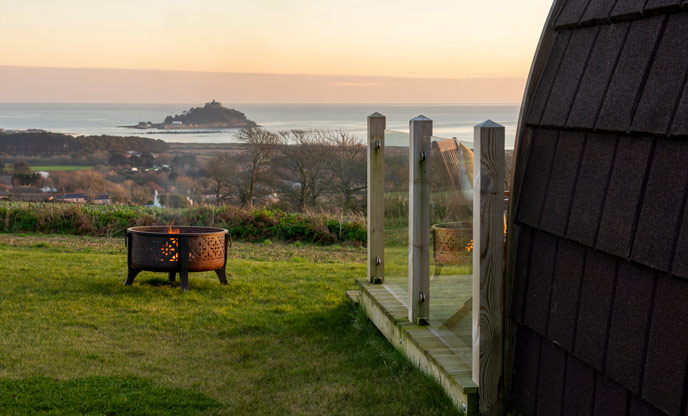 Coastal Gaze, a sunshine getaway. This snug little haven has unforgettable, panoramic views. Spark up the BBQ, sit back on the deck with a glass of bubbles and allow yourself a moment of quiet, absorbing the mosaic of colour surrounding of you. No one will ever complain about cooking, while taking in this shimmering sea view.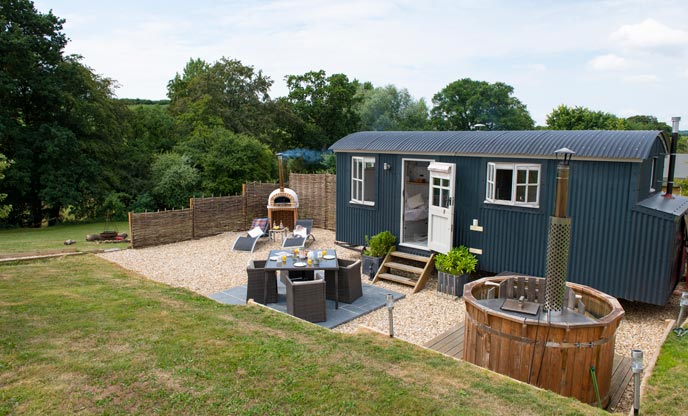 This charming shepherd's hut provides an enchanting break away. Imagine yourself, soaking in the hot tub, while the cheese on your pizza bubbles away in the outdoor woodfired oven. Your dinner options are endless at Otters Holt, as there is also a fire pit to cook on. Maybe you will start with pizza and finish your perfect evening with toasted s'mores around the campfire. Oh what a dream…

Hidden amongst a canopy or green, Largin's Shepherds view is a real natural beauty. The ideal spot to light up the BBQ and sizzle away the sausages, while embracing the flowing landscape in front of you. Allow yourself to relax, pop your feet up and let daydreams float through your mind. This really is a retreat to the great outdoors.
Our favourite side salads for alfresco dining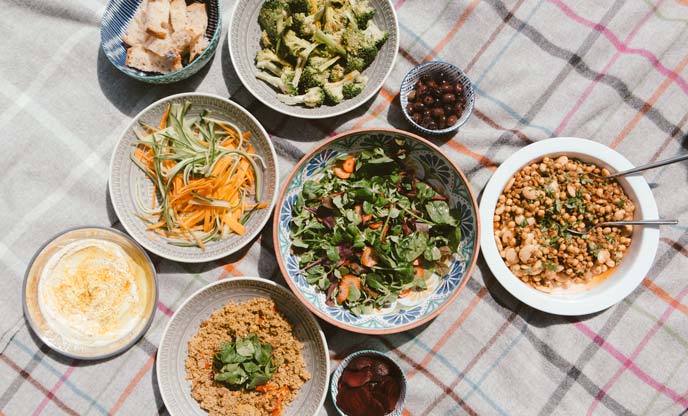 1. Peach and Mozzarella
Ingredients: ripe peaches, mozzarella, prosciutto ham, rocket, mint, toasted pine nuts, balsamic vinegar, honey and olive oil.
Cut the peaches, rip up the mozzarella and prosciutto, throw in the rocket, sprinkle on the mint and top with toasted pine nuts. Finish with a drizzle with balsamic vinegar, honey, olive oil, sea salt and black pepper.
2. Pomegranate and Feta
Ingredients: pomegranate, feta, avocado, celery, cucumber, rocket, watercress, baby gem, toasted sunflower and pumpkin seeds, pomegranate molasses, olive oil.
Add the rocket, watercress, sliced baby gem, chopped avocado, celery and cucumber into a large salad bowl. Top with crumbled feta, the toasted seeds, sea salt and black pepper. Pour over the pomegranate molasses and olive oil and finally sprinkle the pomegranate seeds on top, for a lovely pop of colour!
3. Tomato and mozzarella
Ingredients: High quality buffalo mozzarella, large vine tomatoes, basil, olive oil, balsamic glaze.
Slice the mozzarella and tomatoes and alternate on a decorative plate. Chop the basil and sprinkle on top. Drizzle with olive oil, balsamic glaze, sea salt and crushed black pepper. So simple, but so timelessly tasty!