Days out on the Isle of Wight
Penned on the 27th May 2022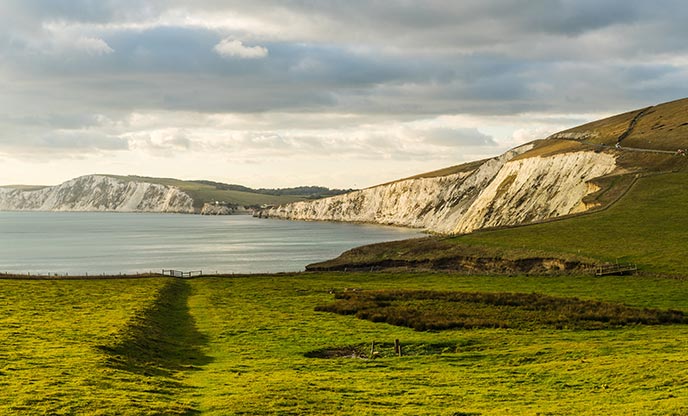 An often-underrated area of the UK, the Isle of Wight is known for its long sandy beaches, oceanic scenery and ambience of timelessness. Crossing from Portsmouth to the chalk-cliffed island, it feels like you're travelling backwards in time to a more relaxed and simpler pace of life.
Located within the English Channel on the south coast of England, the Isle of Wight has been a popular tourist destination since the nineteenth century. As a result, there is the perfect balance between rural landscapes and interesting activities to occupy both couples and families. Victorian summer palaces, internationally recognised conservation centres, botanical gardens and Norman strongholds are amongst some of the Isle of Wight's best attractions to be enjoyed. There are also plenty of ways to enjoy the restorative benefits of spending time in nature, including hiking, cycling, walking, and relaxing on the beach.
Keep reading to discover our favourite things to do in the Isle of Wight. Many of them take a matter of hours, so you can pair them up for the ultimate day out. Afterwards, head back to your glamping site, to make the most of a relaxing break in one of the UK's most scenic destinations.
Surround yourself with splendour at Osborne House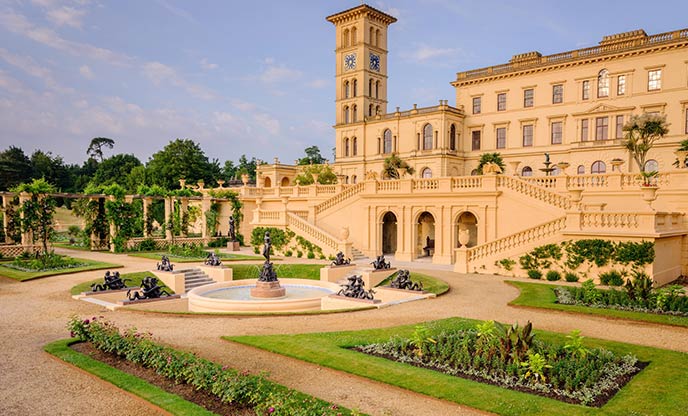 One of the most famous buildings on the Isle of Wight, Osborne House is nothing short of magnificent. Built between 1845 and 1851 for Queen Victoria and Prince Albert as a summer home, this rural location is packed full of both history and splendour. Italianate stucco architecture and ornate terrace gardens create a dazzling setting and Mediterranean feel. Even Queen Victoria claimed it's "impossible to imagine a prettier spot".
Make the most by exploring the rooms and grounds, before heading to the wood-fringed private beach for a swim with views towards Portsmouth. You can also whet your appetite with a delicious ice cream at the Beach Pavilion Ice Cream Parlour.
Learn about wildlife conservation at Wildheart Animal Sanctuary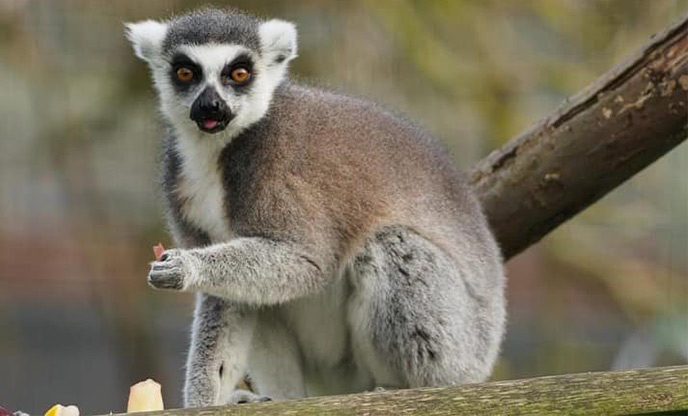 Previously known as Isle of Wight Zoo, Wildheart Animal Sanctuary is a place for rescued animals to flourish. Home to big cats including tigers, lions and lynx – and Madagascan animals such as lemurs, monkeys and meerkats – the sanctuary has been operating as a charity since 2017. Award-winning educational talks and encounters with wildlife help to teach visitors about the importance of conservation and learn more about the endangered creatures that live there.
Found within the sturdy walls of Sandown Fort, Wildheart Animal Sanctuary is built on the edge of Sandown Beach. This makes it the perfect location for a family day out, where you can pair a fun educational experience with beach games and building sandcastles.
Brush up on your history at Carisbrooke Castle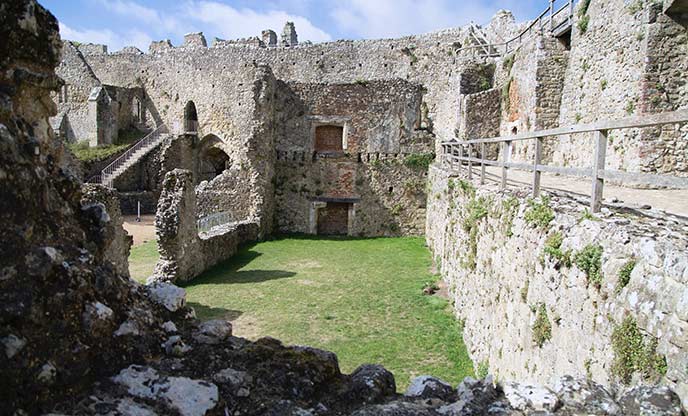 Carisbrooke Castle is a romantic motte-and-bailey fortress with lots to explore in the fresh open air. Sitting proudly within the heart of the Isle for almost a thousand years it has a rich history, including as a Norman keep, a summer residence and as a royal prison to Charles I. Today, a visit to Carisbrooke Castle entails sky high panoramic views from towering castle walls, meandering the moat to discover King Charles' bowling green and enjoying the tranquility of the Princess Beatrice Garden. You can also get to know its friendly donkeys, which have been drawing water from the wells since the 16th century.
Experience the healing power of nature at Ventnor Botanic Garden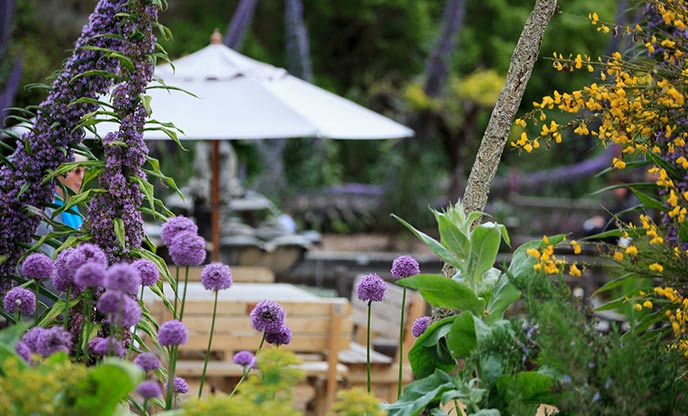 Built by Sir Harold Hillier in 1970, Ventnor Botanic Garden can be found in one of the sunniest spots on the Isle of Wight. The southern facing aspect and unique microclimate make it one of Britain's hottest gardens and a place where worldwide temperate and subtropical flora grow in abundance. Set in 22 acres, with over 6,000 species of plants, shrubs and champion trees, there are a selection of trails which you can take to explore the fascinating species. Expect splendid succulents, lavish bedding plants and even a giant water lily.
Ventnor Botanic Garden has a deep-rooted heritage of health and wellbeing. Make the most of your visit by booking onto a restorative yoga class, followed by a delicious healthy meal of rare vegetables and local produce in the on-site edulis Restaurant... it's the perfect place to practise mindfulness in nature.
Appreciate the beauty of the outdoors with a visit to the Needles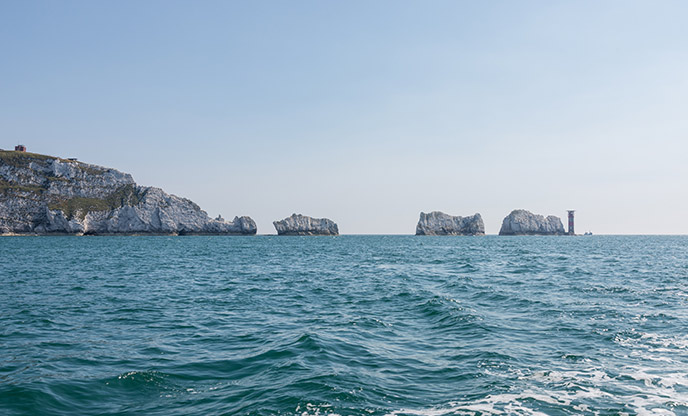 The Isle of Wight's number one attraction, the Needles are an impressive series of chalk stacks that rise out of the sea off the island's western extremity. Known as a site for Marconi's pioneering work on telecommunications in the nineteenth century, and as a place of mythological and theological importance, this spectacle of nature is a must-visit. Set within an Area of Outstanding Natural Beauty, the white cliff faces and azure ocean juxtapose with the bold red and white strips of the lighthouse to create a striking view. To make the most of it, take one of the pleasure boats from the jetty for a dramatic close-up and the chance to spot some of the local wildlife.
Take a dip at Sandown Beach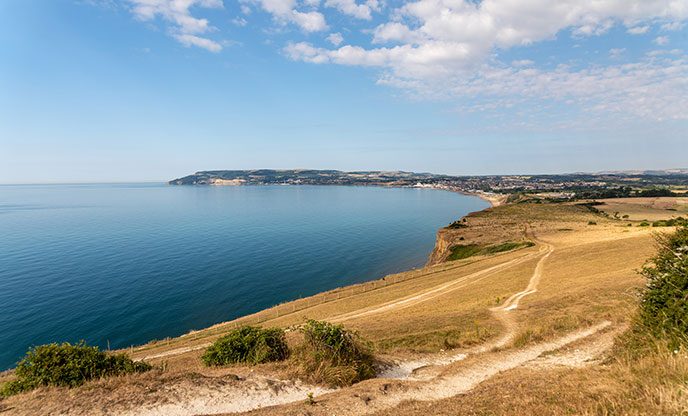 Home to some of the UK's best beaches, the Isle of Wight has plenty of locations to go for a dip and practise your 'Blue Mind'. Our favourite is the long expanse of perfect sand at Sandown, which is popular with both couples and families. White sand and impossibly clear waters make it the ideal spot for stripping off and entering the cool embrace of the Solent. Behind the beach, Sandown Esplanade has a lovely selection of independent cafés and beach shops where you can buy coffee, cake and seaside trinkets.
Complete the experience by eating fish and chips on the beach. Or, if you fancy treating yourself to a sit-down meal, Bellamy's Bistro has a glowing reputation for hearty meals and good portions.
Take a look at our guide to discover all the benefits of wild swimming.
Explore the island by bicycle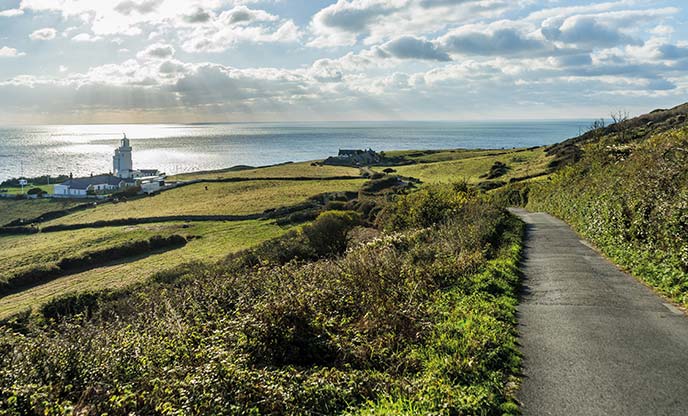 Home to 200 miles of cycle tracks, byways and bridleways, the Isle of Wight is well-equipped for cyclists. With stunning scenery and the impressive UNESCO Biosphere Reserve status, it's regarded as one of the best places to cycle in the world. Amongst the most popular trails is the Round the Island cycle route, which is 65 miles and includes sea views, hill starts and countryside meanders. With a series of inclines along the way, it can be a challenging feat. However, breaking it up to smaller chunks over a series of days makes it much more achievable for beginner cyclists.
For the ultimate combination of exploration and relaxation, pair a day's cycling with a cosy evening at your glamping site. There's nothing more rewarding than settling in with some good food after a day spent moving your body outdoors.
Go for a stroll at Shanklin Chine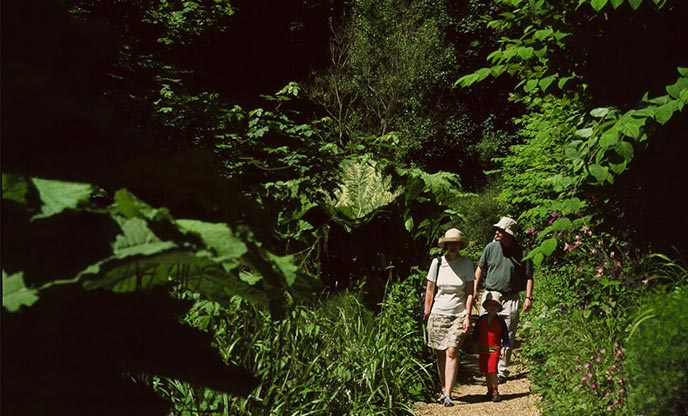 The Island's oldest attraction, Shanklin Chine is a beautiful tree lined gorge, carved by Mother Nature's hands. Start at one of two entrances – either the Old Village or the Esplanade – to make your way through the remarkable landscape of greenery. Including two waterfalls and sheer chasm-like sides decked in lush vegetation and towering trees, it's unsurprising Shanklin Chine has provided inspiration for writers such as Jane Austen. The timeless beauty of the area has also drawn several artists, including romanticist landscape painter J.M.W. Turner.
For an even more spectacular experience visit on a summer night during the Chine Lumierè, when hundreds of lights illuminate the narrow paths, streams and waterfalls within.
Taste a tipple at Adgestone Vineyard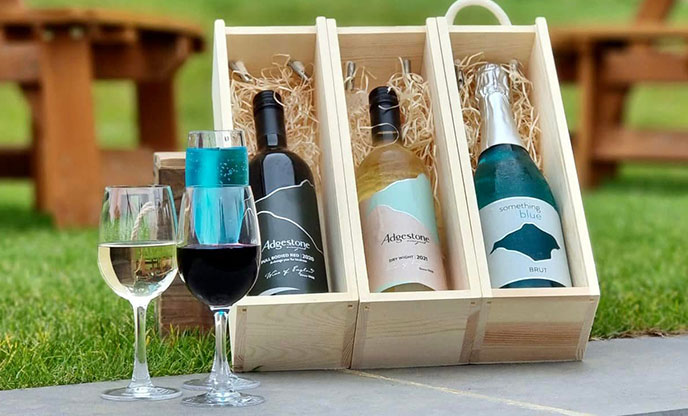 The oldest continuously operating commercial vineyard in the UK, Adgestone Vineyard is a producer of award-winning wines. Adgestone spend the spring collecting fruits, flowers and fresh grown root ginger to create aromatic country wines and delicious liqueurs. Set within a remote countryside location, it is a popular attraction with both couples and families. Vineyard and cellar tours with beautiful sea views provide you with a full grape to glass experience, including wine tasting. An on-site treasure hunt keeps children entertained, as does getting to know the resident chickens and pygmy goats. Be sure to spend some time at the shop afterwards to browse the selection of local produce including souvenirs, beers, ciders, pickles, honey, candles and Arson Fire chilli products.
Go jewellery hunting at the Isle of Wight Pearl Farm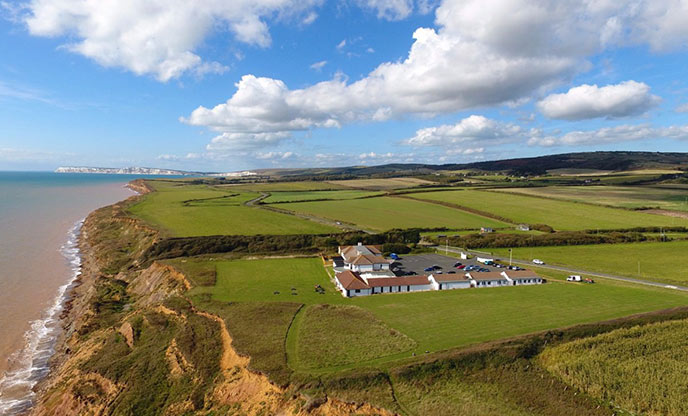 The independently owned Isle of Wight Pearl Farm is a unique attraction set upon the clifftops on the isle's southern edge. Inside the venue, a beautiful jewellery shop provides you with the opportunity to purchase hand-crafted and bespoke pieces. For those looking to learn more about pearls and the process behind jewellery design, there are masterclasses available to pre-book, or you can pick an oyster and receive advice on how to set the pearl within to best showcase its qualities. Outside, a butterfly farm and uninterrupted panoramic views of the ocean can be enjoyed to make the experience even more magical.
If you're looking to turn a visit to the pearl farm into a special day out for someone you love, why not finish with a romantic meal at one of the Isle of Wight's best restaurants? One of our favourites is Le Tour Du Monde – a family-owned eatery with a seasonal menu, which makes the most of the island's best produce.
Browse our selection of charming hideaways across the island and start planning some inspiring days out on the Isle of Wight.