A guide to stargazing
Penned on the 1st September 2022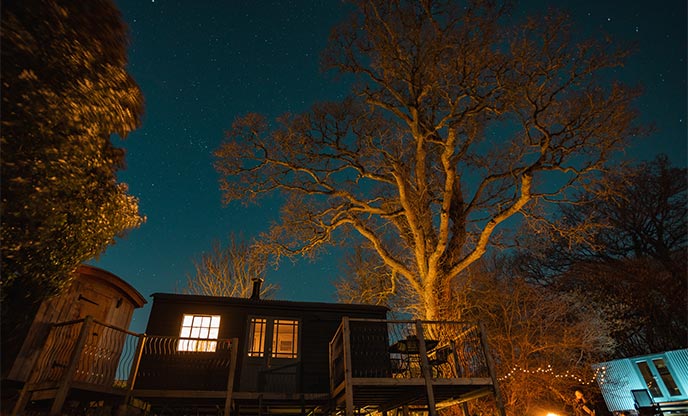 There's nothing more humbling than looking into the depths of the sky at night. Time it right and your gaze will be returned with a twinkle and a wink from countless stars, beckoning you to learn more about the galaxy and beyond. It's hard to not be struck with awe on such an eve, when for just a moment everything is put into perspective. Our imaginations are sparked, unanswered questions come to the forefront of our minds, and we can't help but become immersed in the beauty of a limitless universe. Stars, planets and black holes reveal themselves, welcoming us to discover more.
We love stargazing as part of a glamping trip because the quiet surroundings, slow pace and natural environment compliment the activity perfectly. Why not give it a go as part of your next glamping trip, to add something magical to your perfect holiday in nature?
In this blog, we explain why we stargaze, which constellations to look out for, top tips and introduce you to some of the best stargazing spots in the UK.
Why stargaze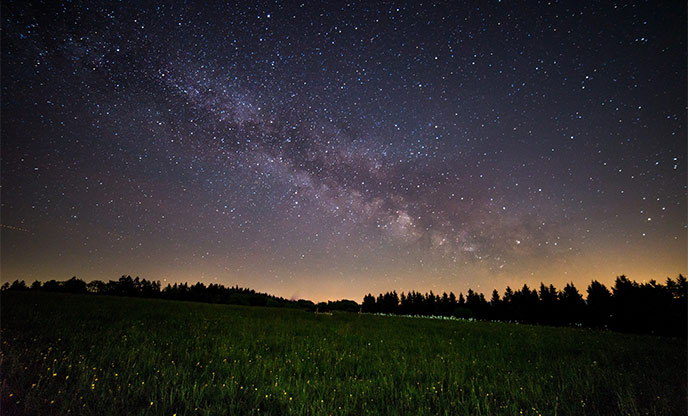 Stargazing has been a source of fascination for people since records began. The feelings of joy, wonder and peace that come with it are felt just as much today as they were then. Here are some of the reasons that we enjoy looking at the stars.
Being present. Focusing on individual stars or larger constellations bring the benefits of mindfulness that come with observation. When we're absorbed in the enchantment of the cosmos, it's hard to think of anything else.
Peacefulness. Letting ourselves become immersed within a starry skyscape offers us a chance to calm the brain. It helps us to escape from the chaos of everyday life and to observe our surroundings in silence.
Ecotherapy. Spending time outdoors helps to improve our wellbeing. Stargazing spots tend to be remote and surrounded by nature, helping us to soak up the benefits of connecting with our local ecosystems.
Sparking creativity. The sense of awe and wonder that comes with stargazing helps us to expand our mind and open it to new ideas – useful ingredients when it comes to activating the creative sides of our brains.
We love that these benefits can be experienced by people from all walks of life and of any age. Whether you're planning a family glamping experience, a romantic getaway or even a solo trip into the wilderness, why not consider stargazing as part of your next escape so you can make the most of taking some time out?
Tips for stargazing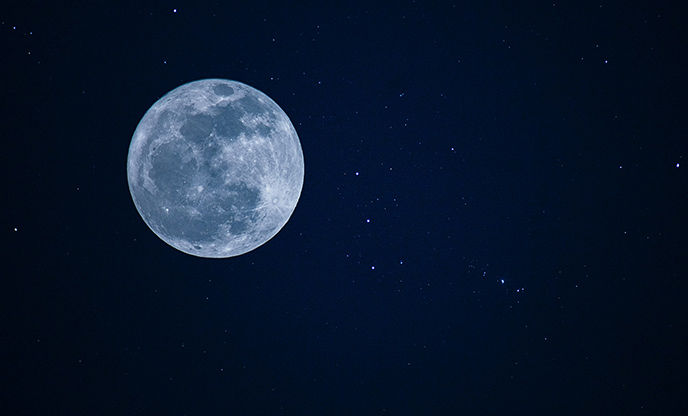 Here are our five top tips for stargazing:
1. Go stargazing on – or within a few days of – a new moon. Whilst the moon is a point of fascination in itself, the light it produces hinders our ability to see other astronomical objects at night. The less you can see of the moon, the more you can see of the stars. Use this handy dark sky calendar to choose a day with enough darkness.
2. Choose a clear night. Checking the weather forecast beforehand is important when choosing a night for stargazing. Clouds and rain will hugely reduce visibility, and potentially prevent you from seeing anything.
3. Choose the correct season. Whilst it's possible to stargaze year-round, stargazing is best between October and March. Nights are longer and it gets dark earlier, giving you more opportunity to see something of interest. If your aim is to spot meteor showers then August, November and December are the best months and they're most visible an hour before dawn.
4. Avoid light pollution. It's not just light from the moon that makes it more difficult to see the stars. Man-made light sources should also be avoided. This makes our remote glamping locations the perfect place to enjoy learning about astronomy.
5. Get to know some stars. Download the Dark Sky Discovery Stargazing Guide so you can begin to learn the constellations and gain a better understanding of the night sky.
Equipment for stargazing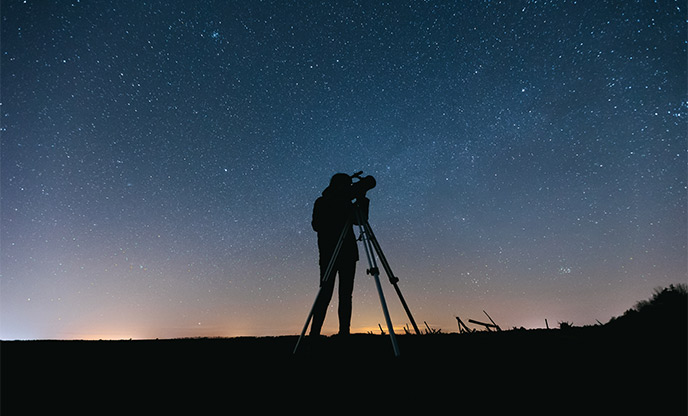 Once your eyes have adjusted to the dark, it's possible to see plenty of stars and planets at night. However, to observe stars which are further away and for the opportunity to see more planets and even black holes, binoculars, telescopes and SLR cameras can be a great help.
If you don't have any of this equipment, there's still plenty to see. Read the next section to discover constellations you can spot with the naked eye.
To learn more about what items to take glamping, you can check out our packing list for a magical glamping holiday.
Constellations to look out for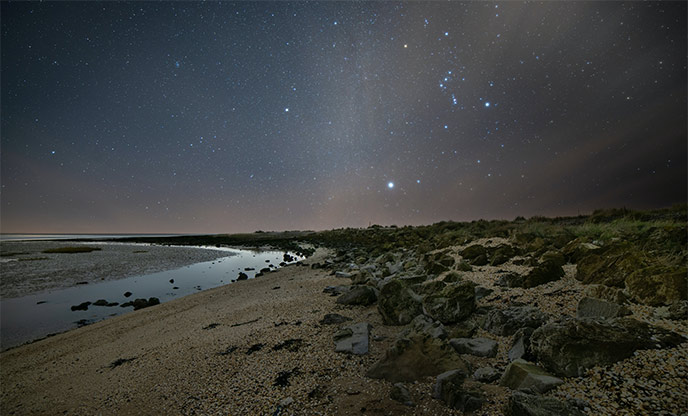 Whilst the huge numbers of stars visible in the night sky are mesmerising, it can also be overwhelming whilst trying to identify them. Here, we outline some of the easiest constellations to spot in the UK, so you know what to look out for next time.
Ursa Minor. Otherwise known as The Little Dipper, Ursa Minor is a group of seven stars most easily found by first locating the North Star. Often thought to look like a dim saucepan, the North Star forms the end of the constellation's 'handle'. It's much easier to see this constellation at the darkest points of the night, and when you're away from light pollution.
Ursa Major. Often known as The Big Dipper, Ursa Major is larger and brighter than Ursa Minor. Its two brightest stars – Dubhe and Merak – point towards the North Star, making it easy to locate.
Cassiopeia. Another northern hemisphere constellation, Cassiopeia is a cluster of stars in a W-shape, which can be found on the other side of the North Star to Ursa Major. They are named after Cassiopeia, an ancient Greek queen known for her vanity, and who boasted of her unrivalled beauty.
The Orion Constellation. Also known as Orion The Huntsman, this is one of the easiest constellations to find. Face towards the southwest and look for three bright stars which are close together in a line. These stars – Zeta, Epsilon and Delta – form Orion's Belt. From here, you can find the other stars in the constellation.
It's worth noting that the positions of the stars change throughout the year, especially when facing south. Use the Dark Sky Discovery stargazing guide to help you find them.
Best places to stargaze in the UK
The best places to go stargazing in the UK are its Dark Night Discovery Sites. Designated by the UK Dark Sky Discovery Partnership, these areas are away from light pollution, provide a good vantage point for observing the sky and are accessible by the public. You can find them all over the country and our favourites are listed below.
Alternatively, you could stay somewhere nearby and enjoy stargazing from the comfort of one of our remote glamping locations.
Skrinkle Haven Car Park, Pembrokeshire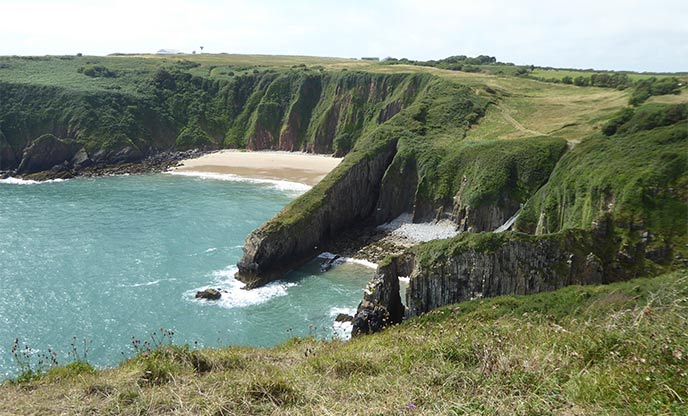 Found on the wild western edge of Wales, Skrinkle Haven is home to high cliffs and golden sand. Visit at night and the car park is an unlit clifftop site with good visibility in all directions. Easier to access than many other sites, the car park has flat and even ground. The panoramic views of the sky make this spot good for viewing both the northern and southern constellations. During the summer and autumn months, you can even spot more difficult constellations such as Sagittarius and Scorpio.
Where to stay: Just a short distance away from Shrinkle Haven is magical Station A. Our formerly resorted WW11 building which is a fantastic spot for Stargazing. Take a look at our full glamping collection in Pembrokeshire here.
Bodmin Moor, Cornwall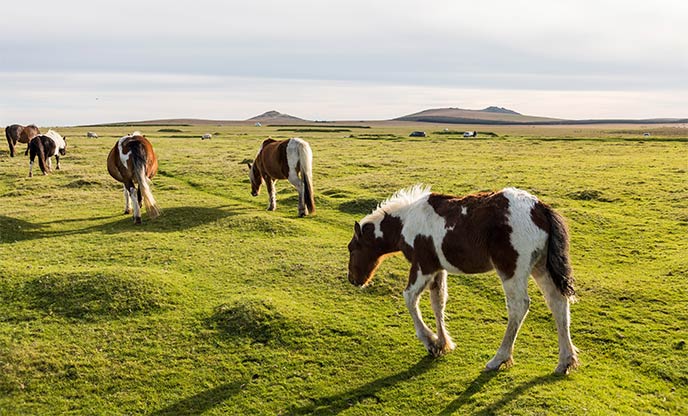 Bodmin Moor is a vast expanse of heath-covered moorland found within Cornwall's Area of Outstanding Natural Beauty. This remote and untouched location was awarded Dark Sky Status in 2017 in recognition of its dark skies and local efforts to reduce light pollution. The best place to set up is near Siblyback Lake, where stargazing events are set up by the South West Lakes Trust in collaboration with the nearby Caradon Observatory. It's considered a good place to view the stars and has accessible visitor facilities.
Where to stay: The Lion's Den at Warleggan | If you are seeking country chic twinned with rural relaxation, look no further than this super-stylish shepherd's hut.
Exmoor National Park, Somerset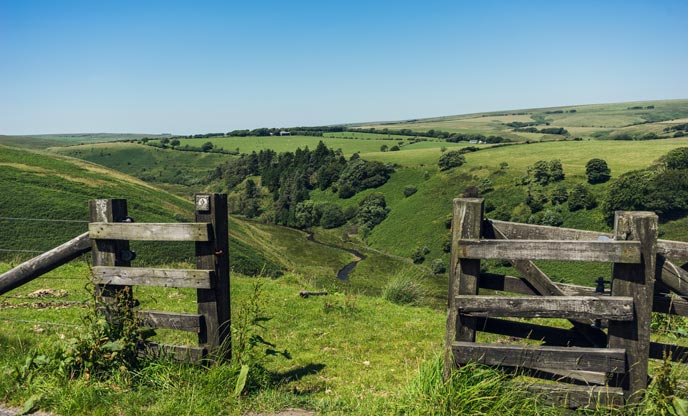 Exmoor's rugged moorland became the first International Dark Sky Reserve in 2011. Since then, it has become home to frequent stargazing events and even a stargazing festival. The festival includes night time wildlife walks, guided meteor walks and stargazing sessions. It's also possible to hire telescopes from the National Park Centres, or to organise private guided tours with local astronomy experts.
Where to stay: Our range of beautiful glamping locations in Somerset provide you with close access to Exmoor Dark Sky Reserve.
Compton Bay, Isle of Wight
Voted as one of the top ten spots across the UK for stargazing, Compton Bay promises an impressive display on a clear evening. It boasts a beautiful stretch of golden sand and is a popular surfing hub. By night, visitors can spot a variety of star constellations, even with the naked eye, due to the lack of light pollution.
Where to stay: Puckaster Cove Hideaway | Our bespoke yurt is just a short drive from Compton Bay. Full of character and complete with all the luxuries, this hideaway is also an impressive spot for stargazing. Views of the night sky can be enjoyed from the heavenly alfresco bath tubs!
South Downs National Park, Sussex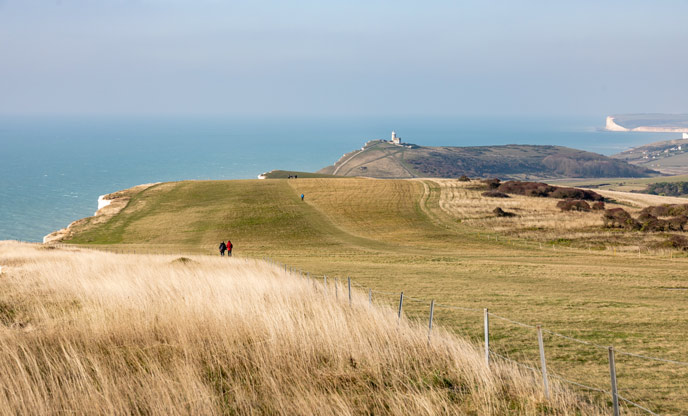 The South Downs is England's newest national park and has been awarded Dark Sky Reserve status since 2016. With much of the park offering views of the Milky Way and Andromeda Galaxy, there are a number of stargazing hotspots to be enjoyed. Ditchling Beacon, Devil's Dyke, Birling Gap and Winchester Hill are amongst the most popular. The South Downs also has a stargazing festival which usually runs in February.
Undoubtedly, stargazing and glamping come as the perfect combination. Why not enjoy gazing at the stars from the comfort of a soothing hot tub, pair it with a luxurious yurt experience, or use it as a way to connect to nature whilst staying in one of our favourite eco-friendly hideaways - bliss!