The best glamping hideaways with a wood burner
Penned on the 24th January 2022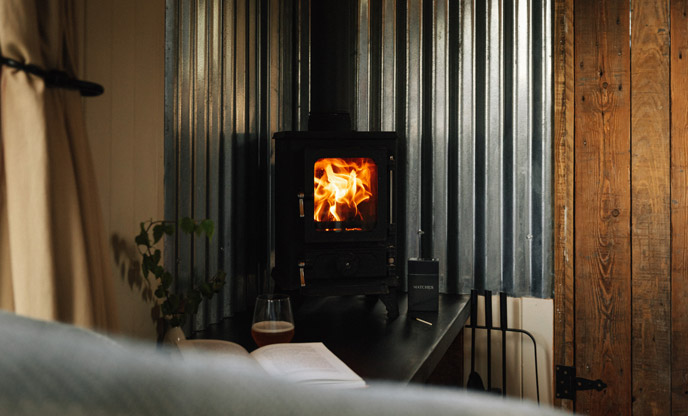 Wood-burners help to create the perfect cosy ambience throughout the whole year. There's nothing like a long winter weekend away where you can return from a blustery walk, pop the kettle on and snuggle up by the warmth of the fire with a good book. That's the beauty of a wood-burner, they help to extend the glamping season from summer, into autumn and winter. Here are a few of our favourite hideaways with a wood-burner, helping you to create a heavenly hygge ambience through every season…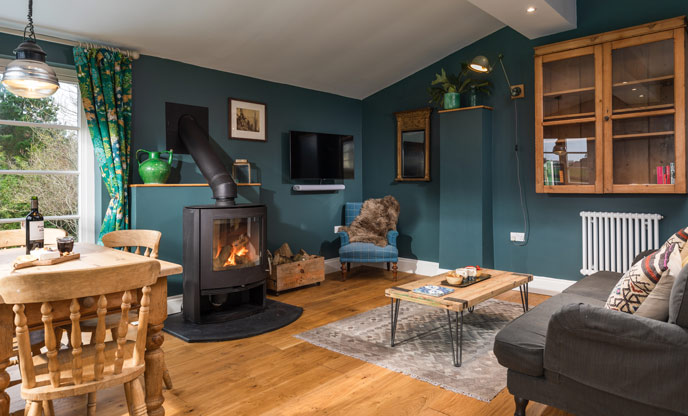 Hidden at the end of a private tree-lined drive and close to famous beaches such as Kynance Cove, The Dairy is nothing short of a little drop of heaven. Featuring a magnificent wood-burner, this dreamy wood-clad cabin is irresistibly cosy. The wood-burner sits right in the centre of the living/dining area which is open-plan to the kitchen. The fire is large enough to heat the entire hideaway, ensuring you stay toasty throughout your stay. Enjoy golden mornings, coffee in hand as you wake slowly, listening to morning bird song and keeping cosy by the warmth of the fire.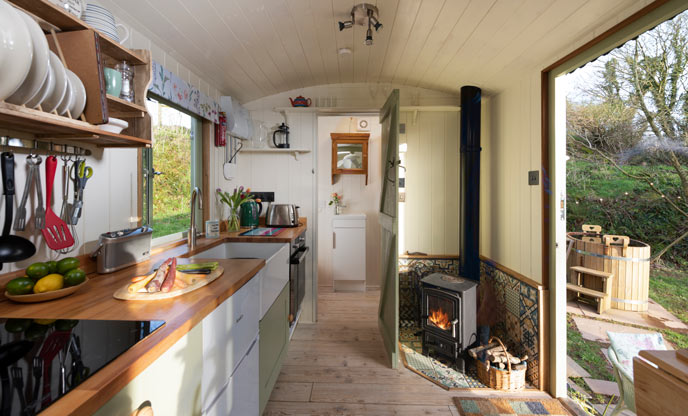 Nestled on a charming farm near the characteristic market town of Totnes is where you will find Rosie, our magic little hut, perfectly designed for two. This shepherd's hut not only has a toasty wood-burner but also has the added luxury of a wood-fired hot tub. Why not visit Totnes on Saturday morning and browse the delightful weekly market? Stock up on local and seasonally rich produce before returning to your hidden haven to light the fire. Embrace fireside moments as you sip a smooth glass of red wine and tuck into your locally sourced cheese board… just the tonic.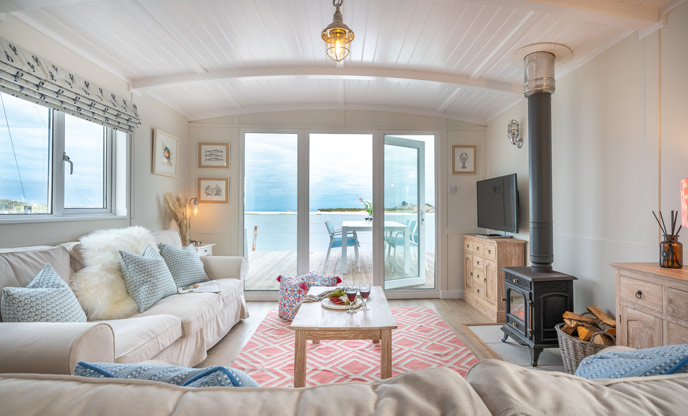 Our magical houseboat on the Isle of Wight makes for one of the most unique and memorable getaways. Sleeping up to six guests, Oystercatcher is perfectly designed for a group of friends looking to catch up in a truly special setting. The interiors of this enchanting hideaway echo life on the water. A pastel pallet of pink and blue hues fill this houseboat, and with a wood-burner to snuggle up by after a day of wild swimming and adventure-seeking, this unique retreat sets a calm, peaceful and cosy ambience to be enjoyed through every season.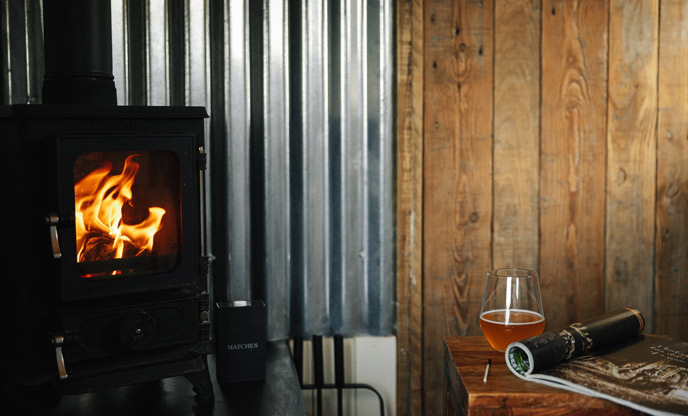 Rustic and charming in every way, Shepherd's Rest is our handcrafted hut, perfectly designed for a soul-soothing escape to nature. The rustic earthy interiors create the idyllic space for long and lazy romantic weekends. In the winter, as soon as you wake, light the fire, and pop the kettle on. Climb back into bed and watch the sunrise from where you rest your head. For those looking to re-awaken their connection to nature, look no further than this serene sanctuary. There's a gorgeous lake and even a wood-fired barbecue hut to cook a feast upon. We promise you, you'll never want to leave this little slice of paradise.
Room with a view | Cabin | Devon | Sleeps 2 | Dog Friendly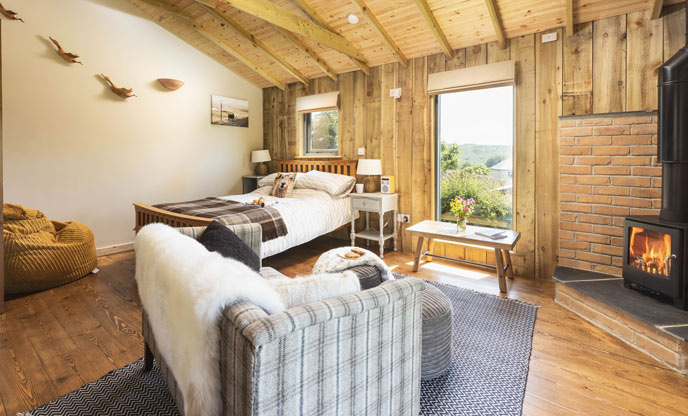 As soon as you arrive at this rural cabin you'll understand why it's named 'Room with a view'. The floor-length window frames a mesmerising view of Haytor in Dartmoor National Park. This cabin has a wild beauty and calming tranquillity that will transport you a million miles away from the pressures of modern-day living. The interiors represent the quaintness of the cabin's rural surroundings, which also creates a snugness that will captivate your heart forever. For the adventure seekers, there are an abundance of walks waiting to be discovered right from your doorstep. And just to make this cabin even more perfect, it's dog friendly, so no one has to be left behind.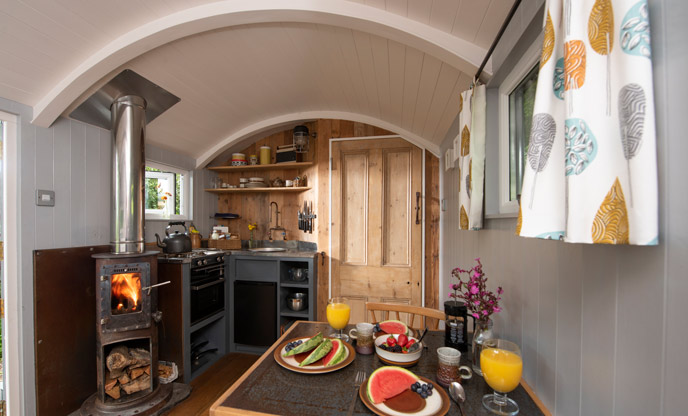 Rustic, earthy and oh so charming. Largin's Shepherd's View is just perfect for those looking to explore the breathtakingly beautiful county of Cornwall. After a day of discovering hidden coves, return to your humble abode, light the fire and enjoy the simplicity of playing a board or card game with your favourite travel companion. Take some time out from the everyday and retreat to this handcrafted, tranquil hideaway. An idyllic escape through every season.
Discover our entire collection of glamping hideaways with wood-burners here. From converted horseboxes to beautiful yurts, we have a wide range of quirky accommodation just waiting to welcome you, whatever the weather.