A booklover's guide to Cornwall
Penned on the 27th September 2022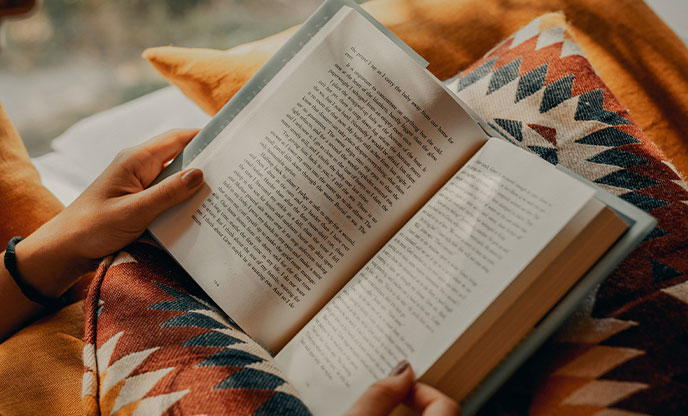 The southwest county of Cornwall is renowned for its surf and sandy beaches but it's also a place that's inspired writers for centuries. Countless novelists, poets and playwrights have fallen in love with its natural beauty. And with dramatic clifftops, rugged moorland, lush gardens and picturesque harbours aplenty, it's easy to see why.
It's not just the landscape that makes this county so idyllic, either. If you're a big lover of literature there's plenty to do, see and explore. Between beach walks and wild swims you could spend days blissfully browsing its characterful independent bookshops, discovering book swaps in quaint villages, or letting your imagination run wild at one of the many literary festivals and events that are held here. For the ultimate booklover's trip though, be sure to retrace the footsteps of some of Cornwall's most iconic authors and stories, from Daphne Du Maurier's Jamaica Inn to Antonia Barber's The Mousehole Cat.
Not sure where to start? Read on to learn more about the county's magical literary connections and the best festivals and places to visit in our booklover's guide to Cornwall. And be sure to bookmark this page!
Literary festivals
Fowey Festival of Arts and Literature, 12th-20th May 2023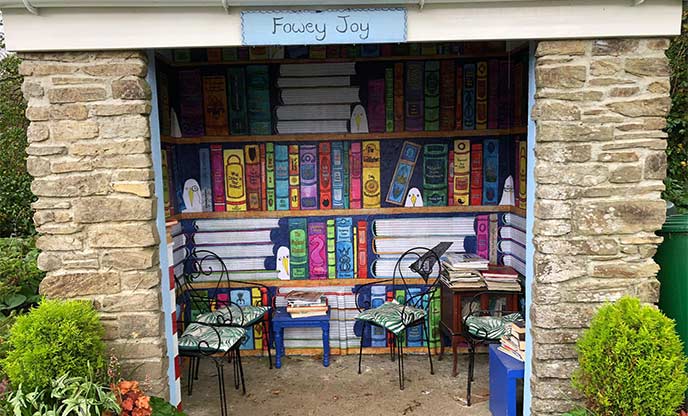 This popular festival has been held in the beautiful riverside town of Fowey since 1997. Daphne Du Maurier resided here (hence the festival also being known as 'the Daphne Du Maurier festival) and it has strong associations with The Wind in the Willows by Kenneth Grahame, making it the perfect location for such a grand event. The jam-packed programme features an array of authors, speakers, musicians and artists, as well as guided walks, trails and more. In 2023 it's the festival's 25th anniversary, so it's set to be an especially good one!
Penzance Literary Festival, 2023 dates TBC
Dubbed 'the friendliest lit fest in the UK', Penzance Literary Festival has a welcoming atmosphere and a lovely sense of community. In 2022 it was held over three days in July, showcasing a diverse mix of authors, performers, poets and more, with readings, talks and workshops around this year's theme: Resilience. Keep an eye on their website for 2023's theme and dates.
North Cornwall Book Festival, 21st-24th September 2023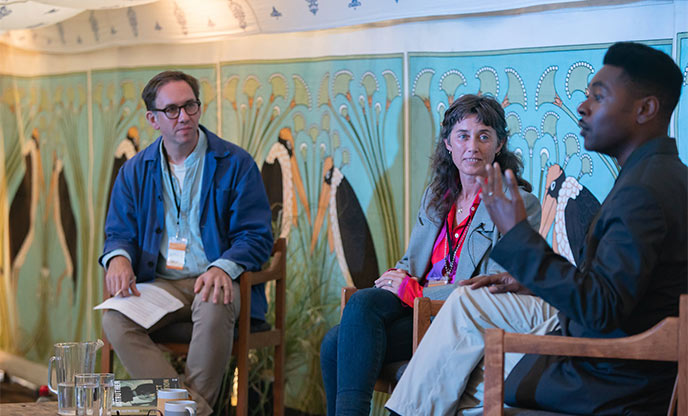 Curated by international bestselling author Patrick Gale, this boutique book festival is held in the peaceful hamlet of St Endellion, near Port Isaac. The festival brings writers from all over the world together in its intimate venues, for talks, interviews, performances and workshops. There's delicious food and drink on offer and a festival market too, so it's a wonderful place to spend a day (or three!).
Falmouth Book Festival, 17th-23rd October 2022
This is a new one for Cornwall's literary calendar. After its successful launch in 2021 it's returning to Falmouth this year for a full week of events in venues across the town. Expect a dynamic line up of authors and poets, with talks, workshops and activities to keep the whole family entertained.
Once you've picked up something new to read, head to one of Falmouth's many excellent independent coffee shops to settle into a comfy corner for a while. Because is there a better pairing than good coffee and a good book?
The best independent bookshops
Falmouth Bookseller, Falmouth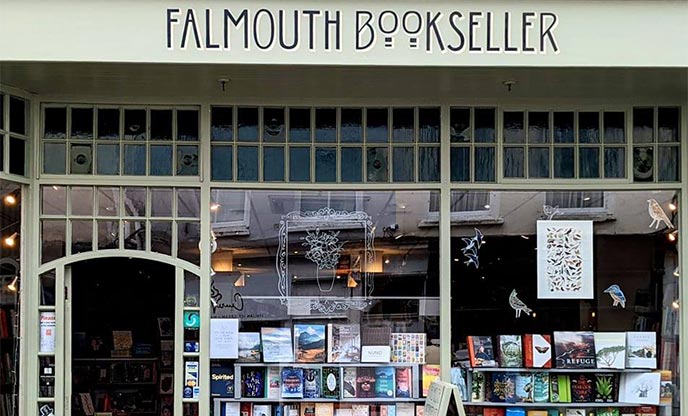 This beautiful shop is ranked as one of the best independent bookshops in the country, let alone Cornwall, thanks to the friendly and knowledgeable staff, wide choice of titles and vibrant community events that they put on. Look out for their recommended reads and Book of the Month if you're looking for some inspiration. And whilst you are in Falmouth be sure to visit an independent coffee shop or browse pre-loved gems in one of their vintage clothing shops.
St Ives Bookseller and Padstow Bookseller are part of the same network and are equally worth checking out.
Shrew Books, Fowey
Previously known as Bookends (it rebranded in 2020), this bookshop on Fowey's main high street has long been loved by locals and visitors alike. The owner is particularly keen on nature writing, so there's a wonderful selection to be found on the shelves here, as well as plenty of Cornish history and children's books.
Edge of the World Bookshop, Penzance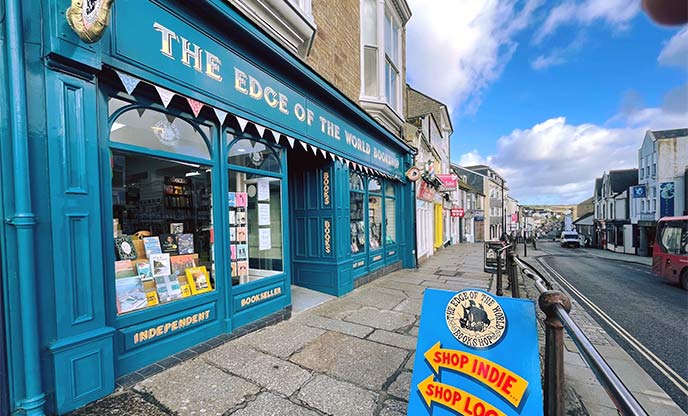 This quirky independent is Penzance's leading bookshop. You can't miss its blue shop front and beautifully painted signage, right in the middle of the town's bustling high street. Inside you'll find a treasure trove of books, from classic novels to quirky novelties. They often host Live Author Events too! The owner's say that they named it Edge of the World to reflect the journeys a book can take you on.
Just Books, Truro
Stocking mainly preloved titles, Just Books is a small shop for a big variety of interests! From art and poetry to children's literature and maritime history, there is certain to be a secondhand or vintage read that'll catch your eye here. There are some rare texts here too, if you're seeking something more specialist.
Beerwolf Books, Falmouth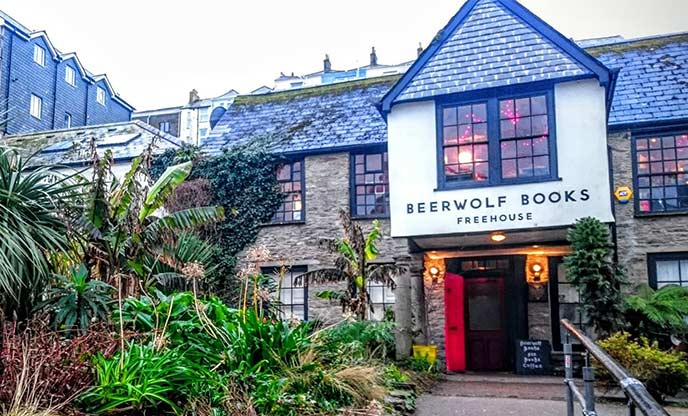 Another Falmouth gem, this unique venue is both a free house bar and a bookshop in one, tucked away just off the main high street. Browse the shelves and choose a captivating new novel before relaxing with a Cornish ale or cider to enjoy the opening chapter. It's a popular spot for students, so pick your time of day wisely if you'd rather it was quiet.
Stories by the Sea, St Ives
Located in the heart of St Ives, the aptly named Stories by the Sea is Cornwall's only specialist children's book shop. It's run by a previous primary school teacher, so whether you're looking for a book to match the school curriculum or just something to spark their imagination, you're sure to find it here. Keep an eye out for the bookish workshops that are held during the holidays too.
Wadebridge Bookshop, Wadebridge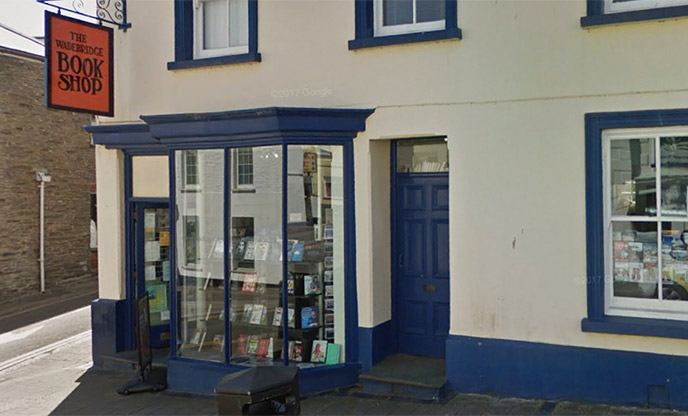 Moments away from the River Camel in the market town of Wadebridge you'll find this quaint little shop filled with interesting books for both children and adults, including some specialist titles in the Cornish language. There's a whole room dedicated to second hand books too - a treasure trove to get lost in for hours on a rainy day!
The Cook Book Cafe, St Just
Off the beaten tourist track in St Just, the most westerly town in Cornwall, this homely cafe-come-bookshop is a haven for book lovers. Enjoy the smell of freshly ground coffee and home-baked cakes as you browse the array of secondhand titles in the bookshop upstairs. They've all been carefully selected by the literature-loving owners, so you're bound to find something brilliant to enjoy with your hot drink or lunch.
Libraries & book swaps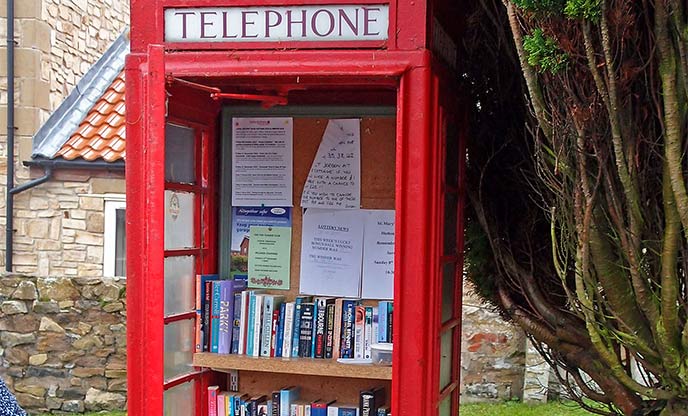 Whether you're looking for somewhere to savour a moment's peace, or something to entertain smaller family members for a few hours, you might enjoy a visit to one of Cornwall's many public libraries. Of course, you could also borrow a book or two to get lost in back at your hideaway. Get the full list of library locations in Cornwall here.
Keep an eye out for phonebox libraries during your adventures around the county too. There are lots of them popping up! All across the UK, in fact, people have been turning the otherwise dis-used red telephone boxes into micro-libraries for local communities to casually exchange books.
Literary connections
Cornwall has plenty of destinations with magical literary connections, from ancient folklore to children's stories to contemporary novels. Here are just a few of the most famous to get you started.
Jamaica Inn, Daphne Du Maurier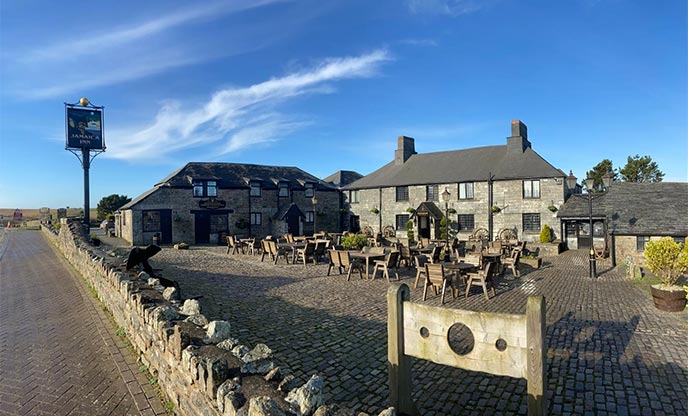 If spooky tales of smugglers and rogues are your cup of tea, visit Jamaica Inn where Du Maurier was inspired to write her famed novel of the same name. This historic coaching house was built in 1750 and is set in the beautiful and remote Bodmin Moor. As well as being a fully functioning pub serving hearty food and local ales, there's a smuggler museum, a Daphne Du Maurier museum and a gift shop here. But a visit to Jamaica Inn is not for the faint-hearted - it's said to be one of the most haunted places in the UK.
Frenchman's Creek, Daphne Du Maurier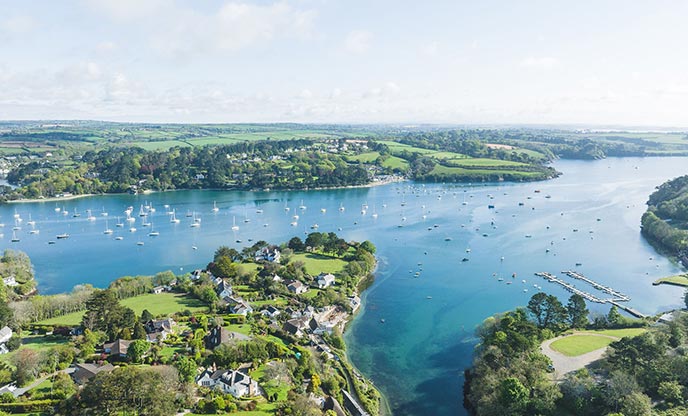 This hidden spot on the Helford River was made famous by another of Du Maurier's classics. She loved it so much, in fact, that it featured in several of her novels. You'll have to go off the beaten track to get here, meandering through narrow lanes and wooded valleys - but it's worth the journey to discover why this beautiful place was so inspiring to her. National Trust has an easy three-mile circular walk on their website that'll take you above the creek. Take a look at the route here.
Mousehole, The Mousehole Cat (Antonia Barber)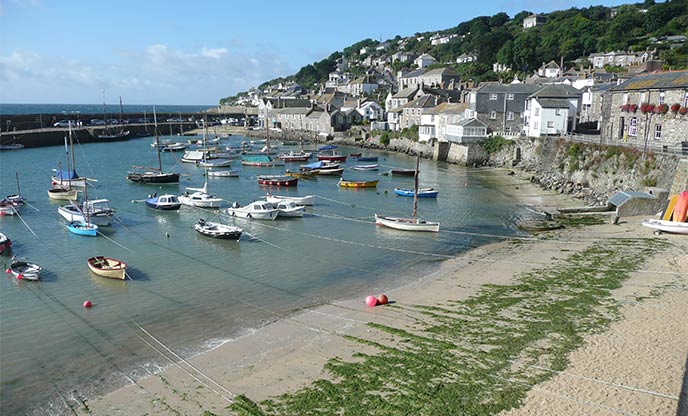 This well-loved children's story was written in 1991 and is based on the legend of Tom Bawcock, a Cornish fisherman and his cat who braved stormy seas to save their village. Wandering Mousehole's cobbled streets and along the picturesque harbourfront, it's easy to imagine the bygone days of fishing boats unloading the day's catch. It's a particularly magical place to visit around Christmas, when the village's famous light-display illuminates the harbour.
Perranporth, Poldark (Winston Graham)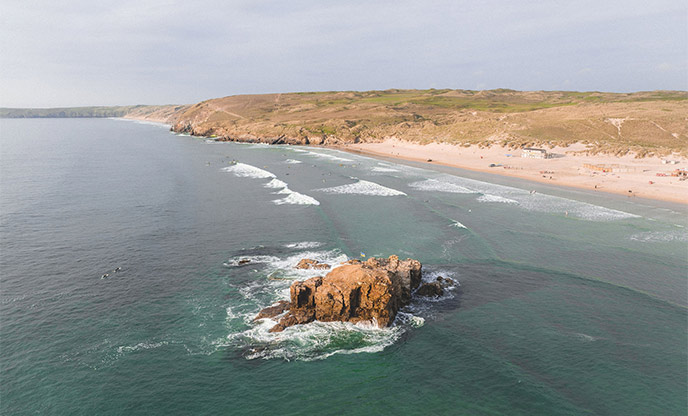 Lovers of Poldark should flock to Perranporth to see the setting for the novels and popular TV adaptation. Author Winston Graham lived in Cornwall for 35 years, setting the novels near his home and drawing inspiration from his surroundings. Take a stroll along the three mile sweeping sandy beach with its sand dune backdrop, and stop for a rest on the Winston Graham memorial bench. If you're a big fan, there are plenty of other Poldark filming locations to visit around Cornwall too.
Fowey, wind in the Willows (Kenneth Grahame)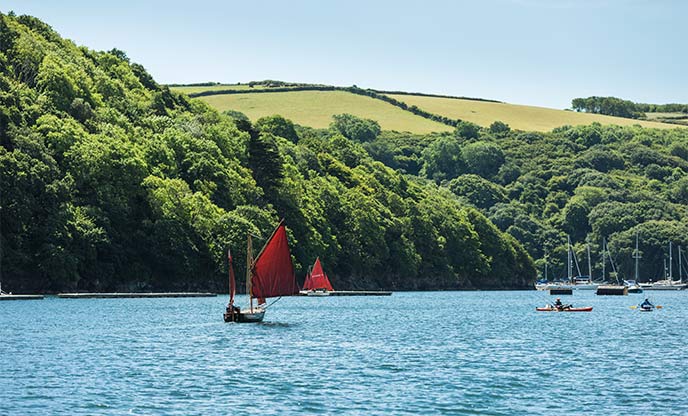 The River Fowey is said to have inspired the beloved children's classic, Wind in the Willows. The book began as a series of letters and bedtime stories from the author to his son, about his time spent out on the river. You can retrace Grahame's journeys with a gentle Wind in the Willows cruise or for something a little more energetic, take a kayak tour. Either way, keep your eyes peeled for the wildlife that inspired the book's beloved characters!!
Launceston, Charles Causley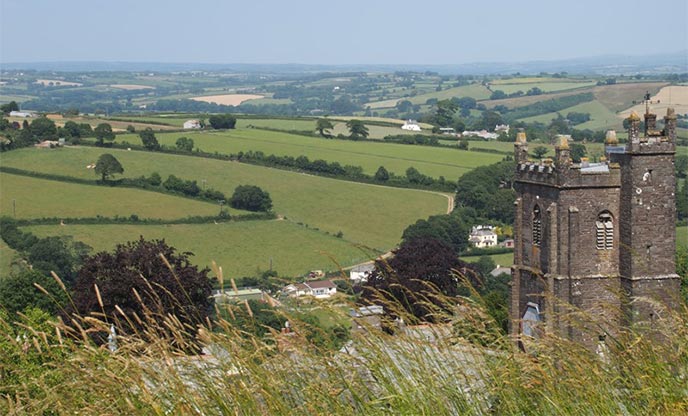 Prize-winning poet, playwright and children's author Charles Causley was born in the ancient market town of Launceston and spent most of his life here. He's considered one of the most important British poets of his generation, with works noted for its simplicity and associations with Cornish folklore. He wrote many poems about specific locations in and near his hometown - try the Causley Way town trail to visit ten of them, put together by the Causley Trust.
The South West Coast Path, The Salt Path (Raynor Winn)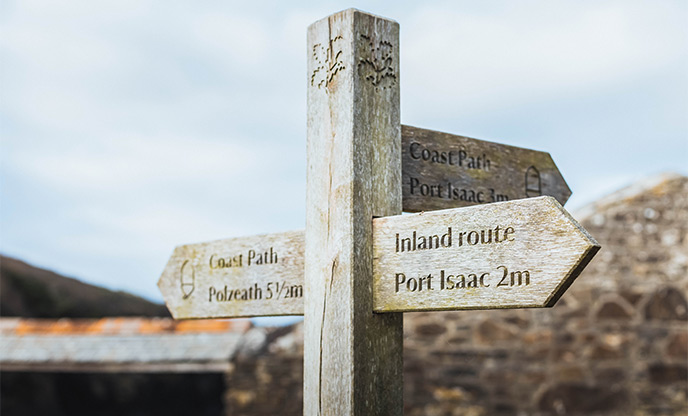 This beautiful novel by Raynor Winn shot to fame after its release in 2018 and has since sold over a million copies. It tells the epic true story of how Winn and her husband Moth made the brave (and impulsive) decision to walk the South West Coast Path after they found themselves homeless within days of Moth being diagnosed with a terminal illness. They walked all 630 miles - but you can pick any short stretch from Cornwall's coast path to follow in their footsteps. There are plenty of stunning circular walks in Cornwall just waiting to be discovered.
Staying in Cornwall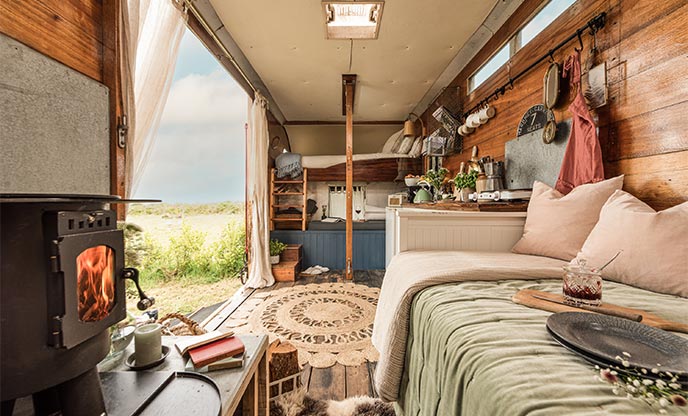 With so many wonderful literary adventures to be had, as well as beaches, countryside and towns to discover, you're sure to want to stay in Cornwall for a week or more. From spacious yurts for families to romantic hideaways for two, we have all sorts of beautiful luxury glamping sites to choose from. Take a look at the full collection and plan your booklover's holiday here.