The health benefits of glamping in nature
Penned on the 4th October 2022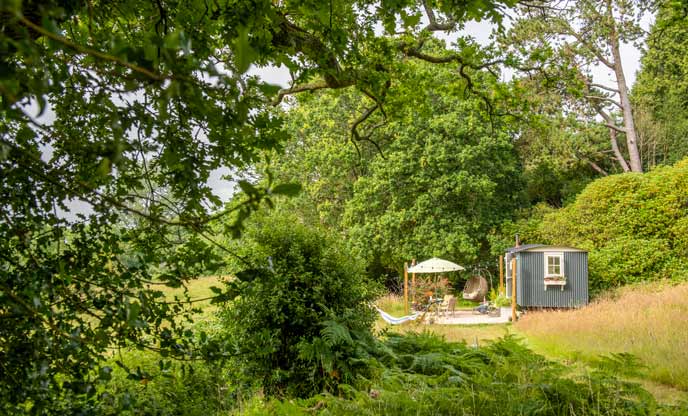 Time spent in nature is time well spent. A walk in the woods, a swim in the sea or a picnic in a meadow are all activities we can enjoy while glamping and are all positive mood boosters. It's proven that going for a walk outside surrounded by natural beauty, can help clear the mind and reduce anxiety. There are many ways to practice mindfulness, which we discuss in our blog 'Ways to practice mindfulness in nature' here. While glamping, you become part of nature. Your senses and awareness of how the world changes throughout the day increase, as you spend a great deal of your time outside embracing the elements. We have outlined some key benefits of why an escape to the great outdoors is beneficial, not only for our mental well-being but also for our physical health.
Ever feel totally overwhelmed by the thought of work, house chores, and socialising with friends, while also promising yourself you'll make time to sit and start that book waiting for you on your bedside table? We are the 'yes' generation and the fear of missing out really is something we struggle with.
Being in nature allows us to slow down. Taking ourselves out of our busy, every day routines is so important. Ruth Allen, the founder of White Peak Wellbeing, truly believes that nature can help us to live in the moment and that it has the ability to help us to disconnect from the rest of society. In her blog 'A gentle day of nature connection' she talks about the power of spending time outside from the first thing in the morning with a cup of tea and ending it in bed, daydreaming of your favourite place in nature. Going for a walk in the forest or a stroll on the beach without your phone and without music in your ears really can help us to unwind and relax.
While glamping at any of our unique locations, you will wake to beautiful places and end your day admiring how much the space around you has transformed throughout the day. Take our idyllic houseboat Mistery 2. Settled in her own private quay, you may wake in the morning looking out to green pastures at low tide, but while you enjoy your evening tipple, soaking in the last of the day's sunshine, the space you woke to has completely transformed into a tidal haven. Nature has the power to literally take our breath away. Take some time out and allow your day to flow with nature. We love adventure-filled days, but there is also absolutely nothing wrong with slow days. Reading a book, lighting a fire or baking a cake, are all simple pleasures we rarely find the time for in our everyday lives.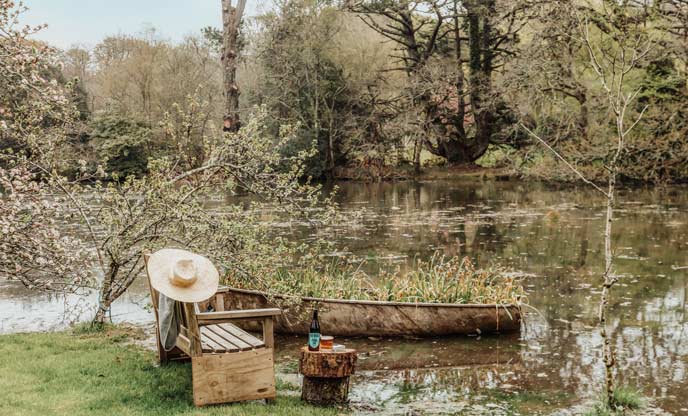 Reducing stress levels
The charity 'Mind' advocates that spending time in green spaces or out in nature benefits our mental and physical wellbeing. They suggest that spending time outdoors reduces the feeling of stress and anger, helps you to feel more relaxed, and improves your confidence and self-esteem while allowing you to create connections with other like-minded people. An ever-growing, popular activity to enjoy in nature is wild swimming. There's nothing like stepping into the cold water to distract your mind from your every day worries. You have to focus on the moment, take deep breaths and really be present. We spoke with Lydia, from Wild Swimming Cornwall and asked her why she believes wild swimming has an abundance of mental and physical benefits.
"There are a huge number of physical and mental health benefits that come with wild swimming. Studies show that submerging your body in cold water can help to reduce the body's stress response, which makes us better equipped for dealing with stress-provoking situations not only in the water, but in other areas of life also. Over time, this can lead to an increase in confidence, resilience and bravery. Plus, we begin to experience greater connectedness with our natural surroundings and enjoy the benefits of ecotherapy too. Studies also show that cold water immersion boosts immunity, metabolism, fitness and circulation. Not only is it great for physical and mental wellbeing, swimming is also a fantastic group activity and a great way to have fun and socialise with friends."
Many of our glamping sites are positioned close to the ocean and provide the perfect place for a dip with your loved ones. Why not push yourself outside of your comfort zone and try something completely new and exciting? You never know, you may fall head over heels in love with being completely free in the water and decide that you would like to make it part of your everyday routine.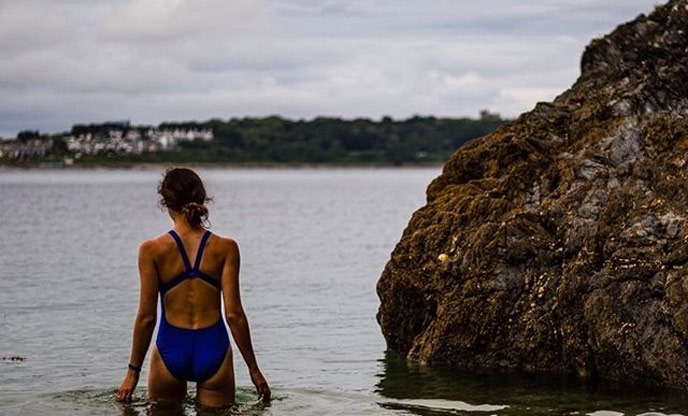 Image: Wild Swimming Cornwall - Max Campell
Take a look at our full collection of hideaways with sea views here.
Rising with the sun
There is something so magical about being awake at dawn. The rest of the world still sleeps, and you can truly feel the natural world around you starting to come to life. Everything is quiet until the dawn chorus begins to sing. The ground feels cold until the sun slowly starts to rise. The soft morning glow sparkles on your soft, sleepy skin. The world, just for a moment feels so pure and peaceful, calm and quiet. Real-time for you to be present in the moment.
While glamping, your body becomes fully aware of your surroundings and we really recommend that you embrace this. Switch off your phone and avoid the constant need to check the time. Allow your day to flow smoothly with nature. Wake to sunrise and rest when the glow begins to fade. Sleep while the moon shines brightly and begin the cycle again once the new dawn arrives. Allow your mind, body and soul to be fully immersed in nature, to become part of the natural flow of the day and enjoy that well-needed time away from your ever-buzzing digital devices. Read our full guide to the benefits of rising with the sun here.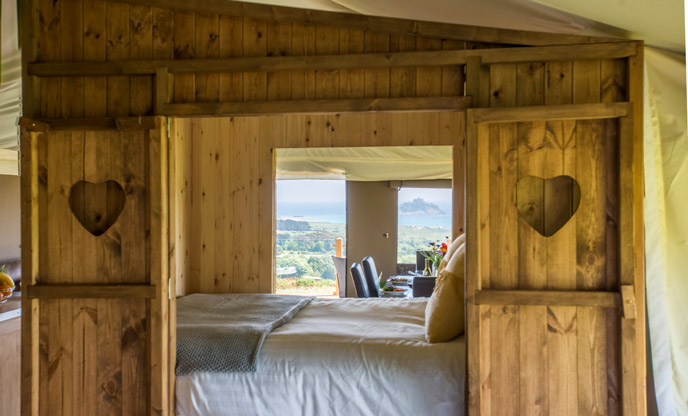 A good night's sleep
One of the key differences between 'glamping' and 'camping' is that when glamping you are guaranteed a good night's sleep. There are no musty sleeping bags or rocky grounds to rest your head upon, all our hideaways have comfortable, proper beds. However, this is not the only reason why you'll get a peaceful sleep. You are resting in nature with no noise from busy roads and no light sneaking in through the blinds from outdoor street lamps. Once your head hits the pillow there will be no unwanted interruptions to stop you from drifting off to dreamland.
Find out more about the differences between 'glamping' and 'camping' in our blog 'What is Glamping' where you'll also discover why glamping is the best type of holiday.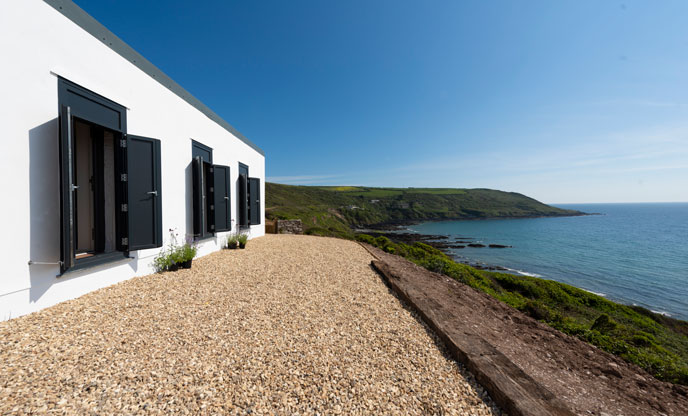 A breath of fresh air
What could be better for the mind, body and soul than a good dose of fresh air. Whether this comes in the form of a salt-kissed sea breeze or in abundance from a forest full of the tallest treetops, any type of fresh air will help clear a foggy mind. An article by Lung Health Institute, suggests that spending time by the sea can improve our overall lung function and decrease sinus pressure. Embracing 'Blue Mind' is a brilliant way to reduce stress, whether that be by going for a cold water wild swim or by sinking into a steaming hot tub. Read our full guide to 'Blue Mind- Ways to feel at peace by the water', which delves a little deeper into the benefits of being around open bodies of water.
Many of us spend a lot of our week sitting down, inside and in front of a screen, often working in a town or city with high pollution. All of our enchanting escapes are situated in rural or coastal areas, perfect spots to soak up the purest of atmospheres, filled with the smell of wildflowers or dewy grass. After a short break away to one of our unique hideaways your lungs will feel lighter, and your hazy mind will once be clear again.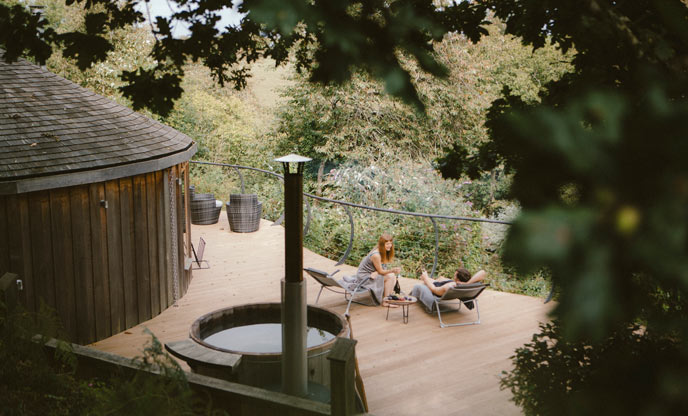 The 'sunshine' vitamin
We all need vitamin D in our lives, as it helps our bodies to absorb calcium and other minerals which are important for healthy bones, teeth and muscles. Our bodies create vitamin D from spending time outside in the sunlight. While glamping you are outside from dawn until dusk soaking in the rays and boosting your vitamin D levels. After your escape to the wild, you will return home with that long-awaited, golden glow!
Spending time outdoors and soaking in the rays will also reduce any symptoms of SAD (seasonal affective disorder) sometimes recognised as 'winter depression'. SAD is linked to reduced sunlight exposure. A key treatment is to get as much natural light as possible. While glamping you spend so much of your time outdoors, so any symptoms of SAD will be sure to decrease. Even if you aren't going glamping in the peak of summer, winter sunshine can also help to reduce these symptoms and boost your daily mood. To beat the winter blues, get outside in nature whenever you get the opportunity.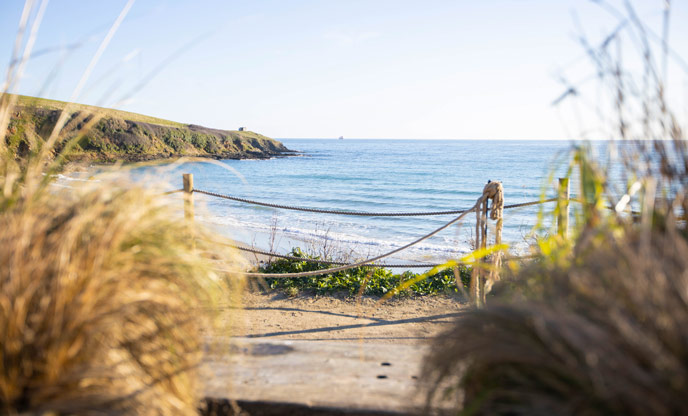 Increasing those endorphins
Without even realising it, you will end up exercising while glamping. We all know how good exercise is for us, not only for our bodies but also for our mental well-being. We aren't suggesting going to the gym or enduring a 10k run, but your step count will simply improve by walking to and from the beach or exploring the countryside, and your heart rate will definitely increase as you plunge into a new experience. While glamping, there are so many different activities to try. From yoga, rock climbing and stand-up paddle boarding to surfing or hiking, your days will be full of adventure. Not only are these activities fun, but you'll find you are naturally exercising while also spending time re-connecting to beautiful mother nature. Take stand-up paddle boarding for example, as you float along the glistening water, your mind will begin to ease and you won't even realise you are exercising because there is so much to enjoy.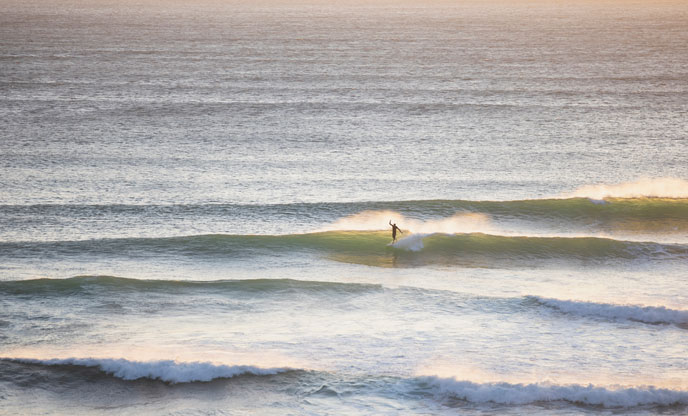 Where to stay for adventure-filled activities: The Shepherd's Hut at Georgia Bridgenear St. Ives. While staying at this cosy abode, head into picturesque St. Ives and book yourself in with St. Ives Surf school for either a surf, sup, kayaking or coasteering session. The team are fantastic at making you feel at ease in the water and we guarantee it could be one of the highlights of your holiday.
Inspiring Creativity
From picture-perfect moments to the sweet scent of English hedgerows, it's hard not to feel inspired while glamping in nature. So many creators take their inspiration from the majestic world that surrounds us. Whether that be a beautiful painting of the rolling Devonshire countryside or the delightful fragrances of St Eval Candles, many of the items that we display in our own homes help us to bring the outdoors in. We spoke to St Eval about how nature has inspired them to create such unique and natural scents.
"Nestled on a farm by the Cornish coast, the sights and sounds of nature greet us every day; birds nesting in the fields, wildflowers adorning our meadows and the deep blues of the Atlantic Ocean on the horizon. Born from a love of nature and passion to 'tread softly on the earth', at St. Eval we create unique fragrances and candle collections seeking inspiration from our natural surroundings – the Cornish coast and countryside. Cornwall is home to so many captivating landscapes, it's impossible not to feel inspired.
Getting creative is a great way to express our emotions and has links to reducing anxiety, depression and stress. For the aspiring artists amongst us, don't forget to pack your sketchbook and take some time to get creative during your glamping holiday. For more inspiration on how to get creative with DIY crafting, take a look at this blog and get inspired.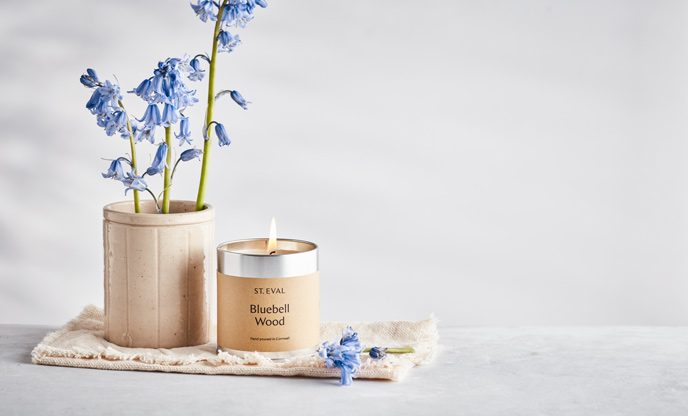 Alfresco feasting
The food while glamping… well what a treat! Cooking outside is one of the best things about glamping. Coming back from a day at the beach and lighting the barbecue to cook fresh, healthy, local produce, is such a good feeling. Many of our wonderful properties have fire pit barbecues for you to use during your stay. If you haven't cooked over a woodfire before, then we recommend you try it. The majority of our glamping sites can be found in areas where a local farm shop is only a short walk or drive away and many are close to the sea. There's so much quality and unique food and drink to enjoy from these smaller independent businesses during your stay. Why not treat yourself to some fresh fish to cook on the fire pit? Local line-caught mackerel from the Cornish coast with a drizzle of oil and a squeeze of lemon cooked over smoky embers is just the crème de la crème of a summer glamping feast.
You can also enjoy some foraging while you're glamping through the seasons. Foraging can be fun for all the family, especially in autumn. Grab a big bowl and hunt the hedgerows for blackberries. Apple and blackberry crumble while sitting out by the fire pit on a cool autumnal evening. Comfort food that's good for the soul. Take a look at our blog 'Cooking in Nature' for our best glamping sites with outdoor cooking facilities, plus a few tasty salads for you to whip up alongside your alfresco banquet!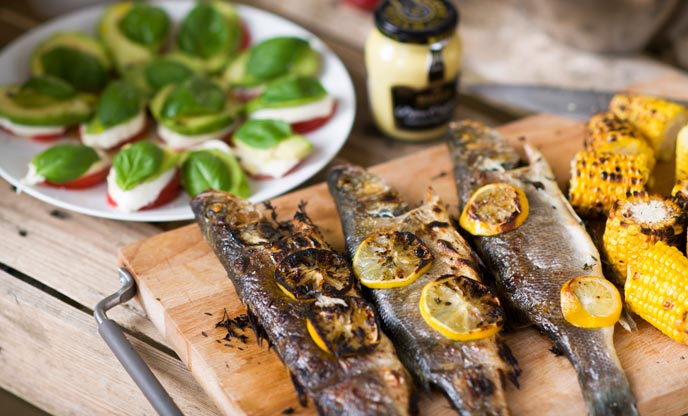 Take a look at our full range of foraging guides in our Travel Journal: Spring Foraging, Summer Foraging, Autumn Foraging & Winter Foraging.
Quality time
Now more than ever we are craving that long-awaited quality time with our loved ones. Glamping provides the perfect experience for you and your friends or family to reconnect in nature. A glamping experience is different to any other type of holiday. Staying in unique accommodation set in enchanting locations is the perfect way for you to catch up under the stars. Book that trip with your friends where you can spend your day's wild swimming and your evenings sharing stories in the hot tub, while enjoying a few glasses of prosecco to celebrate your reunion. Take that well-needed trip away with your family and pack those favourite board games to play out by the fire pit, while embracing your natural surroundings. We have glamping accommodation suited to everyone and we truly believe glamping is one of the best ways to spend quality time with your people. A trip away with family or friends has been proven to boost your mood during the following few weeks. Create those memories to last a lifetime, you deserve it.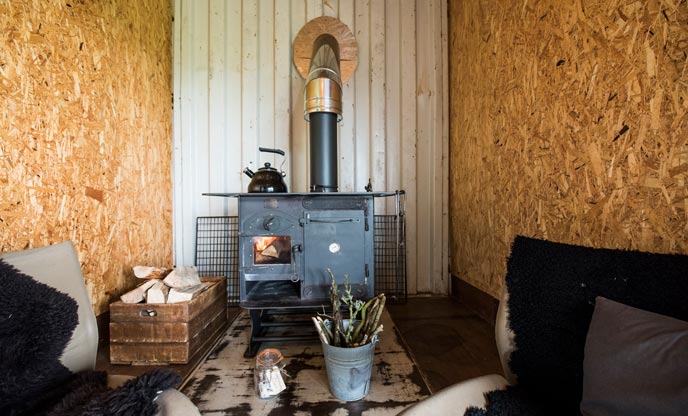 Take a look at our full family glamping collection here.