Be inspired by wild swimming
Penned on the 6th October 2021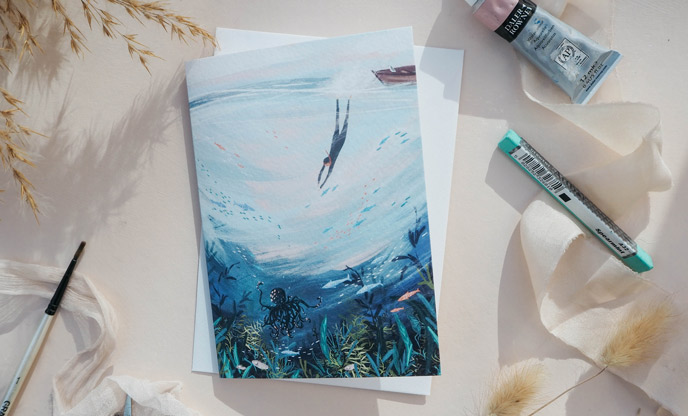 Wild swimming is positively recognised as being beneficial to our mental and physical wellbeing. We had a chat with the lovely Lydia from Wild Swimming Cornwall to discuss the benefits of cold-water swimming and why we should continue to swim as we enter into the cooler months of the year. We also have a strong belief that any type of activity in nature can spark creativity, so we spoke to the talented artist, Imogen Davis about her love for wild swimming and how the crystal-clear waters of the Helford in Cornwall, were the inspiration behind her Wild Swimming Collection
Whenever we retreat to the sandy shores of Europe or to further exotic countries, the majority of us will have a dip in the balmy sea. And even when the annual heatwave strikes the oceans, lakes and rivers across the UK are the most popular playgrounds for people to cool off. However, for many of us, this is as far as our wild swimming experiences go and can these annual sea swims really be considered as 'wild'? Over the past 18 months, during a time when the world stood still, wild swimming became an increasingly popular activity, even throughout the winter months. So, what actually caused this boom, what really is a wild swim and why should we continue to immerse our bodies into natural swimming pools even in the depths of winter?
The boom of wild swimming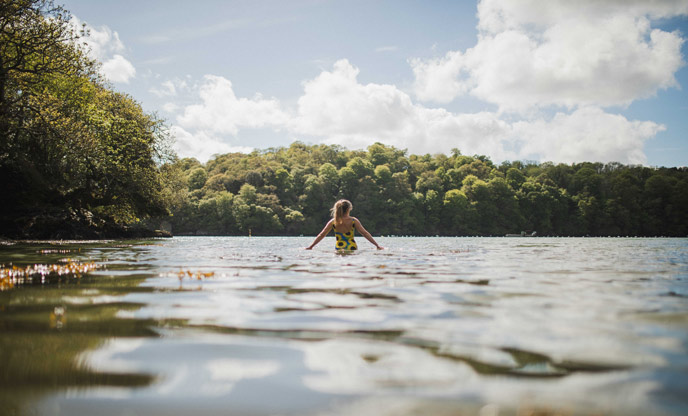 One thing we can thank COVID for is the increase of those taking to the water. There are several reasons why wild swimming has grown in popularity over the past 18 months.
Firstly, those who would usually head to the pool to exercise no longer had this option, so instead put their swim hats and goggles on and headed to natural swimming locations.
Exercising outdoors was still permitted during lockdowns and during the winter of 2020 you could meet with friends outside as long as you were seen to be exercising. Wild swimming gave many of us the perfect excuse to meet with friends on the beach or by a river and go for a swim together before warming up with a quick flask of social distanced tea.
The number of media accounts supporting the mental and physical benefits of wild swimming and cold-water immersion became a big trend. These articles had a really positive impact as they encouraged more and more people to try swimming in the wild, which consequently led to an increase in people falling in love with the feeling of being free in the water no matter the time of year. Have a read of Wild Swimming Cornwall's blog to discover the benefits of cold-water immersion.
What makes a swim 'wild'?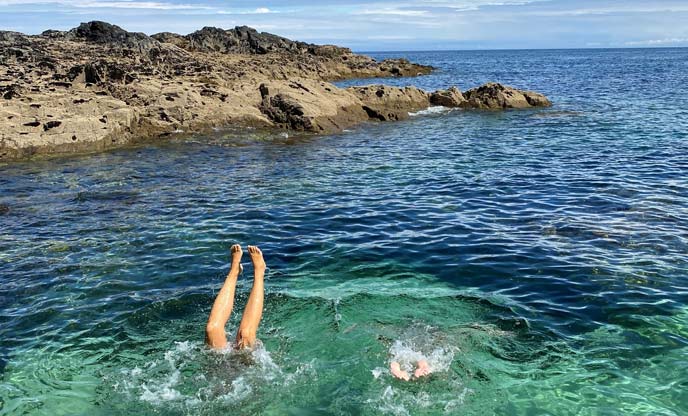 Whether you are a sea swimmer, a lake dipper or prefer to float down the river, if nature is surrounding you, then your swim is definitely a wild one. A wild swimmer is someone who seeks out unique, hidden, and natural places to go swimming. Swimming at the beach is a form of wild swimming, but in the summer months the area between the red and yellow flags can become a little overcrowded. Often wild swimmers will pursue hidden coves or tranquil tidal pools for their daily dips, in order to seek solitude amongst the water.
Please note it's always important to check tide times and sea conditions before you head off the beaten track to find a hidden swim spot. If you are new to wild swimming, we highly recommend you swim at a lifeguarded beach.
Why swim in the winter?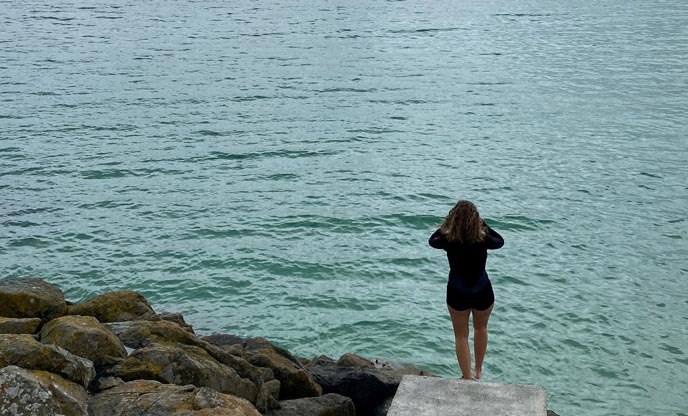 For many of us, once the sun starts to shy away and we welcome the return of autumn, our wild swimming days are put on hold until summer's next arrival. There's something slightly less appealing about taking to the water wearing a bobble hat and knowing that when you get out, the race to get your socks on is key! So why is it so many people almost feel addicted to the water at this time of year? Is it the steaming mug of hot chocolate after the event or genuinely the way the water makes you feel? Here's why Lydia, from Wild Swimming Cornwall, believes that we should continue to be at one with nature, even in the winter:
"As we head into the cooler months and the water temperature declines, many people place cold water swimming on hold and wait for the winter to pass. However, we find that swims become even more integral to our wellbeing at this time of year and that they have a huge impact on our state of mind. Ensuring that we get our daily dose of light exposure (which can be absorbed even when the sun is behind the clouds) can have a huge impact on our wellbeing, particularly for those who suffer from Seasonal Affective Disorder. The confidence boost and sense of achievement we get from overcoming the resistance to cold water is heightened too, so that we can head into our day feeling a little bit crazy but also a little bit awesome. And, perhaps most importantly, it means that we're still setting time aside to laugh and play with our friends. In addition to this, we also head to the water knowing that we are spending time in nature and that each day we will witness something beautiful and something different. There's still an abundance of wildlife to be seen, some of which you are less likely to come across in the warmer months. For example, inquisitive seal pups, birds that have migrated from elsewhere and towards the end of autumn, spawning jellyfish. Ultimately, the ocean remains our playground regardless of temperature – a place for us to socialise, invest in ourselves and become inspired."
Take a look at Wild Swimming Cornwall's website and see if you can find a wild swimming group near you. Why not make the ocean your playground this winter and get involved in wild winter dips?
Get inspired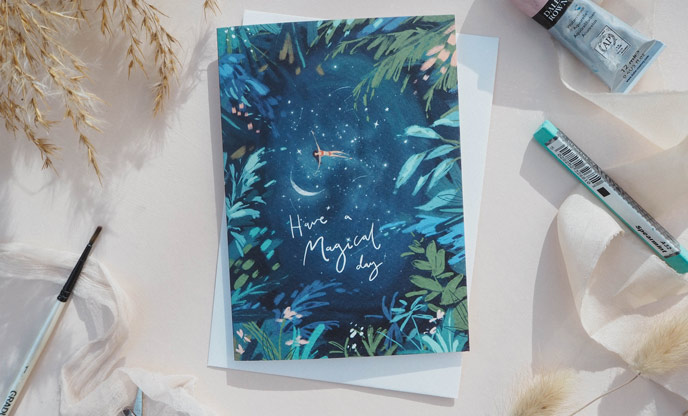 As Lydia mentioned the ocean is a place that many of us find inspiring. Its ever-changing form is a mesmerising process. One day it's calm, smooth, and crystal clear and the next it becomes a display of thunderous crashes, salty spray and rugged, wild waves. One artist who isn't only inspired by the look of the ocean, but also the emotion and feeling of being at one with the sea is Imogen Davis. We asked Imogen to tell us the story behind her magical Wild Swimming collection and what inspired her to get creative:
"For me, swimming in the wild is a way to calm my mind and wash away any unnecessary anxieties. When living close to the Helford River my favourite thing to do in the warmer months was to wake up near sunrise, stroll down to my local cove and submerge myself within the sea's waters. Those moments in nature, walking through woodlands and swimming in calm waters completely transformed my mindset. Not only does swimming calm me, but when outdoors and in nature I know I'm doing something that fills me with happiness and therefore it gives me a sense of achievement that sets up my day. My Wild Swimming Collection was inspired by moments like this and those spent with friends exploring Cornish coves, relaxing by hidden lakes and making the most of starry nights by the water."
For the beginners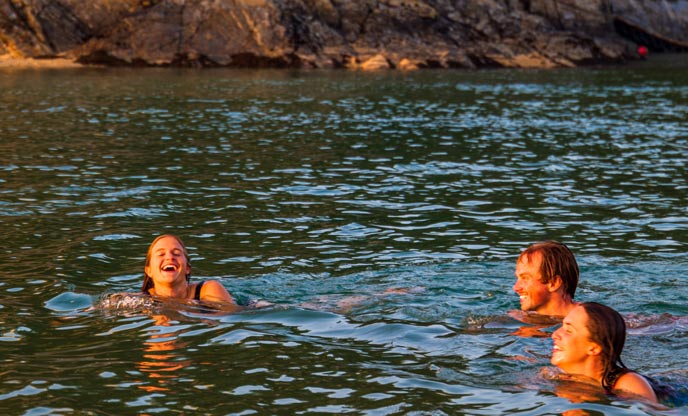 Cornwall, Devon and many other coastal locations across the UK are renowned for their wild swimming spots, but many of these 'secret spots' are difficult to get to. Please take care on your adventures and always make sure you check the tides, are aware of currents and never go for a wild swim alone, especially in the winter. Take a look at Wild Swimming Cornwall's blog 'How to stay safe when wild swimming' to find out more.
Win with Unique hideaways, Wild Swimming Cornwall and Imogen Davis Designs | Competition closed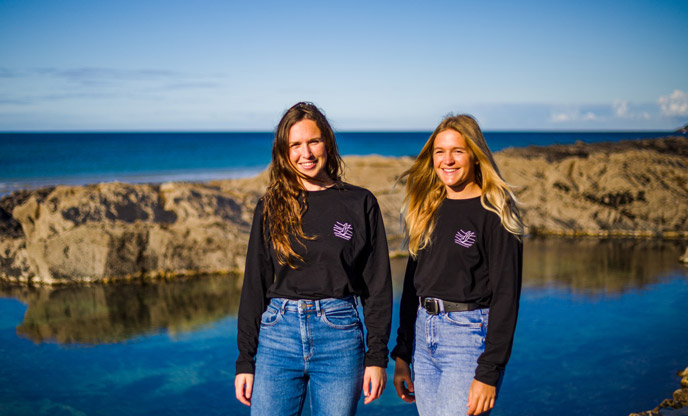 To celebrate our wild swimming collaboration, we are giving you the chance to win a £250 voucher for a stay at a Unique hideaway, a Wild Swimming Cornwall book and t-shirt and an Imogen Davis signed and framed 'Enchanted' print, plus 6 wild swimming cards. Head to our Instagram to find out how you can win these amazing prizes. (Competition now closed!)
If you fancy staying in one of our hideaways close to the ocean for all those dreamy wild dips, please take a look at our collection of glamping accommodation with sea views.