Autumn foraging guide
Penned on the 22nd September 2022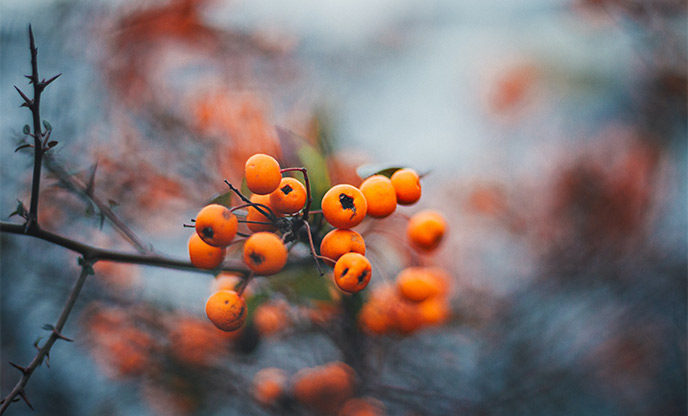 As we wade through the final warm days of the year, Autumn sees nature offering us her best. Following the fresh foliage of spring, berries that have been ripening throughout summer are now ready to be brought from bush to table. We've collated a list of our favourite edible foods to forage at this time of year and some recipes to inspire you over the next few months, along with an ode to the Autumn equinox.
Rose hips (Rosa canina/Rosa rugosa)
From its fragrant flowers in the summer months, this shrub gives birth to vibrant red and orange berries come autumn that are ready for harvest late September to early October (or, traditionally, after the first frost).
Containing even more vitamin C than an orange, rose hips are a powerhouse in the foraging world, known for their immune-boosting and anti-inflammatory qualities, as well as their benefits to cardiovascular and digestive health. When it comes to making medicinal syrup with rosehips, the rosa rugosa variant can offer the greatest yield. The fruits are larger than that of the dog rose (rosa canina) variant, and grow hardily and abundantly in coastal areas. The seeds of the fruit are covered in feathery hairs that are irritating on skin; wearing gloves and removing them during preparation before heating, though a fiddly process, is advised.
Rosehips bridge into winter foraging as, depending on weather conditions and temperature, they are often harvestable late into November. Due to its high sugar content, syrup crafted in Autumn will usually last throughout the whole of winter (3-4 months) when kept refrigerated. If you'd rather have less sugar in your syrup but still reap its benefits through the colder months, it's possible to freeze the mixture into ice cube trays and add as needed into hot water, lemon, and honey each morning. Other uses for rose hips include wonderfully sweet rosehip jelly and cordial.
* Do not eat rose hips raw
Elderberry (Sambucus nigra)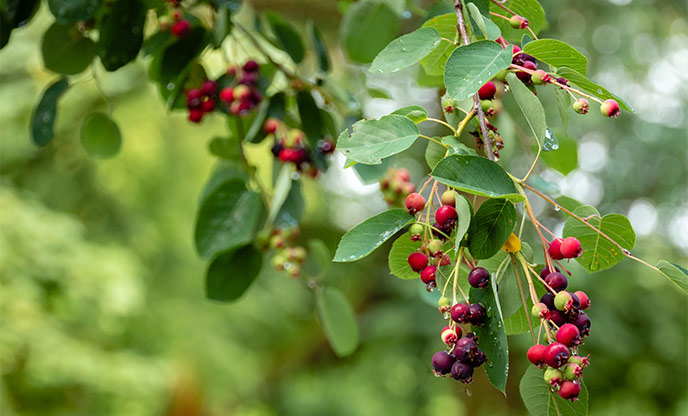 It's almost as if nature knows exactly what we need come autumn, providing us with an abundance of wild edibles that do wonders for our immune system; a helping hand to fend off the coughs and colds that the cooler months can bring.
Elderberry, the fruit of the Elder plant, is another immune booster. It has been used for centuries by herbalists and early medical professionals to ease flu and other respiratory infections, fevers and more. A powerful antiviral, it's packed with antioxidants and vitamins that can ease inflammation, lower blood pressure and aid digestion.
Elderberries follow the bloom of the elderflower, and are ready to harvest from August to October. The bushes grow in woodland, hedgerows, wasteland and even along roadside verges.
A dark reddish-purple, the berries grow in clusters on the ends of branches of a lighter but similar colour. The berries and flowers are the only edible part of the Elder plant; its leaves, stem, bark, and roots are toxic and should be avoided. To ensure total removal of the stem and leaves, you can freeze your elderberry yield overnight - this makes the berries easier to pluck off the next day.
The most popular method of ingesting elderberry is by crafting a syrup, however its benefits aren't strictly medicinal - elderberry is delicious in sweet pies, wine, and jams.
Wild raspberry (Rubus idaeus)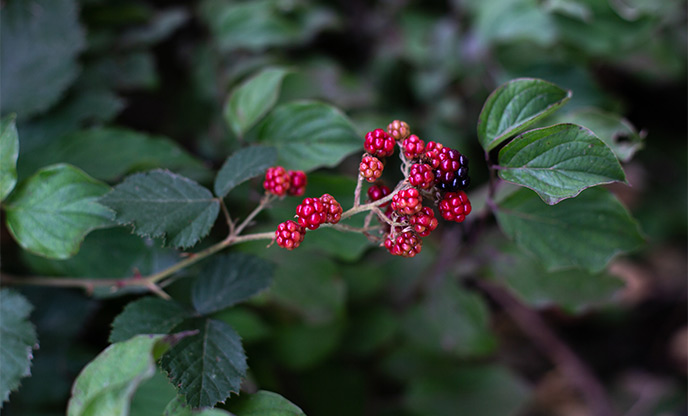 Daintier, tarter and all the more rewarding to consume than its cultivated and commercial cousin, wild raspberry grows surprisingly widespread throughout the majority of the UK. The plant can be found in hedgerows, woodland, scrub and heathland, and is easily identified; the only possible alternative is the harmless unripe blackberry.
Most of the time, due to low yield, ripe wild raspberries are best enjoyed as and when you find them, plucked from a bush as a sweet mid-ramble treat. That being said, if you're lucky enough to stumble across a bush adorned in fuchsia-toned berries between the months of late July and September, you've hit the jackpot. With a decent sized yield, wild raspberries can be made into cordials, jams, liqueurs and more.
The young or new leaves of the plant have been used medicinally to ease menstrual cramp, aid digestion and increase blood circulation; they can be plucked and brewed into a fresh tea. Avoid ingesting older, more wilted leaves as they can contain cyanide which is toxic to humans.
Sloes (Prunus spinosa)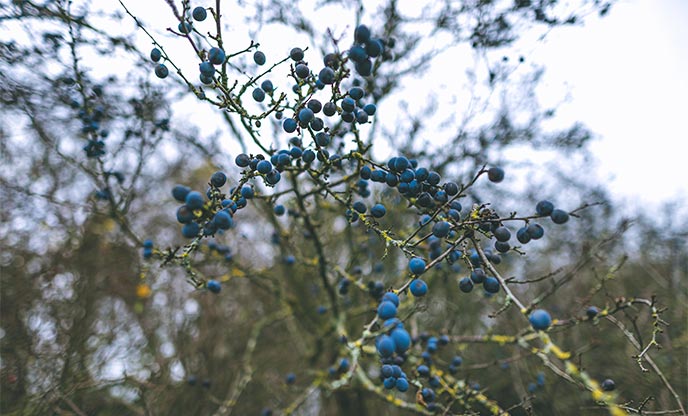 Sloes are the fruit of the blackthorn: a thorny, black-barked shrub that grows abundantly throughout the UK and is part of the rose family. Commonly confused as a berry, sloes are actually the smallest fruit of the plum family. They are edible when raw, but carry an extremely bitter flavour, so are best known for being infused in alcoholic beverages.
With Christmas on the horizon, foraging sloes offers an ideal opportunity for a homemade gift. Traditionally, the best time to forage sloes is after the first frost; the reason for this is that the frost splits the skin of the fruit making the infusion process easier. However, you can mimic this by freezing your collected sloes at home.
It takes around 2 months to craft sloe gin, so the earlier you forage the fruit the better - ensuring, of course, that the fruit is ripe: look for soft, pulpy fruit that comes easily when plucked. There are many recipes out there for sloe gin, but we've tried and tested this recipe from Woodland Trust and return to it year after year.
Recipe: how to make sloe gin
Ingredients
1 litre bottle of gin
450g sloes
225g caster sugar
1 large sterilised jar or 2 empty gin bottles
Method
Wash sloes and seal in an airtight bag. Freeze overnight or until you're ready to make the gin.
Put frozen sloes into sterilised jar or empty gin bottles.
Add gin then the sugar directly onto frozen sloes. Their skins will split which means you can avoid the laborious pricking of each individual sloe berry.
Once the sloes have thawed, seal the jar tightly and shake well.
Store the jar in a cool, dark place and shake every other day for a week. After the first week you only need to shake it once a week for 2 months.
The liquid should now be dark red and ready for drinking, although you'll find it improves over time.
Serve sloe gin neat, over ice or drizzle over ice cream
Recipe credit to https://www.woodlandtrust.org.uk/
Rowan berries (Sorbus aucuparia)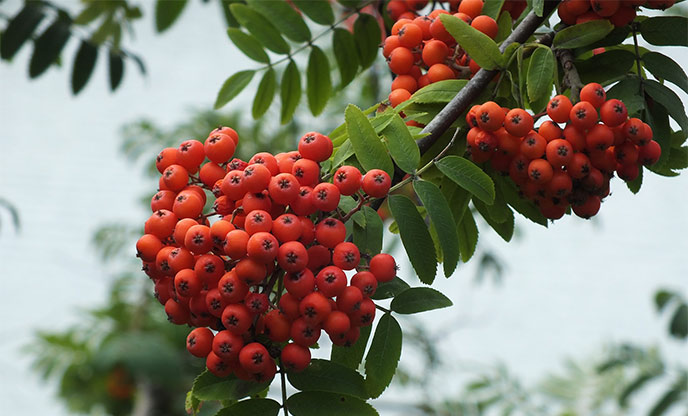 Renowned in folklore and adored by wildlife and foragers alike, these fiery red berries are at their best in autumn. Rowan trees, once planted outside houses with the belief that the scarlet berries would ward off evil and protect its inhabitants, are deciduous and widespread throughout the UK, growing up to 15m tall. They're characterised by the pinnate (feather-shaped) leaves and, when ripe, orangey-red berries growing in clusters.
Rowan berries are mildly toxic when raw, so should only be consumed when cooked. Their most popular culinary use is being made into jelly alongside crab apples (another wild edible available at this time of year, mentioned in our summer guide). If you're already thinking of Christmas, homemade rowan berry jelly is a lovely gift option, as it is a delicious accompaniment to christmas charcuterie boards featuring rich meats and cheeses.
Rowan berries can be confused with other toxic berries. Take extra care and consult additional guides if you are unsure.
Seasonal eating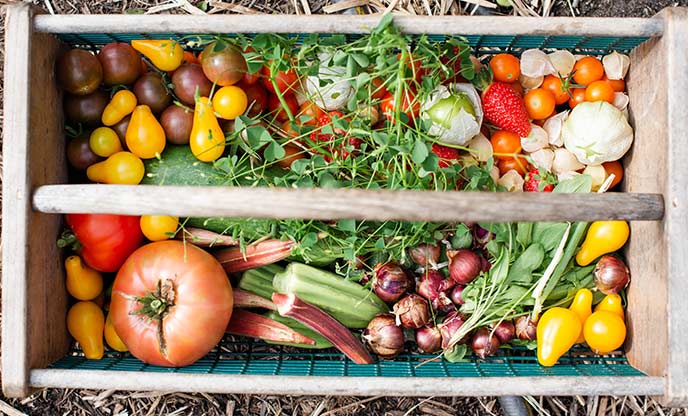 Not everyone has access to rural areas with abundant greenery to forage, however that doesn't mean you can't eat seasonally. Autumn is harvest season; local allotments will be overflowing with fruit and veg ready to take home to your table at this time of year. Be sure to take a look at our spring, summer and winter foraging guides to lead you through the seasons. Many urban areas have communal allotments, which is a great way to connect with your community and experiment with seasonal eating. Consult your local council to find your nearest one. Also look out for local veg stands where you can pick up a haul.
Recipes and guidance for seasonal eating can be easily accessed online, or through books such as The Almanac: A seasonal guide to 2022.
Gathering, gratitude, and letting go: an equinox ritual
September brings with it a slowness, a steadying of pace and a turning inwards after the effervescent, outgoing and light-filled days of summer.
Taking heed from nature at this time of year is particularly poignant. During the spring equinox, we set intentions and consider the seeds we'd like to sow and see bloom throughout the summer months. The arrival of autumn encourages us to reflect on all we cultivated, to feel grateful for it, and gracefully let it go. At this time, trees release the leaves they've so carefully tended to throughout spring and summer, choosing instead to send their energy inward and reserve their vitality for surviving winter and all the new growth that awaits come spring. They do so without resistance, with no hesitation, as they know that this loss will birth new life eventually.
As the sun hangs closer to the horizon and night clings a little tighter to day, we can ask ourselves questions inspired by the trees and their rituals: what are we holding onto that no longer serves us? Where can we divert our energy to better our present circumstances? How can we make room for the new growth that will follow these colders months when warmer days return?
The autumn equinox (23rd September 2022) and harvest season is a time of reflecting and feasting. To honour this transition from light to dark, why not come together with family and friends to create a seasonal banquet of foraged and harvested autumnal goods. Gather around the table, sipping on sloe gin or wild raspberry cordial and reflect on the questions above, sharing gratitude with each other for all that has been and all there is to come.
For more autumnal inspiration take a look at our blog 'Reasons to go glamping in autumn: slowing down with nature' and start planning your cosy break away.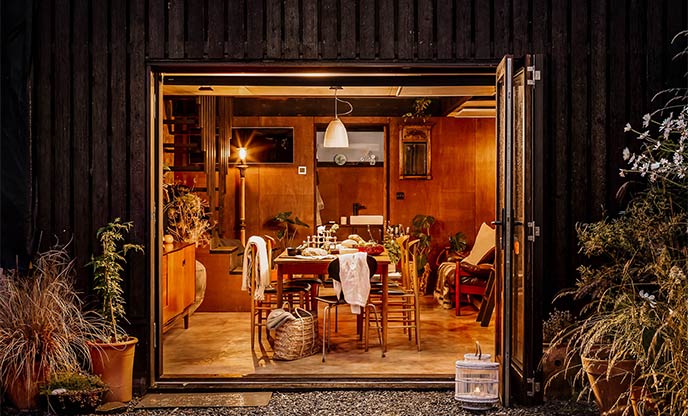 * Disclaimer: When foraging wild food you must be able to 100% positively identify what you are harvesting. Take extra care when foraging for berries and fungi. Do not eat any plants, berries, mushrooms, or herbs you are uncertain of, as some may be poisonous. Use multiple methods of identification - such as Google, plant identification apps, books, or consulting a professional. Wash produce thoroughly before consumption. Consult your doctor if you are taking medication before consuming certain herbs as interaction may occur. Always be respectful to nature, and try not to disturb surrounding wildlife. Do not take more than you need, leaving enough of the plant in place to regrow, and ensure you have permission to harvest from the area. Happy foraging! *