Reasons to go glamping in Autumn: slowing down with nature
Penned on the 19th September 2023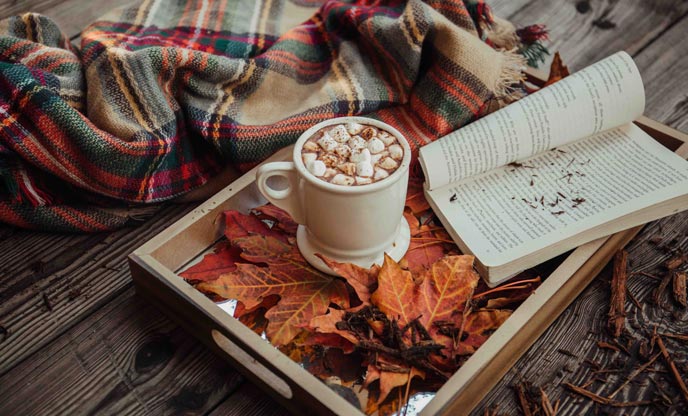 With the arrival of autumn comes the opportunity to slow down, appreciate more of the quiet moments in life and to make the most of the year's remaining fair-weather days.
The change of season brings plenty of natural phenomena to observe, making it a pleasurable time for glamping and spending time outdoors. Leaves begin to change colour and fall slowly from the canopies of deciduous branches, whilst a diverse range of fungi begin to emerge from the undergrowth. Outdoor spaces are a hive of activity as creatures and critters prepare for the arrival of winter and Mother Nature unveils her beauty one last time before entering a state of dormancy.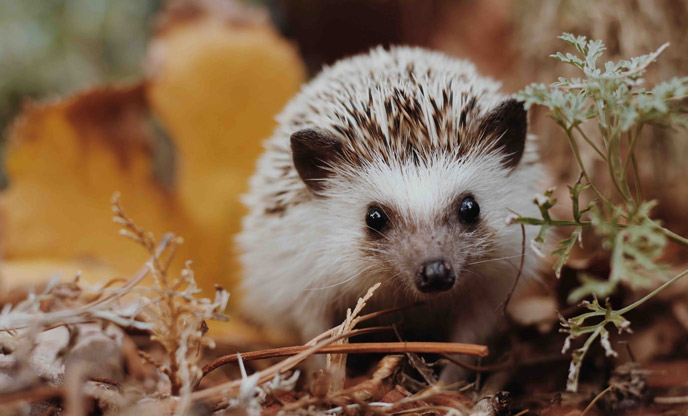 Migratory birds make their way to the UK from colder climates towards the beginning of the season, amongst them redwings whose high-pitched sighs can be heard as they travel at night and plump, pink-crested waxwings. The colder weather makes us think about migrations and hibernations of our own, and there is a gradual increase in time dedicated to the cosiness to be found indoors. There's something wonderful about glamping in autumn – spending time in the wilderness during a period of change allows us to wind down and reflect, whilst being inspired by the cycles of life going on around us. It's also an excellent time to appreciate home comforts and to indulge in good food and company after the hustle and bustle of the summer. In this blog, we highlight some of the things that make glamping in autumn so special and provide some pointers on what to look out for at this time of year.
Explore with ease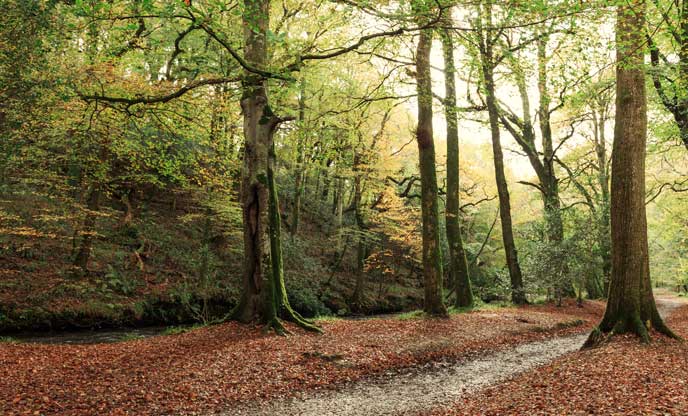 After the rush and excitement of seizing summer, autumn allows us to take things a little slower and travel with ease. With popular beaches, landmarks and towns now becoming quieter, a sense of calm flows through the air. You'll also find that the natural world begins to quieten down too. With less disturbance from footfall, areas encompassed by nature feel more peaceful, allowing us to sink into a cocoon of nature undisturbed. Certain glamping locations become surrounded by nothing but silence – a secluded pocket from which it is possible to recharge. Stepping outside on a crisp morning, as the cool air fills your lungs and the sun shines down to brush your skin, feels like your own personal secret to be enjoyed.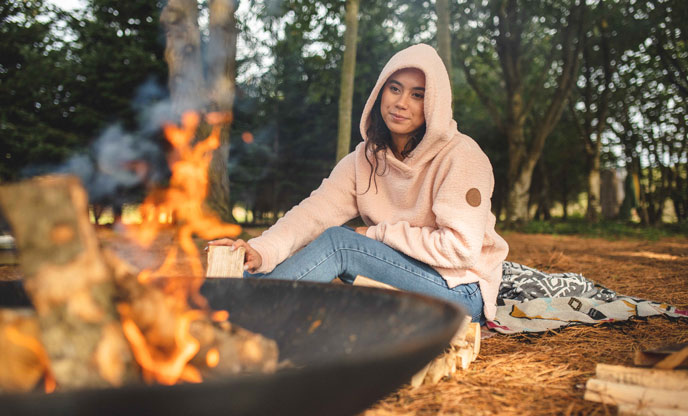 The quieting down of the season also makes access to local amenities easier. Pretty villages and local towns such as popular St. Ives or quirky Totnes, are a delight to visit during any season, but there's something about autumn that just makes these locations extra enticing. Travelling in autumn allows you to plan less during your stay, meaning spontaneity and going 'where the wind takes you' becomes normality.
Dog-friendly glamping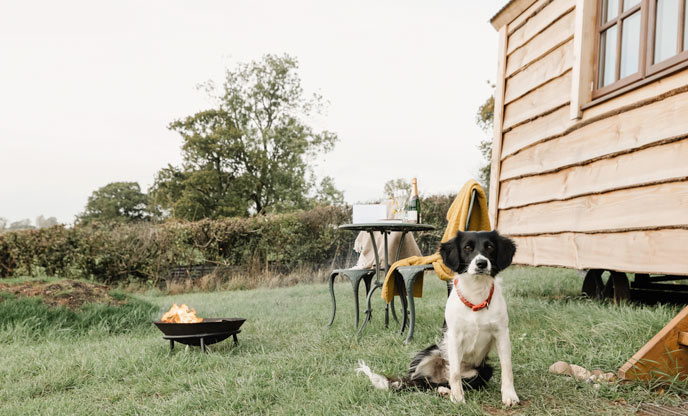 With the decrease in temperature, long walks and glamping holidays become much more appealing to our furry friends during the autumn too. This, and the fact that everything is less busy, makes it an easier and more convenient time for dog walking. For those glamping in coastal areas, beach bans tend to be lifted from October onwards, giving you an added element of freedom when exploring the local area. More restaurants are willing to accept pets, as are some attractions. If you'd like to learn more about glamping with dogs, we've put together a handy guide for you to use here.
Nature's beauty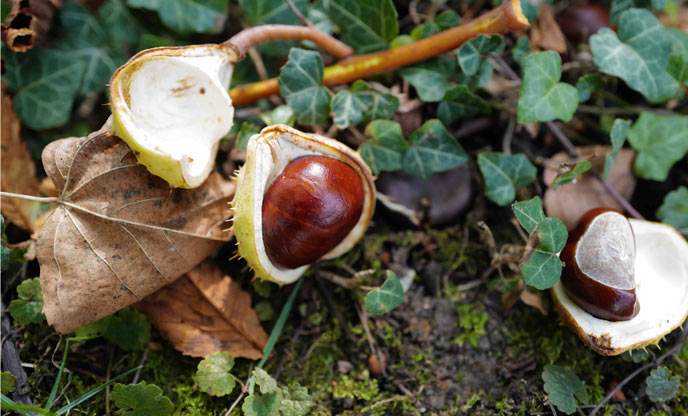 The transition from summer to winter is a beautiful time of year. The reduction in daylight hours leads to a breakdown of chlorophyll in leaves and a slowing down of their food-making process. As a result, a splendorous spectrum of colours from golden yellows to crimson reds decorate the trees and around every corner is a breathtaking display to feast your eyes upon. As the flora prepares for a dormant period, so too does the fauna – squirrels can be seen foraging the abundance of nuts for safe storage in their winter dreys and hedgehogs are busy fattening themselves on insects. The last vestige of late-season butterflies such as monarchs and sulphurs can be seen fluttering amidst the foliage, whilst crawling caterpillars are on the search for somewhere to pupate. Catching a glimpse of local wildlife busily preparing for the cold season is a great excuse to head outdoors and to go on long walks, keeping an attentive eye out as you go.
Earlier sunsets are a spectacle to behold whilst glamping in autumn too. Huddling together with loved ones whilst cold fingers clasp a mug of something warm provides an additional sense of atmosphere whilst bidding the final rays of the day farewell. And, if you stick around after the sun sinks below the horizon line and dusk arrives to swaddle the sky, there's a good chance you'll spot bats flitting between the trees.
Glamping in autumn is cosy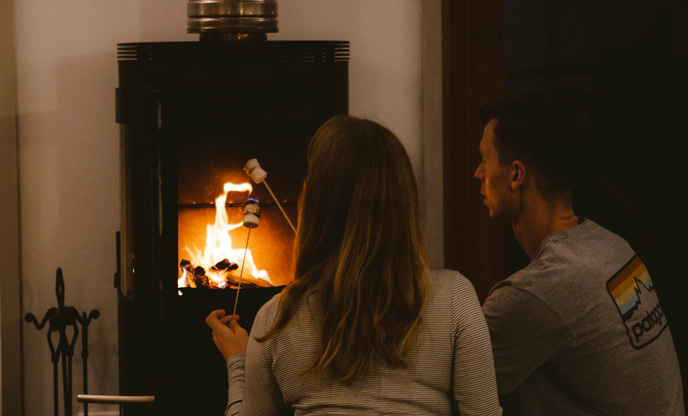 Clear skies in autumn allow us to make the most of absorbing vitamin D before winter, but it also means that the weather is colder. This marks the start of the cosy season and signifies it is time for us to start slowing things down – a hibernation of sorts, whereby we commit time towards cultivating a feeling of wellness and contentment through rest. Quiet nights curled up next to a wood burner with a snuggly blanket and a good book provide the perfect setting for relaxation, or a movie night with the fire blazing in the background for those who prefer. Indulging on comforting food and drinks such as home-cooked meals, marshmallows roasted on an open fire, or scrumptious hot chocolates provide an added sense of warmth, much like a hug from the inside.
For those wishing to make the most of spending time outdoors, wood burners can be traded for firepits. Home-cooked meals can be replaced with hearty pub lunches – the ideal way to sit and refuel after a brisk walk through the local nature spots. Or, for the ultimate luxury, taking a dip in a thermal hot tub allows you to combine both spending time outdoors and soaking up the cosiness of autumn all in one go. To see glamping locations with hot tubs, please click here.
There are fun things to do whilst glamping in autumn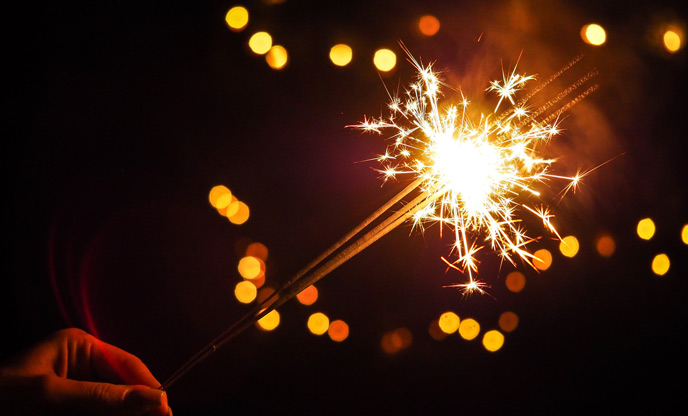 Whilst autumn brings the opportunity for slowing down, there are also several festive activities to be enjoyed. The arrival of seeds from horse chestnut trees makes it possible to forage for conkers, their spiky green outer cases removed to reveal rich brown-coloured nuts. With the addition of string, comes the chance to play traditional childhood games and to muster up some healthy competition with fellow glampers. Or, why not try your hand at making a wild berry jam? Take a look at our autumn foraging guide for a scrumptious recipe.
When it comes to events, the Harvest Festival is celebrated early in the season. Usually falling between the end of September and the beginning of October, it takes place on the Sunday nearest the harvest moon – the moon which occurs closest to the autumn equinox. Keep an eye out for fetes and events in the area you are visiting for the chance to take part in singing, dancing and browsing markets full of delicious local produce. Halloween is widely celebrated on the last day of October. The perfect reason to wear fancy dress, cook up festive treats and indulge your sweet tooth, there are bound to be events nearby. Here's our guide to Halloween events in Cornwall. Just a week later, Bonfire Night provides another way to mingle with the local community and to congregate around an effigy of Guy Fawkes. Standing next to the crackle and pop of the bonfire whilst feasting on candyfloss and candied apples represents the epitome of autumn festivity.
Stargazing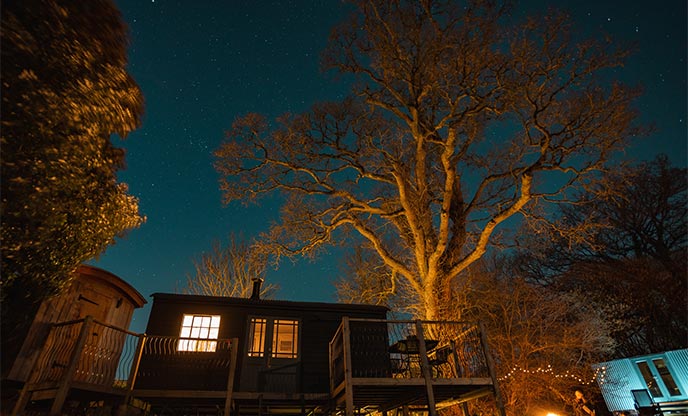 With the nights drawing in, autumn allows us to spend more time gazing into the inky depths of the cosmos. Planetary lineups, far-away galaxies and famous constellations can all be seen, leaving you awe-inspired by the vastness and beauty of the Universe. Remote glamping locations provide the perfect location for spotting a multitude of celestial bodies, as there is less light pollution from towns and cities. On a clear night, you may be lucky enough to see the Andromeda Galaxy – the most distant astronomical object visible to the naked eye, which is 2.5 million light years away from Earth and made up of over 1 trillion blazing stars. The best time for stargazing is on a clear evening around the time of the new moon. When the moon first appears as a slender crescent, less of its luminosity is visible from Earth, giving you a better chance of seeing hundreds, if not thousands, of twinkling lights. To learn more about interesting stars and astronomical events, keep an eye on BBC Sky at Night. Alternatively, autumn is the most popular time of year for stargazing events, so it may be worth seeing if there are any in the area you are visiting. Take a look at our guide to stargazing here.
Where to stay this autumn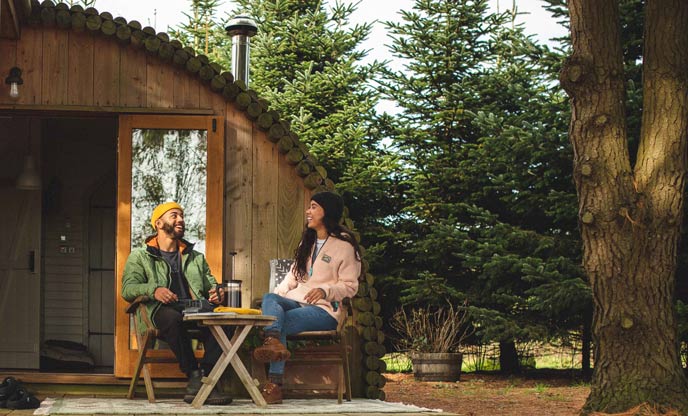 If we haven't already convinced you that autumn is the most wonderful season for an escape to nature, take a look at our heavenly collection of hideaways and get ready to fall in love. From family-sized cabins, perfect for a half-term getaway, to romantic boltholes with warming wood burners, we are sure you will find somewhere to fulfill your wanderlust!