Yoga classes in Cornwall
Penned on the 5th July 2022
Breathe in… and breathe out. Despite the obvious benefits of yoga, such as improving balance and flexibility, yoga can also boost your energy and brighten your overall mood. With plenty of peaceful beaches, idyllic coastlines and an abundance of calming spaces, Cornwall makes the perfect yoga retreat. Yoga sessions alone allow for personal growth and self-realisation, while one-on-one sessions with a loved one can help form a deeper understanding and connection to one another as unique individuals. Yoga is a wonderful way to explore your surroundings and completely reset and recharge, making the most of your time away.
Sukha Shala Yoga, Liskeard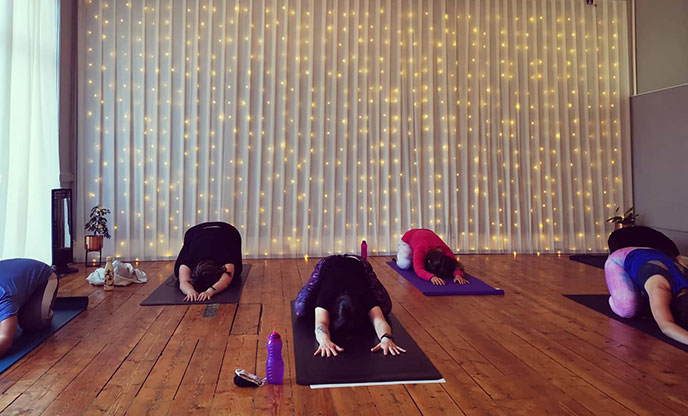 Sukha Shala promotes yoga for happiness and focuses on three key areas: Movement, Stillness and Discovery. You can participate in group studio classes, online classes or a one-to-one session tailored to you. Everyone is warmly welcomed and the sessions are aimed at all abilities, with both beginners and experienced yogis attending the classes. They teach a variety of yoga practices from Hatha, which is a gentle practice and is great for beginners, to Yin Yoga, which can help aid recovery after injury. The 5 element flow class is really special, it's influenced by the elements and seasonal changes, helping to cultivate a balanced life. There are also more advanced classes available. Sukha Shala not only offers a wide range of yoga classes but other unique healing practices from breathwork, yoga nidra (yogic sleep) and sound healing. It is truly an all-encompassing experience.
Georgie Kay Yoga & Wellness, Looe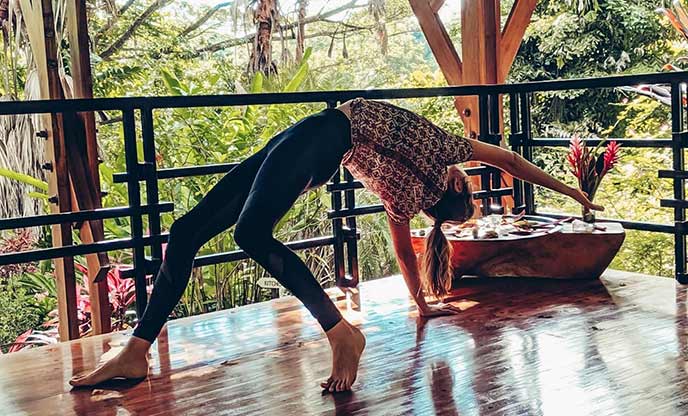 Georgie offers Vinyasa Flow yoga, which is a creative class focused on movements in time with breath to calm the mind, whilst also building strength and flexibility. Alternatively, you can participate in a slower Vinyasa Flow style class with Slow Flow & Meditation, which concludes with a 15-minute guided meditation to fully immerse yourself in the calmness. Yoga is for everyone and at Georgie Kay Yoga there is no judgement and no expectation; just a safe space for you to tune into your body, focus on your breath and be mindful. Georgie also offers private sessions, prenatal & postnatal yoga and massage therapies.
Alicia Ray Wellbeing, Gwithian & Truro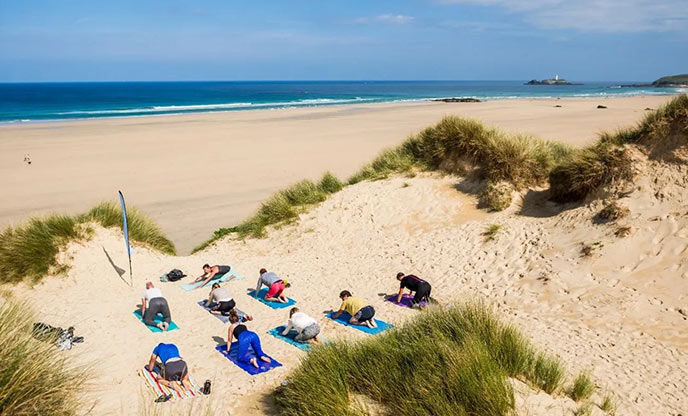 From beautiful yoga classes on Gwithian beach to high intensity gym-based classes for strengthening, Alicia Ray offers a holistic approach to yoga. With years of experience as a clinical psychologist, therapist, fitness instructor and yoga teacher, she recognises each individual's specific needs. Whilst helping people develop awareness of their true selves, Alicia understands the importance of aligning physical and mental health. Some of the yoga classes take place in one of the most heavenly locations on the Cornish Coast at Gwithian Towans beach, which is also a great beach for surfing. These classes are designed for all ages and abilities. It allows you to connect with your natural surroundings and embrace the elements leaving you feeling energised and uplifted. Often these classes finish with a coffee on the sand or a dip in the sea, so you can share your yoga experience with a community of people who value connecting to nature.
Alicia Ray also offers indoor Hatha and Vinyasa Flow classes designed to energise your muscles, improve balance and strength. If you are looking for something with slightly higher intensity, you can join a variety of other fun classes with Alicia from step aerobics, Zumba and core conditioning.
Sunshine Café & Yoga, Penryn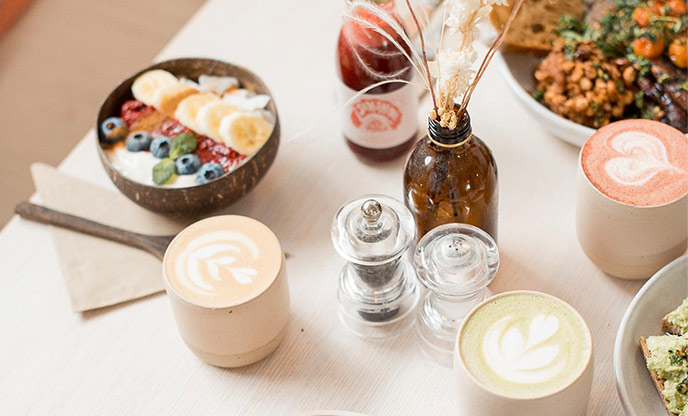 If you are a foodie, Sunshine Café & Yoga is for you! Their healthy vegan food menu and variety of yoga classes work perfectly together. The studio is located in Penryn, near Falmouth. Their ethos is around 'nourishing your body and mind through a combination of honest food and thoughtful movement'. The space is beautiful, bright and open, making it the perfect healing space. They run daily yoga classes from Morning Vinyasa to invigorating Awakening Flow, suitable for all abilities and experience levels. Offering delicious deli salads, nourish bowls and a whole selection of vegan cakes and fresh juices, you can feed your body and soul at Sunshine Café & Yoga.
Oceanflow Yoga, Newquay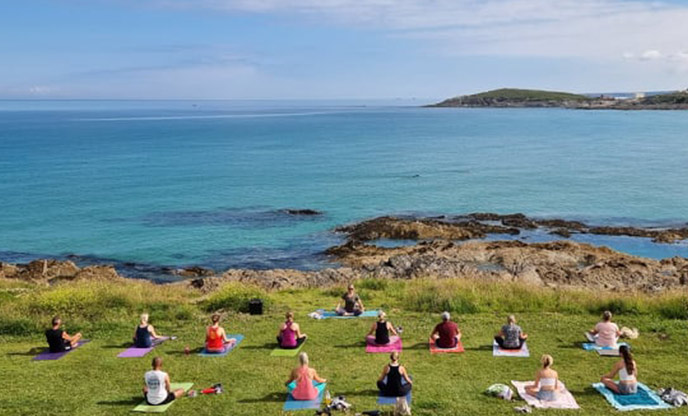 Your yoga studio by the sea! Overlooking the stunning Fistral Beach, Oceanflow Yoga teaches a variety of yoga including Vinyasa, Hot Yoga, Yin Yoga and Restorative Yoga. They offer plenty of beginner classes for you to go along and give something new a try. As the weather gets warmer and the days get longer, Oceanflow runs outdoor classes on a secluded area of the cliffs overlooking Fistral Beach. Feel the grass beneath your feet and be surrounded by nature, taking in the beauty this area has to offer. They also offer the unique experience of silent disco yoga, enabling you to immerse yourself in music whilst practising yoga.
Anella Yoga, Truro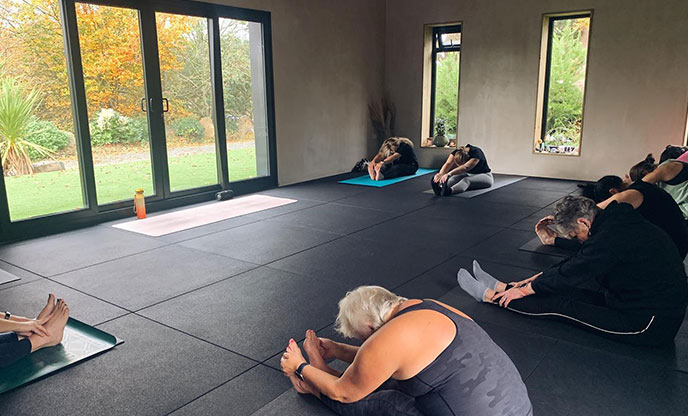 Enter this space to breathe, move and connect. Kayleigh is the founder of Anella Yoga. Staying true to her Cornish roots, she wanted her brand to connect with Cornwall in some way. Anella means "breathe" in Cornish, which fits perfectly as it is the essence of yoga and helps us to stay grounded and connect to the energy within. The stunning interiors and peaceful location makes this studio the ideal environment for yoga. It is complete with rustic wooden beams, clay walls and as the sun sets, it illuminates the space with a warm glow. The classes are suitable for all abilities, offering three different types of Vinyasa Yoga: Slow Flow, Vinyasa Flow and Power Vinyasa. The teaching style is fun, friendly and encouraging.
Limehouse Yoga, Truro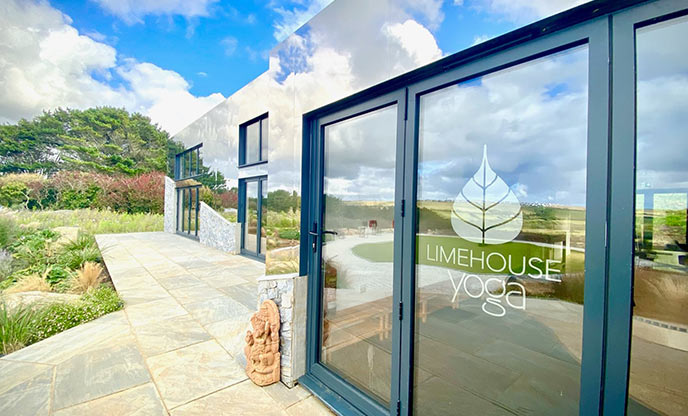 Limehouse Studio is in a beautiful location on the North coast of Cornwall, ideally situated between Perranporth, Newquay and Truro. Set in an idyllic landscape with views of vibrant green gardens, expect stunning sea and country views. The studio is built for both indoor and outdoor classes. In the summer months, classes are often taken outside onto the decking and garden space, where you can soak up your natural surroundings and breathe in the fresh sea air. Cornwall is a truly beautiful county, and Limehouse Yoga values the importance of minimising their impact on the environment. Making ethical choices on how they run their business, the studio is insulated with sheep's wool and hemp, and the heating is provided by a log boiler. They support local charities, including Hollywell Bay surf life saving club, Surfers Against Sewage and Royal Cornwall Hospitals.
A unique aspect of Limehouse Yoga is that they offer Wim Hof Method workshops run by certified Wim Hof instructors. Learn the 3 pillars of his method; Breathing Technique, Cold Exposure and Meditation/Commitment, and you will also be taught the physiology and philosophy behind the method. It's an amazing and immersive experience to reflect and learn about yourself. It is recommended that if you have no previous experience with cold exposure, take cold showers leading up to the workshop or why not try wild swimming.
Flow Dance Yoga, Truro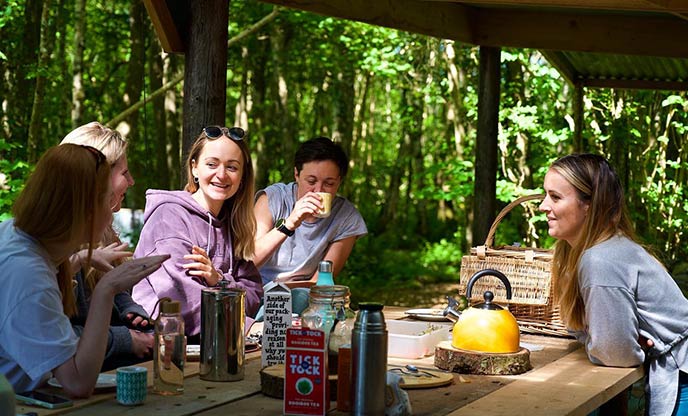 Flow Yoga offers classes for all abilities and needs with Yoga Fit, Yoga Energise or Yoga Unwind, so you can choose a technique that is unique to your personal wants and needs. They also offer dance classes inspired by Barre technique, combining ballet and yoga to promote good posture, tone muscle and strengthen your core. It's perfect if you want to try something new, as no experience is necessary and the dance classes are supportive and fun. If you want to connect with nature, try their morning woodland yoga. Nestled in tranquil woodland, classes are set in a beautifully handcrafted wild camp in the heart of Cornwall - the perfect backdrop for a yoga session! Combine this with the peaceful soundscape of wildlife and the breeze kissing the trees, this class will help you reset and recharge. Connect with like-minded individuals after the class with a shared breakfast of teas, coffee and pastries provided by a local bakery.
Shoreflow Yoga, St Ives
Aimee at Shoreflow Yoga offers three different classes; Vinyasa for finding your flow, Yoga Sculpt for building strength and modified Ashtanga Vinyasa, to reflect on your journey with yoga through a set sequence. Aimee's classes take place in Porthmeor Studios, which are ruggedly beautiful. The effortless design of this space is what makes it so wonderful. From the reclaimed wooden floorboards to the large window that looks directly out to Porthmeor beach, it is quite simply the dreamiest set up. The sound of the ocean flows through the window offering the benefits of blue mind at the same time as practising yoga. Aimee also creates bespoke playlists of soothing tunes to be enjoyed while getting into the flow and often has essential oils diffusing in the room to make it a truly peaceful paradise. During the summer months, sessions can take place above West Porthmeor, allowing you to marvel at the magnificent views and listen to the lapping waves with your fellow yogis. Aimee includes lots of modifications to ensure that classes are accessible for all abilities, bringing a smile to your face and clarity to your day.
Staying in Cornwall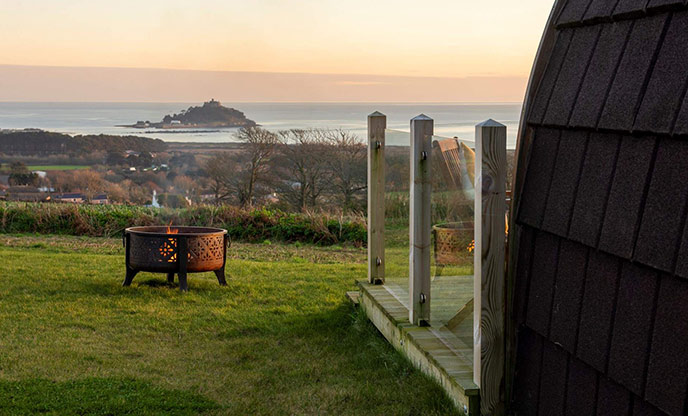 Disconnecting from your fast-paced lifestyle can seem an impossible cycle to break. A retreat to Cornwall could be just what the doctor ordered! Plenty of these yoga classes embrace the importance of practising yoga outdoors and the benefits it has on your mental and physical health. A glamping retreat to Cornwall makes the perfect combination for enjoying yoga; listen to the peaceful lapping waves on a Cornish beach or feel fresh grass tickling your feet in a meadow. We have a variety of peaceful hideaways, where you can practise yoga in unspoilt surroundings or attend one of these classes.