The best places to learn to surf in Cornwall
Penned on the 6th January 2022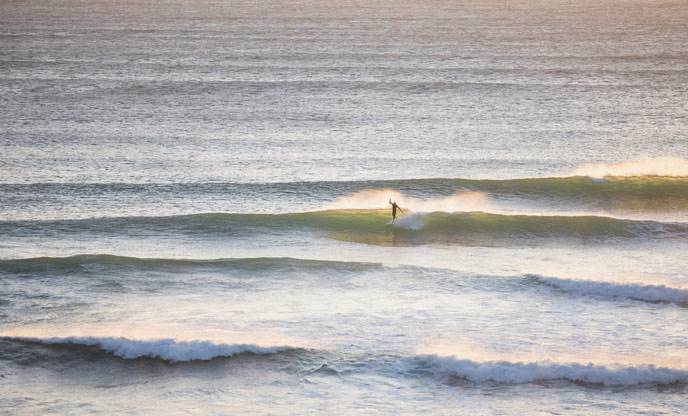 With two wild Atlantic-facing coastlines and nearly 200 beaches, it's no wonder that Cornwall is renowned for its surfing. People have been riding the waves in this county since the 1930s, but surf culture really began here in the sixties when four young Australians came to Newquay with their fibreglass performance boards. Everyone wanted to have a go - and the rest is history! Nowadays there are some 90,000 surfers in Cornwall, and for good reason. It's a unique activity that encompasses time in nature, fun, exercise, exhilaration, mindfulness, and a strong sense of community - not to mention satisfaction in progression and a greater appreciation for our oceans and our impact on them.
If you're a beginner, Cornwall is a great place to learn to surf. There are so many stunning beaches to choose from, with breaks that are suitable for mixed abilities and beginners, especially in the summer when the swell is typically smaller and the water temperature is more comfortable (although you'll need a wetsuit all year round).
There are plenty of friendly surf schools in Cornwall too. It's a good idea to have some lessons before you get started, not only to learn the technique (it can be tricky to master!) but also because it's hugely important that you understand water safety.
In this blog, we've pulled together a selection of Cornwall's top surf spots for beginners, as well as where to have lessons and hire boards and equipment. We've included a little information about other things to do on or near the beaches too, so you can make a day of adventuring and exploring the Cornish coast.
If you want to make the most of learning the surf, why not browse our collection of hideaways across the county. Offering the perfect base to return to with your salt kissed skin, our hideaways are idyllic for all adventure seekers. Take a look at our Cornish glamping accomodation here.
Newquay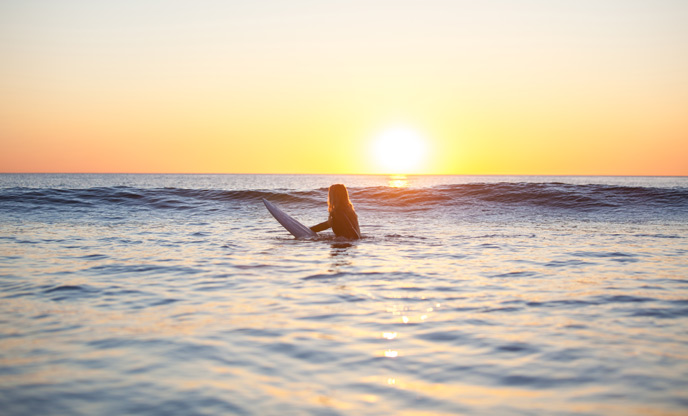 This self-proclaimed surf capital of the UK has lots of golden beaches to choose from and some of the most reliable waves in Cornwall. Fistral is the most famous, and home to many surfing competitions that happen throughout the year. When the waves are good, you'll find many of Cornwall's best surfers in the line-up - but it's a large beach so there's plenty of room for learners too. The town beaches of Great Western, Towan and Tolcarne are also good spots for beginners. Fistral is lifeguarded from April to October and the town beaches from May to September.
With such a prominent surf culture it'll come as no surprise that there are many surf schools and hire places to take your pick from in Newquay. Escape Surf School is one of the longest-running and one of the only to have two ex-professional surfers on their coaching team. For a more in-depth, all-female surf experience, take a look at Women + Waves who run surf academy weekends in Newquay throughout the year. After, why not refuel in a cosy pub setting? The Fox's Revenge serves pub classics with a twist, which are sure to hit the spot after a surf session.
If you've got a taste for adventure there are plenty more water sports centres and places to hire there too, so you could also try your hand at coasteering, stand up paddle boarding or kayaking.
Watergate Bay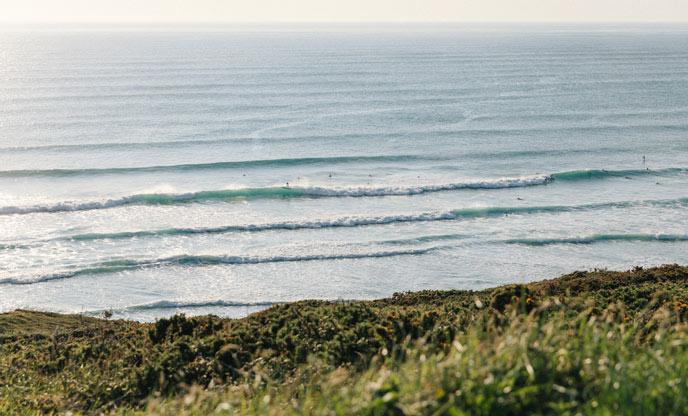 Watergate is technically still a Newquay address at just a few miles north of the town, but with such a stunning, sweeping beach and consistent waves for learning, it deserves a spotlight of its own. The big dramatic cliffs often provide shelter to offshore winds when the rest of Cornwall is blowing a gale. And unlike many other beaches, it works on most tides too. Lifeguards are on patrol from April to October.
Learners will be in good hands with Extreme Surf Academy, who are located right on the beach.
For a special treat after your surf, head to the spa at The Watergate Bay Hotel and relax your muscles in a cliff-top sauna and hot tub.
If a hot tub soak after your surf sounds like the dream, take a look at our many hidden havens with their own private tubs. Browse our hot tub hideaway collection here.
Perranporth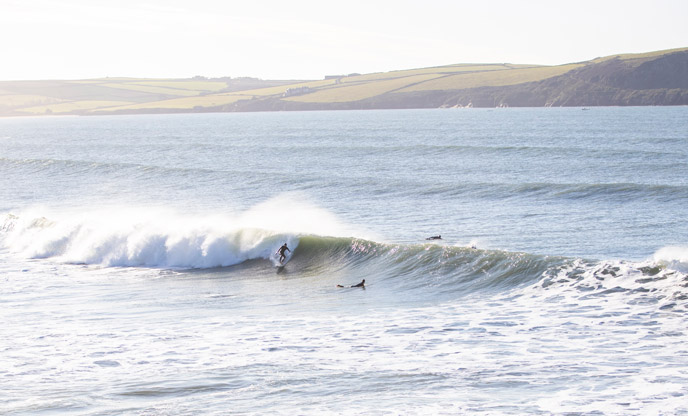 Around 10 miles south of Newquay, Perranporth is a vast expanse of sand that's exposed to the Atlantic, so it consistently picks up the largest swell on this part of the coast. In the summer especially, this makes it a great place to learn to surf. There's plenty of room so even on busy days you'll have your own space to practise catching and riding the waves. The lifeguards patrol here from May to September.
As with Newquay, there are plenty of surf schools and hire places to choose from, including Perranporth Surf School, Watering Hole Surf and Ticket to Ride.
Perranporth is also home to The Watering Hole, the UK's only pub that's quite literally on the beach. It's the perfect place for a post-surf pint and some warming food, minutes after you've got out of your wetsuit. There's often live music playing here in the evenings too if you fancy staying to enjoy an idyllic sunset.
Gwithian & Godrevy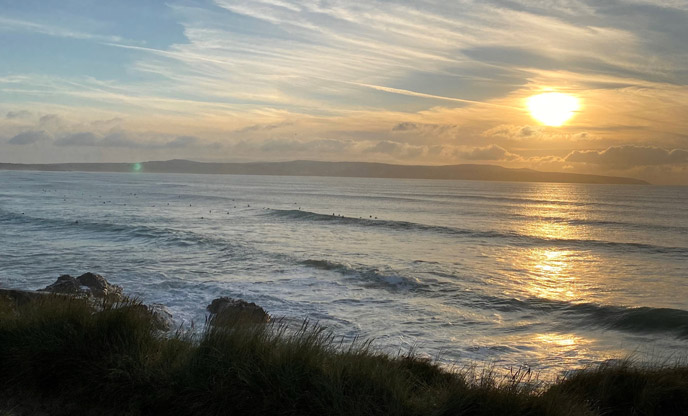 A favourite for summer surfers looking for less crowded waves, this four-mile stretch of golden sands and dunes is a destination not to be missed. The northern end of the beach tends to have the biggest waves and they drop in size as you head south towards the river mouth. It's a stunning place to surf, with views to Godrevy lighthouse at one end and the beautiful St Ives Bay on the other. From May to September there are lifeguards on the beach, and at the Godrevy end, they're there until October.
Gwithian Academy, Sunset Surf and Shore Surf are all great places to get tuition, with facilities and options to hire right near the beach, so you don't have to carry your board too far.
Once you've dried off, the cliff tops here are perfect for walking and enjoying Cornwall's wildlife. Follow the coast path round from Godrevy to Mutton Cove, where there is often a large colony of grey seals on the beach below. Make sure you go at low tide, be as quiet as possible so you don't disturb them - and take binoculars if you can!
Sennen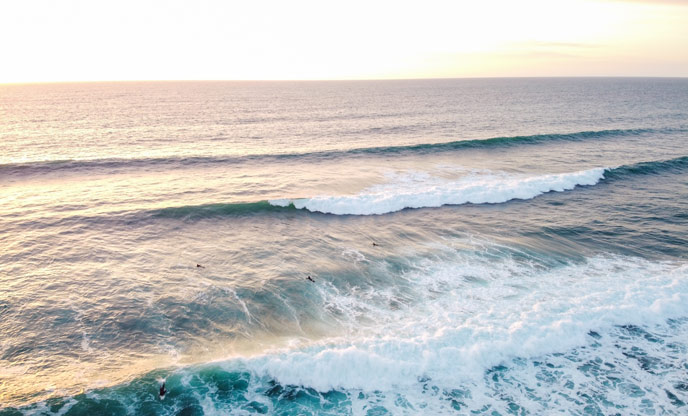 Sennen Cove is the most westerly beach in Cornwall, just a couple of miles from Land's End. Not only is it a picturesque surf spot surrounded by scenic cliffs and dunes, but being so exposed to the Atlantic means it often picks up swell - so even when it's flatter elsewhere in Cornwall, Sennen could be worth the trip. The beach is lifeguarded from May to September.
Sennen Surfing Centre is right on the beach and welcomes beginners. There's also Smart Surf School situated just off the beach who are highly recommended for brilliant lessons.
This area is arguably one of the most beautiful stretches of the South West Coast Path too. The walk from Cape Cornwall to Land's End (passing through Sennen) has fantastic views, sweeping beaches, and lots of points of historical interest. Once you arrive the Land's End Coaster can take you back to St Just (just over a mile away from Cape Cornwall) if you fancy a rest and some different views for the return journey.
Polzeath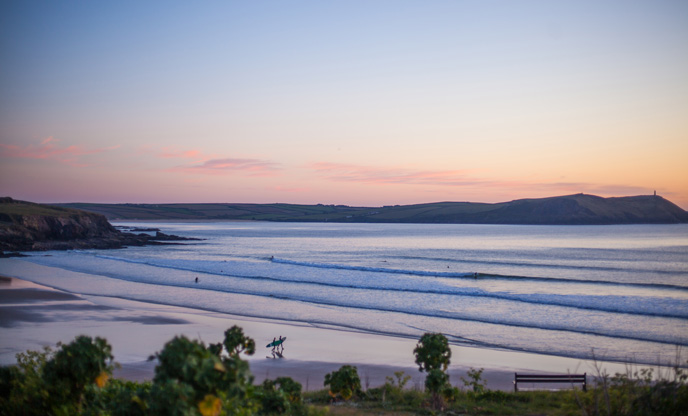 Just along the coast from Padstow, you'll find Polzeath, a picturesque village with a laid-back vibe and a sandy beach. Polzeath is a great spot for beginners because the waves are usually longer and slower to break than some of the more exposed north coast beaches, so you have a little more time to get to your feet! Lifeguards patrol here from April to October.
There are lots of great surf schools to choose from, including Wavehunters, Surf's Up Surf School and George's Surf School.
It would be remiss to go to this part of Cornwall without sampling some of its foodie delights. Nearby towns Padstow, Rock and Port Isaac all have plenty of eateries in which to enjoy some fresh seafood with an ocean view.
St. Ives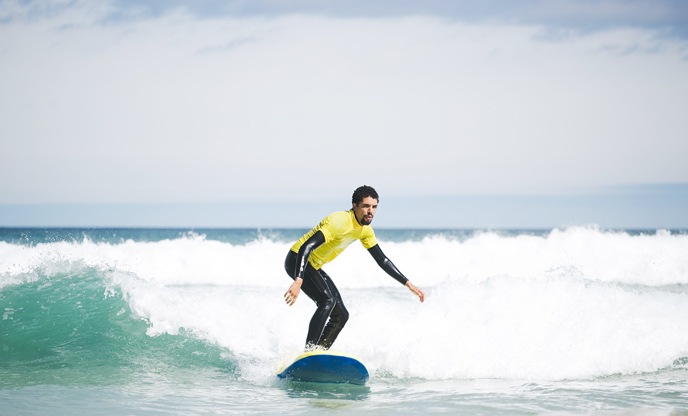 Whilst it's most famous for its art galleries, restaurants, white sandy beaches and shops, when there's swell St. Ives is the perfect place to learn to surf in Cornwall. Porthmeor is the most popular surfing beach and its crystal clear turquoise waters make for a stunning place to catch the waves. The beach is lifeguarded from April to October.
St Ives Surf School runs lessons every day and is located right on the beach. The team of instructors are brilliant and the surf school has the option of private lessons, group sessions and hire, so when you feel ready to take to the water on your own, you can hire a swelly from here. If you fancy trying more water sports, head to Porthminster beach where you'll find the surf schools watersports centre. You can book in for paddleboarding, kayaking and even coasteering. Hire equipment is also available from here.
The amazing team at St Ives Surf School are giving our wonderful readers and guests 10% off when booking a surf or watersports lesson. Use the code uniquehideaways10 when booking online!
Art lovers will be pleased to know that Porthmeor is overlooked by the Tate St. Ives, so after your surf, soak up some modern art in the gallery - and don't forget to visit the famous Barbara Hepworth Museum and Sculpture garden. Take a look at our guide to the best art galleries in St Ives here.
Safety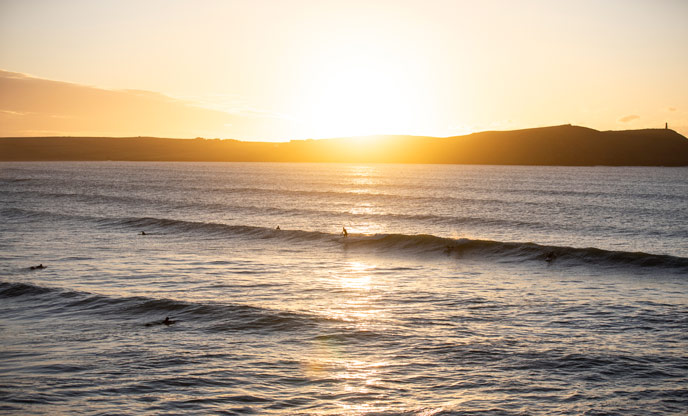 Ultimately surfing is all about having fun in the ocean, but there are several things you need to know to keep yourself and others out of harm's way. The RNLI's website is a great resource, so have a read before you start your lessons. At the very least, here are some of the main things to be aware of:
If you're a learner, go out with an instructor or where the beach is lifeguarded. Beginner surfers should stay between the black and white flags - and if the red flag is flying do not enter the water.
Check the forecast on Magicseaweed. It's important to know the tide times, swell size and wind speed and direction, as well as how that all affects your chosen beach. For example, some beaches become dangerous for beginners on a bigger swell at high tide.
Make sure you understand rip currents and what to do if you find yourself in one.
Familiarise yourself with the basics of surf etiquette to avoid a collision (or a dispute with a local).
Protect your head when you fall.
Always wear a leash.
Looking to stay in Cornwall?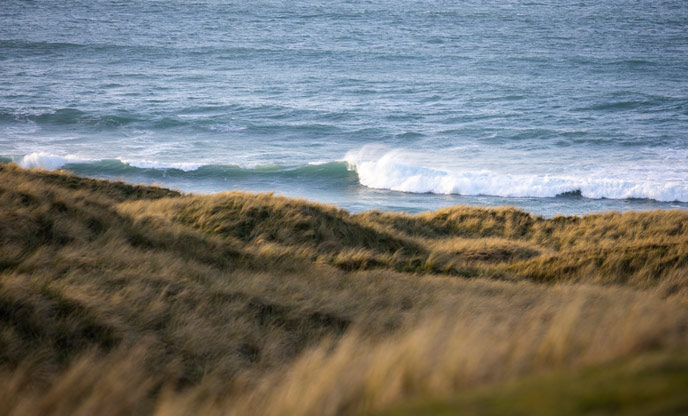 We have lots of beautiful hideaways for you to take your pick from. From pods and shepherd's huts to cabins and houseboats all are unique and exclusive to our bespoke collection. Browse our full collection of Cornwall glamping sites here, or if you know you want to wake up to the ocean, take a look at our sea view retreats here.