Summer foraging guide
Penned on the 16th June 2022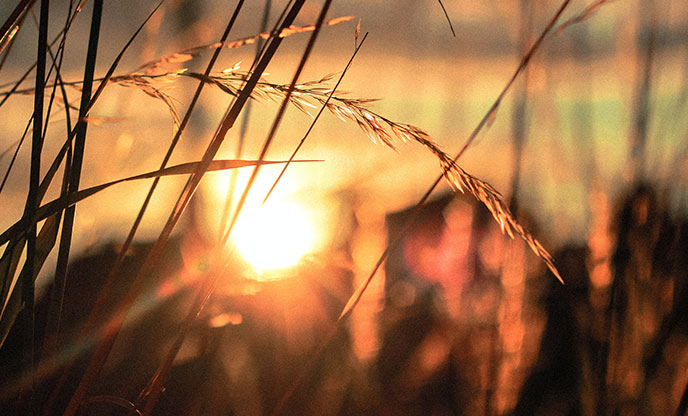 The months of June, July, and August are a midsummer dream for foragers. After the nourishing rains of spring, the natural world is bountiful with wild edibles as we enter the lightest, longest, and warmest days of the year. Moving on from the vitamin-rich earthy and leafy greens of nettle and wild garlic that contribute to Spring's foraging, the arrival of summer sees nature beginning to offer us the first of the year's young berries and fleshy fruits to gather from wild pastures and bring home to our tables.
From rambles through coastal dunes, to balmy days spent wandering woodland paths, we've collated a list of some of our favourite edibles to forage throughout the summer months, along with ways to celebrate the upcoming solstice with your friends, family, and loved ones.
Cornflower (Centaurea cyanus)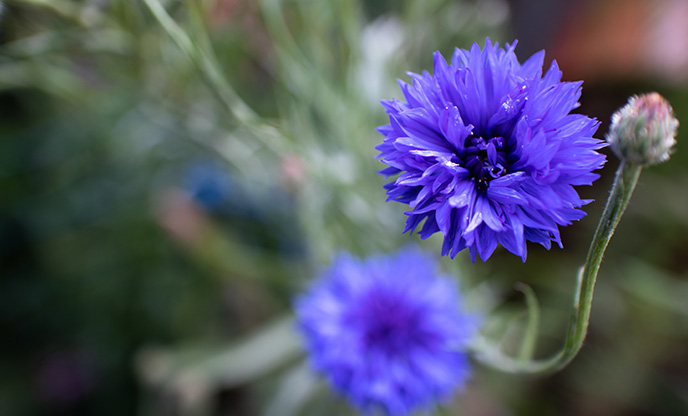 The long-lasting light of summer days teases flowers from their buds and sees them burst into bloom. Fields, gardens, farmland and coastal dunes come alive with a vibrant colour palette, attracting butterflies, bees, and not least admiring glances from passers by.
Once known as a pesky weed infesting farmland, Cornflower gets its Latin name from the brilliant blue of its petals and has been used by humans for centuries; one text from 1653 describes it as a herbal aid and medicine to remedy issues such as menstrual discomfort, urinary tract infections, ulcers, fevers and more. The petals of the flower are put to culinary use as garnish in salads and other dishes, offering a pop of colour as well as a sweet, almost spicy flavour akin to clove. However, the most popular method of enjoying the plant is through brewing; its beautiful blue hue is often found scattered through loose-leaf teas like Earl Grey.
Other edible wildflowers - like chamomile and lavender with their calming, anti-inflammatory qualities - are in bloom alongside cornflower from June to September. As soon as the flowers appear, they are ready for harvest, and can be used fresh or dried to concoct delicious and visually pleasing herbal teas to enjoy throughout the year.
Tips for harvesting and brewing a calming wildflower tea: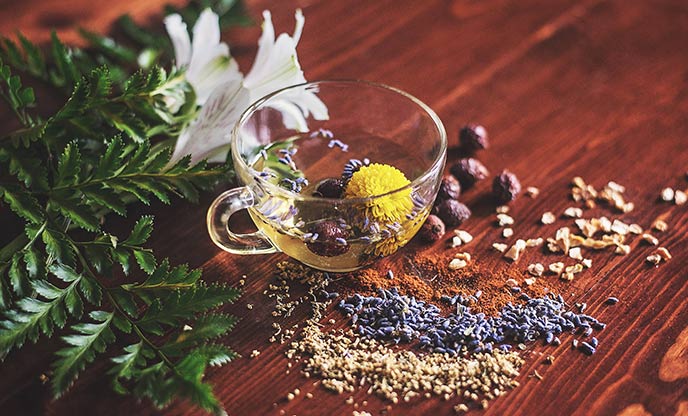 ● Gather your edible flower of choice, taking only the head of the flower and leaving the root and stem in the ground. We recommend a mix of chamomile, lavender, and cornflower, harvested from a place with minimal footfall, free from pesticides
● Separate the petals from the receptacle (the part of the plant they are attached to)
● Rinse the petals in cool water to remove any debris
● If choosing to dry the petals, leave them to air dry for a few days before storing them in a cold dark area (this will allow you to use them year-round!)
● Fresh or dry, combine the petals together, perhaps in conjunction with black or green tea blend, add to a strainer and steep in boiling water for 3-5 minutes
● Add honey or lemon to taste
Wild strawberry (Fragaria vesca)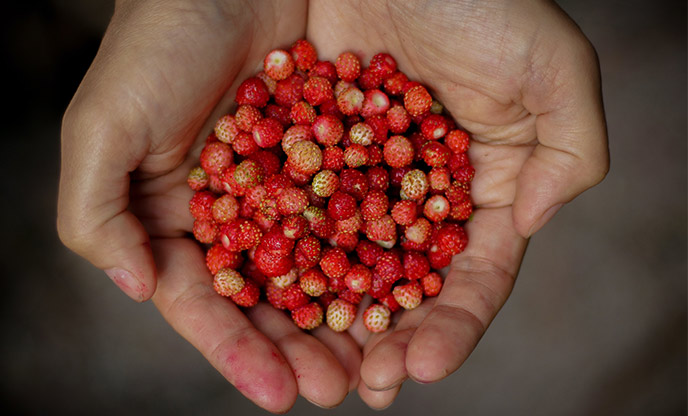 Strawberries: a hallmark of British summer time. The aisles of supermarkets are abundant with the seasonal ruby red jewels at this time of year, and that's the first place many of us go to acquire them - but have you ever considered foraging for your own?
Wild strawberries begin flowering in early May, with the fleshy fruit that appears in late June becoming ripe and ready to harvest from July onwards. The plants grow fairly abundantly throughout woodland, grassland, hillsides and shrubland, staying low to the ground and spreading across a wide area thanks to their persistent root. Smaller and often paler in colour than those we take from the shelves, wild strawberries have a delicate vanilla-like flavour. They are easy to identify, and are a delicious, succulent treat when stumbled across on a woodland walk. They can be enjoyed fresh from the wild, following a rinse under water, sweetened with a sprinkle of sugar and served with a dollop of fresh cream. If you come across any of the fruit later in the season, the slightly softer texture lends itself wonderfully to creating a delicious wild strawberry jam; we love this recipe.
Chanterelle (Cantharellus cibarius)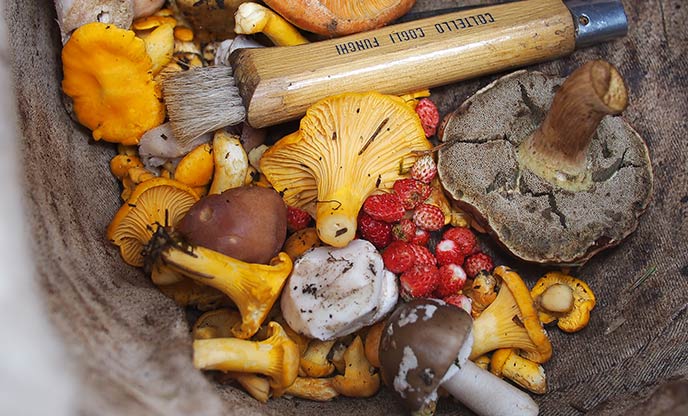 A glimmer of gold amongst the vibrant emerald trees and summer foliage, chanterelle mushrooms grow avidly within woodland areas throughout the UK. Probably the most well-known and popular edible wild mushroom, they are characterised by their brilliant yellow to deep orange colouring and apricot-like scent.
When it comes to identifying chanterelle, it's fairly straightforward. They most often grow in the earth around hardwood trees such as maple, poplar and oak, as well as birch and hemlock; you'll find them in damp and humid areas, stowed away from direct sunlight. The defining features between the chanterelle and other potentially poisonous look-alikes, such as the Jack O Lantern, is the chanterelle's "false gills" that give them a rounded edge, and their white flesh when sliced in half. To harvest chanterelles, simply pull or cut them from the earth, leaving smaller heads to continue growing, and avoiding particularly dirty ones as their delicate flesh can be hard to clean.
With most of nature's offerings at this time of year being beautifully sweet fruits and berries, the chanterelle presents a savoury option that brings a delicious peppery, earthy flavour to soups, pasta dishes and sauces. This potato and fried chanterelle mushroom recipe can be included on your summer bbq menu as an exciting alternative to potato salad.
* Take particular care when foraging mushrooms. Always ensure you are 100% sure of their identity before consuming them.
Crab apple (Malus sylvestris)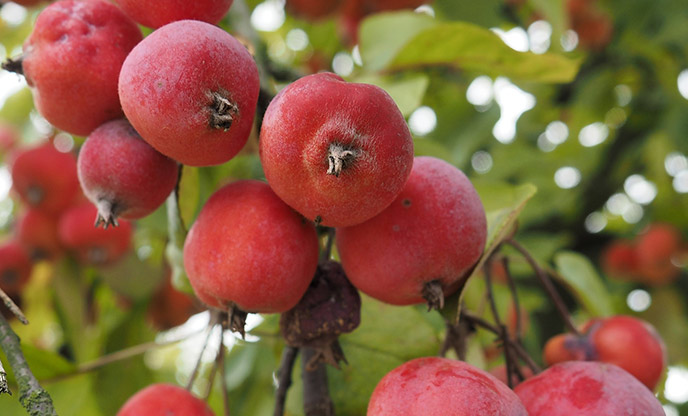 Appreciated by foragers and wildlife alike, crab apples are one of the most popular wild edibles. A late summer bloomer, the fruit is ripe and ready for harvest from late July into early autumn. Related to the commercial, cultivated apple, crab apple trees grow wild across the UK, with their predominant habitat being hedgerow, shrubbery, roadsides and woodland.
As apple species commonly cross-pollinate, it can be hard to determine whether you've found a true crab apple or a hybrid. Crab apples are characterised by their sharp taste (akin to cooking apples), and orangey-green skin. Their tree is generally small, with gnarled branches, dark green leaves, and fruit that follows 5 petalled white and pink flowers.
As crab apples are high in pectin, they are an excellent preservative, and a useful addition to jams, chutneys, and jellies. As the fruit tastes best when cooked, crab apple jelly is a popular choice amongst foragers. We also love this crab apple pie recipe, which would make a lovely addition to a midsummer picnic.
Blackberry (Rubus)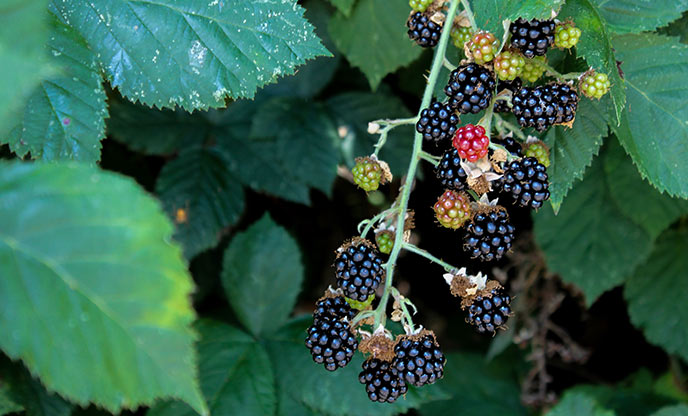 Leaving its nostalgic mark in purple crescent moons under fingernails and stains on lips, the blackberry needs no introduction, and is one of summer's parting gifts. Bramble bushes are scattered throughout the UK from coastal locations to gardens, fields and woodland. The berries are at their best from mid August to late September, and when it comes to culinary creations, there's no shortage of inspiration: they can be enjoyed on their own, made into jams, crumbles, pies and syrups, and can be frozen after picking to consume throughout the winter months.
Take care when harvesting from the bramble bushes as they can prick uncovered skin!
Seasonal eating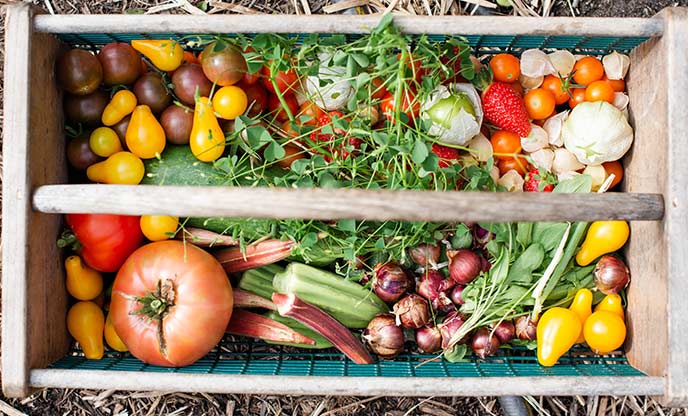 As tempting as it can be to reach for the exotic fruit and veg we associate with warm weather whilst shopping in summer, our home soils are now abundant with delicious in-season fruits and veggies such as: courgettes, summer squash, radish, fennel, celeriac, tomatoes, raspberries, cherries, strawberries, blackberries, blueberries and more.
Opting for seasonal, home-grown produce not only supports local farmers and reduces our carbon footprint, but connects us with the cycles of the natural world. Recipes and guidance for seasonal eating can be easily accessed online, or through books such as The Almanac: A seasonal guide to 2022.
A solstice celebration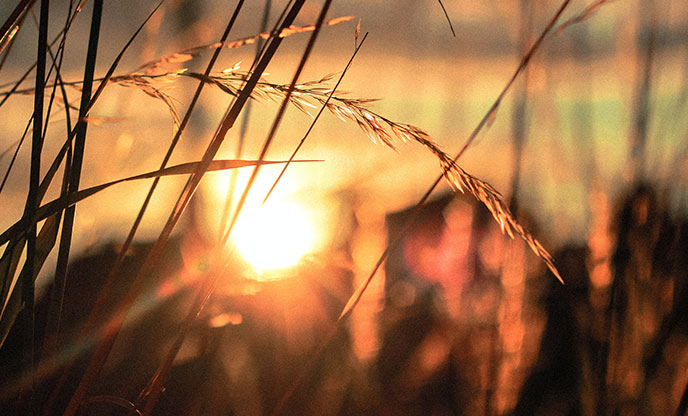 Humans have long been worshippers of the sun; celebration of the summer solstice and midsummer is a lasting tradition in Northern and Central European cultures that began in the Neolithic era. Historians believe that the solstice was related to crop and harvesting cycles, but the tradition stretches far beyond practical measures and into the magical realm of myth and folklore. This point in the year when the sun is farthest from the equator is considered a mystical time in which the veil between worlds is lifted. Ancient artworks and literature depict stories of human's deepened connection with mother nature, fairies, and the supernatural, whilst historical sites of sun dials and stone circles are suspected to have been built around the movement of the sun during the solstice itself.
Renowned as a time of celebration and the coming together of communities, the summer solstice is the opportune time to gather in nature with friends and family, soaking up the sun's warmth and making the most of the longer days. Bonfires have long been used as a ritual to mark the arrival of midsummer, honouring the power of the sun and the magic of the solstice. Hold your own solstice celebration ritual by inviting friends and family to a foraging feast cooked over an open fire, using gathered goods you've collected from a day in the wild to create a delicious spread of summer delights, enjoyed whilst commemorating the longest day and night of the year.
Foraging while glamping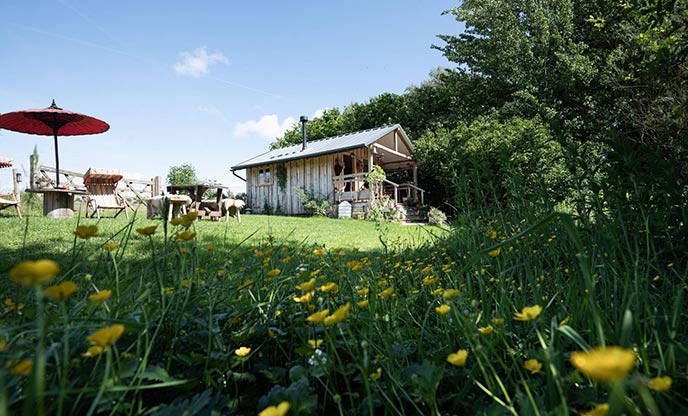 Escape to the wild with one of our glamping hideaways and fully experience the beauty nature has to offer. We have a whole collection of retreats from woodland huts, hidden cabins and stunning yurts, where you can truly immerse yourself in nature's paradise. You can forage all year round, so don't forget to have a look at our spring, autumn and winter guides. All of our heavenly hideaways allow you to be at one with your peaceful surroundings, these are the perfect places to experiment and try out this foraging guide.
* Always take care and be responsible around open fire. Only light open fires in permitted areas and supervise the flames at all times.
* Disclaimer: When foraging wild food you must be able to 100% positively identify what you are harvesting. Do not eat any plants, berries, mushrooms, or herbs you are uncertain of, as some may be poisonous. Use multiple methods of identification - such as Google, plant identification apps, or books. Wash produce thoroughly before consumption. Consult your doctor if you are taking medication before consuming certain herbs as interaction may occur. Always be respectful to nature, and try not to disturb surrounding wildlife. Do not take more than you need, leaving enough of the plant in place to regrow, and ensure you have permission to harvest from the area. Happy foraging!