Activities for all the family to enjoy while glamping
Penned on the 7th July 2021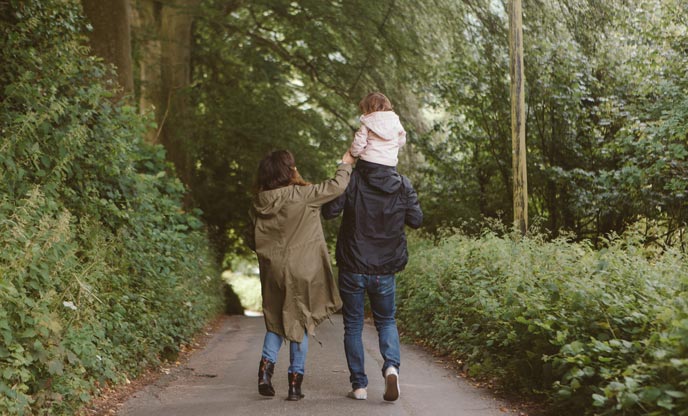 Offering a comfy bed, little luxuries and the opportunity to experience the great outdoors without compromising on comfort, it's easy to see why glamping has become so popular over the years. Thanks to the evolution of the traditional camping trip and the introduction of the 'glamping' concept, our days of wafer-thin camping mats and soggy sleeping bags are well and truly behind us.
Glamping is an altogether more luxurious experience and allows you to get closer to nature while staying firmly within your comfort zone. You can immerse yourself in your beautiful surroundings, feel the earth under your feet and experience the great outdoors without having to go anywhere near leaking canvas.
Not only is glamping a fun way to spend time with the family, it's also really good for our health, too. When you're immersed in nature, you can't help but feel more relaxed and less anxious. The sound of rolling waves will soothe you to your core, while the hypnotic sounds of surrounding wildlife effortlessly relaxes your mind and body.
Summer scenes at The Little Cider House
What is glamping?
Usually, your typical family glamping site will offer the back-to-nature experience but without having to go back to basics. This means your creature comforts like a luxurious bed, access to hot water and electricity tend to come as standard, and your accommodation will be a quirky alternative to the traditional tent.
Picking your accommodation and its features is key to having the best glamping experience. Some families opt for something closer to traditional camping such as a yurt or safari tent, whereas others like to stay somewhere a little more unique, whether it be on a houseboat, pod, airstream or wagon.
Glamping family holidays not only offer the perfect outdoor adventure, they also provide the ideal opportunity to spend some quality time together. Tempting the teenagers away from their smartphones can be a challenge at the best of times, so you'll need to get creative with planning fun family activities that will engage family members of all ages. For younger children, there are plenty of ways to keep them well and truly entertained right up to dusk.
Very often, if you choose a unique place to stay on your glamping holiday, many activities are on your doorstep, such as having access to water-based activities if you're staying close to the sea, space for the children to run around and play in the land surrounding your shepherd's hut, or staying in a yurt and going foraging for wild food. But if you're stuck for ideas, we've got you covered.
To find out more about glamping take a look at our blog: What is Glamping?
Glamping with children's activities: coastal fun and games
There are plenty of activities to keep children entertained on a glamping trip, but the following are especially perfect if you're looking for coastal activities.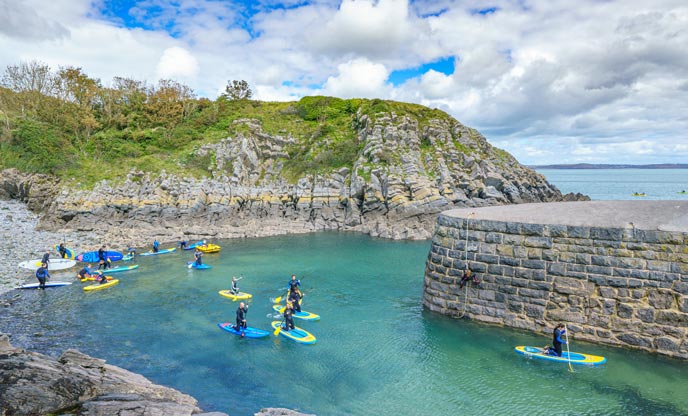 Collect and craft
If you're staying on a glamping site near the coast, taking children shell and sea glass hunting is the perfect way to spend an afternoon. After finding a bucket full of treasures, they can take them home and use them for an arts and crafts project. If you've got a dinosaur lover on your hands, booking a glamping site near to the Jurassic Coast to find some ancient fossils will earn you all kinds of parent brownie points. Beaver's Lodge Safari Tent is a perfect spot from which to explore the Jurassic Coast before coming back to your quirky accommodation for a glass of fizz and a dip in the hot tub.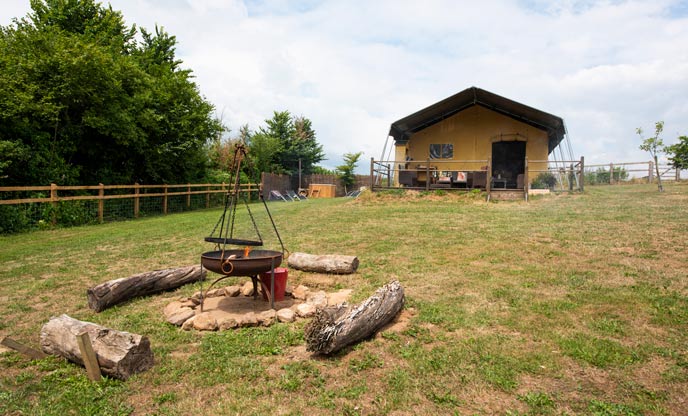 Go wild swimming
Another great way to enjoy nature is to pack up a wetsuit (or just a swimming costume if you are feeling brave) and go for a dip. Whether it's in the sea, in a lake, or in one of the many tidal pools that Britain's beaches have to offer, cold-water swimming is not only an exhilarating way to spend an afternoon, it's also exceptionally good for your mind, body and soul.
Go rockpooling
If you're staying near a beach, rockpooling is a perfect way to spend a morning and especially with small children. Lean over small pools of water that collect on a rocky shoreline, submerge a bucket into the water and see what you can find. There's a whole plethora of wildlife that can be discovered in rockpools, such as crabs, limpets, snails and shrimps, but be sure to use a bucket and not a net, as wildlife can sometimes get stuck in a net and cause harm.
If you're staying on a glamping site in Cornwall or Devon, you'll be spoilt for choice with sandy beaches to visit. For a true seaside escape with a glamorous twist, book in at Rockwater Cabin and stay in the luxury clifftop cabin overlooking the majestic ocean and miles of golden sands.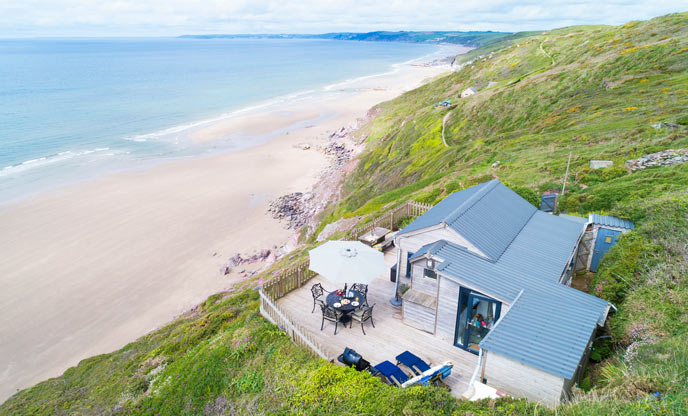 Embracing Nature
Forage, find and feed
For a true back-to-nature experience, adults and children of all ages will love foraging for edible plants and berries to tuck into while on a glamping family holiday. You can even stash your haul and take it back home with you to make a selection of jams and cordials. And maybe even some gin.
Stuck for dessert ideas? Look out for blackberries and apples in the Autumn and take them back to your glampsite to prepare a tasty crumble: the perfect choice on an overcast evening when hearty food is the order of the day.
If you're a little nervous about knowing what's edible and what's not, The Woodland Trust has prepared a handy guide to help. Foraging for wild food is one of the best glamping activities for children and you'll be hard pushed to find a more back-to-basics way of spending a morning.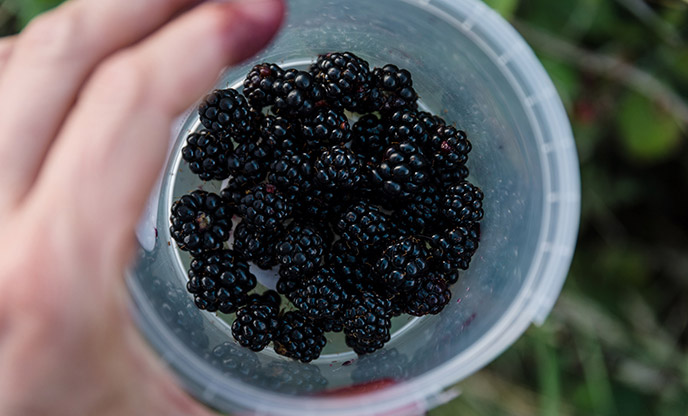 Prepare a nature walk or a scavenger hunt
Nothing beats a walk in nature. All children love animals and, if you plan ahead, you can turn an 'are we there yet?' walk into something entirely more pleasurable for everyone. Write a list of birds, bugs and animals for everyone to tick off their list on the walk. If you're staying on a glamping site with sea views, there are plenty of sea birds to spot and, if you're lucky, you might spot a pod of dolphins out to sea. The South West Coast Path is the perfect spot to enjoy a family nature walk, especially if you've got a dog staying with you in need of burning off some energy. Spanning 630 miles of rugged coast, this much-loved National Trail is the longest of its kind in the UK and well worth checking out.
If you're staying close to woodlands in Autumn, take the children out to find a selection of fallen leaves to take back to the glampsite. Encouraging them to learn about the different types of trees and how to identify them will broaden their knowledge of their surroundings. They could sketch or paint the leaves when they get back to the glampsite: perfect if you've got a rainy day on your hands and feel like hunkering down in your accommodation.
You could also collect some dried leaves and acorns and take them home with you. You can use your nature haul to create an autumnal display at home to look back on with fond memories of quality family time spent in nature.
While you're planning a nature walk or a scavenger hunt, be sure to also prepare the perfect picnic. Whether it's just packing up some filling sandwiches and snacks or getting a little more creative with the BBQ and knocking up a gourmet spread, you'll be glad of having something delicious to tuck into while you're out immersed in nature.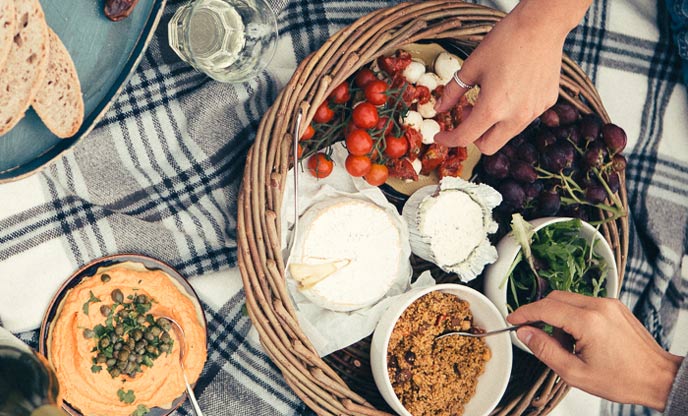 Rainy day activities for a family glamping holiday
A family glamping trip in the UK is not complete without at least one rainy day to have to fill. The unpredictable UK weather means that one day you could be bathing in the sun and the next be huddled up under a blanket and loading the log burner. One of the most important things to do before you head off on your family glamping holiday, especially if you're glamping with children, is to prepare for all weather conditions and pack the real essentials. You'll thank yourself later.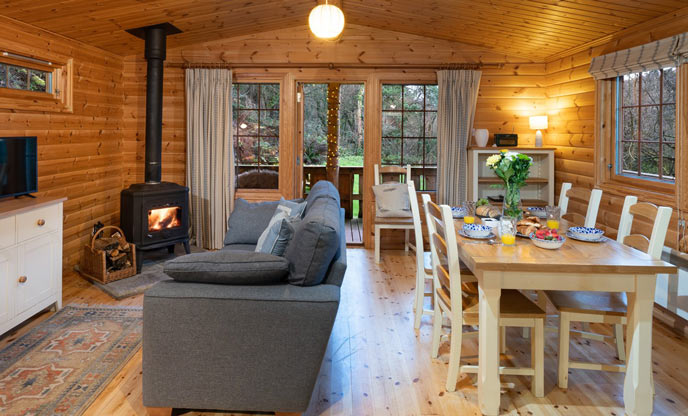 Take a look at: Y Berllan Hideaway, the cosiest cabin to light up the wood-burner and hunker down with a game of cards.
Unwind and recharge
One of the best ways to spend a rainy day while glamping is to use it as an opportunity to reset the batteries. Holidays are wonderful when they're fun-packed, but they should also be a time for relaxation too. When the heavens open, it's a good reminder to slow the pace right down and focus on your wellbeing and relaxation.
Gather around the table for games
Of course, smaller children might not fully appreciate the need for some downtime so it's best to be prepared with some fun children's activities on a rainy day. Put a pack of cards in your suitcase, pop the bluetooth speakers in your bag for some ambient music to relax to, or pack all the makings for a luxurious hot chocolate. It's also worth putting a laptop in your bag and loading it up with some pre-downloaded films before you leave but, if you're keen to keep the screen time to a minimum, some board games will go down just as well.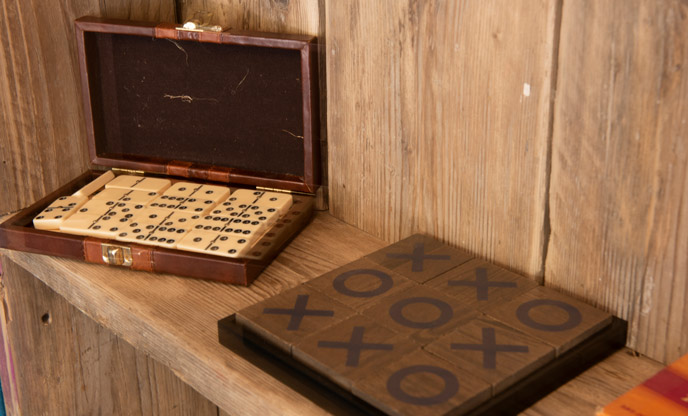 Get creative
You might also want to pop some craft supplies in your suitcase: a sketchbook, colouring pencils and paint set are usually a big hit on a rainy day, and packing a camera is also a great way of encouraging children to engage with their surroundings and take a stash of photos for them to look back on.
While a rainy day might sound slightly unappealing for adults, let's not forget that for many children, the idea of putting on wellies and jumping in puddles is probably one of the best ways to spend a day. Be sure to plan ahead and pack wet-weather gear, and take your little adventurer out to explore the local wildlife, enjoy the smell of fresh rain and do some much-loved puddle hopping. One of the bonuses of being out on a trail in the rain is that you're likely to bump into fewer people on the way so you can usually experience what nature has to offer with very few interruptions.
Go fishing
Another great way to spend a rainy day is to put on the waterproofs and venture out on a fishing trip. Whether you're taking your catch back to your glampsite to cook a gourmet meal, or just for the sheer relaxation, fishing is the perfect way to spend a rainy day with the family.
Something for everyone
Head off the beaten track
If you're keen to escape the crowds, we'd recommend going off the beaten track and avoiding the tourist hotspots. Whether you're walking on the South West Coast Path, heading to the beach to collect shells or foraging for dinner, the chances are that if the sun's out, the crowds will be too. Planning ahead and getting to grips with where the real hotspots are will help you to avoid them and plan a more relaxing day out, where you don't have to fight for a parking space. Speak to the owner of your glampsite for tips on where to visit that are a little off the well-worn path. Ask locals in restaurants and shops about their favourite spots. You will discover a few magical hidden gems that are slightly more secluded than the tourist hot spots, but are just as beautiful.
Play rounders
Who doesn't love a game of rounders with the family? Even the teenagers will find it hard to resist whacking a ball and running around a field, especially if it's incentivised: 'the loser has to do the washing up' will soon find everyone discovering a whole new sense of enthusiasm for the game. If you've not planned ahead and haven't brought a rounders set, fear not; you can easily find something that will do, like a shoe or a stick. Get creative!
Family fire-pit session
There's something so hypnotic about watching the flickering flames of a fire and it's even better with the people you love around you. Get the marshmallows out, prepare the perfect s'more and put on your cosies while you spend the evening discussing what else you all want to do for the rest of your holiday. Mistery 2 is the perfect place to sit and unwind by the glow of the fire pit.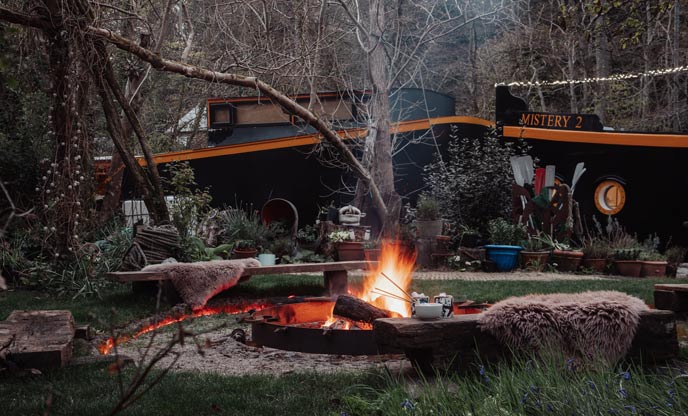 We've got a wide range of family glampsites across the UK, whether you're looking to spend some time exploring the Cornish and Devonian coasts, or booking a glampsite in the beautiful countryside of Somerset, as well as many other areas across Britain. While each of them offer something a little bit different, they all share the same back-to-nature experience that's impossible to resist.
If you've got a four-legged friend joining you on your glamping family holiday, we've also got plenty of dog-friendly glamping sites available across the UK so your much-loved pup can join in on the glamping fun, too.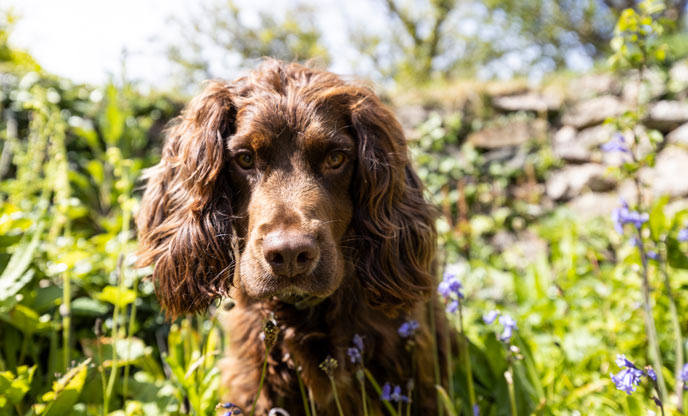 From birdspotting to bug identification, from tree climbing to foraging, nature provides the perfect backdrop to your family glamping holiday. All you need to do is pick your glampsite, pack up your essentials and get ready to go back to basics in accommodation that's anything but. Because, let's face it, life always tastes better with a little extra luxury.