A guide to exploring the Jurassic Coast, Dorset
Penned on the 21st October 2021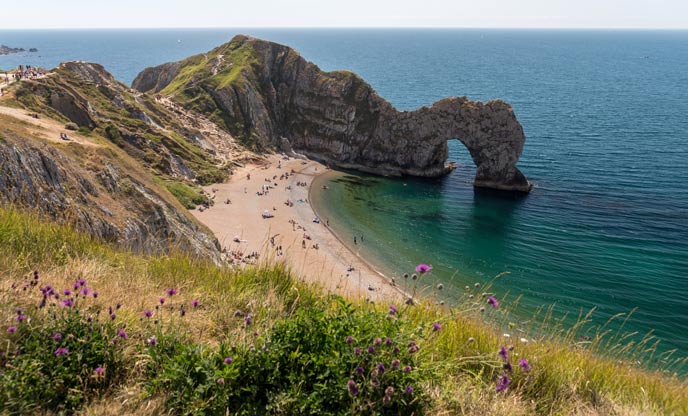 As you make your way along the stretch of southern English coastline from Exmouth in East Devon to Studland Bay in Dorset, you enter into a paleontological paradise. As well as allowing you to witness a microcosm of the past, the Jurassic Coast is any nature lover's dream. The UK's first and only UNESCO World Heritage site, since 2001 it has ranked alongside the Great Barrier Reef and Yellowstone National Park due to its impressive geology and abundant biodiversity. This part of the coast also makes the perfect launchpad for exploring East Devon and Dorset, much of which is designated an Area of Outstanding Natural Beauty.
The Jurassic Coast's geology and landscape
The Jurassic Coast's landscape is nothing short of phenomenal. Its spectacular coastline provides a snapshot of prehistoric flora and fauna, alongside panoramic sea views and captivating rock formations. The western most section carves its way through the British Channel from Exmouth to Lyme Regis and is well-known for its richly coloured cliffs, which were formed during the Triassic Period (250-200 million years ago). The towering crags of ochre yellow, burnt orange and crimson red reveal clues of what the Earth's climate was like when dinosaurs roamed the Earth.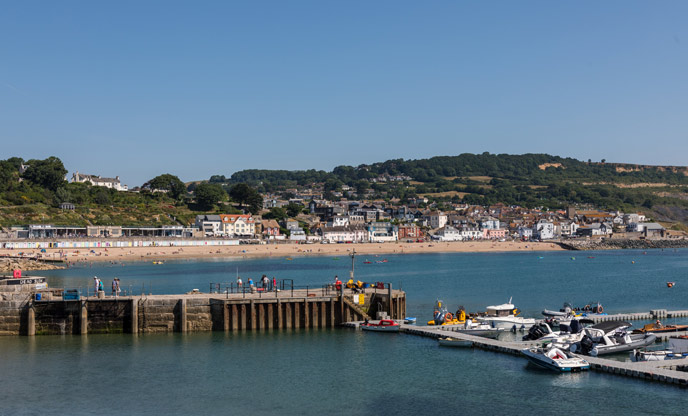 Travelling east from Lyme Regis towards Studland Bay, the sediment transitions to a lighter shade. Composed of mudstone, sandstone and limestone, characteristic of the Jurassic Period (200-150 million years ago), this rock is the most bountiful in terms of fossiling. As the coastline is eroded by the ocean it reveals mysteries of the past. Each wave brings with it the possibility of a wealth of precious discoveries and the chance to enter a lost world.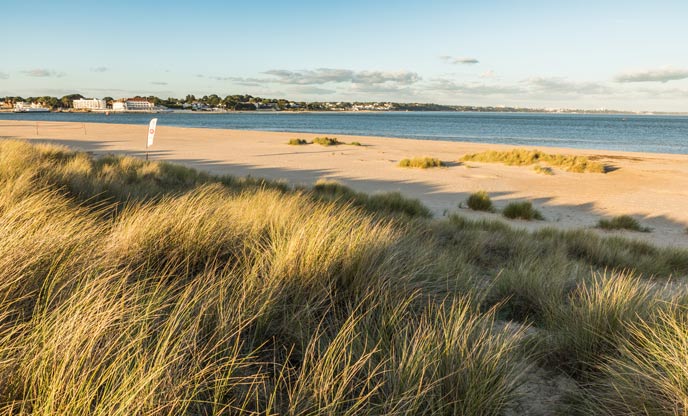 Other pockets of rock can be traced back to the Cretacious Period (145-60 million years ago), with the largest being found east of the Isle of Portland. Here, the cliffs are made from porous snow-white chalk, which has been eroded to create jigsaw-shaped coastlines and an enchanting series of isolated sea stacks. The most famous are Old Harry Rocks, which mark the easternmost point of the Jurassic Coast.
Jurassic Coast wildlife
As well as providing a sensational snapshot of almost 200 million years of the Earth's history and an intriguing series of geological features, the Jurassic Coast's landscape is overflowing with biodiversity. Amongst its wildlife hotspots, the River Otter flows through East Devon's Area of Outstanding Natural Beauty. Its salt marshes, tidal flats and reed beds are home to a huge variation of birds, which can provide hours of entertainment as they wade through the muddied foreshore. The river is also the site of an exciting project to restore Britain's wild beaver population, the first time an extinct native mammal has been reintroduced to England. As you stroll along the Otter's meandering banks, you are likely to catch a glimpse of these cute and furry creatures, which are well-known for being charismatic.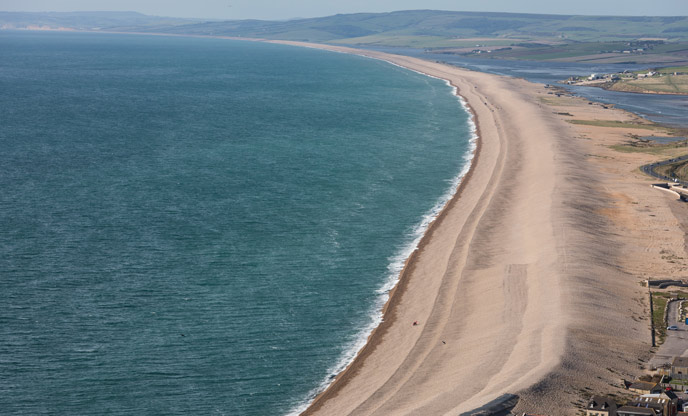 Across the border in Dorset, world class nature reserves such as Fleet Lagoon, Chesil Beach, the Isle of Portland and Poole Harbour are ecological gems to be enjoyed. Home to rare species of plants and butterflies, plus a thriving population of migratory birds, these areas of the Jurassic Coast are a nature lover's utopia. Dorset's clifftop heathlands are also an important global resource for endangered species. The rare ladybird spider resides here, along with all six of Britain's native reptile species and, in the summer, a colourful smattering of wildflowers.
Take a look at our collection of hideaways in Dorset. We also have several glamping sites in east Devon, close to Lyme Regis.
The best beaches on the Jurassic Coast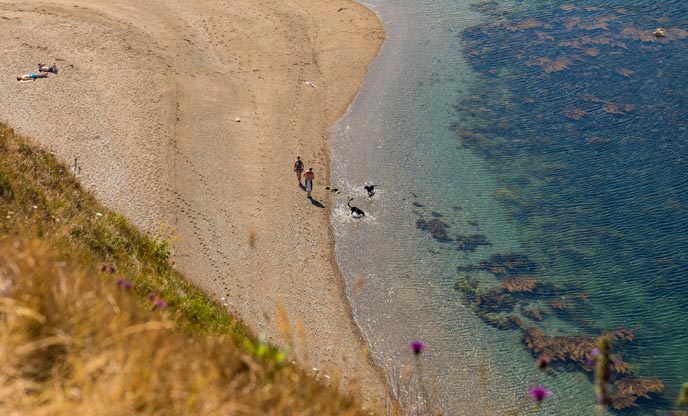 Whilst the Jurassic Coast is perhaps most well revered for its nature and geology, this stretch of coastline has also been viewed for centuries as a place of escapism from city life. Encapsulating the essence of a British seaside holiday destination, famous towns such as Lyme Regis, Sidmouth and Weymouth overlook the coastline, separated from the water's edge by a delectable selection of pebble, shingle and sandy beaches.
Budleigh Salterton Beach
The pebbled bend of Budleigh Salterton is an idyllic spot for children and families. Backed by a colourful selection of beach huts and overlooked by steep red cliffs of Devonian Sandstone at either end, it is a pleasant place for relaxing and swimming in the blue of the ocean. On its western side, Littleham Cove is known for its mosaic of rockpools, from which you can admire translucent shrimp, curious rock gobies and scuttling crabs. From here, the crescent-like slice of beach stretches 2.5 miles east to Otterhead, where the Otter Estuary greets the ocean like an old friend.
Charmouth Beach, Lyme Regis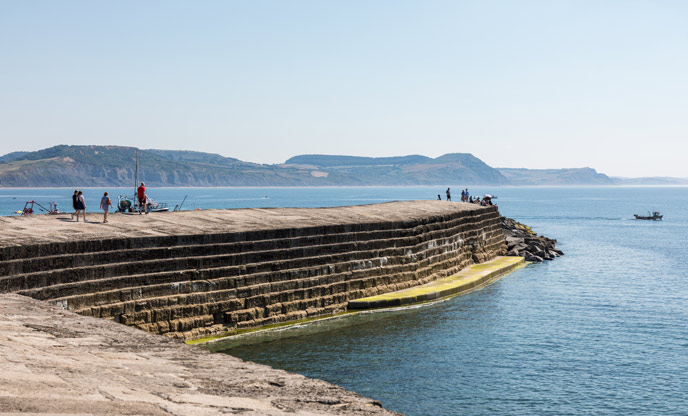 Further south, Charmouth Beach is amongst the Jurassic Coast's most famous. At low tide, a smooth expanse of sand and shingle is exposed, along with the opportunity to go hunting for precious fossils and fragments of ancient marine reptiles. Towards its middle, the sand is divided into two, as the River Char breaks free from the land and empties into the ocean. At high tide, sand at the rivermouth sometimes blocks the exit of the water, forming a tranquil pool and haven for marine birds. It's also dog friendly, meaning all members of the family can join in on the fun.
Chesil Beach and Fleet Lagoon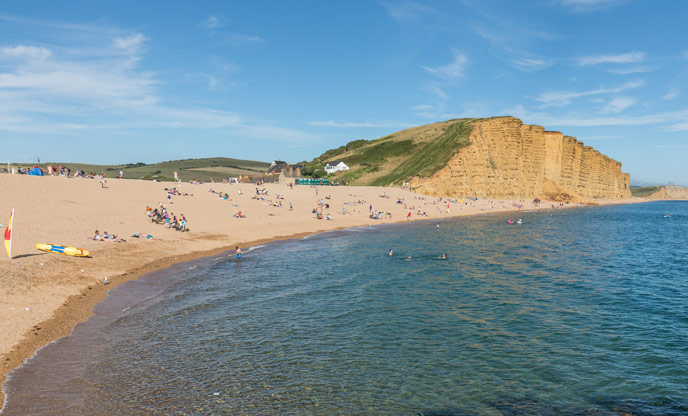 Formed by rising sea levels at the end of the last Ice Age, Chesil Beach is an 18-mile long shingle barrier. Its western edge begins at West Bay before sprawling eastwards to the Isle of Portland. Backed by Fleet Lagoon, one of the most important Marine Protected Areas in the country, the most part of its length is detached from the mainland. An 8-mile long oasis of calm, fed by both freshwater run-off and the ebb and flow of ocean tides, the lagoon's brackish water provides the perfect habitat for eelgrass to grow. This provides sustenance for bass, eels and swans to thrive, along with bright yellow petals of kidney vetch and other species of flora. Chesil Beach is also one of the best spots on the Jurassic Coast for watching the sun set over the ocean. As the sun sinks below the horizon line, the sky lights up in a series of amber, orange, peach and violet.
Weymouth Beach and Harbour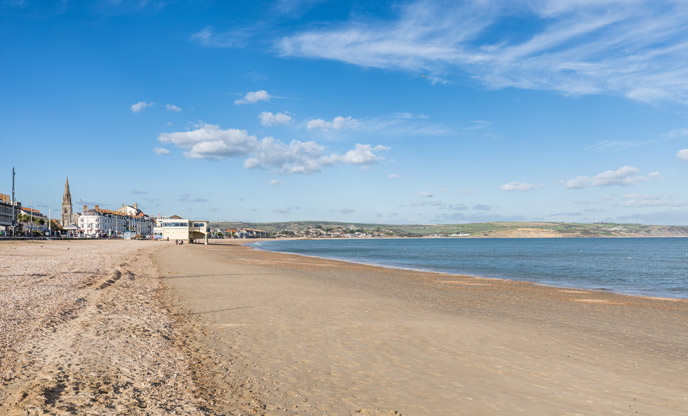 The epitome of a British seaside holiday, the curved shingle arc of Weymouth Beach has been a popular tourist destination since the 18th century. Located at the heart of the Jurassic Coast, the impeccable water quality, sheltered bay and gradual slope down to the shoreline make it the perfect spot for swimming and watersports. Whilst Weymouth can be busy, it is shouldered by two quieter shingle beaches – Greenhill and Preston. All three are a short walk from Weymouth Harbour, a picturesque waterfront home to colourful fishing boats and houses. On a calm day these colours reflect on the surface of the water, giving an uplifting feeling as you saunter along the harbourside.
Our favourite Jurassic Coast walks
Located within two separate areas of Outstanding Natural Beauty, walking the Jurassic Coast is one of the best ways to enjoy it. We've selected our favourite routes below.
Branscombe to Beer, East Devon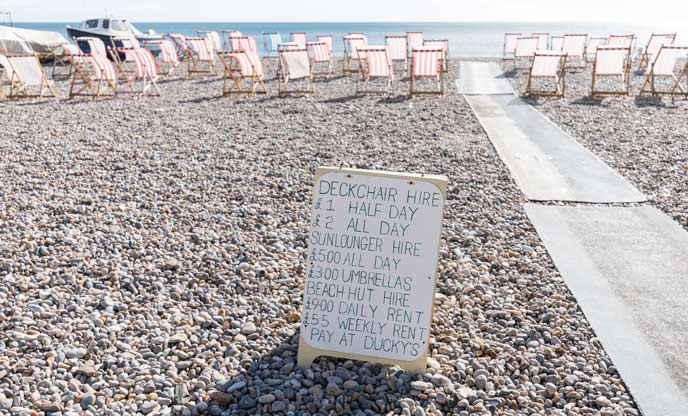 Traversing the coastal path between the seaside village of Branscombe and the small fishing village of Beer provides you with ample opportunity to lap up East Devon's rolling countryside. The 6-mile route also includes numerous vantage points from which to admire the Jurassic coastline from an elevated position and visit a number of interesting focal points along the way. These include an old thatch-roof bakery, a historic forge where blacksmiths still carry out their craft using traditional methods and Manor Mill. Plus, a variety of creatures and critters which inhabit this part of the coastline. Both Branscombe and Beer are also well-known for their fantastic pubs (including the Fountain Head in Branscombe and the Anchor in Beer), meaning no matter where you start the route, you're able to reward yourself with a well-deserved refreshment and bite to eat at the end of the trail.
Isle of Portland Circular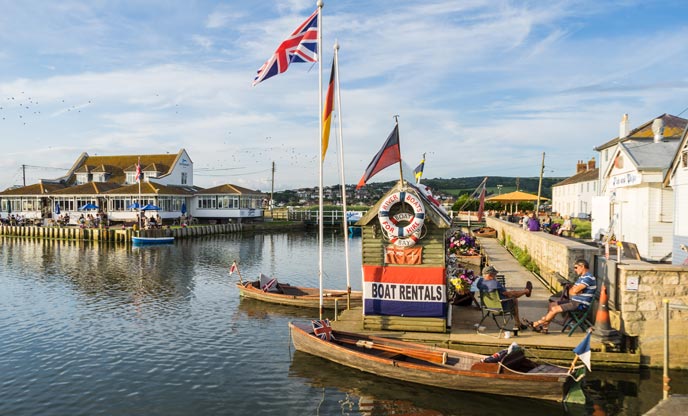 Located to the south of Weymouth, the Isle of Portland is a 4-mile long tied island connected to West Bay and the mainland by Chesil Beach. Navigating the whole of the island's coastal path takes the best part of a day, but is well worth it as you soak up panoramic views and come across near countless species of endangered flora and fauna. Its unique geology and climate make it a bastion for over half of Britain's 57 butterfly species and it is also a popular site for coastal and migratory birds. As you navigate your way around its uneven perimeter, you are likely to see the beating of all colours of wings drift before your eyes. Tall pink sprays of sea lavender are found here and nowhere else in the world, whilst feather-like patterns of rare mosses, liverworts and lichens adorn the island's rocky edges. The Isle of Portland forms the southernmost point of Dorset and has plenty of rugged coastline to explore, as well as an interesting limestone quarrying history, the beautiful red and white stripes of Portland Bill Lighthouse and the opportunity to climb atop a wobbly looking stack of rock. For a comprehensive itinerary, including routes of varying lengths, check out this guide by Kitti Around the World.
Durdle Door to Lulworth Cove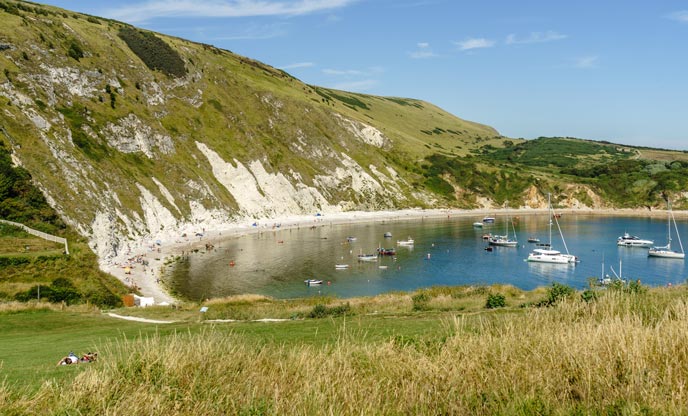 One of the most well-travelled parts of the coastal path, this circular route should be top of your list if you're short on time when exploring the Jurassic Coast. Durdle Door is one of the main Jurassic Coast attractions – an impressive natural limestone archway which has been gradually eroded from the cliff face over millions of years. Due to the rotation of the Earth's axis, there are two weeks either side of the Winter Solstice where the sunset lines up 'through the keyhole' of Durdle Door. This provides a rare opportunity to witness the beauty of nature in an unforgettable way. At the other end of the route, Lulworth Cove is equally popular and a spectacle to behold in its own right. The horseshoe bay forms part of the Lulworth Crumple and Stair Hole, a secluded geological attraction. On a sunny day, its waters light up to become turquoise and the sand appears white, giving an almost Caribbean feel. For more details on the different ways you can walk this part of the coastline visit Dorset Travel Guide for an insightful local guide.
Jurassic Coast Activities
In addition to walking, the Jurassic Coast's landscape makes it a hotspot for fossil hunting and birdwatching.
Fossil Hunting on the Jurassic Coast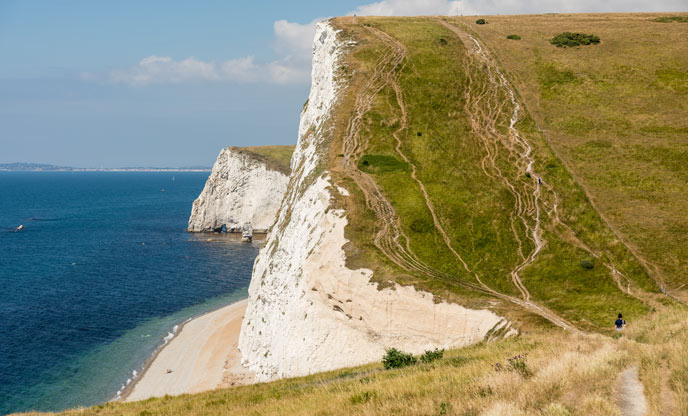 Fun for everyone, Lyme Regis and Charmouth are the holy grail of fossil hunting. Coming equipped with a sharp pair of eyes and a patient mindset, it's exceptionally likely you'll discover the swirling spirals of ammonites and perhaps even the teeth of ancient mammals. Because of coastal erosion, new fossils are being revealed all the time, offering a glimpse into the Earth's mysterious and long-forgotten past. Amongst the most famous paleontological discoveries to be made is fossilist Mary Anning's uncovering of the first Ichthyosaur known to science. Found in the early 19th century, the specimen is 5.2 metres long and can be seen today in London's Natural History Museum. If you'd like to uncover fossils of your own, there are a number of guided tours you can go on from Charmouth Heritage Coast Centre, Lyme Regis Museum and Jurassic Coast Guides.
Birdwatching on the Jurassic Coast
For nature lovers, hikers and anyone interested in ornithology, the Jurassic Coast is near unbeatable. The combination of countryside and coast – plus the Jurassic Coast's varied landscape and geographical positioning – make it a veritable hotspot for all manner of birds. The Isle of Portland is Dorset's most southerly point and is one of the first places migratory birds arrive in the UK when heading north. Here, you can also spot passing seabirds, including brightly billed puffins, which breed in the surrounding cliffs. Fleet Lagoon is known for its populations of long-beaked dunlins, scampering sanderlings and wading waterfowl, whilst Chesil Beach is home to a rare colony of terns which breed above the estimated 18 billion pebbles which make up the beach. Poole Harbour is an internationally important breeding site, most notably for winter visitors such as avocets and spoonbills. It is also the site of a restoration project to bring ospreys (large fish-eating hawks) back to the south coast. Last but not least, Abbotsbury Swannery is the only managed colony of nested mute swans in the world. The swannery is unique as it allows you to witness the whole life cycle of these graceful birds – even their eggs hatching!
Other Jurassic Coast Local Attractions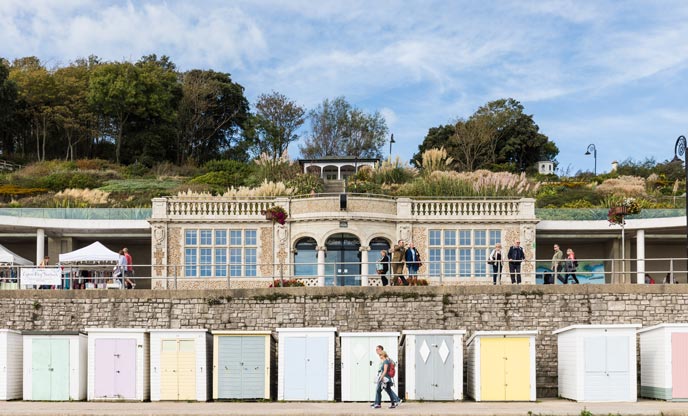 If you're still looking for things to do or are fortunate enough to have plenty of time to explore, there are a mixture of other local attractions to be enjoyed.
Lyme Regis Museum
Described by David Attenborough as "a remarkable museum" Lyme Regis Museum is built on the site of Mary Anning's former home. Display cabinets are adorned with a mesmerising collection of fossils, as well as a lively representation of Lyme's local history. A wonderful attraction for families and those interested in learning more about the local area.
Nothe Fort
A Victorian coastal fort with labyrinthine tunnels, Nothe Fort is an appealing attraction for families and history lovers. Sat atop Nothe Peninsula, a visit offers insight into the military past of Dorset as well as far-reaching views of the Jurassic Coast.
Corfe Castle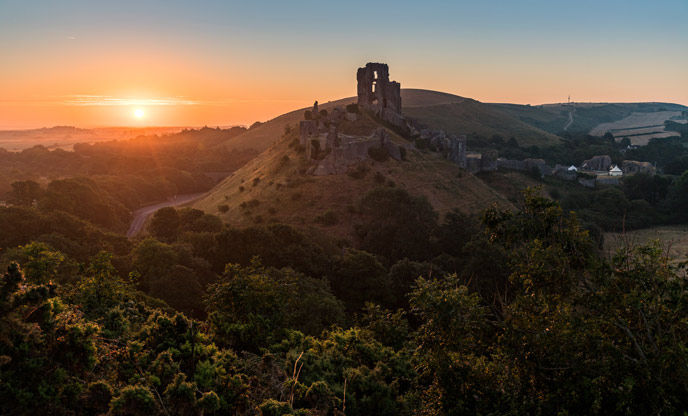 Another one for families and history lovers, Corfe Castle has been standing since 1090. Originally a Saxon stronghold and almost a thousand years old, its crumbling exterior gives evidence of a rich and varied history. Most notably, a part-demolition by the parliamentarians in 1646, during the English Civil War.
Poole Harbour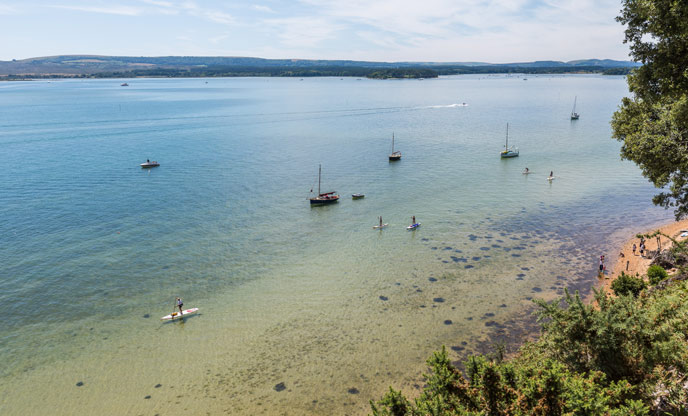 A treat for nature lovers and a mecca for water sports enthusiasts, Poole Harbour is Europe's largest natural harbour. Fringed by woodland and coastal trails, it is a Site of Special Scientific Interest (SSSI) and Special Protection Area (SPA). Brownsea Island sits in the middle of the harbour and is one of the rare places in southern England where red squirrels can be seen foraging amongst the trees.
Old Harry Rocks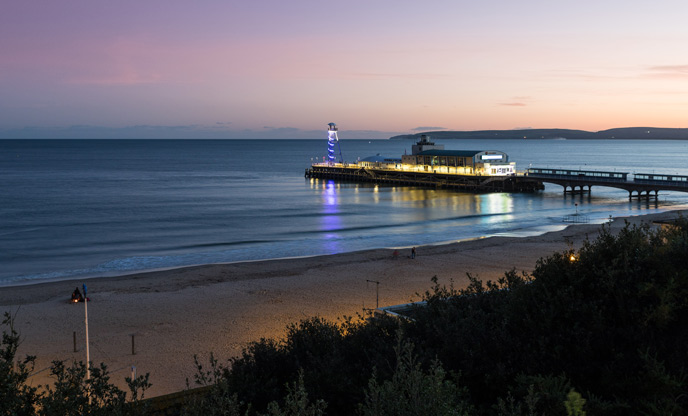 One of the Jurassic Coast's most popular geological attractions, Old Harry Rocks stand erect from the foam of the waves off Handfast Point. Eroded from the chalky Dorset coastline, the grass adorned stacks are now isolated from the mainland and make for an enthralling place to visit. Best viewed from the water, there are regular boat trips departing from Swanage and Bournemouth, which allow you to get up close and personal with the Old Harry and the easternmost part of the Jurassic Coastline.
Pubs and places to eat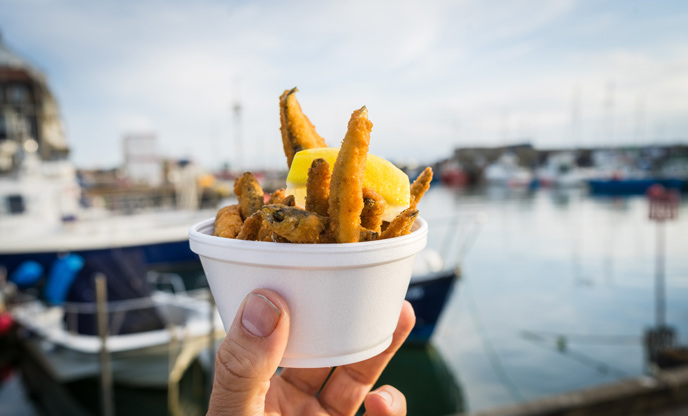 With so much to do on the Jurassic Coast, you're sure to work up an appetite. Luckily, there are a fabulous selection of eateries and local breweries to visit to top up energy levels whilst enjoying high-quality local produce.
The best seafood restaurants on the Jurassic Coast
The Oyster and Fish House boasts some of the best views of the Jurassic Coast and is known for its excellent quality dishes. Perched atop a hill near Lyme Regis, there are extensive views of the harbour and ocean and the menu is focused on fresh local seafood served simply.
The Crab House Café is an award-winning restaurant that overlooks Chesil beach. Menus change daily based on the catch from local fishing boats and the restaurant even has its own oyster farm. Seafood doesn't get any fresher or more local than this!
The Salt Pig Too includes an urban farm shop, butchery, and a café. The restaurant has a cosy kitchen-like ambience and is a stone's throw away from Swanage Beach. The chefs are known for their creativity, bringing new dishes to the table each day. All of which include fish caught by local fishermen on the day of serving.
Jurassic Coast local breweries
Palmers Brewery in Bridport has been producing beer since 1794 and still uses some of the original equipment. Operating from a thatch-roofed building, they also host tours on the history of brewing. A must for those interested in learning more about the process.
Hall and Woodhouse is the Jurassic Coast's oldest surviving brewery and has a fine selection of Dorset-inspired beers. They also host brewery tours, the perks of this one being you get a complimentary beer at the end.
Pubs on the Jurassic Coast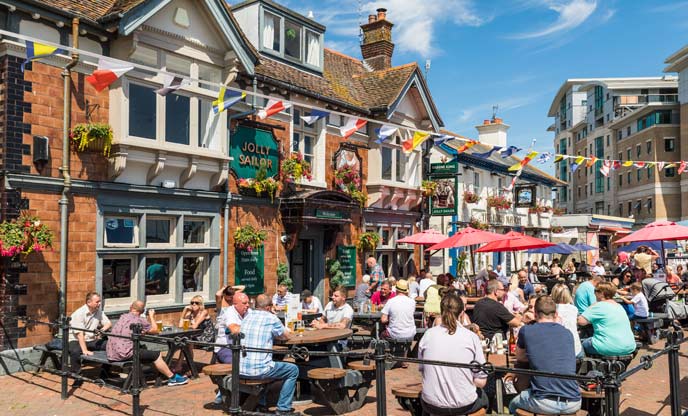 The Anchor Inn in Beer is a traditional bar and restaurant, serving delicious pints and hearty food, including regularly changing specials. In the summer there are also garden barbecues.
The Bankes Arms is a cosy country pub near Old Harry Rocks, with continuous views across Studland Bay towards Poole, Bournemouth and the Isle of Wight. Originally built in the 16th century, it has retained the character of a traditional local pub. Expect house-brewed ale, crackling fires in the winter and a large pub garden for refreshing drinks in the summer.
The Lulworth Cove Inn is a pub and restaurant overlooking one of the Jurassic Coast's most famous attractions. Serving high quality pub food, plus other non-traditional dishes the menu includes something for everyone.
Take a look at our collection of glamping sites along the Jurassic Coast and start planning your escape to this beautiful coastline.