Unique and unusual stays in Cornwall
Penned on the 5th September 2023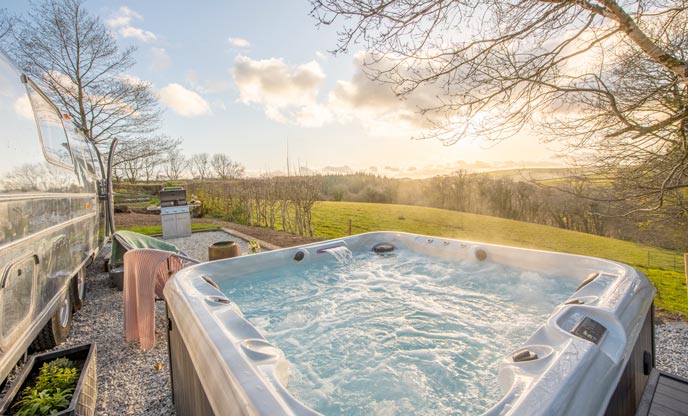 We understand – you've stayed in self-catering cottages, you've slept in soulless hotels and you've tried who-knows-how-many B&Bs. You've had a go at camping, but the freezing night-time temperatures and humid, dewy mornings just aren't tempting you back. You're looking for somewhere special – really special – but you don't want to compromise on comfort. Why should you? Well, this is where our unique stays come in. With a collection of unique and unusual stays in Cornwall, we can help you find somewhere that ticks all the boxes – combining beautiful settings, quirky designs and lots of little luxuries for the ultimate glamping retreat in Cornwall
Here to share with you our list of magical places to stay in Cornwall, we're ready to transform your UK glamping experiences forever. In fact, we'll probably spoil you for good. From unique woodland hideaways to sunrise safari tents overlooking island castles to clifftop cabins high over the Atlantic, we have something for you.

Our favourite unique stays in Cornwall: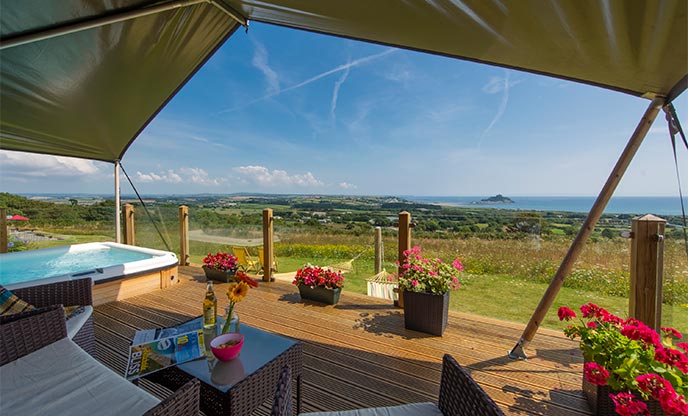 First up on our list of unusual places to stay in Cornwall is Mount View Sunrise Safari Tent. One of our sea-view glamping retreats in Cornwall, we love this safari tent for its amazing views over the fairy-tale St Michael's Mount, its next-level home comforts and its cosy-luxe vibes. If you ever thought that glamping in the UK was a little lacking in the 'glam' – think again. This family-friendly safari tent has private sleeping areas, a wood-fired range, a come-hither sofa and an outdoor hot tub.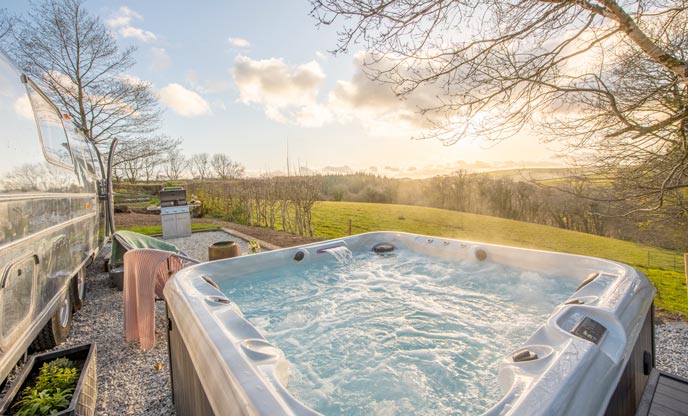 This instantly captivating airstream had to make it onto our list of unique places to stay in Cornwall, it's as beautiful with a spring backdrop of multi-coloured flowers as with autumn's russet tones. While inside, the soothing neutral hues, wood burner and sumptuous furnishings exude homely vibes, outside the sleek retro exterior, the quirky barbecue and bubbling hot tub tease our wild sides. A real American beauty in Cornwall, this unique stay with its woodland and countryside views is perfect for both romantic escapes and rejuvenating solo breaks.

Skylark | Falmouth | Tiny house | Dog friendly | Sea views | Wood burner | Sleeps 2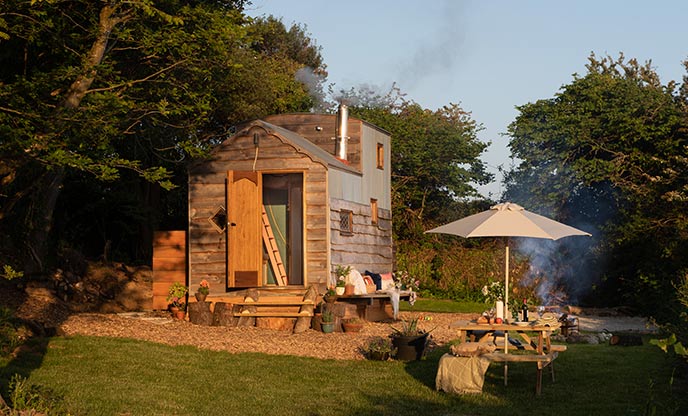 Skylark is just a little bit special. This quaint tiny house has an abundance of unique charm. From the colourful interiors to the spellbinding sea view, as soon as you arrive you are sure to fall in love. There's an antique wood burner to keep you cosy during the cooler months and plenty of outdoor space for your pooch to roam freely. Just a short distance away is the bustling maritime town of Falmouth. Spend your days exploring the independents and checking out the abundance of gorgeous coffee shops, before a soulful evening back at your hideaway under the moonlight.
Wildwood Hideaway | Rock | Cabin | Dog friendly | Wood burner | Sleeps 2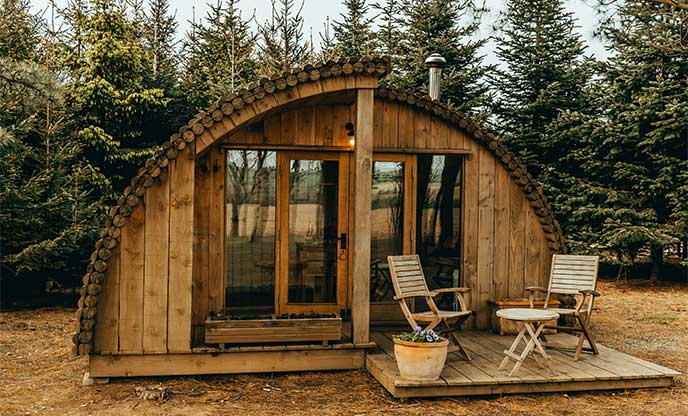 For more unique stays in Cornwall, turn your attention to Wildwood Hideaway near Rock. Nestled within a peaceful wooded landscape within 200 acres of countryside, this magical log cabin is as inviting as they come. In the morning, wake up to a dawn chorus of birdsong and sip coffee as bright shards of sunlight pierce through the branches, and in the evening, cuddle up by the indoor wood burner and sink into a blissful stupor – a world away from the demands of everyday life.
Ramehead Lookout | Whitsand Bay | Quriky house | Hot tub | Sea views | Dog friendly | Wood burner | Sleeps 2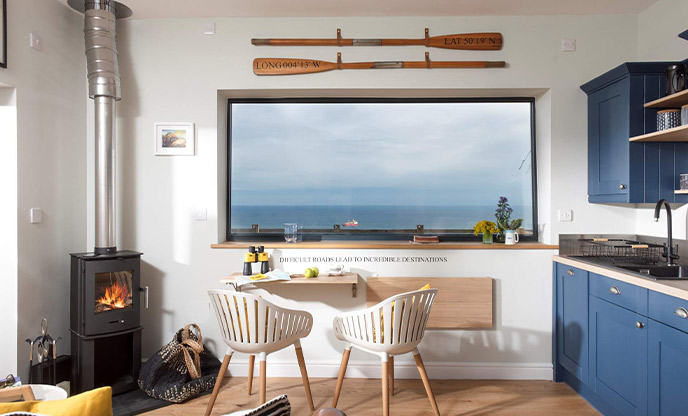 Ramehead Lookout has to be one of our most unique hideaways in Cornwall. Perched atop a cliff next to a Coast Watch Station on the Rame Head Peninsula, this quirky house overlooks the gorgeous Whitsand Bay beach. After a dip in the ocean, warm up in the hot tub back at your coastal retreat and soak up the salt-kissed ambience. This is the perfect place to unwind for a few days.
Mistery 2 | Falmouth | Houseboat | Sea views | Sleeps 4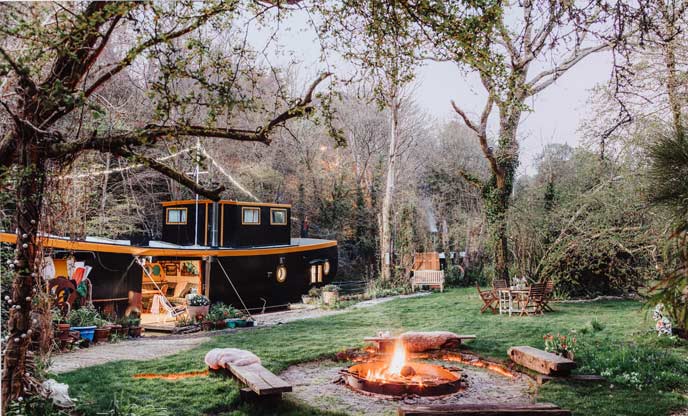 One of our favourite quirky places to stay in Cornwall is Mistery 2, an outstanding houseboat lovingly designed and created by seasoned shipwrights. Featuring a luxurious open-plan living and dining area, with two bedrooms (for up to four people) and two shower rooms, it's everything you could wish for and more from an ultra-comfy home-from-home, on water. Gently lapped by the meandering River Kennal, this stationary houseboat has dropped anchor in a magical tidal creek and awaits for a unique stay unlike any other.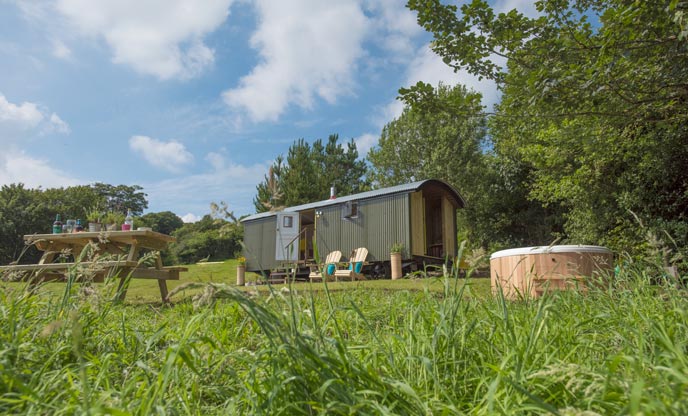 If glamping with a hot tub is the only way to go for you, we honestly can't blame you. So, imagine then, if you could enjoy hot tub glamping in the most tranquil of settings with all the family. Cue The Lion's Den at Warleggan. This gorgeous shepherd's hut in Cornwall is like a scene plucked from a summer dream. Secluded, stylish and oh-so serene, it's the kind of place that will immediately ease your mind and lift your spirits. Bubbles, anyone?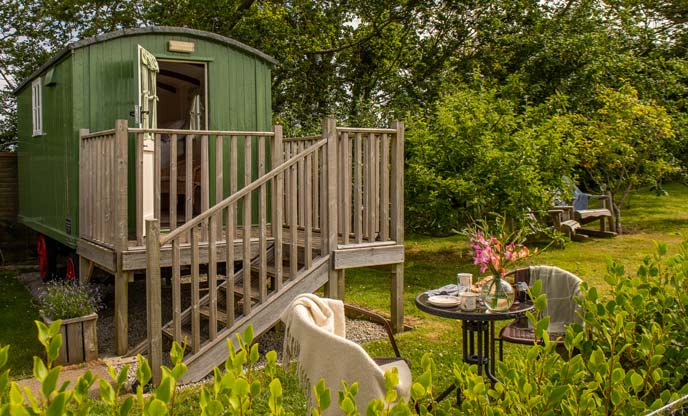 We all know that the health benefits of glamping in nature are as manifold as they are profound, which is one of the reasons why we love this cute wagon so much. That, and the charmingly pretty interiors. And the gorgeous countryside setting. Oh, and the seriously cute donkey neighbours. Only 2 miles from the golden sands of Porthtowan, yet enjoying peaceful isolation in a private orchard, it has everything you could need for a restorative break – including your very own kitchen cabin next door.


Porth Krow | Falmouth | Cabin | Sea Views | Sleeps 2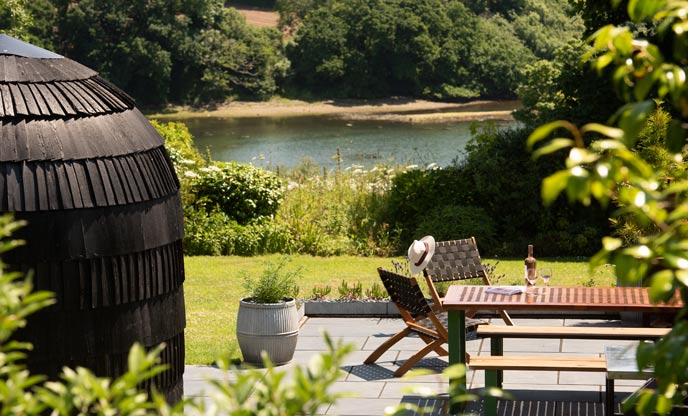 And last, but certainly not least we have Porth Krow. Our final hideaway in Cornwall with sweeping sea views, this eco-friendly cabin is a dream come true for those seeking somewhere out of the ordinary. The interiors are gorgeous and the outside space is simply a dream. Not far from the likes of Flushing and Mylor, you can spend your days on a coastal adventure before retreating back to your cosy cabin, snuggling in around the outdoor wood burner and cooking something seasonal on the barbecue. Magical moments await...


If you would like to have a look at more enchanting places to stay in Cornwall and beyond, we have a range of unique and unusual stays for you to enjoy across the UK. From family-sized coastal escapes to lakeside retreats to treehouses for grown-ups, you are sure to find the perfect place to relax and revive in your very own Unique hideaway.