Tips for glamping with your dog
Penned on the 14th September 2021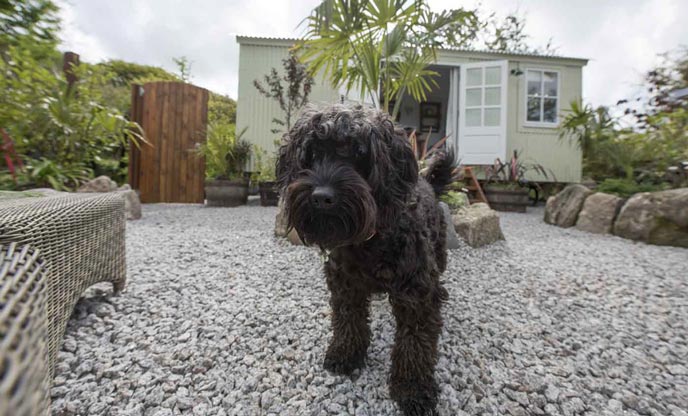 As we head towards a cooler – and for many places quieter – part of the year, it's the perfect season for glamping with dogs. It goes without saying that our four-legged friends love the great outdoors just as much as we do, and one of our favourite things about glamping is how easy it is to bring them along. Glamping's fusion of comfortable living and spending time in nature will leave you feeling relaxed and revitalised, and is the perfect hassle-free escape for both owner and pet. In this guide, we provide you with tips and considerations so that you and your dog can get the most out of your next glamping holiday.
What type of glamping holiday are you looking for?
Whether it's rambling through farmland, wandering through woodland or sauntering along the seafront, there's an added sense of joy to any adventure with dogs. Their enthusiasm and inquisitiveness for their surroundings is nothing short of contagious, whilst sniffing noses, wagging tails and an all-round abundance of cuteness never fails to put a smile on our faces. That being said, certain dogs are better suited to some locations than others and it's important to consider both yours and your dog's preferences before deciding on where you'd like to glamp.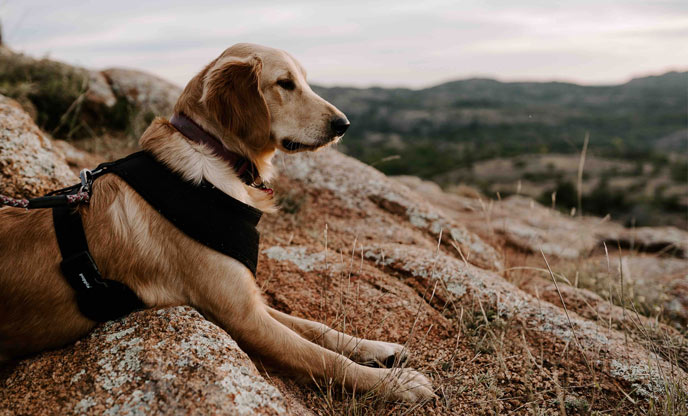 How active a break do you want?
A great place to start is by considering how active a break you'd like. Exploring your surroundings by foot is the obvious choice when glamping with dogs, but how far is your pet willing to walk? Older dogs and puppies may not be able to travel as far, whilst larger dogs and avid hikers may prefer to get serious miles under their belt each day. Checking Ordnance Survey Maps will give you an idea of walking routes in the area to help you plan your trip more efficiently. Google Maps is full of useful information too. For those wishing to swim, a coastal glamping retreat may be more suitable, and for those wishing to cycle, forest trails are often a great way to explore. Alternatively, if you're looking for a less active getaway, it's important to consider how accessible the places you'd like to visit are. For example, is there adequate parking available and is it easy to get around?
Accessing local amenities
Whilst part of the beauty of glamping is escaping the everyday and making the most of retreating into nature, depending on the length of the visit and what you're planning on doing, it's important to consider access to local amenities too. For example, part of the draw of coastal locations is visiting the beach, but for large parts of the year, many of them have dog restrictions or even bans. If you're planning on heading to the beach with your dog, it's worth checking the local authority website to see which times of day and year you're able to visit. It's worth noting that restrictions are often seasonal, which means you're more likely to be able to take your dog to the beach between October and March – a good reason why autumn is one of the best times of year for glamping with your dog. Take a look at our collection of glamping sites with sea views.
Similarly, if you're looking to treat yourself to a meal out or a wholesome pub lunch, it's worth checking beforehand which restaurants and pubs are dog friendly. It's also a good idea to check out the rules at any other places such as local attractions, shops and parks you'd like to visit, to avoid being disappointed.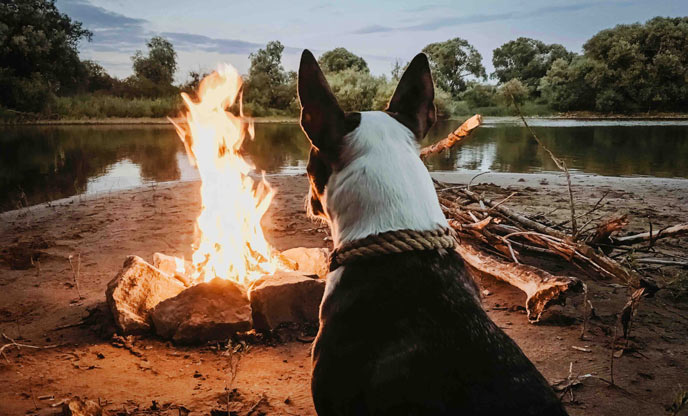 Considering your pet's personality
Just like humans, dogs will have different preferences and will be more suited to some glamping locations than others. Therefore, considering your dog's personality plays an important part in selecting an appropriate glamping spot to visit. For example, pets which are easily spooked, bark or don't get on well with other pets or people would be better suited to a more secluded location. Similarly, highly energetic or loud dogs may need more space. On the other hand, calm and sociable dogs may be happy to holiday in almost any location. Regardless of your dog's personality, it's highly likely that there will be somewhere appropriate for them to visit – it just takes a little planning. Have a scroll through our collection of dog-friendly glamping sites and start planning your escape to nature.
Considering space
Ensuring there is enough room for you and your pet should also be at the forefront of your mind whilst booking your dog-friendly glamping holiday. For example, cosy shepherd's huts could provide a snug environment for those with smaller four-legged friends, whereas more spacious retreats such as cabins and cottages may be more appropriate for larger dogs. It's important to consider whether dogs are allowed on the furniture before booking your retreat, as this will affect the amount of space you have and how comfortable you and your dog will be. For an extra cosy autumnal glamping break, why not book one of our dog-friendly glamping sites with a wood burner to snuggle up by after your walk in nature.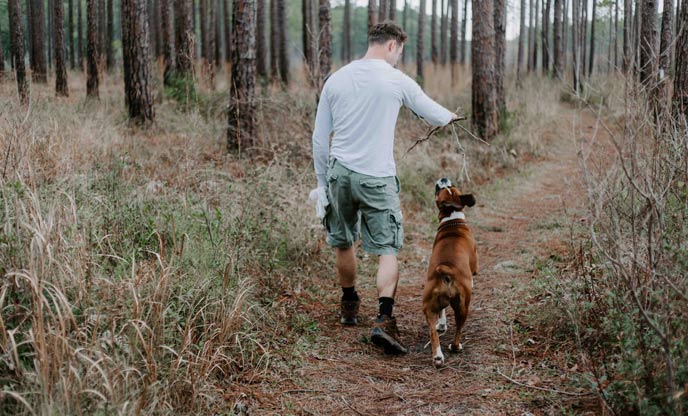 Other people and animals
Glamping is a fantastic way to connect with nature, but this also means that there will be more animals in your immediate surroundings. As enjoyable as it is to watch the cotton-tail of a rabbit hop towards a hedge or to see cattle grazing lazily in a field, for some dogs this will trigger their instinct to hunt. Keeping dogs on leads (or ensuring that their recall is good enough) will make it easier to prevent disruption to animals and wildlife, allowing them to continue to flourish long into the future. It will also reduce the likelihood of expensive vet bills or upset stomachs. Whilst walking through the countryside or along certain stretches of coastal paths, it's common to see cattle and livestock – when you know that there are farm animals in the area, it's best to keep dogs on leads just in case.
Depending on where you are glamping with your dog, there may be other people, pets and children around. Take into consideration how happy your dog is with new sights, smells and sounds as well as socialising. For dogs that don't like to socialise, a more rural location would most likely be better.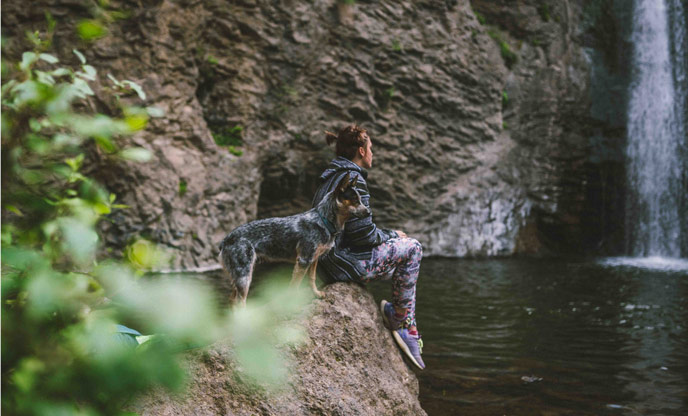 Rules and regulations
Some glamping sites may require dogs to be on leads or have other house rules. Ensure you check all of the regulations before booking your retreat so that you can enjoy glamping with your dog unperturbed.
What to pack for your dog
When glamping with your dog there is a list of essential items to bring. Where your glamping site is located will determine how easy it is to purchase forgotten items, so it's best to be as organised as possible. Some glamping accommodation provides items for furry friends, so be sure to check exactly what you'll need before packing. Here is our list of must-haves for the ultimate dog-friendly glamping experience:
Collar with tags – regardless of how obedient your dog is, inquisitive noses being introduced to new sights and smells can lead to changes in behaviour and pets wandering off. Having a collar with contact details attached will make it quicker and easier for adventurous pups to find their way back.
Lead – many sites require dogs to be on leads, not necessarily because of dogs' poor behaviour, but because of fearful neighbours and children. Extendable leads are particularly useful, as it gives your companion more freedom of movement and the ability to run around without posing a risk to livestock in certain areas.
Bed – making sure your dog has their own space to relax helps to maintain an element of normalcy for them whilst on holiday. It's also worth checking with your particular accommodation as to whether or not pets are allowed on furniture, because dogs which usually sleep on beds may not be able to in some circumstances.
Food – whilst it may be tempting to treat pets to some out of the ordinary cuisine whilst away, maintaining a 'normal' diet helps to keep them healthy and avoid any unwanted upset stomachs.
Portable dog bowl – perfect not only for feeding pets, but also for allowing them to drink on longer walks, a portable dog bowl can be folded up and placed into a rucksack whilst taking up very little room.
Towels – it's often the case that towels are provided for human residents, but this isn't always the case for pets. Bringing your own doggy towels will help to keep things clean both in the accommodation and in the car.
Medication – if your pets require any medication, it makes life much easier to have it with you whilst travelling. Trying to access a vet or prescriptions whilst away is best avoided.
Toys/treats – all dogs deserve to be a little bit spoilt, which is why we think our furry friends' favourite toys and treats should never be left behind.
Poo bags – last but certainly not least, it's really important to clean dog muck up and to ensure it's placed in a bin. Dog muck can have a negative impact on local ecosystems and as we all know, is an unpleasant surprise for those who stand in it!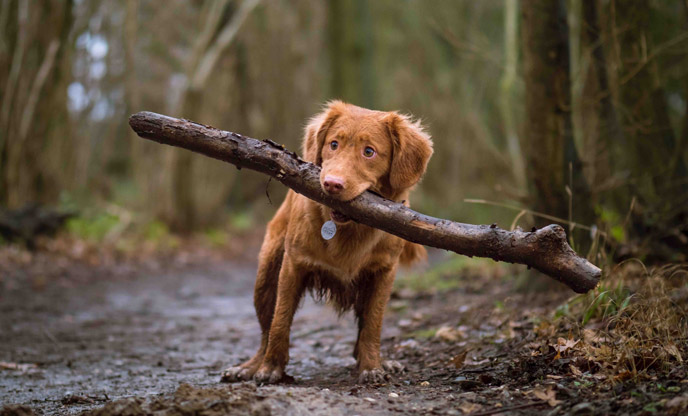 Take a look at our dog-friendly hideaways and start organising your adventure to natures paradise.