The best beaches in Pembrokeshire
Penned on the 23rd February 2022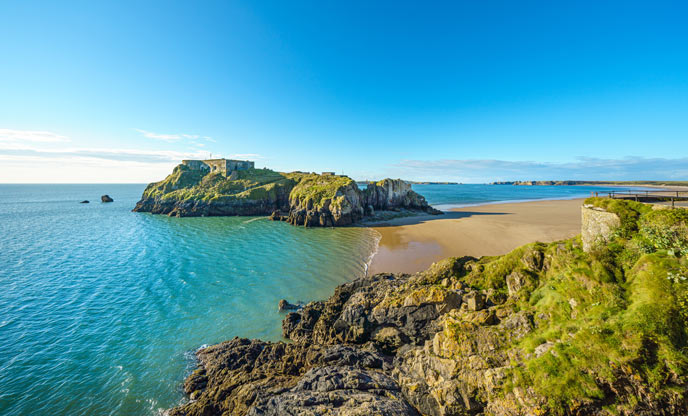 Exposed to the full force of the Atlantic Ocean and the Irish Sea, Pembrokeshire is a place where you are blown away by both the magnificence and beauty of nature. Surrounded by the ocean on three sides, embracing a slow-paced lifestyle comes as second nature here. The coastline receives some of the best surf in the UK, whilst quieter inlets are the perfect place to go for a dip or a kayak. For those less inclined to take to the water, a coastal ramble allows you to explore the highly regarded Pembrokeshire Coast Path. Here, you can get your fill of windswept cliffs, dramatic seascapes and a profusion of coastal wildlife, as well as stumbling across stunning waterfalls and coastal arches.
Pembrokeshire is a must-visit for anyone looking to explore one of the most remote regions of the UK, whilst immersing yourself in a unique culture and island-like mentality. In this guide, we introduce you to the best beaches in Pembrokeshire, so that you can make the most of your time in this spectacular corner of the world.
Aberfforest Beach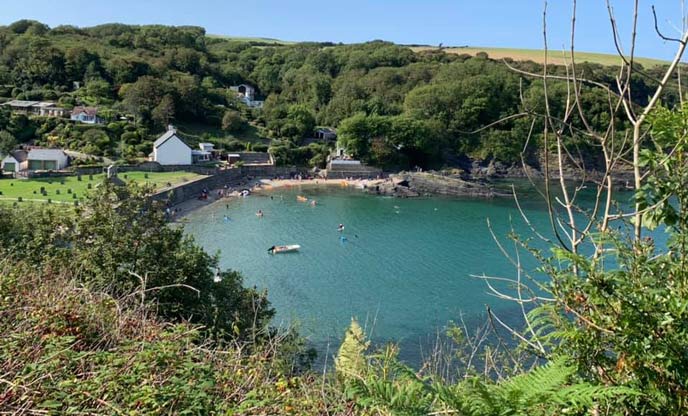 A hidden shingle cove found on the northern coast of Pembrokeshire, Aberfforest Beach lies between Newport and Dinas. Accessible only by walking, it is yet to be discovered by many and generally quiet all year round. A well-sheltered bay, Aberfforest is an exquisite location to strip off and go for a dip or to launch a kayak and explore the surrounding coastline. Green cliffs rise on either side of the water, meaning it is sheltered from the wind most of the time. Behind the bay is an alluring woodland, complete with one of Pembrokeshire's best waterfalls. A peaceful place for quiet contemplation or for inspiring creative tasks such as sketching or writing, it would be a shame to visit without spending some time at this idyllic spot.
There are no amenities or lifeguards here. Dogs are welcome all year round and access is via the Pembrokeshire Coast Path.
Where to stay: Y Berllan Hideaway | A fairy-tale retreat nestled in an enchanting woodland glade.
Whitesands Bay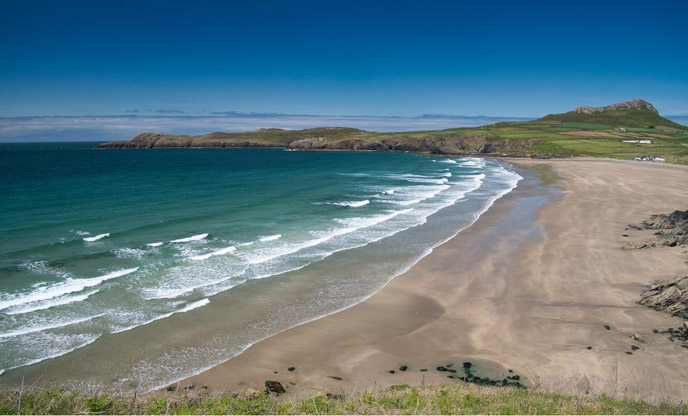 Near St David's, Whitesands is a fine west-facing bay, offering a slice of the tropics within remote Wales. Here, the widespread of powdery white-sand and turquoise water lends the feeling that you're elsewhere in the world and the quieter southern coves are the ideal place to experience a sense of escapism. The northern area of the beach is considerably busier, largely due to the fact it has a popular surf break which is also used by kayaks and canoes. The craggy crest of Carn Llidi rises behind the sand, an ideal vantage point for soaking up the views towards the remote rocky headland of St David's.
Awarded Blue Flag status for its impeccable water quality and amenities, Whitesands is a seasonally lifeguarded beach with parking, toilets and a café. It is possible to rent surfboards and windbreaks here and the ramp in front of the Surf Life Saving Club is the easiest point of access.
Caerfai Bay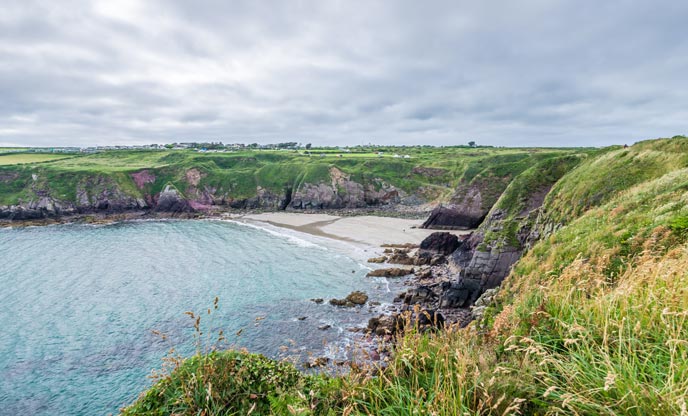 The closest beach to St David's (only 1.5 miles away), Caerfai Bay is a rocky cove that is absorbed by the ocean at high tide. At low tide, an exposed sandy shoreline is revealed, along with several rock pools and small caves. Access to the cove is via a steep set of steps that descend from the Pembrokeshire Coast Path. Being south facing and sheltered by the headlands which stand proudly on either side, Caerfai is a suntrap and attractive location for sunbathers. Whilst the bay is known for its excellent water quality, at times it experiences strong currents, meaning erring on the side of caution is necessary when swimming.
Amenities are limited, other than a free car park which sits above the beach. However, walking to and from St David's offers a pleasant opportunity to sample a number of noteworthy pubs and eateries along the way. The beach is dog friendly and is not patrolled by lifeguards.
Broad Haven (North) Beach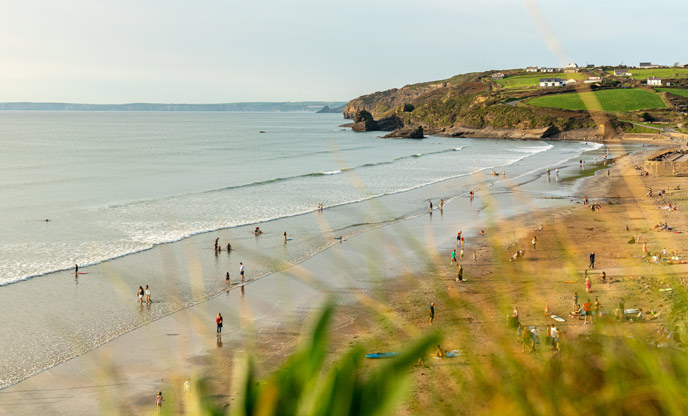 Broad Haven North is a thin, westerly facing beach of pebbles and sand at high tide. As the tide ebbs towards low, a vast expanse of firm, golden sand is revealed. The water at Broad Haven is much calmer than most other parts of the Pembrokeshire coastline. This, combined with the gently sloping sand, makes it a firm favourite with swimmers of all ages. For those looking to stretch their legs, there is a pleasant walk to Little Haven – the next headland – at low tide. There is also a selection of interesting rock pools and geographical formations including sea stacks and arches, at the northern end of the beach.
Broad Haven has plenty of amenities and access is easiest from the southern end using the concrete slipway. There are two car parks, toilets and three pubs on the promenade above the sand. During the summer months, lifeguards patrol the beach and dogs are welcome at the southern end all year round.
Where to stay: Officers' Mess | Just a mile from the beach this is a truly unique and special retreat for two.
Marloes Sands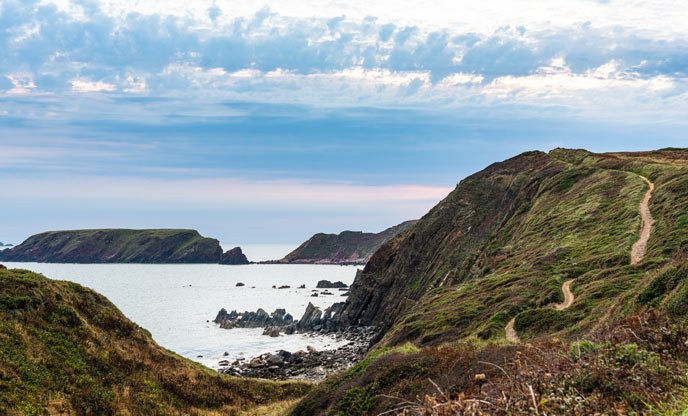 Surrounded by nature and encompassing the wilderness of the Welsh coastline, Marloes Sands is home to a wide variety of marine life and birds. Exposed to the full force of the ocean, this south-westerly facing beach is surrounded by windswept cliffs and dramatic landscapes. Atop the headlands of ragged grass, there are excellent views out towards the ocean. Descend towards the broad curve of the beach at low tide and ample amounts of smooth sand are revealed. Puffins and seals are known to frequent the area, so keep an eye out for exciting views of local wildlife. If you'd like to swim here, only do so when the weather is calm, as the beach isn't lifeguarded.
Marloes is a remote beach without any amenities. The nearest car park belongs to the National Trust and is half a mile away. For food, the nearby village of Marloes is less than a ten-minute drive.
Where to stay: Officers' Quarters | Steeped in history and now lovingly restored, this hideaway provides a soulful escape to the coast.
Freshwater West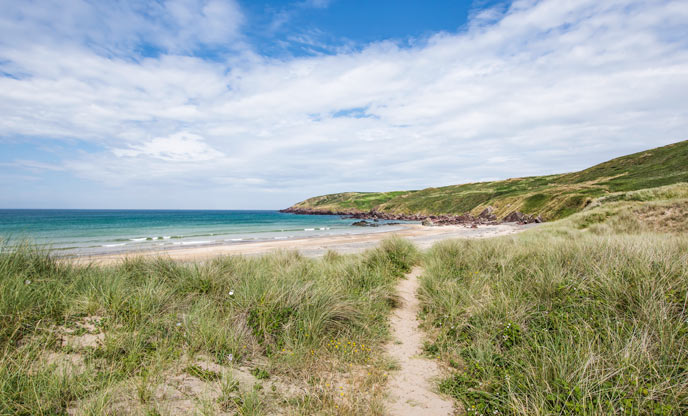 At the end of the Pembrokeshire Coast Path, Freshwater West is a long and inviting strip of sand and a well-known surfers' paradise. Backed by the extensive dune system of Broomhill Burrows, the westerly facing beach receives great waves and is amongst the most beautiful in the area. There are strong rip currents here, meaning only experienced swimmers and surfers should enter the water. However, you can book surf lessons with Outer Reef Surf School. For those looking to enjoy a beach sunset or an evening picnic, Freshwater West is known for its beautiful skies, which light up in a cascade of colour.
There are two small car parks close to the beach. However, they can become very busy when the surf is good. One of them has a concrete ramp leading down to the beach. The award-winning Café Mor food van serves up delicious food from spring to autumn.
Barafundle Bay Beach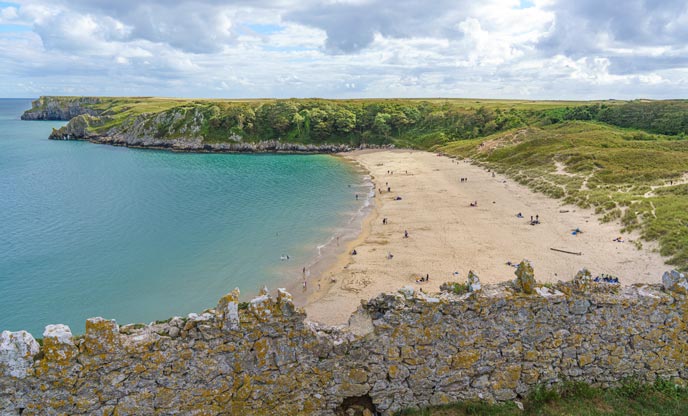 Voted one of the best beaches in the world, the picture-perfect Barafundle Bay comprises of pristine sand, inviting waters and is backed by soft, sandy dunes. Protected by pine-covered limestone headlands on both sides and a half-mile walk away from the nearest car park, there is an air of seclusion to the seemingly untouched inlet. However, Barafundle has gained notoriety in recent years because of its crystal-clear waters and lesser crowds than some of Pembrokeshire's more accessible beaches. Its sheltered eastern-facing aspect means the ocean here is often calm, though there are small waves sometimes. A lovely spot for open water swimming and paddling, Barafundle should be high up on your list of beaches to visit in Pembrokeshire.
Somewhat off the beaten track, there are no facilities or lifeguards at Barafundle Bay. The nearest car park is at Stackpole Quay, a half-mile walk away over the cliffs. Dogs are welcome on the beach all year round.
Church Door Cove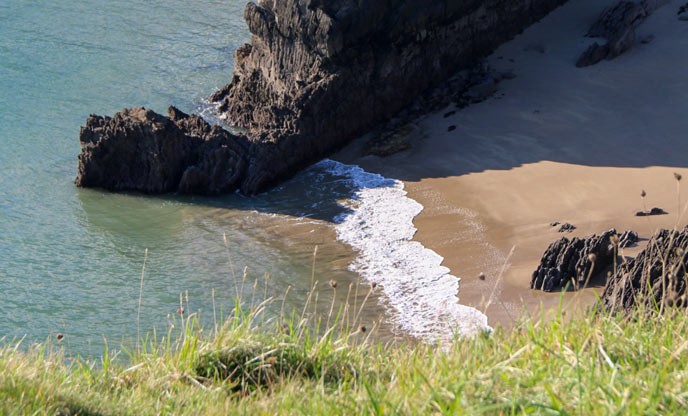 A hidden gem, found between Old Castle Head and Lydstep Point, Church Door Cove is an area of important geological interest, due to its limestone and red sandstone cliffs. Only accessible at low tide, via a set of 140 steps, it is best to visit only on fair weather days. Stepping onto the sand of this tiny, southeasterly facing cove, you are rewarded with a view of an impressive stone archway. It has been carved out of the cliffs by nature and forms an attractive focal point or subject of photography. Swimming at the cove is pleasant and it's common to have the beach all to yourself. However, be wary of the tide at all times. From the clifftop, there are sweeping views of Old Castle Head, Lydstep Head, Caldey Island and the Bristol Channel.
There are no facilities at Church Door Cove and it isn't lifeguarded. The nearest car park is Stackpole Quay and it is dog friendly throughout the seasons.
Tenby North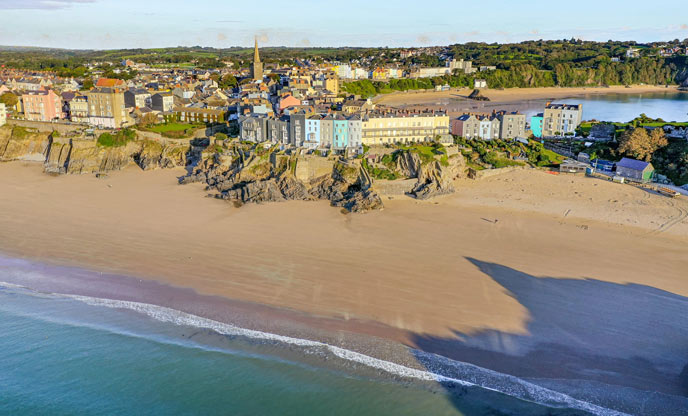 No guide to Pembrokeshire's beaches would be complete without a visit to Tenby. The ancient harbour town is a hotspot with tourists and it's well worth a visit to soak up the history of the area. There are four beaches in Tenby, three of which have Blue Flag status. Our favourite is North Beach because its enclosed easterly position means it catches the sun all day and is well-sheltered no matter the weather. A long length of flawless sand, you can access Tenby South from here at low tide, making it a popular place for runs along the seafront. Gaskar rock is a notable landmark in the middle of Tenby North, whilst a colourful smattering of coastal buildings rise up behind the sand. The calm waters make it a fantastic place to go swimming, all whilst enjoying impressive views of St Catherine's Island and Carmarthen Bay.
Tenby North is seasonally lifeguarded and there are dog restrictions from May to September. Access is from the rear of the beach via a steep set of steps or the harbour front. There are two car parks above the beach and plenty of places to grab food and snacks in the town.
Staying in Pembrokeshire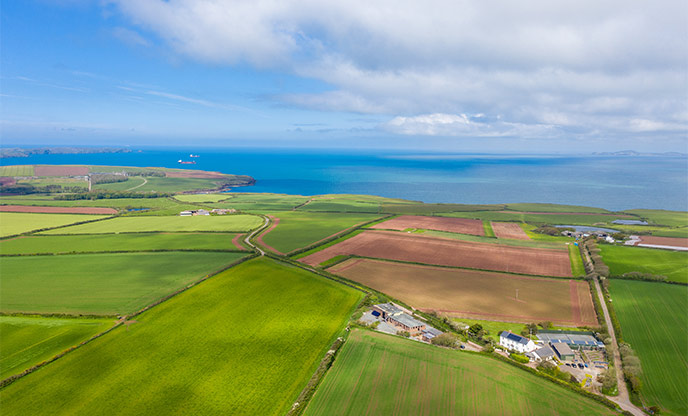 Pembrokeshire truly is a beautiful location for a unique getaway with plenty to see and do, including beach days, history and a lovely selection of eateries. Browse our collection of quirky places to stay in Pembrokeshire and start planning your next adventure.
Or browse our full collection of heavenly hideaways, situated in the most picturesque corners of the UK here.