The most romantic glamping hideaways for couples
Penned on the 24th January 2023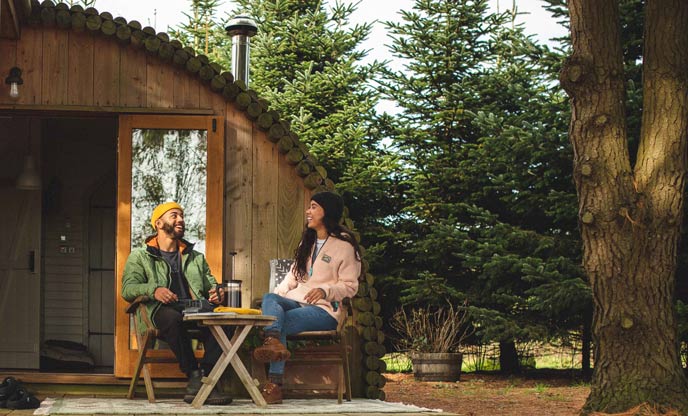 Switch off and unwind on a romantic getaway for two and spend some quality time in each other's company somewhere special. Create those unforgettable memories of blissful holiday moments in your chosen hideaway, surrounded by gorgeous countryside and tranquillity. Whether you're looking for a salt-kissed retreat beside the sea or a secluded haven in a beautifully rugged landscape, here's our guide to the best romantic glamping hideaways for couples…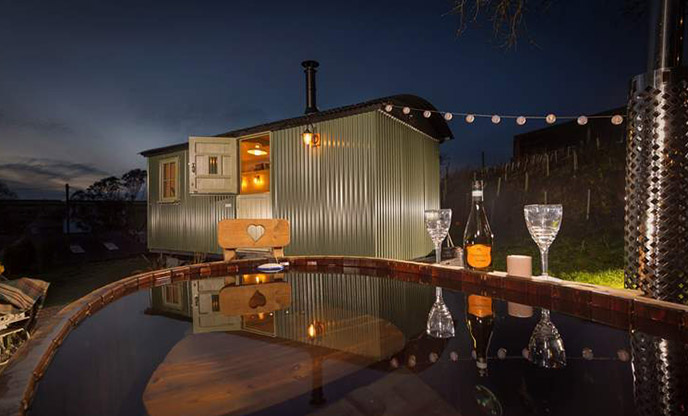 Unwind into rural bliss at Rosie's Hut, a simply unforgettable getaway for two in the south Devon countryside. Spend dreamy evenings in the hot tub under the stars, fall in love with the wonder of nature and explore the secluded coves nearby. Take a look at our guide to the best sandy beaches in Devon here. Rosie is settled close to the quirky market town of Totnes, full of eclectic independents and an array of wholesome eateries.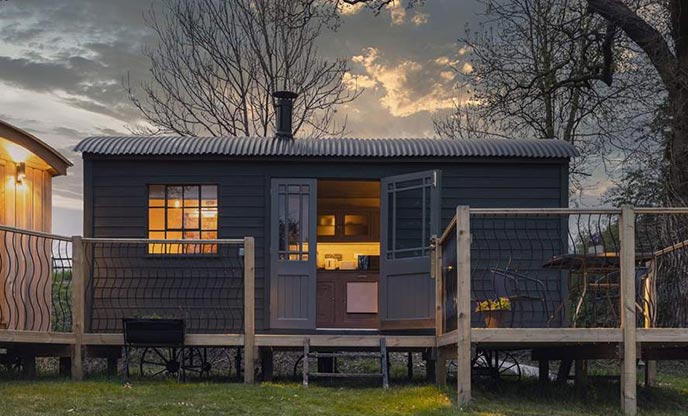 A truly captivating hideaway, La Cabine Francaise will transport you to a tranquil paradise. Nestled in the Dorset countryside, dine al fresco under the starry skies and explore the beautiful grounds. Inside, cosy up by the wood burner accompanied by a glass of red and a cheese board, while planning the next day's adventures. Delve deeper into the magic of La Cabine Francaise, by taking a look at this blog by Rosita from team UH, who was lucky enough to experience a dreamy stay here.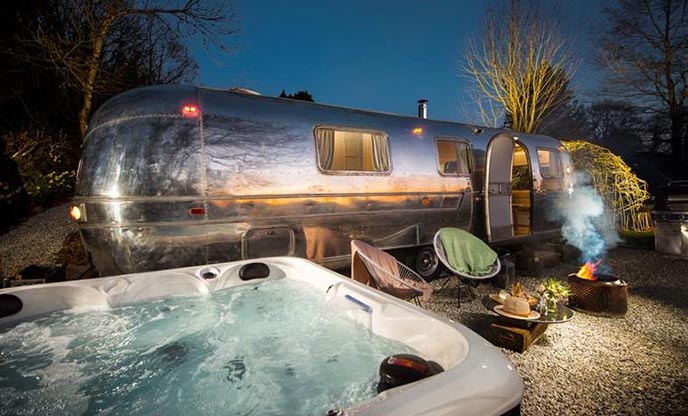 Discover the magic and retro charm of Panoramic Silverbullet, truly a unique place to stay tucked away in rural bliss. Cosy up around the firepit for romantic evenings under the moonlight, explore the breathtaking north Cornwall countryside and enjoy an unforgettable getaway for two.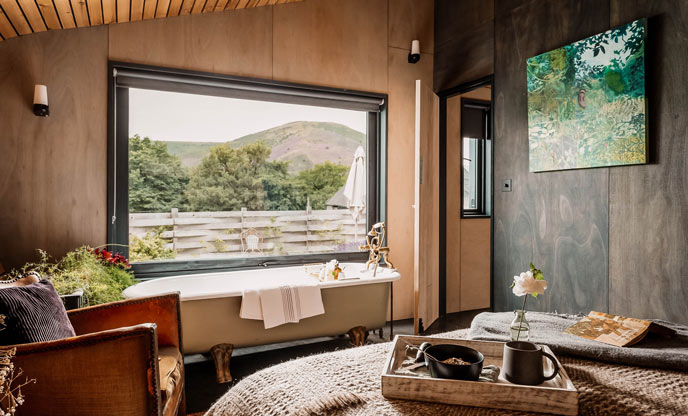 If you were to daydream about the perfect romantic escape, The Cabin would come to mind. Settled amongst the stunning Welsh countryside, with sweeping vistas, this spellbinding cabin promises the most luxurious getaway. Enjoy romantic evenings in the roll-top bathtub, while dinner cooks in the quirky kitchen and your worries of everyday life simply melt away...
Hayley's Hut | Devon | Hot tub | Wood burner | Dog friendly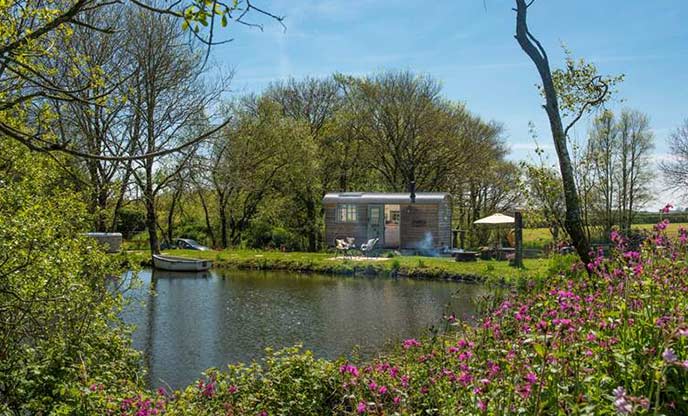 Hayley's Hut is simply enchanting. Nestled in a sheltered location beside a serene lake with a soothing hot tub, the setting is nothing short of a dream. With a window specially created for stargazing from the comfort of your bed, this is a very special place to switch off and unwind for a few days.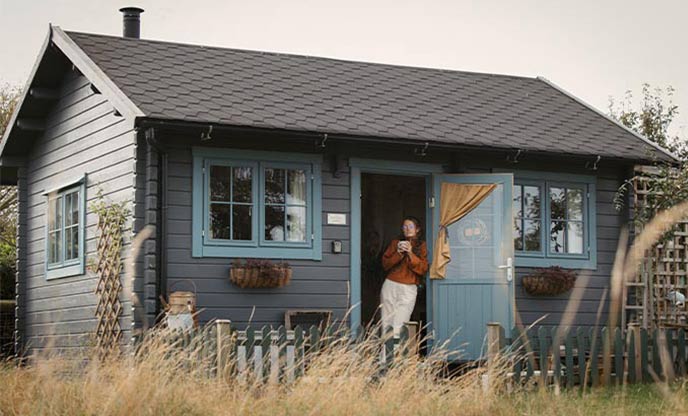 This heavenly hideaway ticks all the boxes for a romantic and restorative break in nature; snug interiors, outdoor bathtub, and of course the warming wood burner. Once you arrive there's no need to make any plans, simply spend your days soaking up the beauty of this unique retreat in the Staffordshire countryside and reconnecting with your love in a peaceful paradise.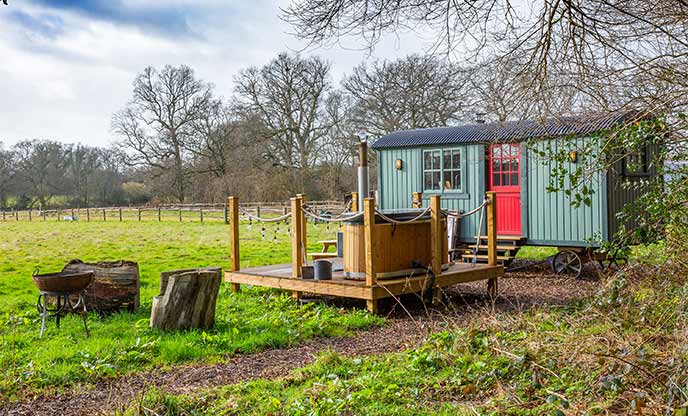 Tucked at the end of a quiet rural lane in west Sussex, close to the vibrant city of Brighton, is where you will find this bespoke hut with an abundance of character. The ambiance at this spellbinding retreat oozes romance and earthy charm. Get ready to whisk your favourite person away to this one-of-a-kind escape in nature...
Room with a View | Devon | Wood burner | Dog friendly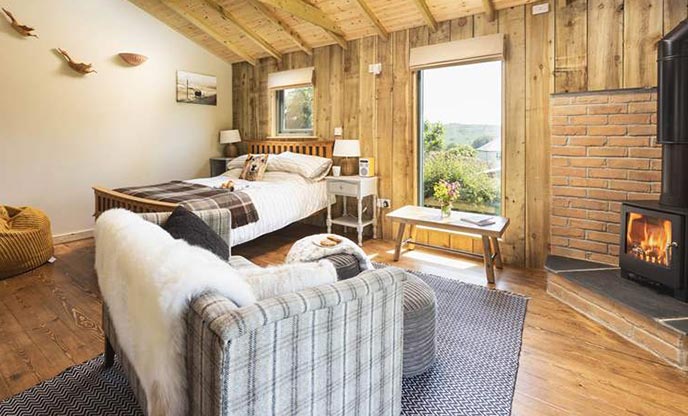 Settled within the natural beauty of Dartmoor National Park, Room With a View is the perfect space to switch off your phone, soak up the peace and quiet and enjoy each other's company, surrounded by breath-taking scenery. Be sure to pack your walking boots as there are multiple routes to be enjoyed nearby. And if you can't resist taking your four-legged friends away with you, you're in luck, as this heavenly off-grid cabin is also dog-friendly. Lovely Hannah (our freelance copywriter) had a wonderful stay at Room with a View in the autumn. Read all about what she got up to here.
We hope we've inspired you to book your own romantic hideaway with your loved one. Take a look at our collection of unique places to stay to find your perfect glamping retreat for two in a hidden corner of the UK...