Christmas and New Year's Eve escapes
Penned on the 11th November 2022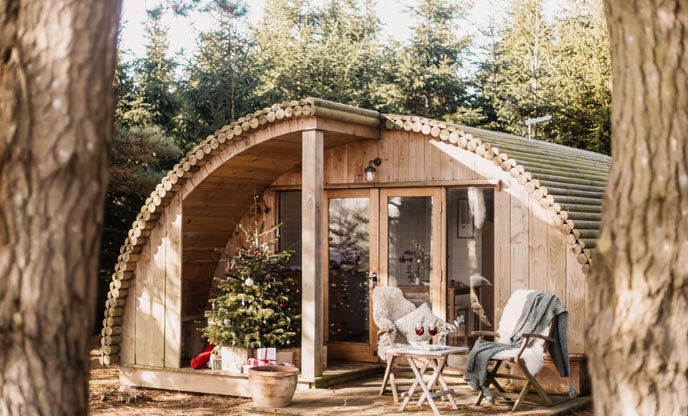 Villages decorated with pretty Christmas lights, the scent of cinnamon and clove fills the air and there's a certain snugness in every pub, shop or home you walk into. Christmas truly is the most wonderful time of the year and we believe it starts from the 1st of December and runs right through until the 2nd of January! Take a look at our selection of hideaways with Christmas and New Year's Eve availability and get inspired to make this festive season the best yet!
What could be more dreamy than to spend the festive period staying at a Unique hideaway? Stoke the fire, cosy up and spend some quality time together, whether as a family or just the two of you, dog in tow. We promise this will be a Christmas you will never forget.
Christmas availability | Look Here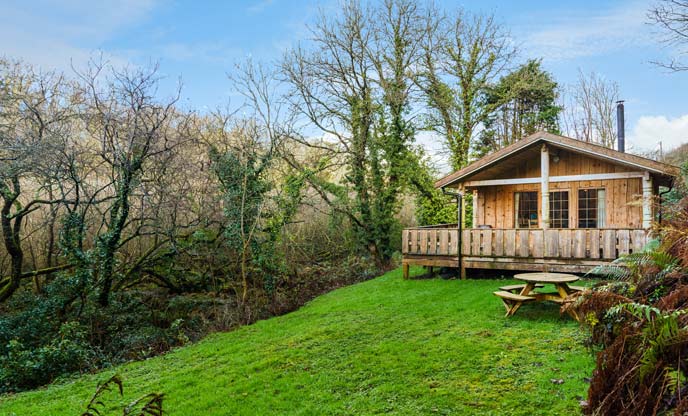 Y Berllan is an enchanting log cabin nestled in a beautiful woodland glade on the Pembrokeshire coast. You really have the best of both worlds while staying here. Your cosy cabin is nestled within the forest floor, but is just steps away from the glistening ocean waters of Cwm yr Eglwys beach. There's plenty of space to accommodate a family of four with a wonderful open-plan living and dining room, that's just perfect for that all-important Christmas dinner. After your Christmas feast, enjoy playing board games in front of the fire or take the dog for a walk on the beach.
Y Berllan Hideaway | Book Here
Why not break the Christmas tradition of staying in a cosy cottage and instead make the most of winter glamping at this family-sized shepherd's hut? Perfect for a young family looking for a unique place to enjoy the festive period. The Enchanted Wardrobe at Warleggan is positioned close to Bodmin Moor in the North of Cornwall. Enjoy a brisk winter walk by the ocean, or embrace climbing Cornwall's highest tor with your four-legged friend in tow, all before returning to light the fire and sinking into the heavenly hot tub... mulled wine in hand of course! Why not visit the amazing Eden Project during your stay? With an ice rink and festive events throughout December, a visit will be sure to put you and your little ones into the festive spirit!
The Enchanted Wardrobe at Warleggan | Book Here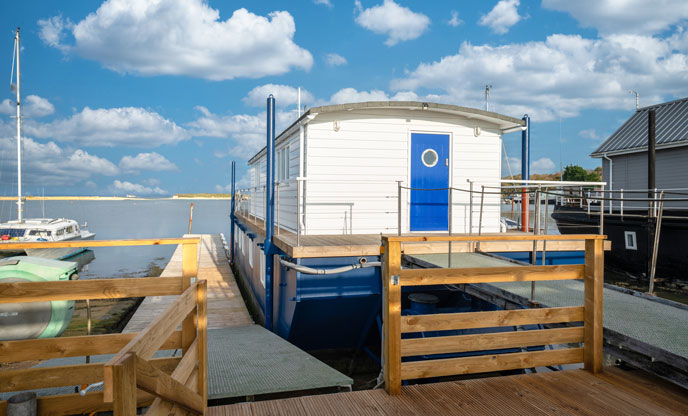 This charming houseboat has plenty of room for a family of six or a group of friends to celebrate Christmas in a truly unique setting. Enjoy a Christmas eve tipple at one of the cosy pubs in the village of Bembridge and once you return to your hidden haven, light the wood-burner and get cosy with a scrumptious cheese board and a classic board game. As you wake on Christmas morning, pop open a bottle of bubbles out on the deck and simply admire the stunning ocean vista from your heavenly home on the water... what a dream.
St Piran's Lodge| Cornwall| Sleeps 4| Dog-friendly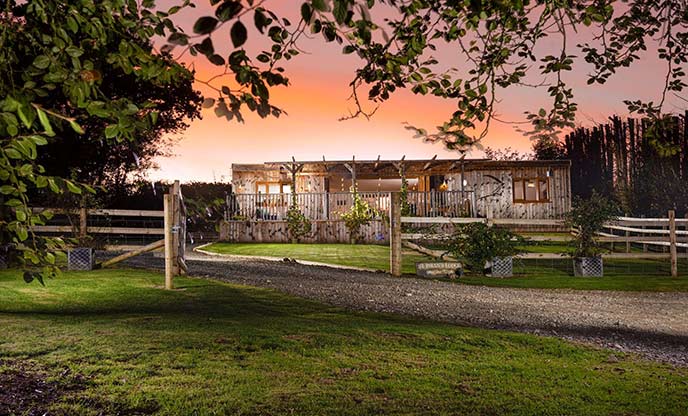 This quirky haven truly is the idyllic Christmas hideaway. St Piran's Lodge is perfect for a family of four looking for a festive break away with their beloved pooch. This serene sanctuary will warmly welcome you with its rustic charm, cosy interiors and picturesque surroundings. Imagine sipping on a glass of bubbles with your favourite Christmas film playing in the background, the children are admiring their new gifts from Father Christmas, while the scent of crisp rosemary potatoes and succulent turkey fills the air. Sounds like a Christmas fairy tale? Well, it could just be your reality...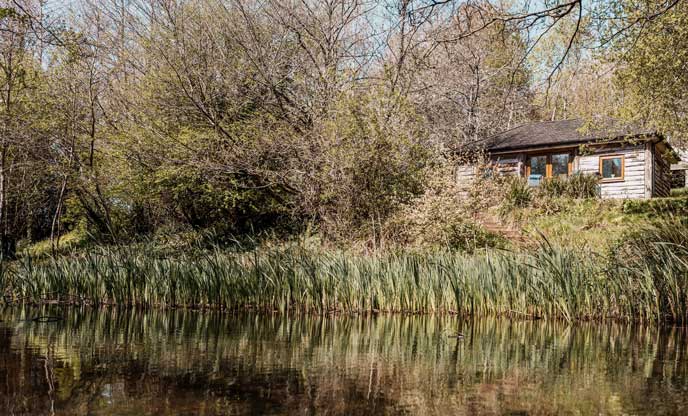 This gorgeous cabin in the Devon countryside is the perfect place for the two of your to retreat to this Christmas. Set amongst acres of green woodland and with views over a picturesque lake, this lovely little cabin is idyllic for a peaceful festive getaway. Read your favourite Christmas book by the warmth of the wood-burner or get out and explore the stunning local area. Dartmouth isn't far and is full of an array of gorgeous seaside pubs to snuggle up in on a chilly afternoon. If you are looking for a Christmassy cabin where you can simply switch off, unwind and enjoy a mince pie or two, Ashley's Shack is the hideaway for you.
Welcoming the new year at one of our serene sanctuaries is the perfect way to complete the festive season! Perhaps you will choose a hideaway with a hot tub, idyllic for the lovers of luxurious moments, or maybe a quirky glamping pod with sea views is more your style? Here are our top choices for a New Year's Eve escape...
New Year's Eve availability | Look Here
Tresahor Lodge| Cornwall| Sleeps 4| Dog-friendly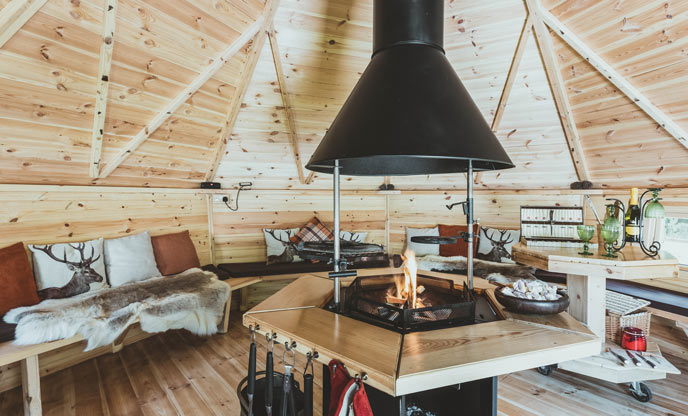 Nestled in an enchanting quarry, Tresahor is like something out of a fairy tale. This is an idyllic hideaway for a family of four looking to spend New Year's Eve in a truly magical setting. You can also bring your four-legged friends along with you. You'll enjoy cosy evenings in the hobbit style barbecue hut, toasting marshmallows and getting snug by the warmth of the fire. Welcome 2023 with a dance under the stars, waving sparklers and toasting to all the excitement that lies ahead for the new year. Or, head into Falmouth town and be amazed by the magnificent fireworks display.
Toby's Hut| Dorset| Sleeps 2| Hot tub| Dog-friendly | Wood-burner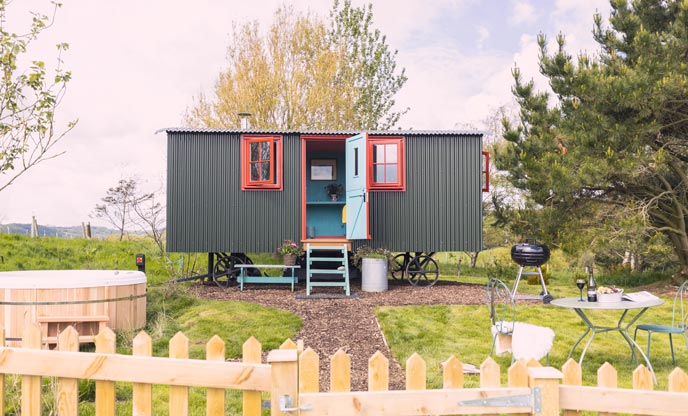 With views of rolling pastures and nothing but the sweet sound of nature surrounding your colourful haven in the countryside, Toby's Hut is the dreamiest escape to nature, close to the stunning Jurassic Coast. For the adventurous, why not welcome the new year with a wild swim? Pack yourself a flask of mulled wine to warm up with after defying the elements. For those who fancy a more relaxed festive getaway, Toby is the perfect fix with its bubbling hot tub, cosy wood-burner, and rustic fire pit, not forgetting the truly beautiful interiors. A kaleidoscope of colour fills this hideaway making your festive retreat to nature, an unforgettable experience.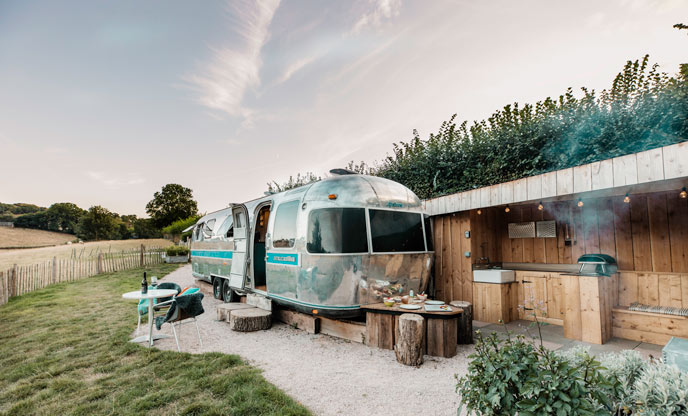 This retro-chic airstream has to be one of the quirkiest places to welcome the new year! Spend the evening feasting on homemade pizzas cooked in your very own Ooni pizza oven, sipping on perfectly chilled champagne and toasting marshmallows over the fire pit. As the new day and year arises, welcome 2023 with a soak in the heavenly outdoor bathtub and sink into the dreamy countryside views. During your stay at California Dreaming, head into the historic City of Exeter and see if you can pick up a bargain in the Christmas sales! Or simply enjoy wandering the cobbled streets and getting a bite to eat at one of the city's many independents.
California Dreaming Airstream | Book Here
Mount Lookout| Cornwall| Sleeps 4| Hot tub| Dog-friendly| Sea Views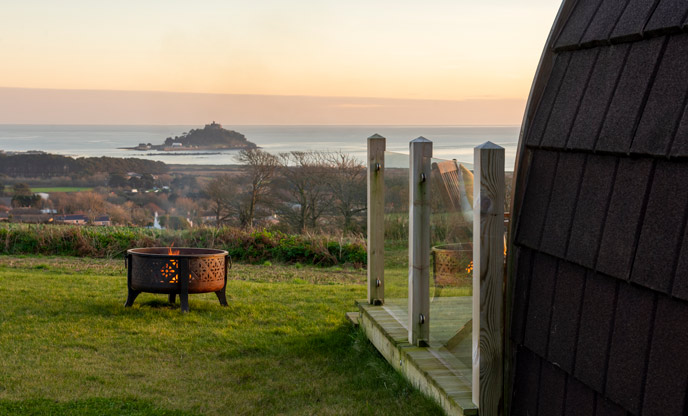 For those who are looking to escape the world and welcome the new year with a view of the ocean surrounding you, Mount Lookout is the perfect tonic. Truly romantic in every way, our clifftop glamping pod overlooks magical Mounts Bay and St Michael's Mount in the very far west of Cornwall. Once you arrive you will instantly fall in love with this salt-kissed retreat. Enjoy waking on New Year's Day to glistening sea views that can be admired from your very own hot tub. This is an escape to nature that will truly soothe the soul. Mount Lookout is perfect for a romantic getaway, but can also accommodate a young family of four if you wish to bring the little ones along. Dogs are also welcome! Seeing in the new year at this magnificent location is the perfect way to set the scene for all that lies ahead...
There are two other hideaways onsite, Scenic Bay and Coastal Gaze, so if you fancy a getaway with friends these pods could be the perfect solution. Please note each hideaway has plenty of privacy from one another, so if you are looking for serenity in nature, you won't be disappointed.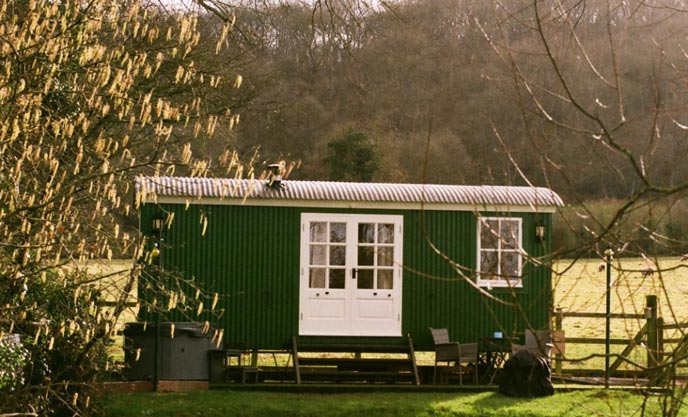 Lady's Well sits proudly in its very own Eden in the Somerset countryside. The enchanting landscape in which this heavenly hut exists, is just the perfect spot for the two of you to celebrate the welcoming of the new year! Think complete privacy, a bubbling hot tub, a cosy wood-burner and snuggly interiors! Watch the stars sparkle as you gather around the fire pit, baileys hot chocolate in hand. This hidden haven truly does promise the most restorative retreat to nature, so why not treat that special someone and end the year with a luxury getaway to this little wonder?
Lady's Well Shepherd's Hut | Book Here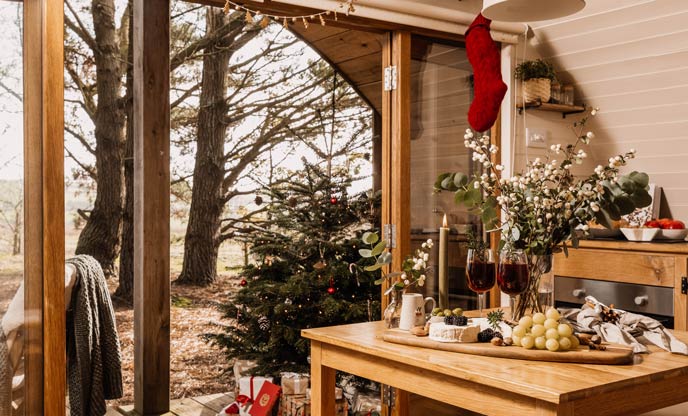 We hope you have a truly magical Christmas and new year! Whether you choose to celebrate at home with your nearest and dearest or you wish to escape off the beaten track with your loved ones, we hope the festive season is a special time for you! And always remember, you are never too old to search the skies on Christmas eve…