Magical places to visit in Cornwall
Penned on the 27th July 2021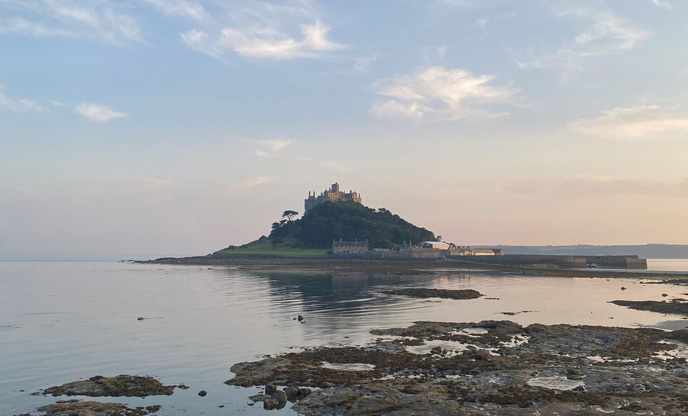 We take a look at the wild, rugged side of Cornwall and explore some of the best spots for delving deeper into its mythical past. Grab your rucksack, a camera and a picnic, it's time for an adventure.
Natural landscapes
Pentargon Waterfall
If you're looking for a small walk with a big reward, look no further than the Bostcastle to Pentargon Waterfall. Just a short climb out of Boscastle Harbour reveals the impressive cascading body of water which spills down a sheer drop of over 100ft at Beeny Cliffs.
The reason for this awe-inspiring sight is the geography of Pentargon, which is a hanging valley. The rocks beneath the fall are known as Seal's Hole, named after the colony of seals which can often be spotted playing and sunbathing on them. So captivating is Pentargon waterfall, it's said to have inspired Thomas Hardy's poem Under the Waterfall.
Where to stay nearby | Demelza. This serene sanctuary will steal your heart from the moment you arrive.
Frenchman's Creek
Speaking of literary connections, Frenchman's Creek in The Helford makes for an idyllic walk. Forever immortalised by the author Daphne du Maurier, the creek remains much the same as described in her 1941 novel (set during the reign of Charles II) which she named after the creek. If you are a literary enthusiast, read more in our book lover's guide to Cornwall. A wander, or better yet kayak, along this creek, is a peaceful way to soak up a serene corner of Cornwall on a sunny afternoon. As you take in its ancient woodlands and overhanging trees brushing against the water, you might just find yourself inspired to put pen to paper.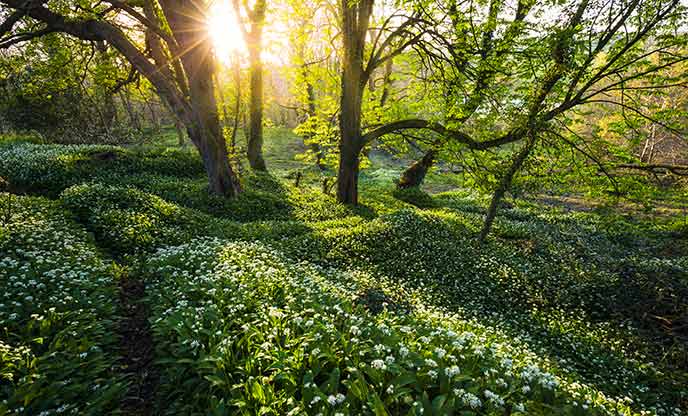 Where to stay nearby | Anella. A beautiful bolthole for two in unspoilt nature. The perfect space to relax and unwind, after a day of exploring.
St Nectan's Glen
Steeped in folklore, St Nectan's Glen is a worthwhile spot for both the spiritual and nature lovers among us. A magical wooden valley, St Nectan's Glen has been carved out of Devonian slate over tens of thousands of years by the Trevillet River.
Take the woodland walk through ivy-clad trees that runs alongside the babbling River Trevillet, it's an exciting area for a spot of wildlife watching. Whatever you do, be sure to visit St Nectan's Kieve. This 60ft waterfall flows through the original kieve and into a deep rock basin below. Time has worn a hole in the basin, forming a natural archway that adds even more charm to this wonderland.
Given its magical setting, its little wonder fairies, piskies and spirits are said to call these parts home. You'll find offerings, including crystals and ribbons, left for these mythical creatures around the vicinity.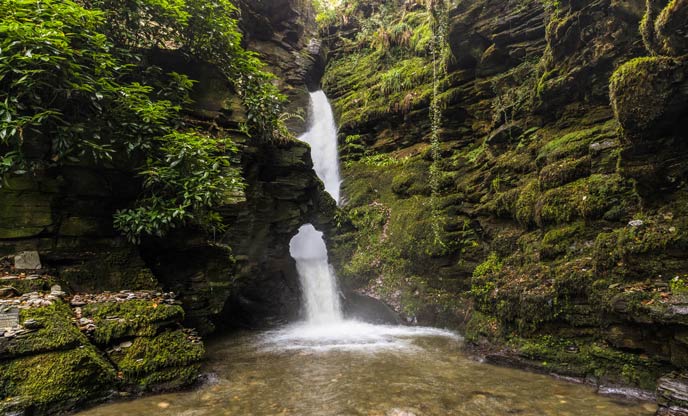 Holywell Sea Cave
Holywell Sea Cave, also known as St Cuthbert's Cave, is revealed at low tide, but from the beach you could easily miss it. From the outside, it looks like nothing special, but a series of steps cut into the rock lead to a grotto that looks entirely otherworldly. Inside a natural spring is surrounded by exquisite shades of red, green and purple from the mineral deposits.
Given the awe-inspiring sight, it's not hard to see why this cave was a place of pilgrimage, with people making a special trip here to drink the water for health and wellbeing. We can't offer any guarantees you'll leave looking a decade younger, though... but fingers crossed.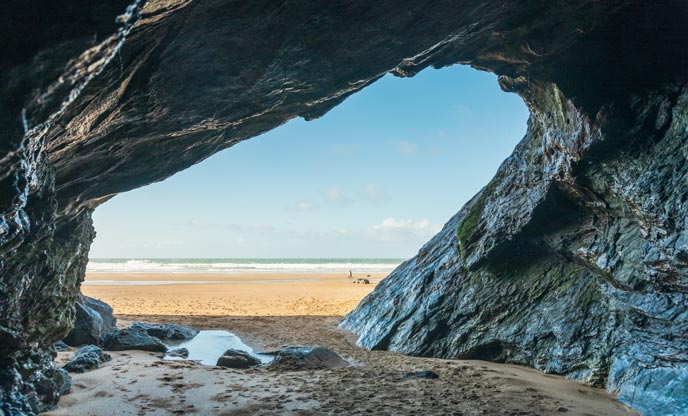 Where to stay nearby | Clover Cabin. The perfect space to enjoy long lazy mornings and luxurious romantic evenings.
Bodmin Moor
If you like your landscapes windswept and dramatic, you'll be in your element on Bodmin Moor, a remote granite moorland full of tales of smuggling, ghosts and strange beasts.
There are several sites of interest for those seeking magic. While it might look barren today, Bodmin Moor was densely populated during the Bronze Age and a number of archaeological remains have been discovered here.
The Hurlers, a group of standing stones, are said to be the remains of a gang of men who were punished for playing games on the Sabbath. Equally interesting is the Cheesewring - an improbable stack of circular granite rocks - said to represent the struggle between the giants and saints; it's well worth a trek to.
Speaking of treks, you can climb Cornwall's two highest peaks - Rough Tor and Brown Willy - here. With over a hundred Brown Age hut circles, a Neolithic Tor Enclosure and the foundations of a Medieval chapel, there's plenty to keep you occupied while you sweat.
For a more restful exploration, head to Dozmary Pool, which legend has, it is the final resting place of King Arthur's sword, Excalibur.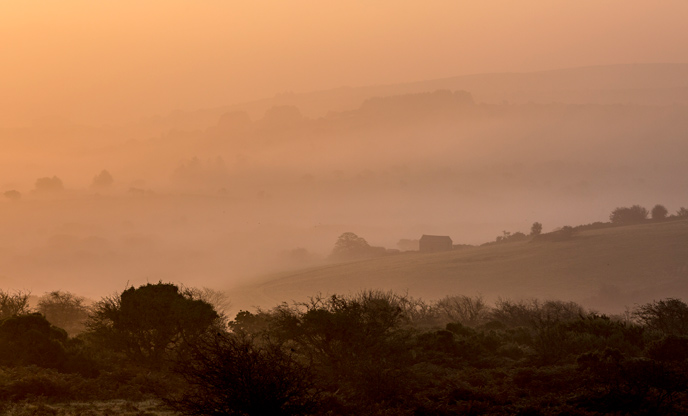 Where to stay nearby | The Little Cider house. From a bubbling hot tub and a swaying hammock to an equally gorgeous interior, you'll never want to leave this little slice of heaven.
Historic adventures
Booby's Bay Shipwreck
First rediscovered in 2014 following a series of brutal Atlantic storms, the eerie remains of a German WW1 ship, SV Carl, were discovered at Booby's Bay. The gnarly waves ploughed through 3ft of sand to uncover the 60ft ship, which, having been packed in sand for almost a century, is well preserved.
If you'd like to unleash your inner historian, take a trip out to Booby's Bay. You could even bring your four-legged friend with you, as it's dog-friendly year-round. Get your tides right though, it's totally covered at high tide.
Take a look at our dog-friendly glampsites
Tintagel Castle
Let your imagination run wild with a trip to Tintagel Castle, perched on the clifftops of North Cornwall. A brand-new bridge takes you across to the 13th century castle, from where you'll enjoy jaw-droppingly good views out to sea. Back at the castle learn how legends and stories of Arthur have shaped the castle before you. Don't miss the early-medieval remains and the life-size bronze statue of Gallos while you're there.
Back outside keep your eyes peeled for seals frolicking in the water below or pack your binoculars for some serious seabird watching. Back down at ground level, take a stroll to Merlin's Cave then head to the Beach Café for a reviving coffee and a slice of cake.
This is a wild, coastal landscape with steep slopes, sheer drops and uneven terrain, so pack some sturdy walking boots to get the most out of it.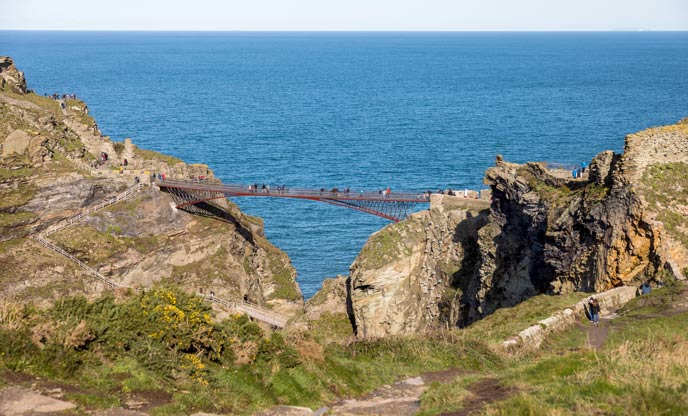 Where to stay nearby | Tregwelan Shepherd's Hut. The view from this picturesque hut will honestly take your breath away.
St Michael's Mount
St Michael's Mount is a magical island castle, just a stone's throw from Marazion. It's best known for its medieval castle, but the historic island has a charming ambience thanks in part also to its working community of locals who live there. Depending on what the tide is doing you can either walk along the causeway or hop aboard a boat.
The castle became the home of the St Aubyn family in the mid-1600s and they still live here today. Fortunately, visitors are allowed to explore, and it's well worth a peek through the ancient doorways to discover all manner of historic artefacts, from a portion of Napoleon's coat worn at the Battle of Waterloo to an Egyptian mummified cat.
Whatever you do, make time to explore beyond the castle walls too. The walled garden is a pleasure to explore and the Victorian 'Seagull Seat' is the place to soak up the views.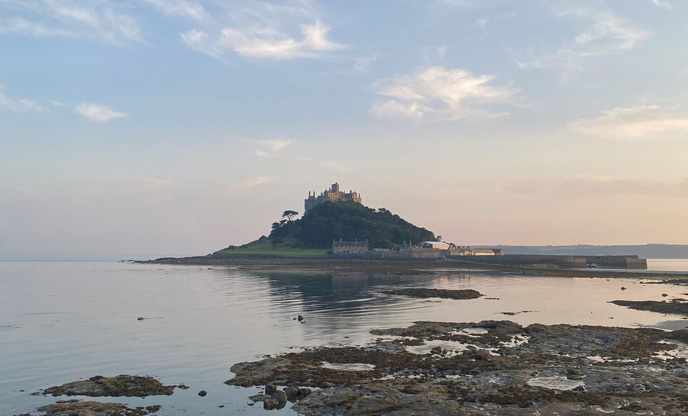 Where to stay nearby | Scenic Bay. Endless sea, sky and the jewel of St Michael's Mount in the distance. Relax, recharge and drink it all in.
Roche Rock
On the edge of China Clay Country, you'll find Roche Rock. Here, the remains of a 15th-century chapel sit atop sheer granite rockface rising some 60ft. While much of the granite two-storey building has been lost to time, you can see the original height and impressive arched window sill.
Not a lot is known about this mysterious building. It's said to have been dedicated to St Michael and once occupied by a hermit rumoured to suffer from leprosy. While modern civilisation has spread out closer to Roche Rock, a trip up there feels like a step back in time.
Where to stay nearby | Shepherd's Rest. This romantic shepherd's hut has rolled to a stop in the perfect destination.
Gwennap Pit
This impressive structure is said to have been caused by a natural depression, possibly from the falling of old mine workings, though the smart terraces that you can see today were cut in by local miners in 1803. It's said to have been used as a preaching pit in 1762 by local preacher John Wesley, where he claimed to have preached to crowds of 32,000.
Today Gwennap Pit is included in the Cornish Mining World Heritage Site and it's known as a place of great spiritual and historic significance. Thanks to its neat design, the pit can hold a crowd of some 1,500 and it's still used for gatherings, particularly the annual gathering on Whitsun.
Where to stay nearby | Hannah's Haven. Gorgeous glamping meets rural charm in this delightful retreat for two.
Crantock Rock Carving
Tucked between Pentire and Pentire Head is Crantock Beach, a dune-backed, sandy beach popular with families for its shelter and space. But take a wander into its network of caves, and you'll find something even more intriguing. In Pipers Hole, you'll spot a haunting side profile of a woman's face carved into the gleaming wet rockface. Next to it is an inscribed poem:
"Mar not my face but let me be,
Secure in this lone cavern by the sea,
Let the wild waves around me roar,
Kissing my lips for evermore."
Local historians have worked out the carver was a local, Joseph Prater, but the identity of the woman remains a mystery. It serves as a poignant reminder of the danger of the tides here, which shift quick as lightning thanks to the flat sands. So, by all means, explore, but always know your tides.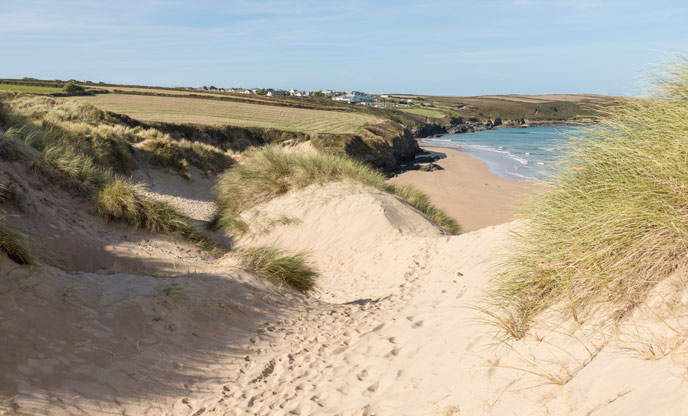 Take a look at our top ten glampsites with sea views
Cultural attractions
Minack Theatre
Seeking culture in Cornwall? It's got to be The Minack Theatre first. Carved into granite cliff looking out over Porthcurno Bay, there is no other place like it.
It might look like the work of the ancient Greeks, but in fact, it was the work of Rowena Cade and her team of gardeners who created it less than a hundred years ago. Despite its mighty form, it was largely built using hand tools and the odd stick of dynamite.
Rowena etched many of the names and dates of plays performed into wet concrete with an old screwdriver. You might spot some of her work on your seat. Today over a quarter of a million people visit to soak up the views and experience the magic of live performance in this breathtaking location.
Where to stay nearby | The Pigsty. This county chic barn is set in the perfect position for exploring the very best of west Cornwall.
Lost Gardens of Heligan
Visit The Lost Gardens of Heligan and uncover a world of unforgotten beauty. The story goes like this: thirty years ago, these historic gardens had been all but swallowed up by the brambles. An accidental discovery of a door amidst the chaos led to rediscovering the gardens and restoring them to their rightful place as one of the finest gardens in the country.
Today you can explore the Victorian gardens along paths first laid out over two centuries ago or head into the jungle experience where subtropical plants and rope bridges make you feel like you're somewhere else altogether.
The Giant's Head and Mud Maid sculptures are a delight to discover emerging from the undergrowth on the ancient woodland walk. Look out for resident wildlife too, including kingfishers. And when stomachs start to rumble, head to the Heligan Kitchen to dine on the fruits of their labour.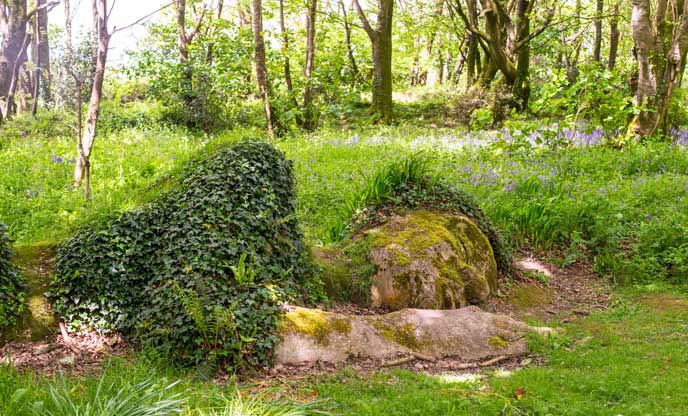 The Vale of Avalon and the Arthurian Centre
Located on the 16-acre site of King Arthur's last battle, The Arthurian Centre is a must-visit destination for anyone who wants to learn more about the legend of this famous king.
As well as the battlefield you'll find a 1,500-year-old inscribed stone, known as King Arthur's Grave, Lady Falmouth's Secret Garden and a 750-year-old longhouse ruin. The centre itself helps separate fact from fiction and puts the legend of King Arthur into a historic context that's as thrilling as it is informative.
Where to stay | The Enchanted Wardrobe at Warleggan. Close your eyes and dream of a magical getaway…open them, and you'll find yourself in this wonderful shepherd's hut.
Museum of Witchcraft and Magic
Who would have thought that in a sleepy-looking fisherman's cottage on the north Cornish coast you'd find the world's largest collection of witchcraft artefacts?
Boscastle is home to the Museum of Witchcraft and Magic which houses a rotation of exhibits as well as over 3,000 texts dedicated to witchcraft and the occult. The gift shop is such fun to poke around in; you can pick up all sorts from homemade incense to your very own spellbook.
Afterwards explore the village of Boscastle, where you'll find magic at every turn. We thoroughly recommend a drink at The Cobweb Inn.
Where to stay | The Witches Wagon at Warleggan. Time to think, space to relax, fresh air to breathe in and a hot tub to bubble away your worries.
So as you can see there are many magical places to visit during your glamping trip to Cornwall. The question is, where will you choose to explore first? Take a look at our Glamping in Cornwall page to discover more unique and unusual places to stay