Christmas and New Year's Eve escapes
Penned on the 8th November 2021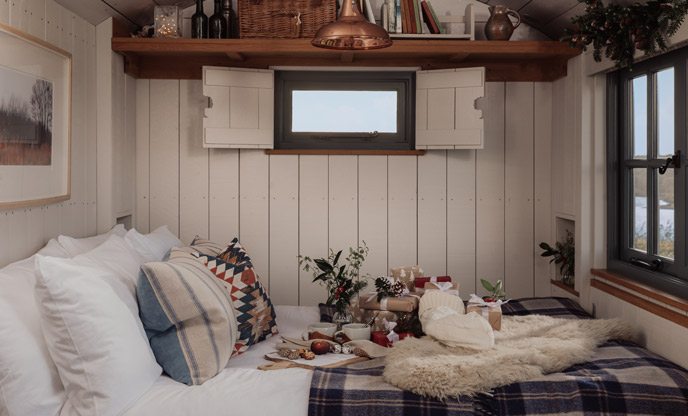 Villages decorated with pretty Christmas lights, the scent of cinnamon and clove fills the air and there's a certain snugness in every pub, shop or home you walk into. Christmas truly is the most wonderful time of the year and we believe it starts from the 1st of December right through until the 2nd of January! Take a look at our selection of hideaways with Christmas and New Year's Eve availability and get inspired to make this festive season the best yet!
What could be more dreamy than to spend the festive period staying at a Unique hideaway. Stoke the fire, cosy up and spend some quality time together, whether as a family or just the two of you, dog in tow. We promise this will be a Christmas you will never forget.
Christmas availability | Look Here
The Pigsty| Cornwall| Sleeps 3| Wood-burner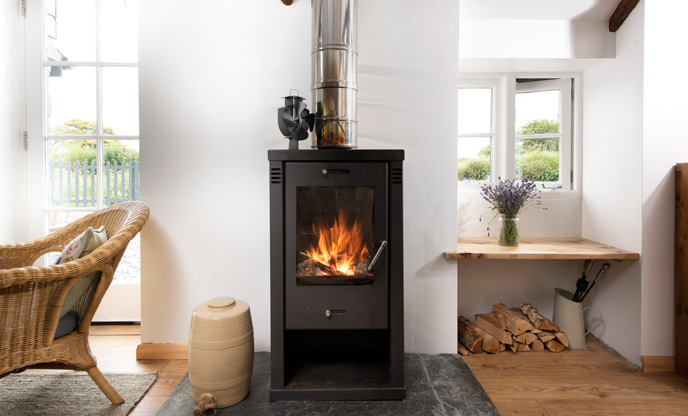 This country chic barn is just the perfect hideaway for a Christmas getaway. Situated in the mesmerizingly beautiful far west of Cornwall and not far from the rugged south coast is where you will find this hidden haven. The magical Minack Theatre is only a short drive away. Why not book into this famous outdoor theatre and watch one of their Christmas inspired shows. Wrap up warm, take blankets and a flask of Baileys hot chocolate (it is Christmas after all) to keep the winter chill away. After, return to your quirky cottage, turn on the Christmas tree lights, light the fire and snuggle down with your favourite Christmas film and of course a mince pie or two.
Y Berllan Hideaway| Pembrokeshire| Sleeps 4| Dog-friendly | Wood-burner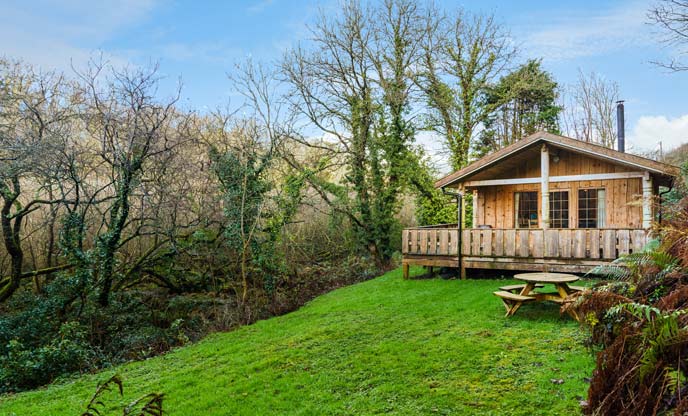 Spend Christmas at this truly magical hideaway. Y Berllan is an enchanting log cabin nestled in a beautiful woodland glade on the Pembrokeshire coast. You really have the best of both worlds while staying here. Your cosy cabin is nestled within the forest floor, but is just steps away from the glistening ocean waters of Cwm yr Eglwys beach. There's plenty of space to accommodate a family of four with a wonderful open plan living and dining room, that's just perfect for that all-important Christmas dinner. After your Christmas feast, enjoy playing board games in front of the fire or take the dog for a walk on the beach.
Y Berllan Hideaway | Book Here
Why not break the Christmas tradition of staying in a cosy cottage and instead make the most of winter glamping at this chic airstream. Perfect for a couple looking for a unique place to enjoy the festive period. The Cornish Airstream is near the pretty fishing village of Looe. Enjoy brisk winter walks by the ocean before returning to light the fire. Why not visit the amazing Eden Project during your stay? With an ice rink and festive events throughout December, a visit will be sure to put you in the festive spirit!
The Cornish Airstream | Book Here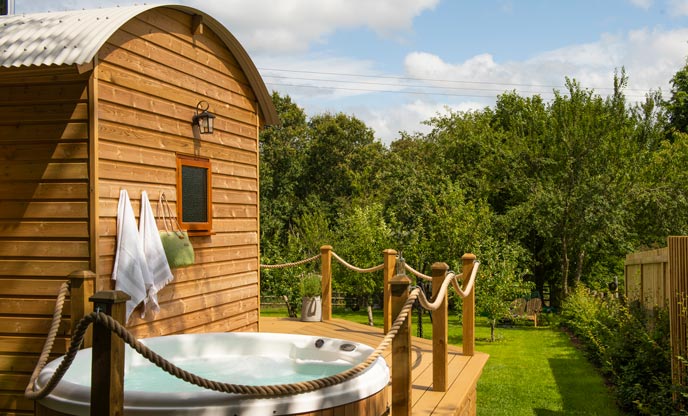 This charming hut has plenty of room for the two of you to celebrate Christmas in a truly romantic setting. Enjoy a Christmas eve tipple at The Exeter Inn, the stunning, thatched local pub which is just a short stroll away from your humble abode. Once you return to your hidden haven, light the wood-burner or for those who are a little wilder at heart embrace the warmth of the fire pit and gaze up to the starlit sky. And just to top your luxury Christmas staycation, what could be more perfect than waking on Christmas morning, pouring two glasses of champagne and hopping straight into the bubbling hot tub… what a dream.
Horseshoe Shepherd's Hut | Book Here
Welcoming the new year at one of our serene sanctuaries is the perfect way to complete the festive season! Perhaps you will choose a hideaway with a hot tub, perfect for the lovers of luxurious moments or maybe a secluded clifftop cabin with sea-views is more your style? Here are our top choices for a New Year's Eve escape...
New Year's Eve availability | Look Here
Tresahor Lodge| Cornwall| Sleeps 4| Dog-friendly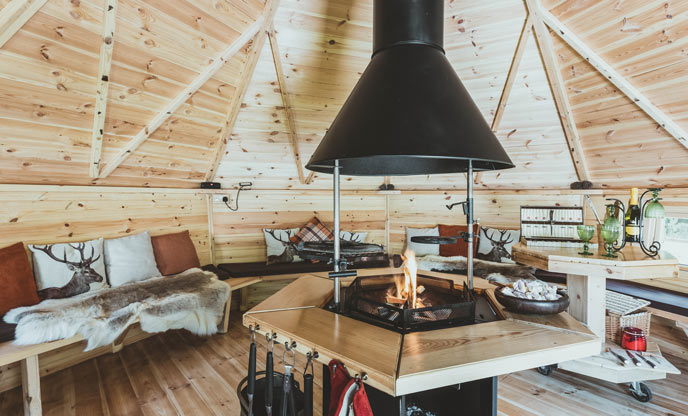 Nestled in an enchanting quarry, Tresahor is like something out of a fairy-tale. This is an idyllic hideaway for a family of four looking to spend New Year's Eve in a truly magical setting. You can also bring your four-legged friends along with you. You'll enjoy cosy evenings in the hobbit style barbecue hut, toasting marshmallows and getting snug by the warmth of the fire. Welcome 2022 with a dance under the stars, waving sparklers and toasting to all the excitement that lies ahead for the new year. Or, head into Falmouth town and be amazed by the magnificent fireworks display.
Toby's Hut| Dorset| Sleeps 2| Hot tub| Dog-friendly | Wood-burner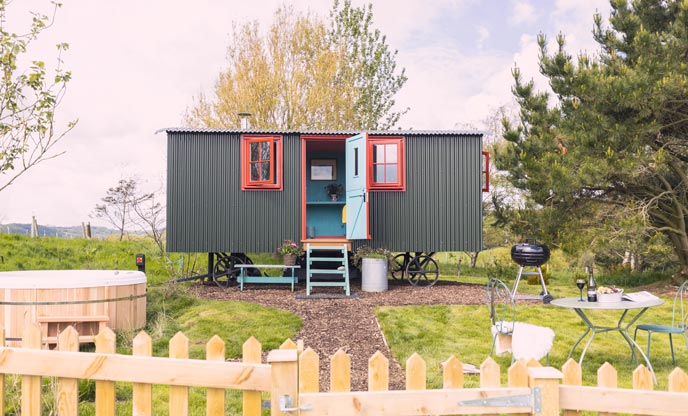 With views of rolling pastures and nothing but the sweet sound of nature surrounding your colourful haven in the countryside, Toby's Hut is the dreamiest escape to nature, close to the stunning Jurassic Coast. For the adventurous, why not welcome the new year with a wild swim! Pack yourself a flask of mulled wine to warm up with after defying the elements. For those who fancy a more relaxed festive getaway, Toby is the perfect fix with its bubbling hot tub, cosy wood-burner, and rustic fire pit, not forgetting the truly beautiful interiors. A kaleidoscope of colour fills this hideaway making your festive retreat to nature, an unforgettable experience.
Copperas and Wild Pear shepherd's Huts| Devon| Sleeps 2-4| Sea Views| Wood-burners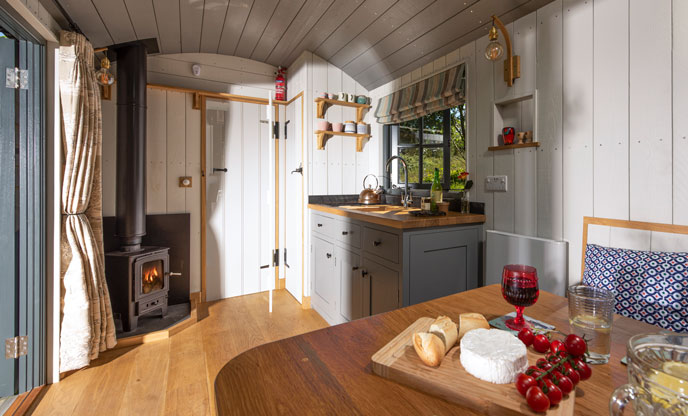 Copperas and Wild Pear are two country chic shepherd's huts in the same location, but offer privacy from one another. These gorgeous huts are perfect for two couples or four friends looking to spend New Year's Eve together in a truly idyllic setting. Welcome the new year with your favourite people at these special hideaways with sea views. Spend the evening feasting on a decadent cheese board, sipping on perfectly chilled champagne, playing games by the warmth of the fire and toasting to magical memories to last a lifetime. Once the party is over you can retreat to your own private space making these hidden havens even more wonderful! On New Year's Day why not venture into the charming seaside town of Ilfracombe and enjoy a bite to eat at one of the many lovely pubs or restaurants.
Copperas Shepherd's Hut | Book Here
Wild Pear Shepherd's Hut | Book Here
Captain Blake's Retreat| Cornwall| Sleeps 2| Dog-friendly| Sea Views| Wood-burner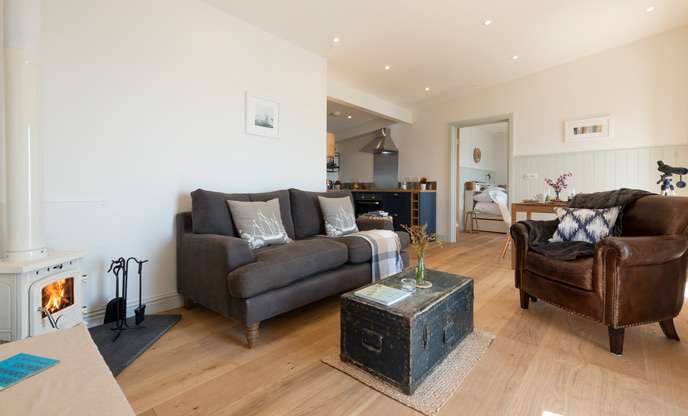 For those who are looking to escape the world and welcome the new year with nothing but the sound of the ocean surrounding you, Captain Blake's is the perfect tonic. Truly romantic in every way, our clifftop cabin overlooks Whitsand Bay in Cornwall and can only be reached by foot. Once you arrive you will instantly fall in love with this salt-kissed retreat. Enjoy waking on New Year's Day to the sound of the waves below. You can watch the tide ebb and flow throughout the day from both the bedroom and living room windows. This is an escape to nature that will truly soothe the soul. Welcoming the new year at this magnificent location is the perfect way to set the scene for all that lies ahead...
Captain Blakes Retreat | Book Here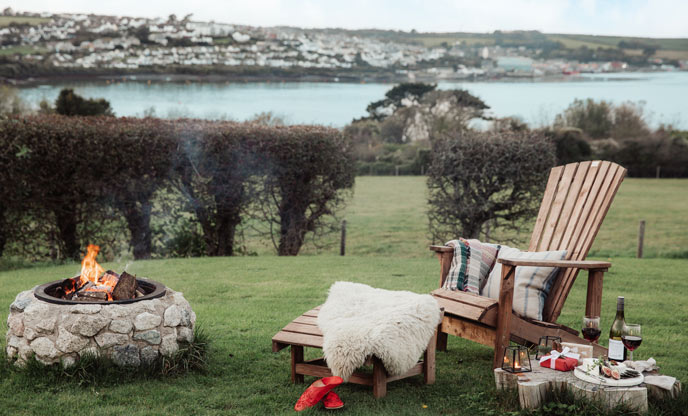 We hope you have a truly magical Christmas and new year! Whether you choose to celebrate at home with your nearest and dearest or you wish to escape off the beaten track with your loved one, we hope the festive season is a special time for you! And always remember, you are never too old to search the skies on Christmas eve…