A guide to St Ives, Cornwall
Penned on the 25th October 2022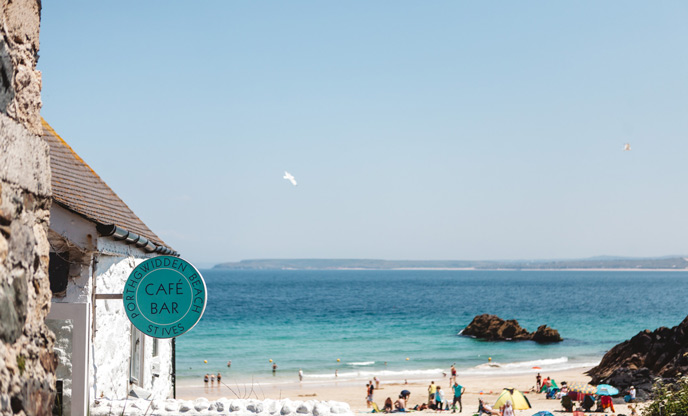 St Ives; a mosaic of aqua-blue waters, cobbled streets, and quintessential cottages. Many refer to this picturesque seaside town as the jewel in Cornwall's crown. The town is breathtaking throughout every season, but our favourite time of year to visit has to be autumn or winter. The streets and beaches are quieter, it's easy to park, and the restaurants have plenty of availability! Everything feels a little more relaxed and that magical pink light is still very much in the air. Here is our guide to exploring the wonder that is St Ives. From the best coffee spot to the cosiest book shop, all our recommendations are independent, local businesses and have been tried and tested by the team! The community in St Ives is still well and truly alive and we believe these unique spots are what make the town the special location it is today.
The food
First up, the food. There are too many good places to eat in St Ives. From line-caught mackerel paté to freshly baked banana bread, each independent has something special to offer. It's not been easy, but we've thought long and hard about it, so here's a guide to our favourites:
Best for seafood at sunset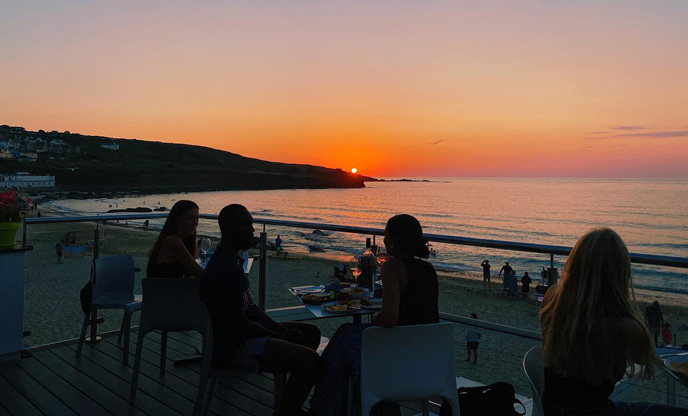 Sitting above Porthmeor beach is where you'll find Porthmeor Café. Serving an array of small plates and delicious mains, the seafood here has to be the highlight. From the salt & peppered squid to the local hake fillet, the menu changes regularly, but the view will forever stay golden.
Best for tapas and a cosy ambience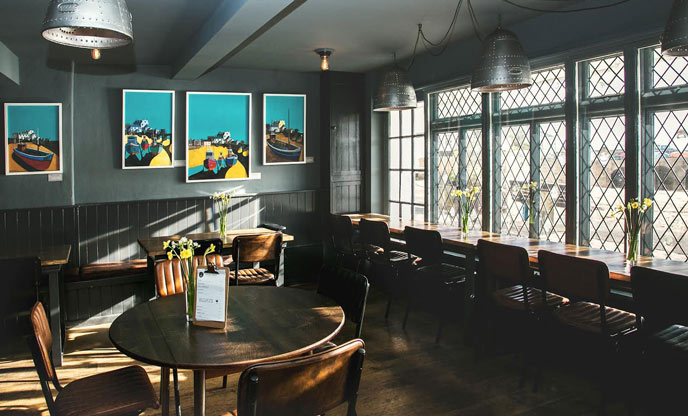 This small and charming space sits at the far end of the harbour and is a local favourite. The Sea Room oozes romance with its bistro-style interiors and delicious array of sharing tapas. Our favourites have to be the chickpea dahl and braised chorizo, washed down with a rich glass of red.
Best for a luxury roast dinner and a welcoming atmosphere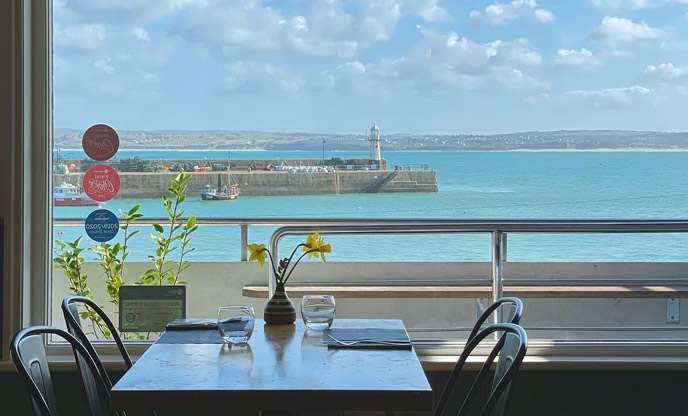 Best known as the sister restaurant to the iconic Porthminster Café, Porthminster Kitchen is quite possibly our favourite of the two. Serving a menu that mainly focuses on local fish and seafood, it might surprise you that their roast dinner has to be the best in St Ives… if not Cornwall! The front-of-house staff are welcoming and the view is to die for. Almost as good as the sticky toffee pudding.
Best for a takeaway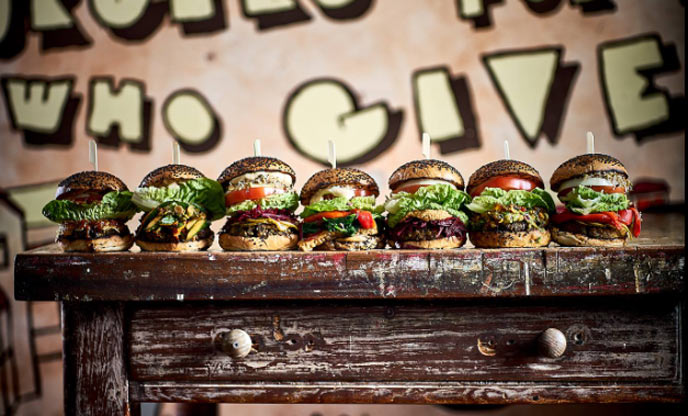 Blas Burger Works is an absolute treat! Call to order or email the night before as they get super busy in peak season. They have a great range of veggie and vegan options as well as fantastic chicken and beef burgers. All are made using fresh quality produce and boast exceptional flavours. Our pick? The Halloumi Stack.
Best for a humble Cornish pasty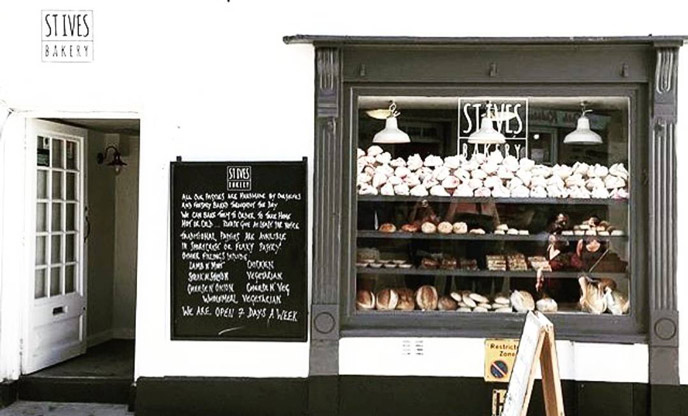 Tucked away along Fore Street is St Ives Bakery. With a display of freshly baked bread and colourful meringues in the window, it's a popular spot to take a picture. For us, the traditional steak pasty will always be our favourite item on the menu and the best pasty in town!
Best for local delights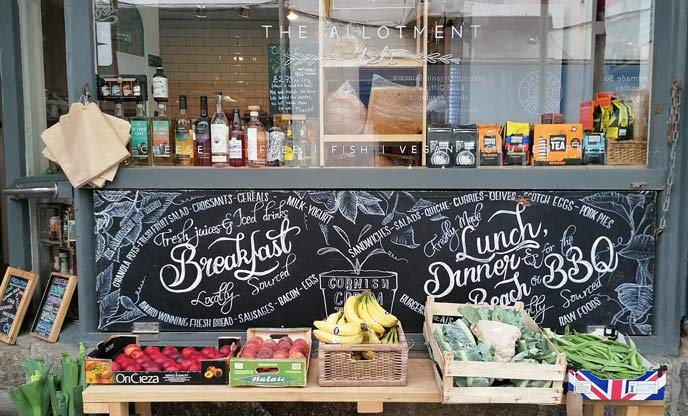 Sourcing as many of their ingredients as locally as possible The Allotment Deli is full to the brim of flavourful delights. From fresh, seasonal fruit and veg, to sumptuous local cheeses and dense pork pies, once you start filling your traditional wicker basket, you'll find it hard to stop!
Best for dinner with friends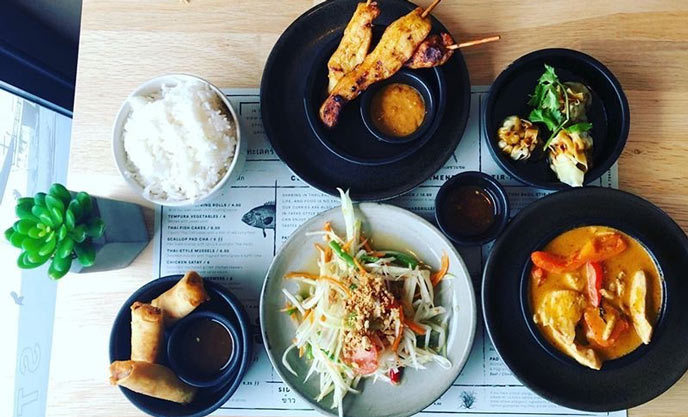 Talay Thai is just the spot for catching up with friends. They don't take bookings, but it's worth the risk. Plus, if they are busy, the team will take your number and give you a call when they have a space. Serving a whole array of traditional Thai cuisine, the atmosphere is buzzing, the service is fantastic and the food is just heavenly. Try the massaman curry for a coconutty treat!
Best for date night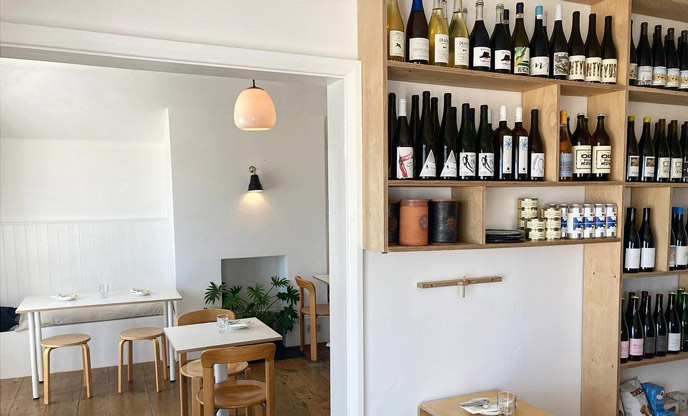 Sitting pretty on the harbourfront with glistening sea views, Little Palais is a quaint space, with pared-back interiors and a European ambience. Think good wine, punchy cheese, rich charcutier, syrupy negronis and candlelit corners. The perfect combination for a well-overdue date night.
To Drink!
From atmospheric cocktail bars to the perfect pitstop coffee shop, St Ives has a great range of places to enjoy a tipple in the sunshine or a cup of something cosy on a snuggly winter's afternoon…
Best for coffee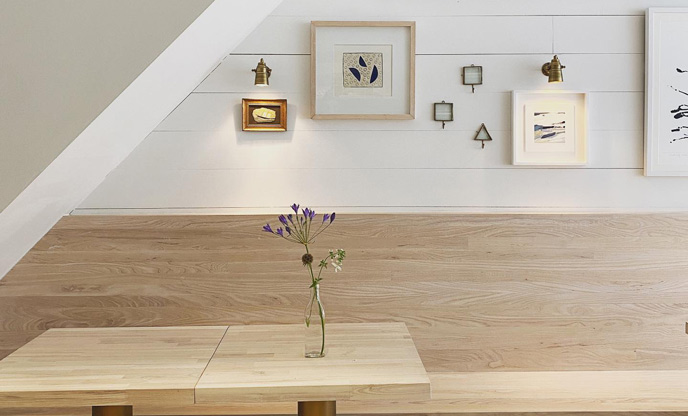 For coffee lovers, we can't choose just one perfect coffee shop. Yallah Coffee sits right on the front of the harbour and serves takeaway coffees from their picturesque hatch, but also has a cosy café upstairs with great views across the bay. Their banana bread is a must-try, so make sure you grab a slice of that too! Sitting back on Fore Street is The Yellow Canary, another local favourite. To take away or sit in is your choice, but if you're a pastry lover don't forget to pair your cappuccino or americano with one of their Portuguese tarts… just delicious!
Visiting Falmouth during your time in Cornwall? Take a look at our full guide to the best independent coffee shops in Falmouth here.
Best for a glass (or bottle) of wine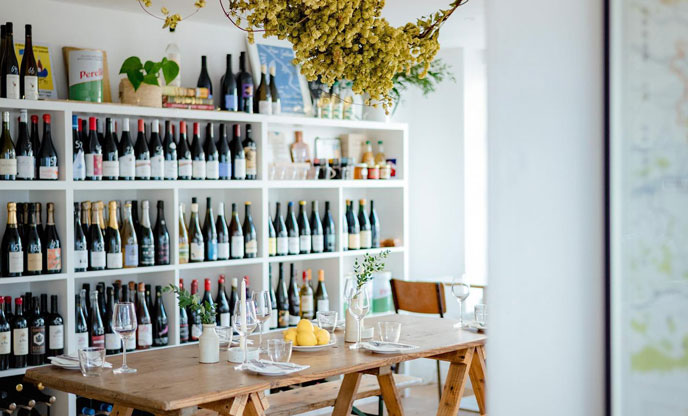 Tucked around the corner from Porthmeor Beach and the Tate Gallery, is where St Eia awaits. This tranquil space is the perfect spot to taste some conscientiously sourced wines. If you like what you try and fancy taking a bottle away with you, they have a great range stocked. They serve a few small plates to enjoy alongside your choice of rosé, red, white, or sparkling, and if you just fancy a coffee, they serve a good cup of that too.
Best for cocktails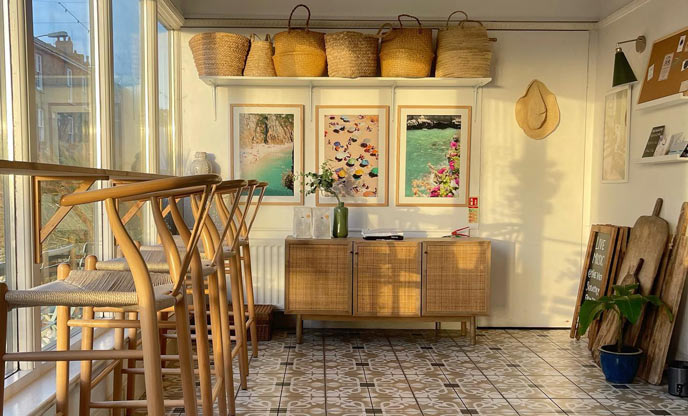 Sitting at the very top of town next to the bus station is where you will find Harbour View House. The name really says it all. As you step off the main road and into this utterly lovely space, you are greeted with picture-perfect views of the harbour below. Decked out with quirky furniture and beautiful prints you feel like you are having a tipple in a pared-back, super sleek bar on the coast of Australia. They often host local musicians to complement their perfect pre-dinner drink ambience. Our pick… the margarita!
Best for a good old-fashioned pint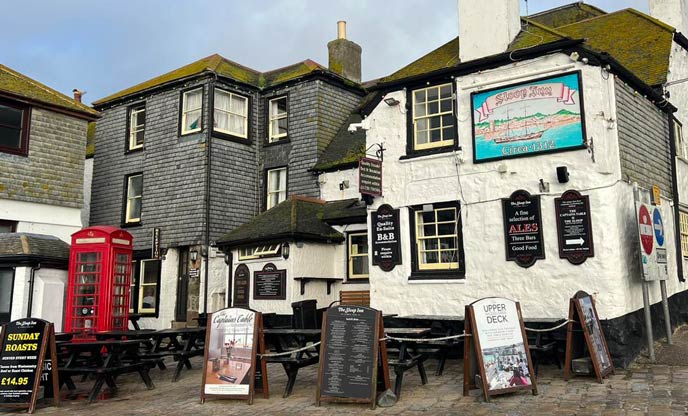 The best pub in town has to be The Sloop Inn. Positioned directly on the harbourfront, in the summer if you are lucky enough to get a seat in the sunshine it's the ideal spot for people-watching. As you step through the front door, you are greeted by low ceilings and a snug atmospheric space. It really is the perfect pub to cosy up in after a stormy winter walk. There's a variety of local ales and lagers on draft, as well as a good range of spirits and soft drinks.
The Shopping
Whether you are looking for the perfect souvenir to pop on your windowsill, or you are searching for a special gift for someone you love, the cobbled streets of St Ives are adorned with a whole array of independents that you'll enjoy popping in and out of…
Best for clothes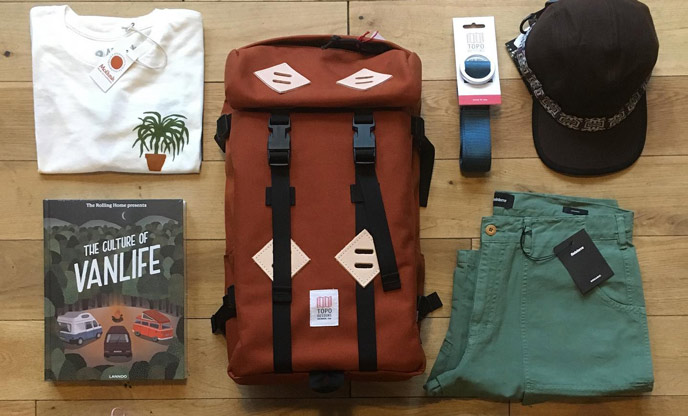 If you are visiting in winter and need a beanie to keep your head warm or you're dreaming of the perfect summer outfit to wear on your evening out wining and dining, there are several lovely clothing shops in St Ives. One of our favourites has to be Academy and Co. Situated on Lifeboat Hill, this independently owned store stocks an array of brands such as Carhart and Birkenstock as well as a range of lifestyle products. Another firm favourite is The Common Wanderer. Working with environmentally conscious brands such as Finisterre, this shop is a haven for adventure seekers, selling outdoor clothing and equipment as well as a great selection of nature-inspired books.
Best for unique gifts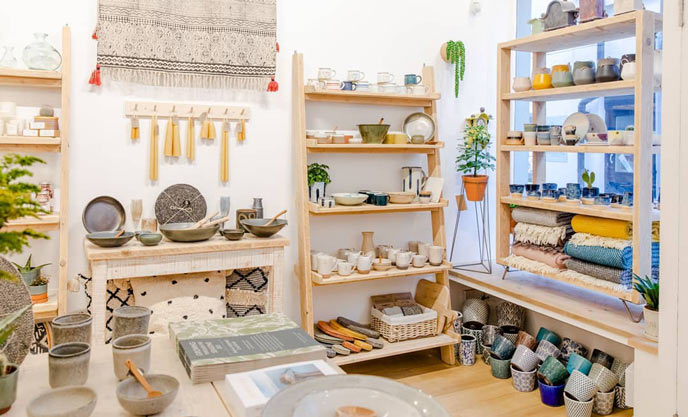 If you are visiting close to Christmas, get ready to wrap the very best gifts for your nearest and dearest. From pottery and blankets in The Painted Bird, funky bags and sage smudge sticks in Onda, an eclectic array of jewellery and homeware in Sweet Lime or for candles and bath salts visit The St Ives Co. There really are so many beautiful independents to celebrate. Just have a wander and get ready to shop shop shop!
Best for jewellery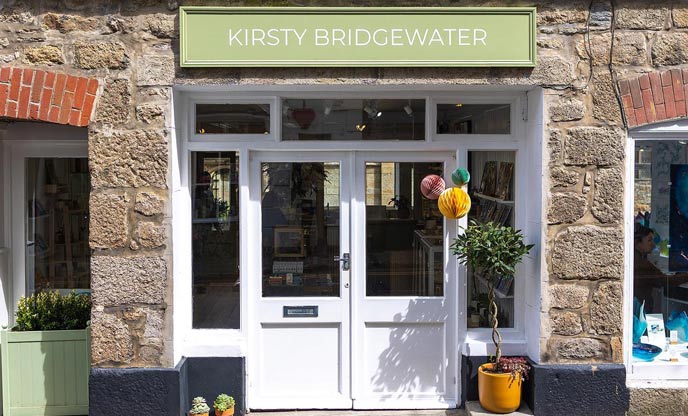 St Ives is certainly not short of talented creatives, such as Kirsty Bridgewater. Situated on Market Place, Kirsty is a creator of all things jewellery. Specialising in design-led fine jewellery, the shop stocks classic silver staples as well as gold statement pieces. And, if you are thinking of popping that all-important question, Kirsty also creates one-of-a-kind engagement rings!
Best for children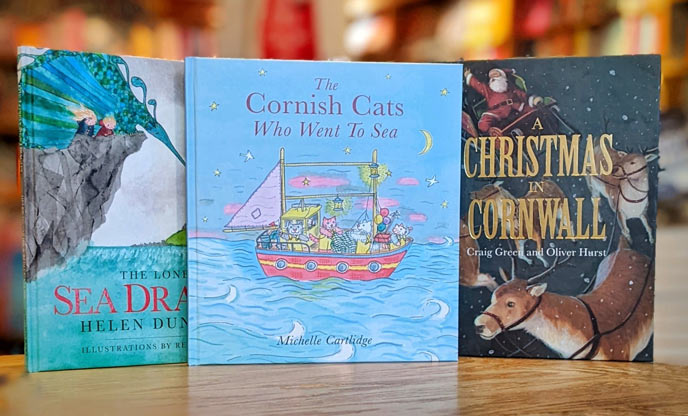 Looking for something to keep the children entertained, Hudson Art is a treasure trove for the young at heart. From soft toys to fancy dress accessories, the shop is full to the brim to make special occasions even more sparkly! For bookworms head to St Ives Bookseller for an assortment of children's books. Stocked full of classic favourites as well as some local Cornish tales, such as The Mousehole Cat and the full collection of Soggy the Bear by the late Michael Foreman.
Take a look at our blog 'A book lovers' guide to Cornwall' for more independent book shops to explore across Cornwall.
The Galleries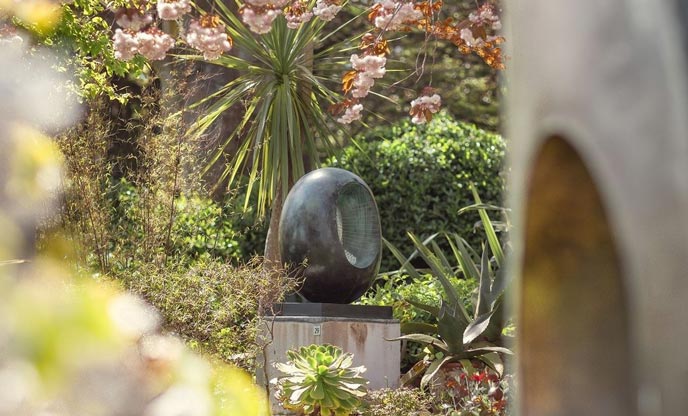 If you are an art lover, then visiting St Ives will be an extra special adventure. Well-established as a creative mecca for over a century, St Ives brings a fusion of coastal scenery and creative ingenuity to Cornwall. Its rugged landscape and world-famous light have been a draw for both fledgling and illustrious artists for many years. Today, its unique selection of galleries are a point of interest for visitors and locals alike. Read the full blog and discover the best 'Art and craft galleries in St Ives' here.
The Beaches
It wouldn't be a trip to St Ives without a sun-kissed beach day or a windswept coastal walk. From pretty coves to a surfer's paradise, the town is home to four white sandy beaches, all offering something a little different from each other.
Best for surfing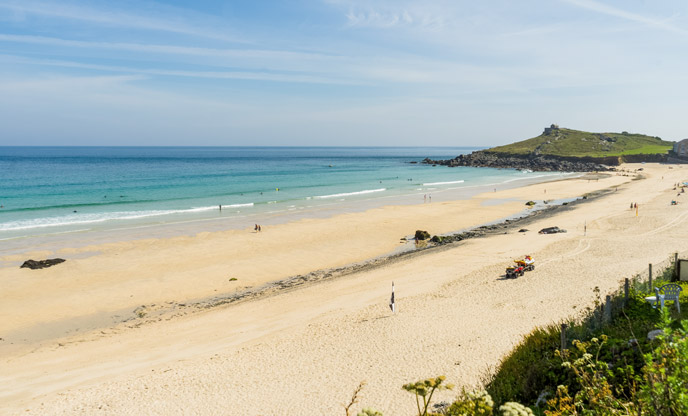 Positioned just below the famous Tate Gallery is where you'll find Porthmeor. The largest of the four beaches and definitely the best for a surf. For those new to surfing, speak to the team at St. Ives Surf School and get booked in for a group lesson, private session or simply ask to hire some equipment. Porthmeor is also the best spot in St. Ives to soak up the sunset. So why not head down with your favourite bottle of fizz from St Eia, order some takeaway pizzas from West Beach and sink into the dreamy, golden ambience.
The amazing team at St Ives Surf School are giving our wonderful readers and guests 10% off when booking a surf or watersports lesson. Use the code uniquehideaways10 when booking online!
Best for families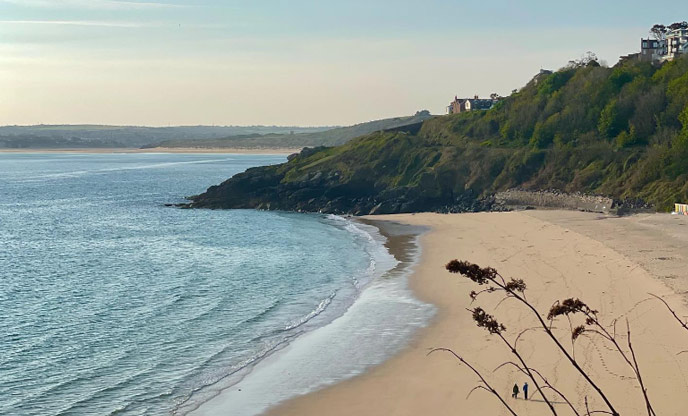 Looking for the best beach for your family staycation? Think sandcastles, ice creams and crystal-clear waters. Porthminster sits on the opposite side of the town to Porthmeor, just below the train station. The water is much calmer which is why it's so idyllic for families. If you fancy taking to the water, you can hire kayaks or stand-up paddleboards from the St Ives Water Sports (linked to the surf school) or partake in one of their lessons. Or, why not head to Porthminster Café for a delicious breakfast after your morning beach walk?
Best for swimming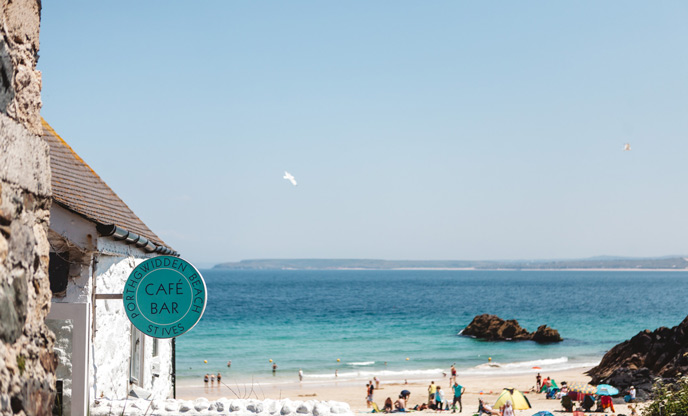 Porthgwidden is such a pretty little cove. Positioned just around 'The Island' from Porthmeor it's the perfect spot for a swim. After your refreshing dip, head up to Porthgwidden Beach Café for a scrumptious treat.
Best for dogs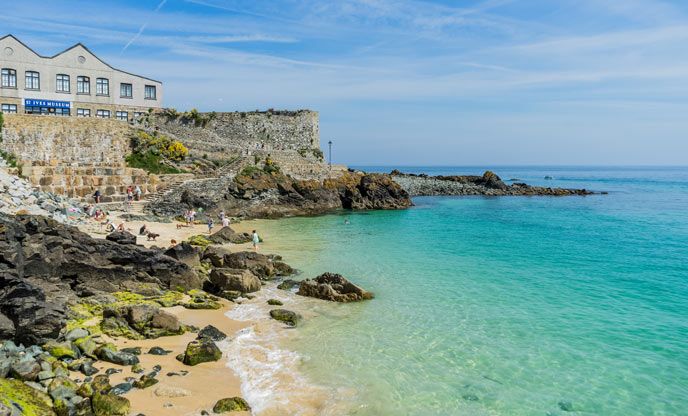 Just up the steps and across the car park from Porthgwidden is where you'll find Bamaluz beach. The only year-round dog-friendly beach in St Ives. It's small in size, but truly charming. Another ideal spot for a swim, but this time with your beloved four-legged friend.
Looking for somewhere unique to stay in the area? We have a great range of dreamy hideaways across Cornwall. From family-friendly safari tents with sea views to romantic boltholes with outdoor bathtubs, there really is something for everyone.