Art and crafts galleries in St Ives
Penned on the 22nd April 2022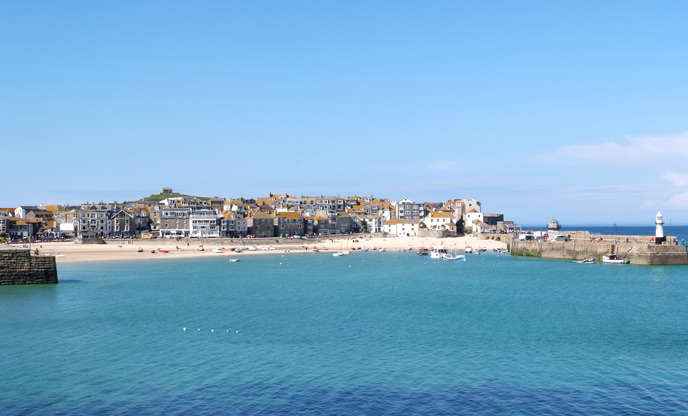 Well-established as a creative mecca for over a century, St Ives brings a fusion of coastal scenery and creative ingenuity to a remote corner of Cornwall. Its rugged landscape and world-famous light have been a draw for both fledgling and illustrious artists for many years. Today, its unique selection of galleries, arts and craft shops are a point of interest for visitors and locals alike.
About St Ives
Originally a small town with an economy built on pilchard fishing, St Ives is now known for its seafront galleries, pioneering potteries and quaint jewellery-making shops. Initially attracting landscape artists in the nineteenth century, by 1920 Bernard Leach founded the Leach Pottery, putting St Ives firmly on the map as the birthplace of British Studio pottery. By the mid-twentieth century, the St Ives School of Painters was established, elevating the town's position to a centre for modern and abstract developments in British art. In 1993, the Tate St Ives was built to showcase works from the St Ives School artists. The Tate also manages the Barbara Hepworth Museum and Sculpture Garden, where you can explore the artist's studio and creations.
Undoubtedly, the Cornish landscape has played a significant role in formulating St Ives' flourishing creative community. The town beaches – Porthgwidden, Porthmeor and Porthminster – offer extensive views across St Ives Bay and towards Godrevy lighthouse, the inspiration for Virginia Woolf's celebrated novel To the Lighthouse. Around the corner is the Penwith Heritage Coast, where cliff-top walks provide views of rocky beaches and crumbling mine houses. The town itself is an attractive medley of higgledy-piggledy cobbled streets, stunning scenery and well-preserved fishing cottages. The ocean-side location has also cultivated a creative gastro scene, where award-winning restaurants line the waterfront, mostly renowned for their top-quality seafood.
A visit to St Ives has plenty to offer and it is regarded by many as the jewel in Cornwall's crown. Whether you're an avid art fan or looking to explore the culture of this coastal location, our guide to arts and crafts shops and galleries in St Ives provides a creatively inspired introduction to one of the southwest's most coveted destinations.
Tate St Ives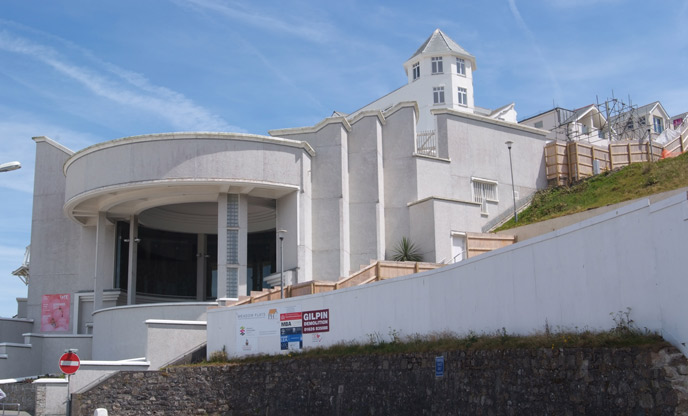 Overlooking Porthmeor beach, the Tate St Ives has been showcasing an exciting selection of British artworks for the past three decades. A space which draws together both innovative works from artists with links to the local area and breathtaking scenery, it's unsurprising that it is one of Cornwall's most-visited attractions. A regularly rotating programme of exhibitions including both international modern and contemporary works, attract visitors from around the UK and beyond. Don't forget to visit the top-floor café to make the most of the far-reaching oceanic views and light bites. The Tate also has a selection of gifts inspired by local artists and the area, plus an excellent selection of art books.
Barbara Hepworth Museum and Sculpture Garden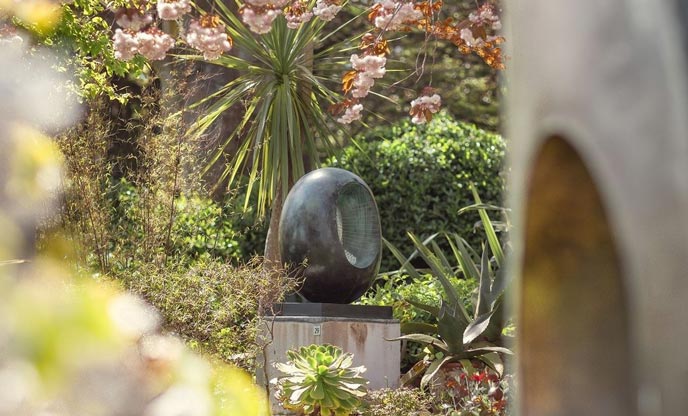 A visit to the Barbara Hepworth Museum and Sculpture Garden is a unique experience, offering insight into one of Britain's most important 20th-century artists. Including a studio and sculpture garden, where the artist lived and worked for over 25 years, expect to see over thirty works in wood, stone, plaster and bronze. Many of the sculptures were placed by the artist herself and are set in an intimate and inviting subtropical garden. The museum provides more information on how the Cornish landscape influenced the artist's work and joint tickets with the Tate can be purchased online. You can find Barbara Hepworth Museum just a ten-minute walk from the Tate, on Barnoon Hill.
The New Craftsman Gallery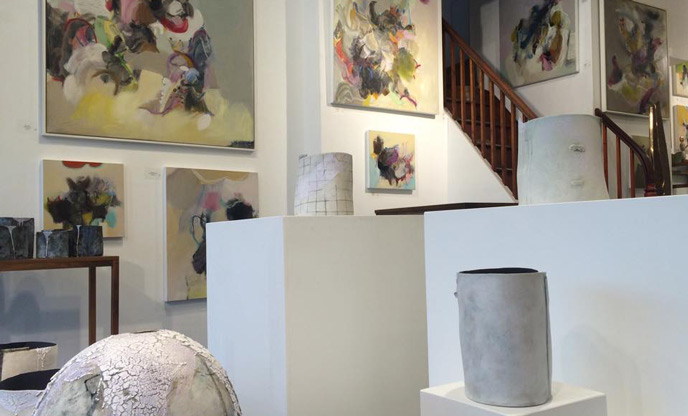 Established in 1965 by Janet Leach, the New Craftsman Gallery is widely regarded as the oldest gallery in St Ives. Created to propel rising British artists and contemporary Cornish artists into the limelight, it has since hosted the work of some of the UK's most influential artisans. Found at the foot of the hill that leads from Fore Street to the Barbara Hepworth Museum, the gallery is regarded as an important space in the story of British Modernism and the St Ives School artists. Wilhelmina Barns-Graham, Sandra Blow, Bryan Winter, Peter Lanyon and Patrick Heron are amongst some of the names it is known to have supported. Today, the gallery represents more than 100 makers and creators, with a focus on both established and emerging painters, sculptors, potters, and fine art jewellers. The New Craftsman hosts eight exhibitions a year and is home to a regular selection of workshops.
Leach Pottery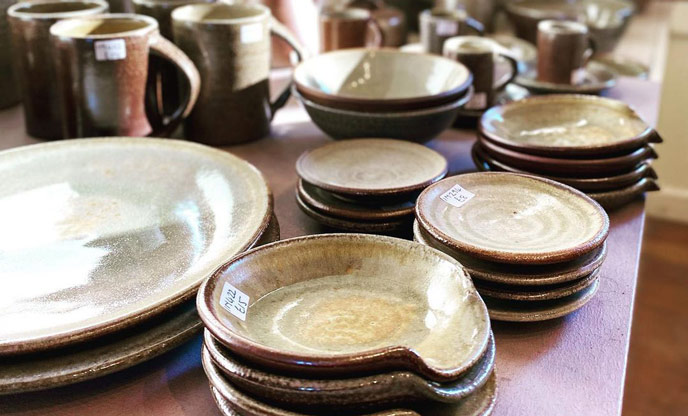 Founded in 1920, the Leach Pottery builds on the legacy of Bernard Leach and Shoji Hamada, training the next generation of potters and hosting a growing programme of courses and activities. There are several exhibitions held throughout the year and the shop stocks handcrafted Leach Standard Ware and individual pieces, meaning visitors can take both Leach designs or something quirky home with them. For those interested in the history of pottery, the museum offers the chance to explore the original house and workplace of Bernard Leach, including: the 100-year-old pottery; the clay room; the throwing room; and a Japanese climbing kiln. To find the Leach Pottery, head to Higher Stennack, a 15-minute walk up the hill from central St Ives.
Anima Mundi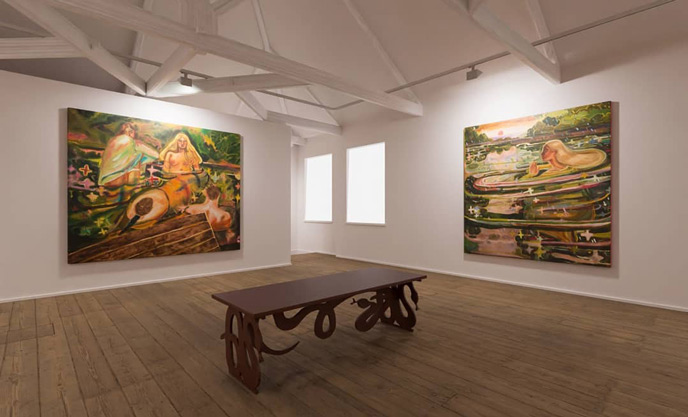 Anima Mundi is a must-visit for fans of contemporary modern art. The independent, award-winning gallery can be found near The Guildhall on Street-an-Pol and is based in recently converted Christian Science reading rooms. Anima Mundi occupies three floors, making it one of the largest gallery spaces outside of London. Founded by Joseph Clarke, it produces museum-quality shows featuring works from international artists and a mix of media including sculpture, painting, photography, performance and video. Emphasis is placed on authenticity and the human search for 'why we are here', and the journey taken from dark to light, meaning you're guaranteed to find something new and interesting in the displayed artworks.
Sloop Craft Market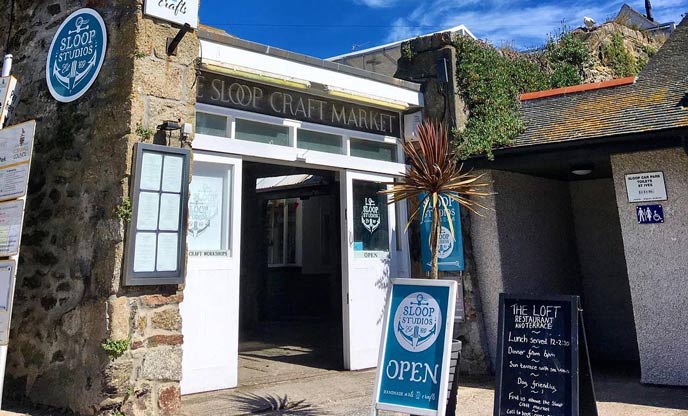 A short walk from St Ives Harbour, Sloop Craft Market is a place to meet and buy from local artists, makers and craftspeople in the town's historic artist quarter. Established in 1969, the market was designed using traditional local materials to create the perfect setting for the workshops and selling areas. The idea behind its construction was to gather a creative community selling high-quality pieces of their own work. Including open studios, workshops and exhibition spaces, creations encompass everything from driftwood furniture to handmade jewellery. If you're looking to learn more about the creative process, to meet local artists, or to purchase something special but affordable, this is the place for you.
Porthminster Gallery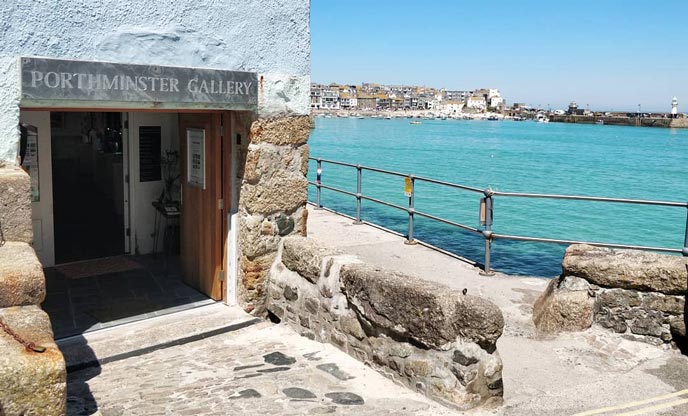 One of St Ives' premier fine art galleries, Porthminster Gallery is a light and airy space found on Fore Street, just behind the harbour. Situated in an old pilchard warehouse, it is full of character and quintessential seaside charm and features expertly curated shows of quality original art. The bright and inviting gallery can be found at 22 Fore Street, close to the Barbara Hepworth Museum. Championing art by the very best collectable, and up-and-coming names in British painting, sculpture, ceramics, and printmaking, it specialises in highly collectable artworks by major Post-War Modern St Ives and British Artists. Porthminster Gallery also hosts themed exhibitions which are beautifully put together and rotate regularly.
Art Space Gallery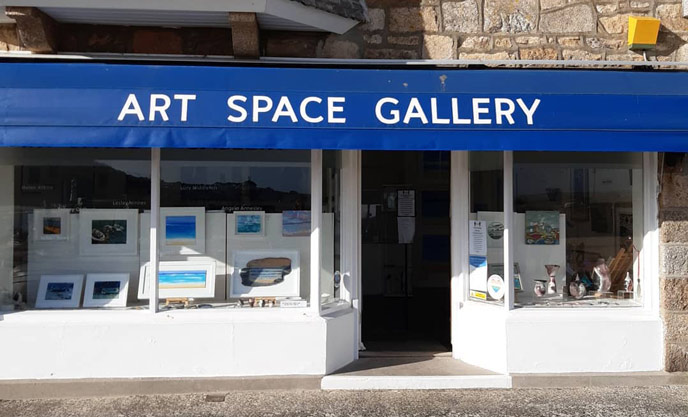 For those wishing to add to their collection of Cornish art, the Art Space Gallery is a must-visit. Established in 2000 to champion the work of seven local artists, you can purchase affordable and collectable pieces whilst getting to know the artists themselves. Located right on the harbour, overlooking the beach, works include acrylic, watercolour, traditional oils, pit-fired ceramics and woodcuts from land and ocean. Ever-changing exhibitions bring something new and exciting to each visit, making it an excellent place to visit for any art lovers or repeat visitors looking to immerse themselves in the St Ives art scene.
Alexandra Dickens Gallery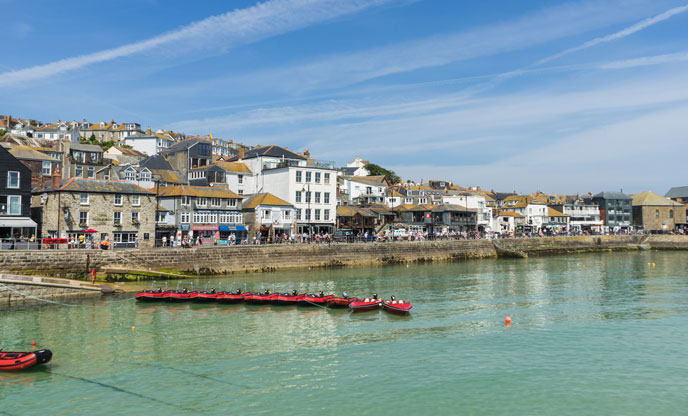 For something alternative to the blueish hues of much of St Ives' artwork, Alexandra Dickens' vibrant tones and expressive style cut through the noise. After travelling extensively, absorbing the colours of Central and South Africa, the lightness of Thailand and the vastness of open skies in Australia, Dickens creates ethereal and energetic, head-turning seascapes. Having moved to St Ives in 1995, the artist now has a gallery which hosts exhibitions of her work twice a year. Dickens also has a studio at her home, fifteen minutes from St Ives, which is open all year round. The artist welcomes visitors to look at her work and request commissions.
Explore majestic St Ives from one of our idyllic hideaways in Cornwall and discover more about this iconic seaside town in our full guide to St Ives here.