The best independent coffee shops in Falmouth
Penned on the 9th February 2022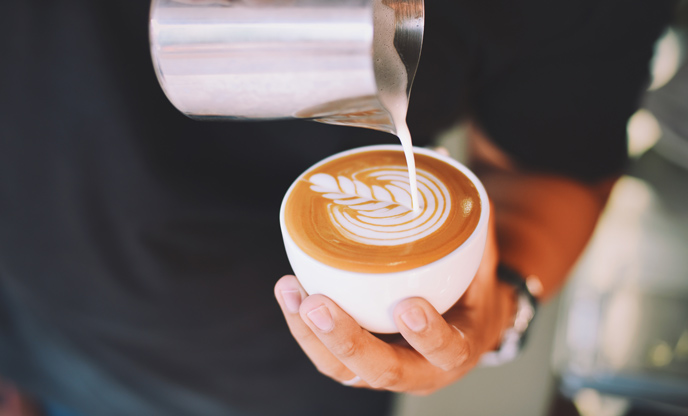 Falmouth is a coffee lover's dream. Whether you're looking for somewhere to sit and savour a cappuccino and cake, or you're grabbing a flat white to go (don't forget to pack your reusable cup!), here's a selection of our favourite independent coffee shops to enjoy a delicious, locally-roasted brew.
Best for: Relaxing with a speciality coffee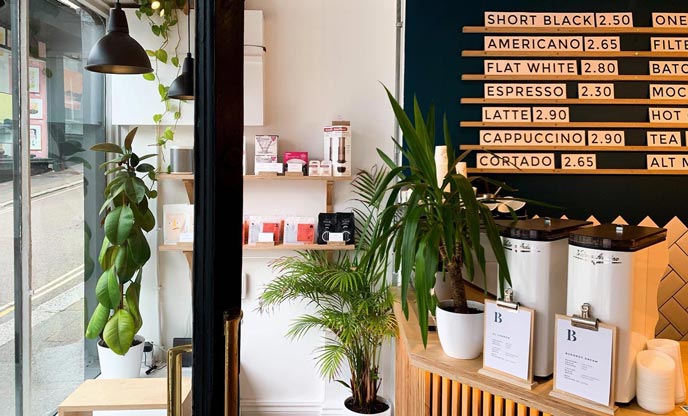 Image credit: Beacon Coffee Instagram
This popular spot is at the bottom of Falmouth's old high street alongside tattoo parlours, barbers and plenty of other cool independent shops and businesses. It was founded by two coffee connoisseurs and their passion and knowledge truly comes across - Beacon has been featured in lists of the best coffee shops in the UK, let alone Falmouth.
If you're after a slightly different coffee experience, try the 'one + one'. It's a flat white with an extra shot of espresso on the side so you can taste and appreciate the coffee on its own before enjoying your drink, with or without the additional shot. The Beacon team carefully select (and rotate) their beans from roasteries across the UK and Europe, so just ask them questions if you're not sure what to try. And if you're hungry, there's a good selection of cakes and sandwiches to choose from in the cabinet.
They stock plenty of bags of lovely beans and grinds as well, if you want to treat yourself to some speciality coffee to enjoy back at home or in your glamping hideaway.
Best for: Mingling with local creatives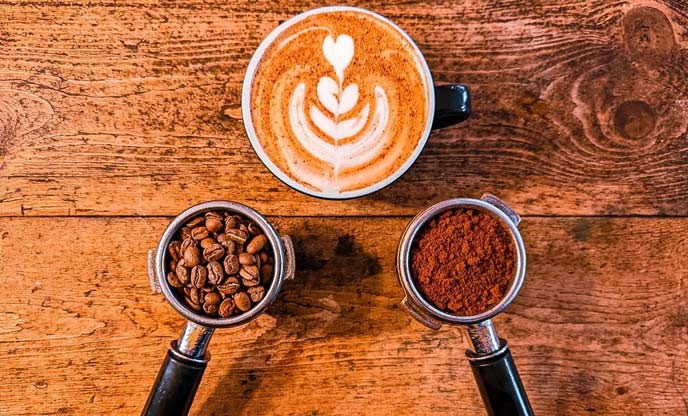 Image credit: Espressini Instagram
You can't miss this hot pink artisan coffee shop on Killigrew Street. There's always a welcoming atmosphere and a creative buzz here, with local freelancers and students working away at laptops, amongst friends catching up over brunch.
The friendly baristas know their stuff and serve up all sorts of caffeinated treats. Their bean of choice is Yallah, a super sustainable roastery just a couple of miles outside of Falmouth, who describe the taste of their house roast as 'a delightful mix of chocolate, toffee and roasted hazelnuts'. Yum. You'll find a good selection of cakes, pastries, breakfasts and lunches on the menu too. A strong coffee and their fruit compote and pistachio topped porridge is the perfect fuel to set you up for a day of exploring.
Best for: Stocking up on delicious deli goods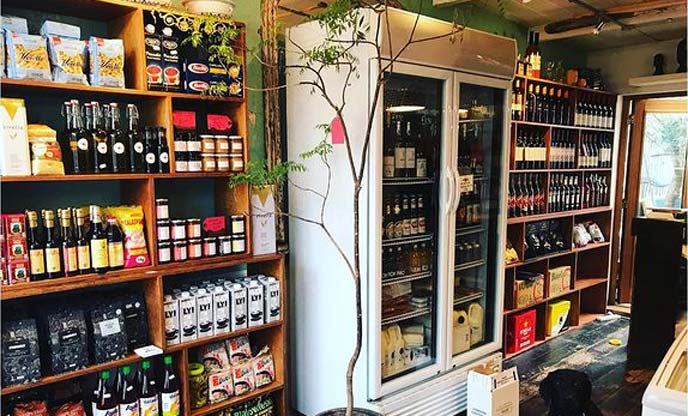 Image Credit: Provedore Instagram
A short stroll out of town at the top of Tralawney Road you'll find this beautiful delicatessen and trattoria (informal Italian-style eatery). Inside, the shelves are laden with wine, olive oil, cured meats, cheeses and more. Whilst, of course, Provedore is not exclusively a coffee shop, this hidden gem has a range of excellent coffee and hot drinks to take away - all of which are perfectly accompanied by a Pastel De Nata! They usually serve Origin Coffee, a popular, sustainable roastery from Porthleven, just along the coast.
Provedore offers a tasty menu of hot and cold breakfasts and lunches too, from bacon brioche rolls to Greek gyros. Both the food and coffee are a hit with the locals, so there's often a small queue chatting outside while they wait, creating a warm, community feel.
Best for: Artisan bread and pastries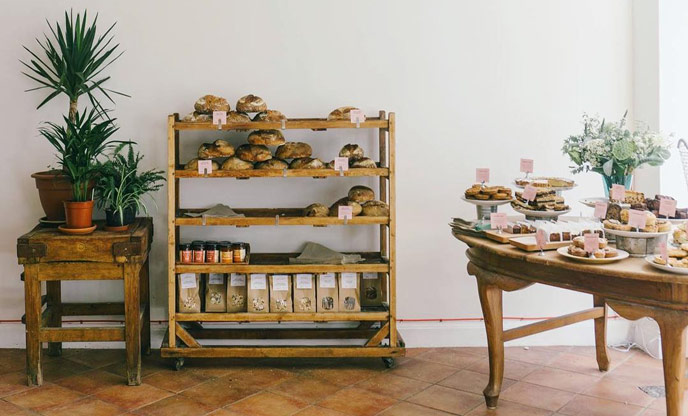 Image Credit: Stones Bakery Instagram
Stones on Falmouth's characterful old high street is a long-standing favourite in the town. It's especially loved for its freshly made artisan bread, cakes and pastries, so is the perfect place to stop and buy a sourdough loaf or bag of croissants for a tasty breakfast back at your hideaway.
The Stones team make a great coffee too (using Origin beans) so while you're there, make sure you stop and enjoy a caffeinated treat. The bright open space and tiled decor, along with the smell of fresh bread of course, make it a lovely place to sit and enjoy a few slow moments before you continue your day.
Best for: A veggie or vegan breakfast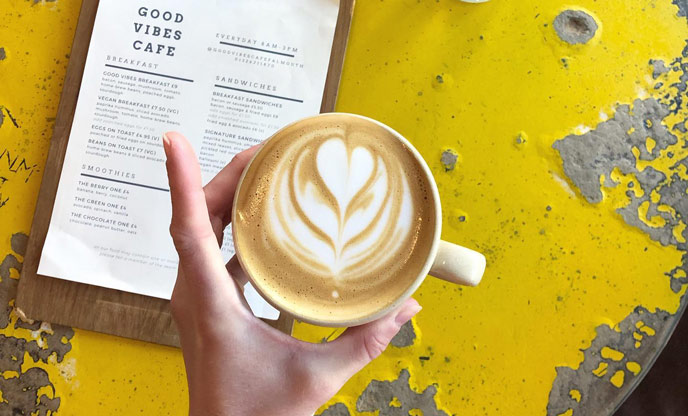 Image Credit: Good Vibes Cafe Falmouth Instagram
Just opposite the Moor on Killigrew Street is the popular Good Vibes Café. Its laidback interiors and menu of seasonal, locally-sourced food make it a great place for a coffee and brunch pitstop after a morning browsing the shops. As with Provedore, their beans are from Cornish coffee roaster Origin, so you know you're getting a good brew.
Good Vibes is famous for its big breakfasts - and the vegan option is especially well-loved by locals. You'll get a rainbow of avocado, mushrooms, tomato, paprika houmous, sourdough toast and homemade baked beans on your plate. It's a treat for plant-based and meat eaters alike.
Best for: A friendly chat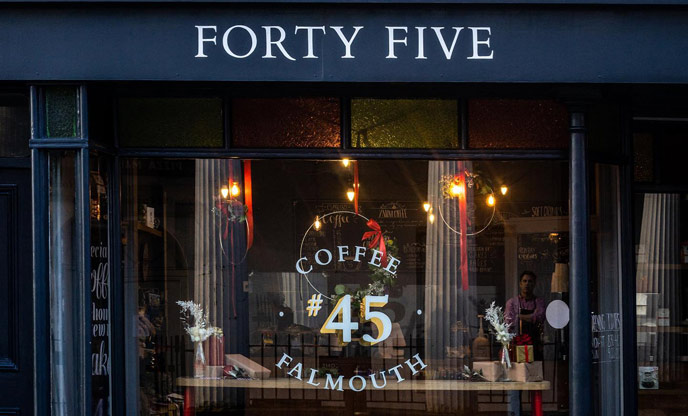 Image Credit: Forty Five Instagram
You'll find the elegant Forty Five in the heart of town on the bustling Arwenack Street, amongst some of Falmouth's loveliest independent gift shops. What this coffee shop lacks in size, it makes up for in friendly hospitality - the passionate owner will always welcome you in and make time for a conversation. His coffee of choice is the locally roasted Yallah, and there's always a good selection of cakes and pastries on offer too.
There are a few seats in the window so if you're lucky enough to get one, it's a wonderful place to sit and watch the world go by while you refuel.
Best for: A wholesome health kick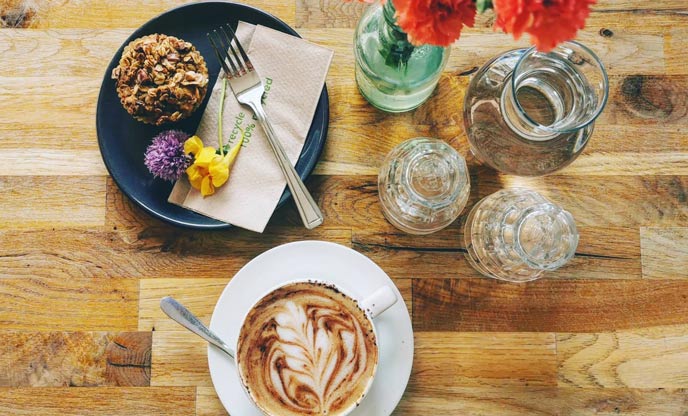 Image Credit: The Natural Store Café Facebook
On Market Strand opposite Falmouth's Prince of Wales Pier, this natural health shop is packed to the nines with organic foods, packaging-free fruit and vegetables, ethical household products, health supplements and more. Once you've stocked up on some wholesome goodies, wander upstairs to the bright and cosy Natural Store Café.
In keeping with their company ethos, the café's breakfast and lunch menu is filled with nutritious, wholefood vegetarian and vegan dishes - and they serve great coffee too. Their chosen brand is Owen's Coffee, a 100% organic and fairtrade roastery in Devon whose Baya beans (their house serve) have 'notes of spicy dark chocolate with a sweet brightness'. Delicious.
Best for: An interesting read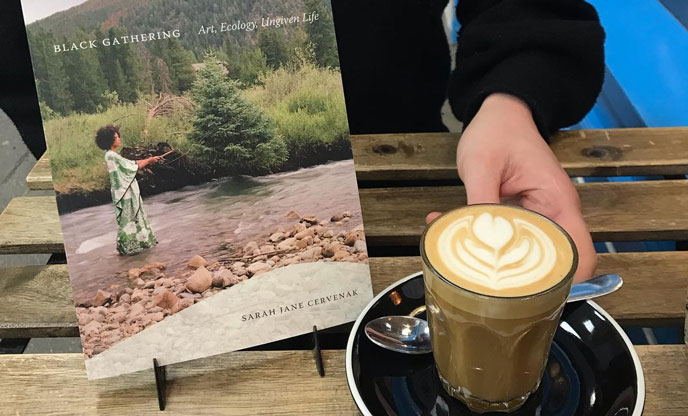 Image Credit: Rubicund Instagram
Described as a 'radical bookshop, café and lending library', this creative spot in St George's Arcade is well worth a visit for something a little different. The shelves are lined with feminist literature, books on gender issues and sexuality, political issues and more - all carefully chosen by the owners to inspire open conversations and provide a space to learn and explore. Pick out a book and settle into a cosy corner with a fairtrade coffee from one of the equally carefully selected sustainable roasteries. Rubicund primarily serves Dear Green, a speciality roaster from Glasgow, and Girls Who Grind, an all female roastery from Warminster.
If you're a little peckish, pair your coffee with a tasty, vegan, home-baked cake.
Best for: An espresso martini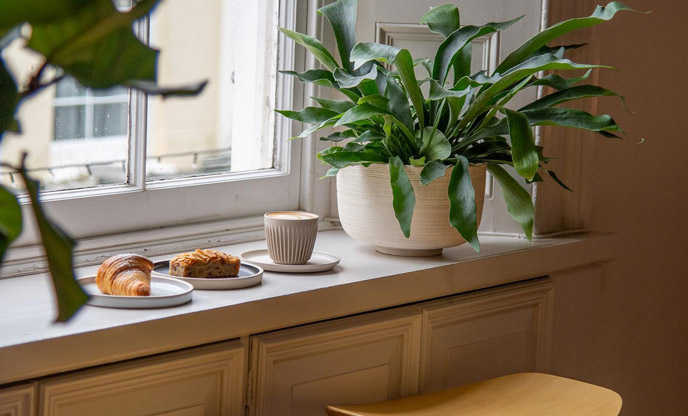 Image Credit: Solskinn Instagram
This newly opened space above The Poly on Church Street is a haven for a coffee or a cocktail. The minimalist Scandinavian interiors and big windows create a light, tranquil haven to spend a little time unwinding after a day of exploring Falmouth's shops and galleries.
Whether you want a hot drink and cake, a hearty lunch, or a tasty tipple, there's something for all appetites and occasions. They make their coffee and their exquisite Espresso Martinis with Origin Coffee beans. And if you fancy a twist on the classic, try the Espresso Tiki-Tini, made with spiced rum, coffee liqueur, espresso, pineapple and almond.
Continuing the coffee tour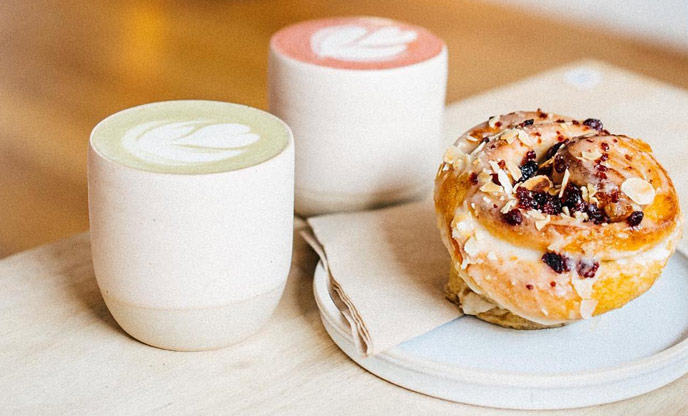 Image credit: Sunshine Cafe and Yoga Instagram
We've only just touched the surface of what Falmouth has to offer when it comes to great coffee! Some of our other recommendations include Oggies Cornish Kitchen where you can pick up a pasty with your brew, and Gylly Beach Café for a hot drink by the sea. If you're willing to head out of Falmouth a little, Sunshine Cafe & Yoga in neighbouring Penryn is a beautiful, calm space to enjoy plant-based bowls and fresh juices with your coffee as well as a spot of yoga.
Your Cornish adventure
Aside from your day out in Falmouth, there are endless exciting things to do in Cornwall. If you love to discover history and myths, take a look at our Magical Places to Visit post for some inspiration; or for places to soak up the beauty of nature, read up on our favourite Gardens in Cornwall. Whatever your chosen adventure, fill up your flask (perhaps with your newly purchased local coffee!), pack up a picnic and enjoy the breadth of adventure that Cornwall has to offer.
When it comes to places to stay, we have something for everyone in Cornwall. From quirky shepherd's huts with stunning sea views, to cosy cottages with a hot tub, take a look at our full collection of glamping hideaways here.