Things to do in Pembrokeshire
Penned on the 28th March 2023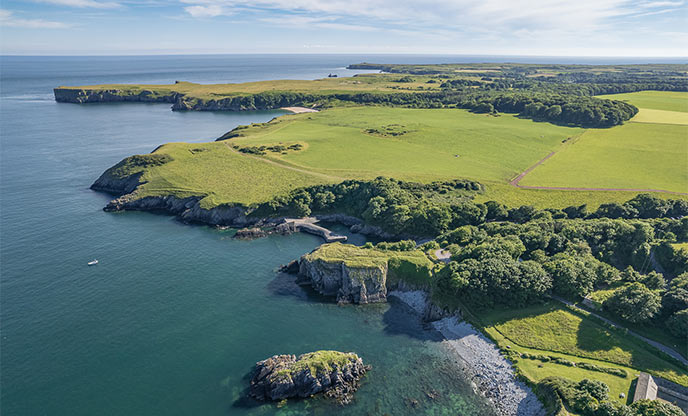 With mile-upon-mile of magnificent coastline surrounding it on three sides, Pembrokeshire is an idyllic destination for ocean lovers, walkers and nature enthusiasts of all ages. In fact, this breathtakingly beautiful county in the west of Wales has the highest concentration of Blue Flag beaches in the UK, as well as impressive coastal walks and a rich abundance of wildlife. But it's not only Pembrokeshire's unspoilt coastal location that draws visitors every year. The region offers a wonderful diversity of activities and sights for a magical staycation, from fascinating historical days out, to excellent eateries, to unforgettable outdoor adventures.
So, whether you're seeking a romantic getaway for two, solo adventure or planning a trip with the whole family, here are some of our favourite things to do in the stunning county of Pembrokeshire.
This world-renowned 186 mile stretch of coast path mostly lies in Pembrokeshire Coast National Park and offers some of the best routes and most breathtaking scenery in the whole of the UK. Whether you fancy a gentle hour-long stroll or a more challenging full day hike, there is something for everyone to enjoy here, all with dramatic views from the craggy cliffs, incredible flora and fauna and numerous sites of historic interest to discover. It's generally quiet along the path too, which only adds to its serenity and natural beauty.
You can choose a section and plan your walk here.
Visit Britain's smallest city, St David's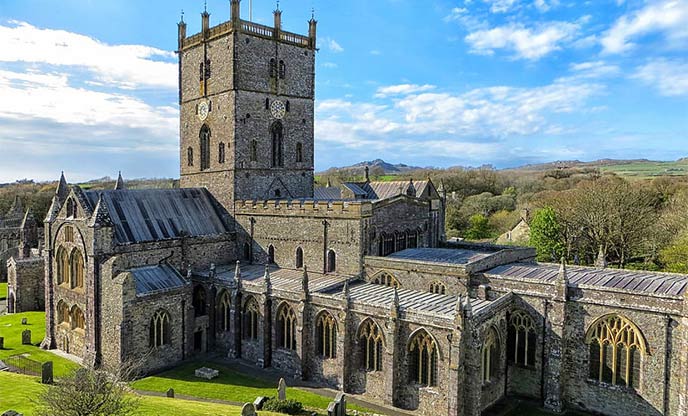 With a tiny population of just 2000, St David's in the far west of Pembrokeshire is Britain's smallest city. But what it lacks in size, it makes up for in captivating charm and history. St David's only gained city status in 1995 – but its story goes back much further to the 6th century when the patron saint of Wales, St David, founded a monastery here. It remains a site of religious significance to this day, with thousands of people visiting his birthplace, the ancient chapel ruins and the spectacular St David's Cathedral every year.
Once you've spent some time soaking up the heritage, explore the city's quaint, picturesque high street, dipping in and out of boutique shops, galleries, cafés and pubs as you go.
Have a family day out in Tenby
The historic coastal town of Tenby is well-loved by tourists for its pristine beaches and colourful picture-postcard harbour, and it's perfect for families who are seeking a classic day out at the seaside. You could happily spend the whole day building golden sandcastles and paddling in the calm seas at one (or all) of Tenby's four Blue Flag beaches, stopping for a mouthwatering portion of fish and chips or an indulgent ice cream when hunger strikes! But if you fancy getting out on the water too, boat trips run regularly to the nearby Caldey Island, where you can look out for grey seals along the way and explore the small village and famous monastery once you're ashore.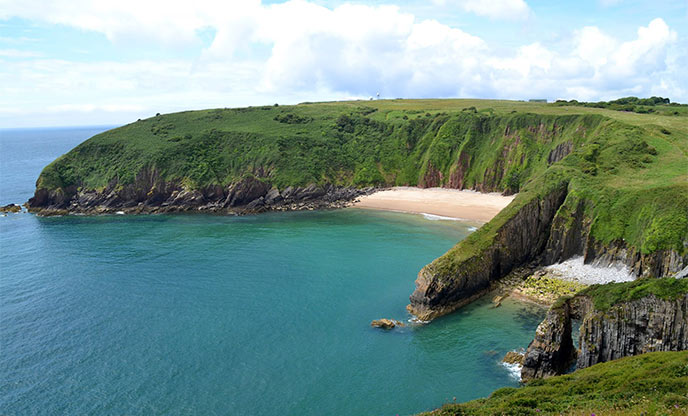 If you're looking for a beautiful beach that's a little more off-the-beaten track, head to Church Door Cove. At this hidden gem between Old Castle Head and Lydstep Point you'll find a tiny, amphitheatre-shaped sandy beach surrounded by towering sandstone and limestone cliffs, with a magnificent archway cut into the rocks by the force of the sea. Church Door Cove is only accessible at low tide via a slightly challenging, steep set of 140 steps – but if you can handle the walk, it's not uncommon to have the whole stunning beach to yourself. It's a glorious place to spend a couple of hours relaxing and cooling off in the turquoise waters on a warm day. Just make sure you leave again before the tide gets too high.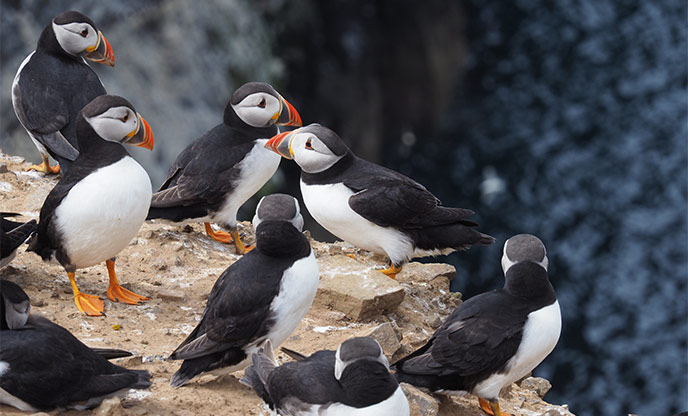 Less than a mile off the Pembrokeshire coast is Skomer Island, a haven for bird lovers and nature enthusiasts. Skomer is most famous for its huge colony of puffins, and is one of the few places left in the British Isles where you can witness these charming creatures (between April and July). There's so much other beautiful wildlife to be found on and around the island too, including dolphins, seals, razorbills and the largest breeding colony of manx shearwaters in the world. As you can imagine, the day trips are extremely popular and as a limited number of people are allowed on this Wildlife Trust managed island per day, booking in advance is essential.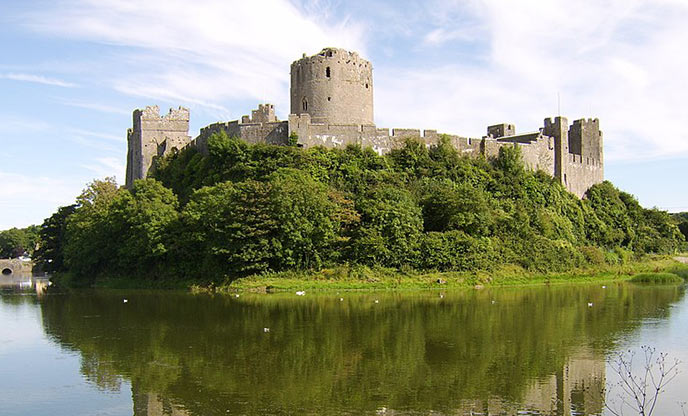 The mighty Pembroke Castle in the centre of Pembroke is one of the most popular attractions in Wales, with plenty to see and discover in its enormous grounds. Learn all about its medieval past and riveting history on a free guided tour; explore the tunnels, stairways and passages in the enormous fortress that's still largely intact; and climb the 80 foot tall Great Keep to be rewarded with beautiful views over Pembrokeshire.
Afterwards enjoy a picnic in the beautifully-kept grounds on the river bank, or head to The Quayside Café nearby for a light lunch or coffee and handmade cake with a splendid view back across to the castle.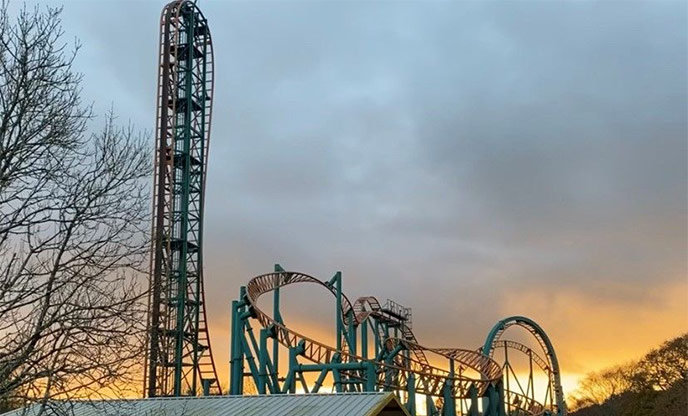 Thrill-seeking families of all ages will love Oakwood, Wales's biggest theme park with over 40 varied rides and attractions. The star of the show is Megafobia, voted the UK's number one wooden rollercoaster (and third best in the world!). As well as the white-knuckle rides, you can hop aboard the carousels and the pirate ship, visit the magical Neverland where the world of Peter Pan is brought to life, or brave Spooky Street with its live scare maze. Or for something all-together gentler, there's mini golf, paddle boating and more.
Hungry tummies will be grateful for the numerous places to eat, including all the classic fairground goodies like hot dogs, burgers, nachos and candyfloss!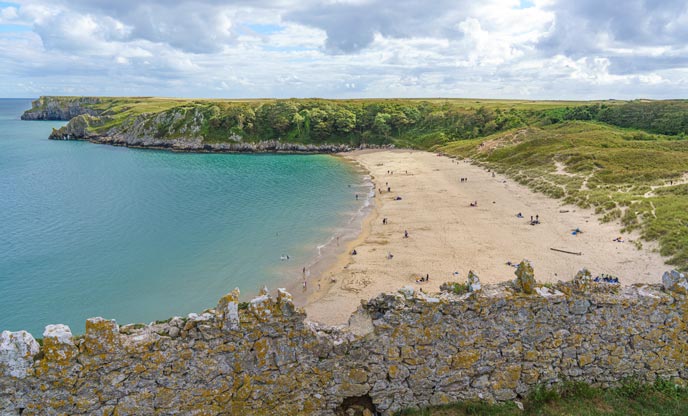 The picture-perfect Barafundle Bay is consistently voted to be one of the best beaches in the UK and the world, with its stunning dune backdrop and soft sands that rival the Caribbean on a sunny day! The beach has gained recognition for its crystal clear water and lesser crowds than some of the county's more accessible beaches – and when you pair that with its calm, sheltered eastern-facing location, it truly is a gorgeous spot for sea swimming.
It's a half-mile walk to Barafundle Bay from the nearest car park and there are no facilities here – but it's well worth the visit. Just make sure you pack a picnic.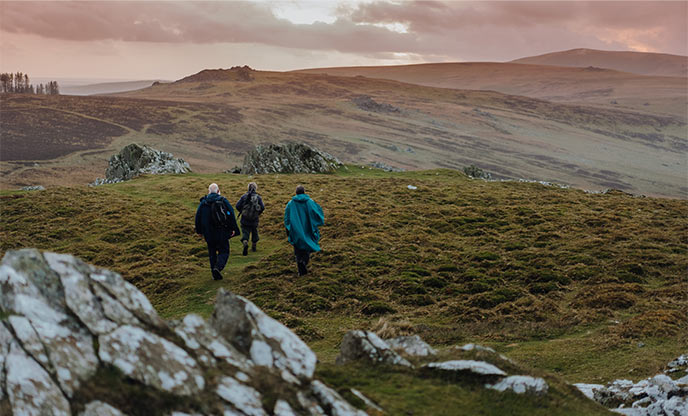 ​​The scenic Preseli Hills were once inhabited by ancient people who have left their mark on the landscape, from Neolithic burial chambers, to stone circles, to Iron Age Forts. And it's even thought that stones from the area are believed to have been transported 180 miles to help with the construction of Stonehenge. You can follow the Golden Road route along the spine of the Preseli Hills to see the prehistoric wonders for yourself, enjoying breathtaking views as you walk. On a clear day you can see as far as the Wicklow Mountains in Ireland!
While you're in the area stop off for a local ale or comforting home-cooked meal at Tafarn Sinc, the highest licensed pub in Pembrokeshire, and discover its fascinating history.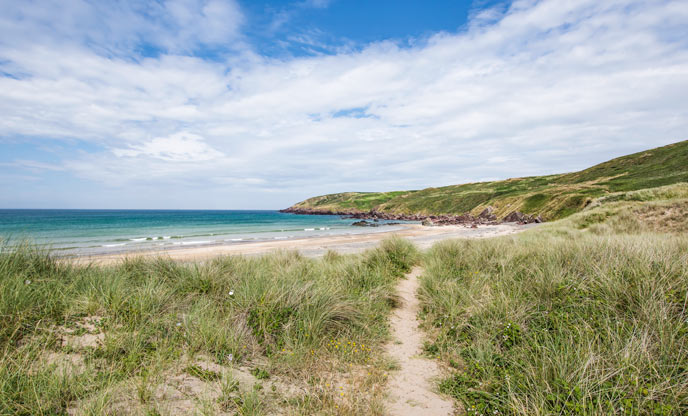 Pembrokeshire is home to some of the UK's best surfing beaches – and Freshwater West is a great place to start. This vast stretch of sandy, dune-backed shore is a well-known surfer's paradise, and with consistent swell and strong waves, it's been home to the yearly Welsh Surfing Championships since 2017. Whatever your ability though, Outer Reef Surf School offers lessons and equipment hire for everyone from beginners to more advanced surfers.
Once you've worked up an inevitable appetite, be sure to visit the award winning Café Mor nearby. It's worth the short drive along the coast to enjoy their hearty seafood and Welsh dishes out in the salty sea air.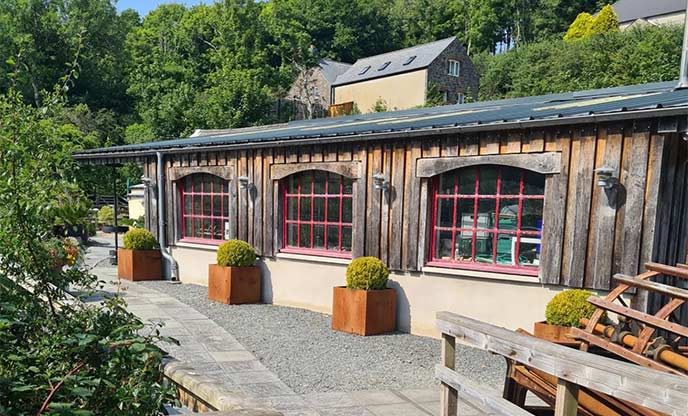 Set on the banks of the River Solfach a mile inland from the coastal village of Solva, Solva Woollen Mill is the oldest working mill in Wales, specialising in flat woven rugs and runners made from 100% British wool. This family business has been producing woven fabric on its looms for over a hundred years – and much of the original equipment is still being used today! Visitors are welcomed to go and witness the fascinating traditional skills at work in the weaving shed, before relaxing beside the restored waterwheel with tea and cake in the old Dye Shed (now the Tea Room) and browsing the mill shop. You might not be able to resist selecting a stunning rug to take home as a memento of your trip.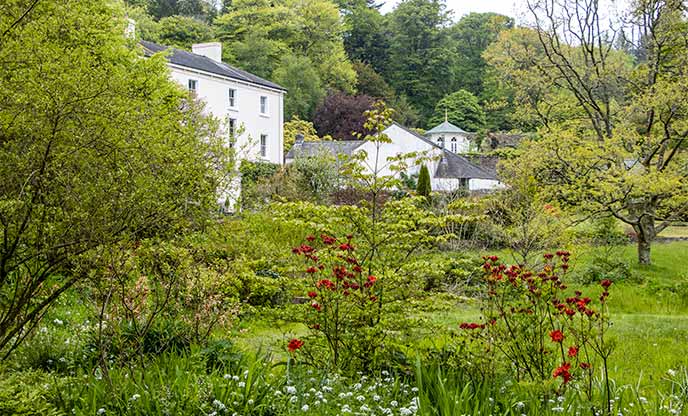 Colby Woodland Garden is a hidden gem set in a tranquil Pembrokeshire valley, and it's a stunning place for a peaceful stroll amongst woodland, gardens, the stream and stepping stones. Almost all year round this National Trust site is awash with beautiful colour. Spring brings daffodils, bluebells, camellias, rhododendrons, and hydrangeas. In summer, the wildflower meadow and colourful walled garden comes alive and in autumn, everything turns glorious shades of orange and yellow. Why not take a camera or a sketchbook and practise some mindful creativity to soak it all up? There's a second-hand bookshop to peruse before you leave too, as well as a tea room serving light lunches and delicious home baked cakes.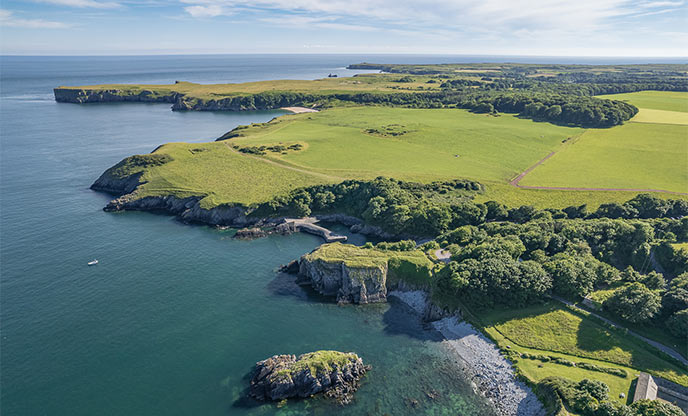 Stackpole Nature Reserve is a listed design landscape on a beautiful stretch of coastline, and the secluded bays make it a beautiful spot for canoeing or kayaking. Hire a kayak or take a leisurely guided sea safari with Activity Pembrokeshire and you'll see the coast from a whole new perspective. If you're lucky you might even have a close encounter with a seal or some of the area's other wonderful array of wildlife too.
Once you're back on dry land, head to the Boathouse Tearoom near Stackpole Quay, where you can enjoy classic scones with jam and clotted cream for a sweet treat – or cheese, chive and walnut scones with cherry tomatoes and cream cheese, if you fancy something a little more savoury!
Go foraging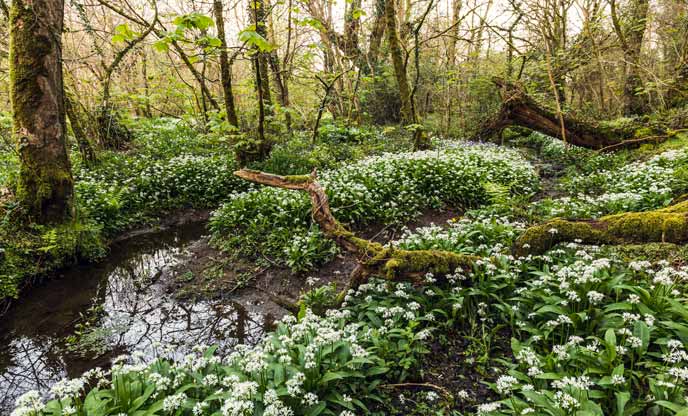 With its wild woodlands, countryside and coastlines rife with edible fungi, herbs, plants and seaweeds, Pembrokeshire is the perfect place to enjoy foraging in nature. But when it comes to picking your own, it's always worth learning the ropes with an expert, of course. The Really Wild Emporium offers a range of courses in the stunning Pembrokeshire National Park with their knowledgeable team, from family seashore foraging to a 'beginner's hedgerows forage'. And foodies will love Fishing & Foraging Wales led Matt Powell, who was previously a top chef in Michelin-starred restaurants around Europe. On a course with Matt, after your forage you'll be served a special dinner cooked using the ingredients you've picked.
Learn more about the types of edibles you can forage throughout the year, in our spring, summer, autumn and winter guides.
Staying in Pembrokeshire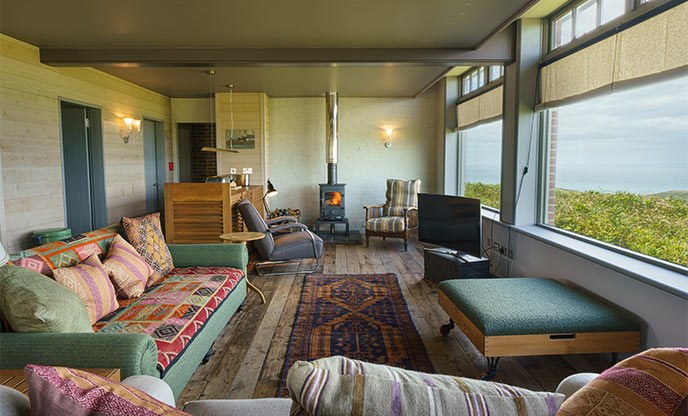 With its ample breathtaking beaches, unspoilt countryside, historic sites and excellent array of food and drink, you're sure to want to stay for a week or more in Pembrokeshire. We have curated a collection of heavenly hideaways in the county for you to choose from, from a quirky, lovingly-restored World War II station with spectacular sea views, to a family-sized cabin in an enchanting woodland. Start planning your dream Pembrokeshire escape with a luxury glamping hideaway.