Best hideaways for wild swimming
Penned on the 24th May 2023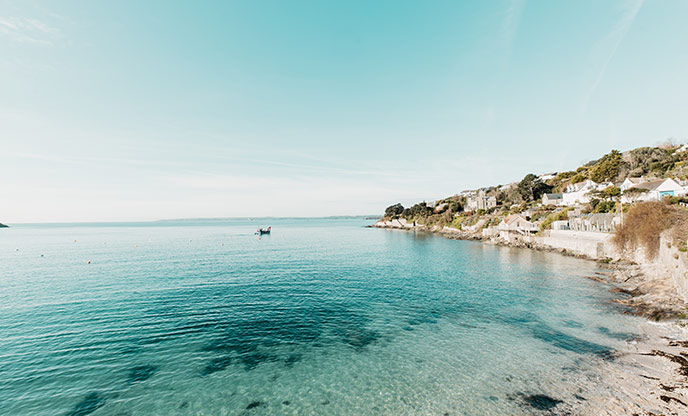 Whether you're a sea swimmer or lake dipper, we have a selection of hideaways in the dreamiest locations, perfect for the wild swimmers amongst us! From soulful cabins by secluded coves in Cornwall to woodland retreats near the mesmerising Lake District, there is something for everyone…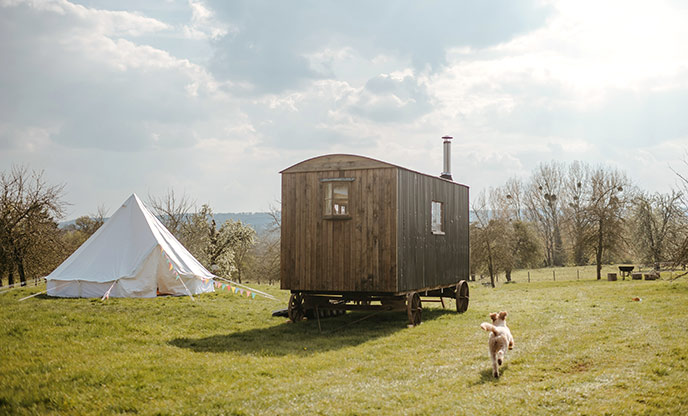 Take a walk on the wild side at our family friendly retreat just a short stroll away from the bank of the River Wye in Herefordshire. Complete with a lovingly restored oak shepherd's hut and beautiful bell tent, The Cider Camp pays respect to a traditional style of glamping. It's the perfect escape for those who love their swims to be well and truly wild, with private access to an idyllic spot by the river. Bredwardine Bridge is a short drive away, and it's a popular and easy spot to swim in the river, with beaches and shallows for a tranquil paddle. Adventure seekers can head out on a longer swim under the bridge where deep pools are revealed, here you can climb out and dive back in! Return back to The Cider Camp after a day on the river and freshen up in the open air shower-room, that allows you to shower in the wilds! Rustle up a family feast in the outdoor kitchen, dine alfresco then gather around the firepit and share stories beside the warmth of the flickering flames.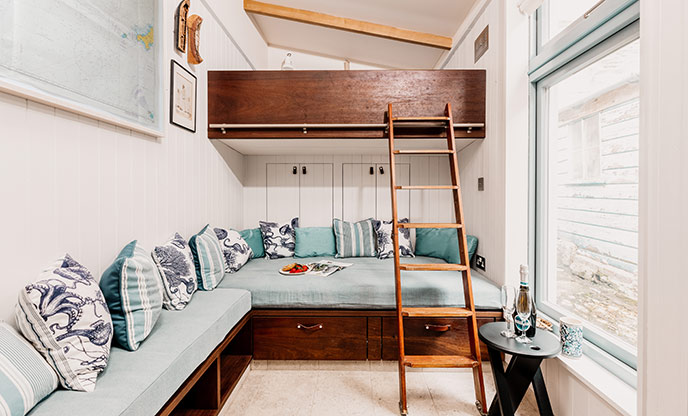 Nestled at the tip of the Roseland Peninsula in Cornwall, close to subtropical beaches, unspoilt landscapes, hidden creeks and magical coves, The Pilchard shed sits just footsteps from the crystal clear waters of St Mawes Harbour. It's a dream come true for those wishing to immerse themselves in a coastal haven, the definition of a small place with soul. Begin your day with a gentle stroll down to the harbour's edge, spend a moment in solitude and simply gaze out to the glistening ocean. Embrace a refreshing dip in the harbour and begin your day with a clear mind. After, make a steaming mug of tea, pick up some delicious fresh pastries from Da Bara Bakery and soak in the tranquillity…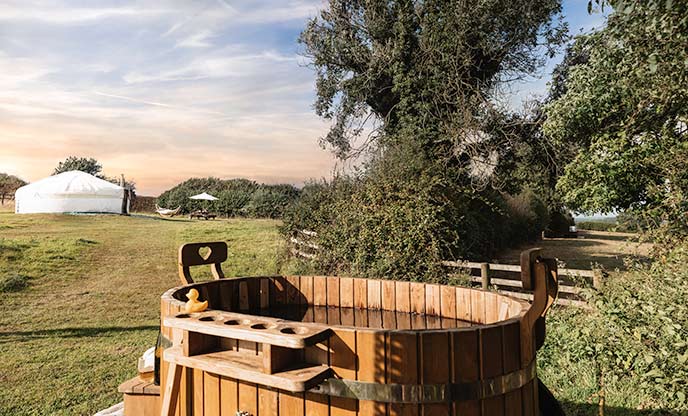 Tucked away in tranquil seclusion, boasting sweeping views of Dartmoor National Park, Great Links is the perfect place to call home for a little while. The owners are keen wild swimmers themselves and are more than happy to advise guests on where to find beautiful natural swimming spots around Dartmoor. Head out on a ramble across the moors and visit the Sharrah Pool; an emerald freshwater pool surrounded by a pretty rock wall, cascades and dense forest. It promises scenes out of a fairytale and is a safe and popular spot for wild swimmers. You can soak up the sunshine on the granite rocks, perfect for sunbathing… who needs a beach when you have this? After, return back to your peaceful glamping abode for a spot of alfresco dining, share stories around the firepit or admire sweeping countryside vistas from the barrel sauna or dreamy wood-fired hot tub… the choice is yours!
Pippin | Shepherd's Hut | Cornwall | Sleeps 2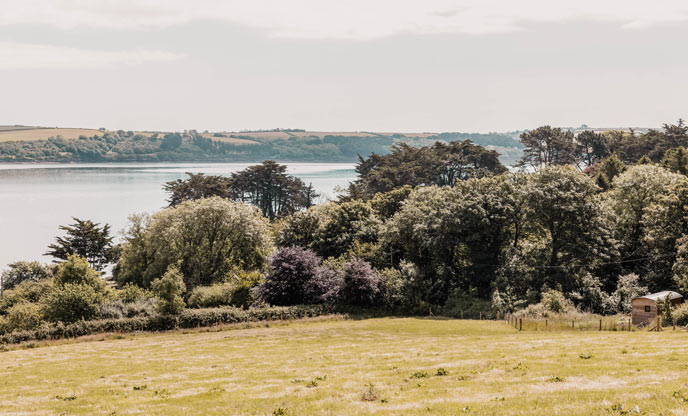 Pretty Pippin… the sweetest escape from it all. Nestled in the corner of a grassy meadow, encompassed by beautiful trees, you won't quite believe the view that stretches out in front of you. Picture glistening ocean views over Restronguet creek towards the River Fal, a wonderful accompaniment to the lush green countryside that surrounds you. Peace and serenity are promised at Pippin; practice yoga in the meadow, delve into a good read in the dappled shade or head out for a wild refreshing swim! You can venture down to Weir Beach in just a few minutes from the hut and embrace an early morning refresh. If you have a paddleboard or kayak, we highly recommend bringing them with you to explore the local area by water. The vibrant town of Falmouth is just around the corner, hosting an array of picturesque beaches with fine golden sand and tranquil waters perfect for swimming. The only decision you have to make is which to venture to first?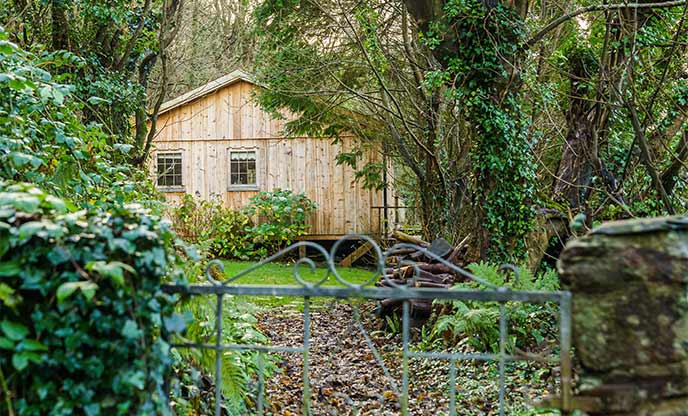 Secluded in a magical forest glade, you won't believe you are just 200 metres from the seashore at this enchanting cabin. Perfect for a family getaway to beautiful Pembrokeshire, Y Berllan Hideaway ticks all the boxes for some much needed time in nature. Cwm Yr Eglws, a sleepy cove hosting a lovely little beach, is just a short stroll from the hideaway. It really is postcard pretty, with lush green trees lining the waters edge. Spend blissful summer days soaking up golden rays, cooling off in the ocean and getting lost in a good book. And it doesn't stop there, you'll find an abundance of picture-perfect beaches dotted all around the Pembrokeshire coast, so you are sure to get your wild swimming fix!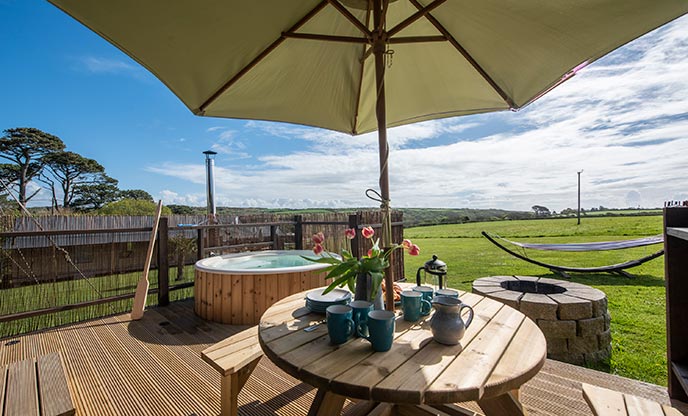 Embrace the ultimate glamping retreat at Bluebell. Catch glimpses of the glistening sea as you indulge in nature's paradise. If it were us, we'd begin the day with a freshly brewed pot of coffee on the sun soaked deck, before wandering down to the picturesque Lamorna Cove for a swim. This small cove has attracted painters, writers and illustrators for many years, once you arrive you're sure to see why! Slip into crystal clear waters before heading to the café for a bite to eat. Return back to your magical haven, wandering through the wooded valley and find the steamy hot tub waiting for you on the deck. Pour a glass of fizz and toast to a wonderful holiday spent in a special location.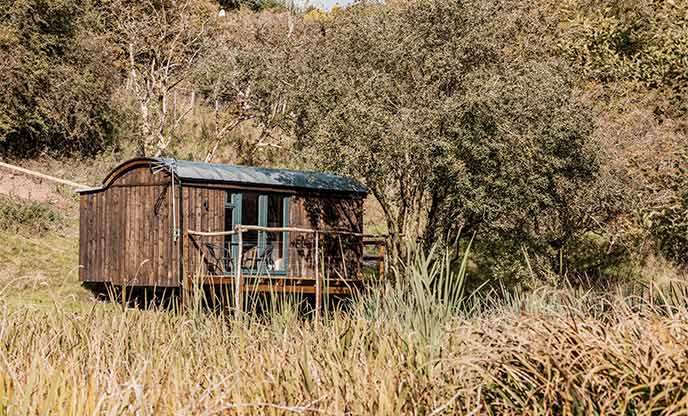 Adventure seekers and romance dreamers, this hideaway is for you! Its name gives a clue to its peaceful surroundings; wildlife abounds and the sound of birdsong fills the air. Not to mention it's in the perfect location to explore the much loved Lake District - a real gem for keen wild swimmers. Think vast lakes, hidden tarns, plunge pools and cascading falls… if this sounds like your idea of heaven, a retreat to The Wrens Nest is just the tonic. No trip is complete without a dip in Lake Windermere or Buttermere, but if you're after a more secluded spot head along to Crummock Water. There's so much beauty to explore in Cumbria, but nothing quite beats taking the plunge and immersing yourself in cold water. The Wrens Nest is the perfect place to retreat back to after a day full of adventures. Soak in the secluded wood-fired hot tub with that special someone, before getting snug inside your romantic hideaway, drifting off into a sweet slumber.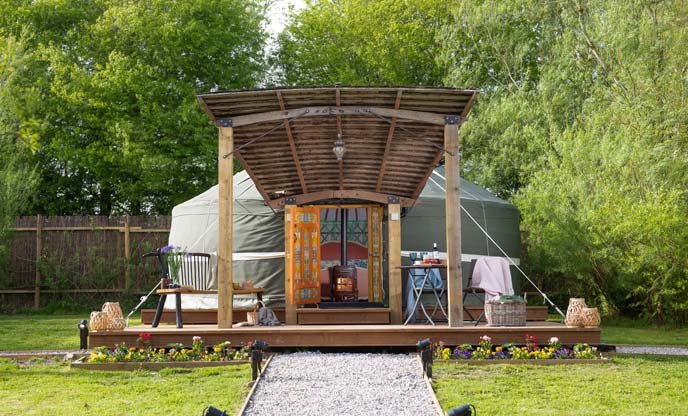 Nourish your mind, body and soul at our bohemian boudoir in rural Devon. This colourful haven is truly captivating, where you will feel a million miles away from the humdrum of everyday life. The yurt is quietly settled with easy access to the owners adjoining fields and lake. Cross the bridge and follow the babbling stream down to the lake, there's a platform above the water - the most idyllic spot to practise mindfulness in nature; read, meditate or journal. You're more than welcome to get into the water and refresh on a summer's day (just please take care). Pretty Clovelly is just a short car journey away, wander its cobbled streets and take a dip in the harbour. If it's a sandy beach you're after, you have the likes of Instow, Saunton Sands or Braunton Burrows. Afterwards, spend your evenings under starlight, unwinding in the heavenly hot tub with a G&T in hand… dreamy!
*Please take care on your adventures and always make sure you check the tides, are aware of currents and never go for a wild swim alone, especially in the winter. Take a look at Wild Swimming Cornwall's blog 'How to stay safe when wild swimming' to find out more.
You can browse our collection of hideaways with sea views here, for more dreamy wild dips in picture-perfect locations.