An idyllic weekend stay at La Cabine Francaise shepherd's hut
Penned on the 1st April 2022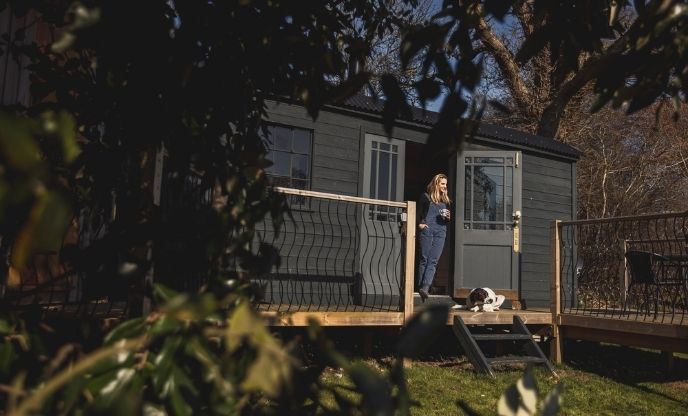 Nestled in the blissful Dorset countryside, you'll find La Cabine Francaise: a charming French shepherd's hut set in rolling green pastures.
On a Friday afternoon and under the early-spring sun, we tootled along winding lanes, clad with patchwork fields and picture-pretty cottages, to make our way to our weekend retreat. Tucked amongst the trees on a beautiful rural site, with a converted old mill around the corner and a family of sheep for neighbours, La Cabine Francaise offers a peaceful escape.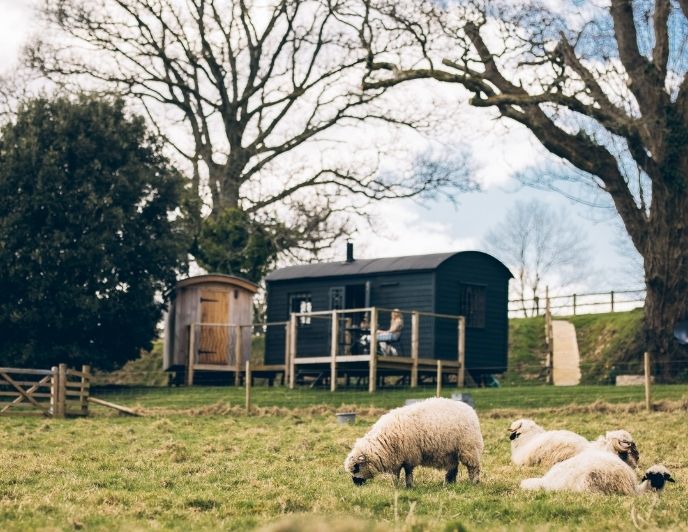 The friendly owners (and aforementioned crew of sheep) welcomed the three of us as we arrived, making sure we were fully stocked for the next few days with firewood, fluffy towels, sweet treats and bubbles. Our dog, Griffon, was also spoiled with snacks and a ball to play with. Did I mention yet that this is the most perfect dog-friendly hideaway?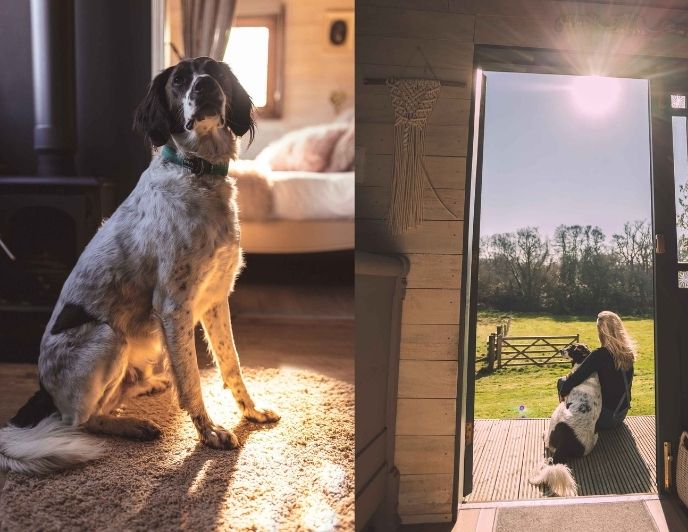 As we explored our abode, we were struck by how roomy it is. With three huts, you can enjoy a spacious kitchen-diner and bedroom (complete with king-size bed) in the main hut, and a cosy lounge and modern en suite in the others. The interiors are particularly special with French features throughout, as the main shepherd's hut was originally designed and built in France! Daffodils and freshly-cut grass were also lovely reminders that spring is well and truly in the air.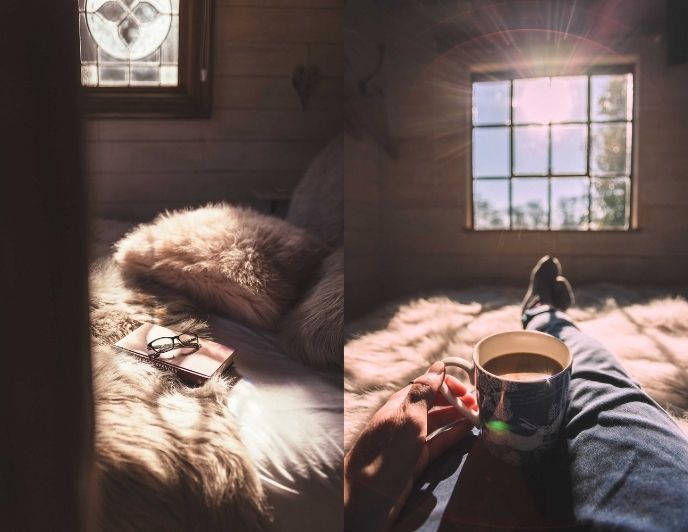 You could easily spend a long weekend residing in this spot only, with a book in hand and relaxing to the sound of birdsong, but there's so much to explore in the area that we prized ourselves away from our dreamy little suntrap.
The quaint village of Cattistock is a five-minute drive from La Cabine Francaise and has a local store where we grabbed a bounty of supplies for the weekend. The immediate area is also home to a plethora of nature reserves, offering a network of trails for walking and an abundance of flora and fauna to admire. One of which is Kingcombe Meadow Nature Reserve, where we ambled along boardwalks, streams and fields, with binoculars at the ready to spot a variety of birds who call this place home.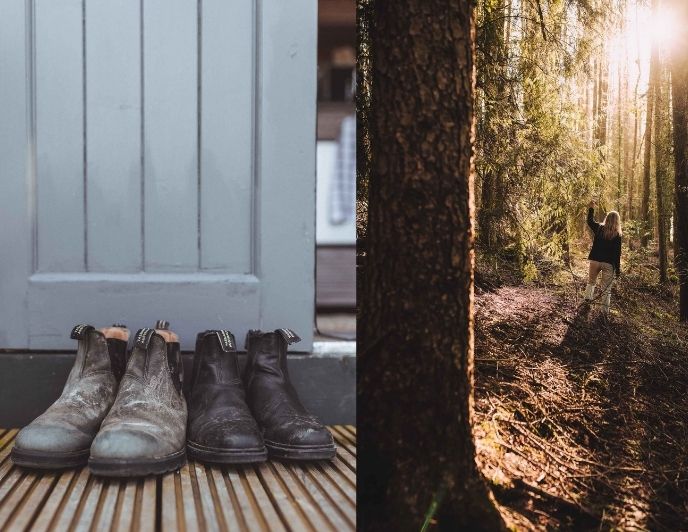 Also close to the hideaway is Dorset's striking coastline; A UNESCO designated World Heritage Site, where over 90 miles of ancient, fossil-flecked cliffs beckon, and long stretches of sand and rocky outcrops are ready to be explored.
We couldn't visit Dorset without ticking off the (4-mile) Golden Cap walk, which traverses through farmland and coast path, before taking you to the highest point on the south coast of England where unbelievable views await. On a windy day this is the very best spot to blow the cobwebs away!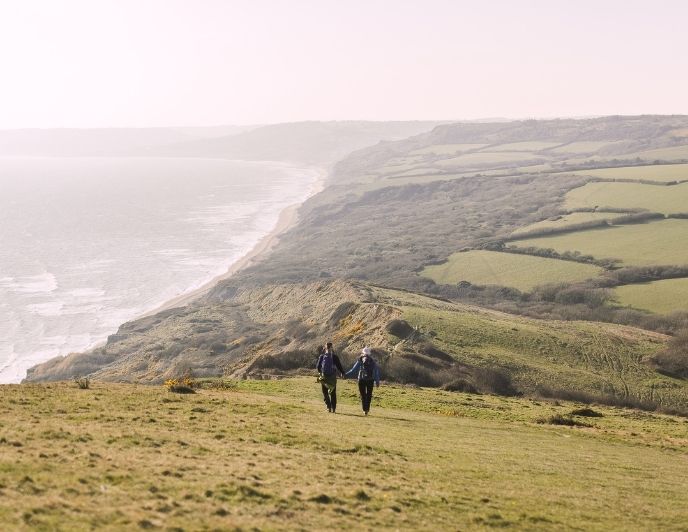 On the circular route back down, you're taken past the ruins of an ancient settlement and onto Langdon Hill where towering trees line trodden footpaths, ideal for the pooch to have a trot.
While on the Dorset coast, there are some other well-known spots that have rightfully earned their attention. West Bay, with its imposing crumbling cliffs and fine shingle underfoot, spreads across East and West beaches and is well worth a visit. And a little further along you'll find one of the most iconic points on the Jurassic Coast: Durdle Door, a famous rocky outcrop - that, if you time it right, magically frames the sunset making for a memorable end to the day.
If, like us, you're drawn to paths less travelled, there are plenty of quiet coastal walks and spots to discover too. We enjoyed walking at Lulworth Ranges, a large area of land acquired by the Army for training. Here, you'll find rugged expanses of grassland and scrub where wildlife thrives, and routes down to the derelict village of Tyneham, and serene Brandy and Hobarrow Bays beyond. This area is only open to the public on weekends, and it's worth checking online first to make sure it isn't closed for training.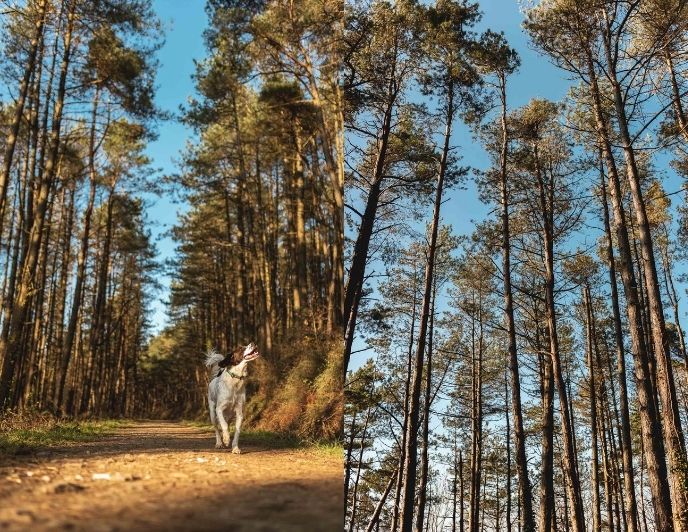 When met with the daylight's embers, we spent our evenings sampling local pub grub from many fantastic options for places to eat in Dorset, before heading back to our cosy hideaway. La Cabine Francaise has underfloor heating and a wood burner in the main shepherd's hut, along with a wood burner in the lounge hut, meaning you'll never feel chilly here. We also made the most of the firepit to keep us toasty while stargazing on a perfectly clear and still night.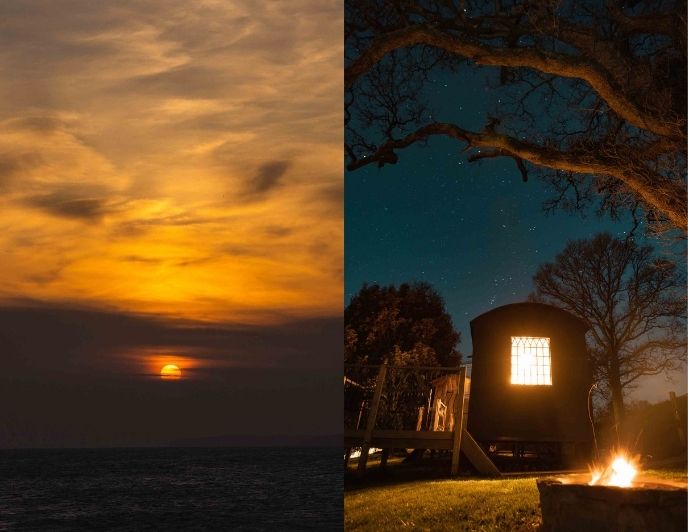 Feeling inspired to stay at La Cabine Francaise? Read more about this pocket of tranquility in the Dorset countryside here.