5 circular coastal walks to enjoy in Cornwall this spring
Penned on the 17th March 2023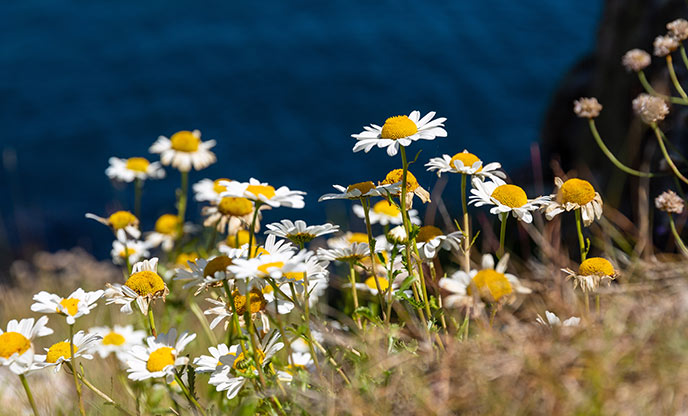 Spring is on the way and we cannot wait to get outside and embrace the enchanting, salt-kissed Cornish air. From picture-perfect fishing villages to dramatic cliff tops, we've covered the very best circular, coastal rambles across the Duchy. We've included recommendations of where to stop for that well-deserved cream tea or pint of Cornish ale, all with outdoor seating!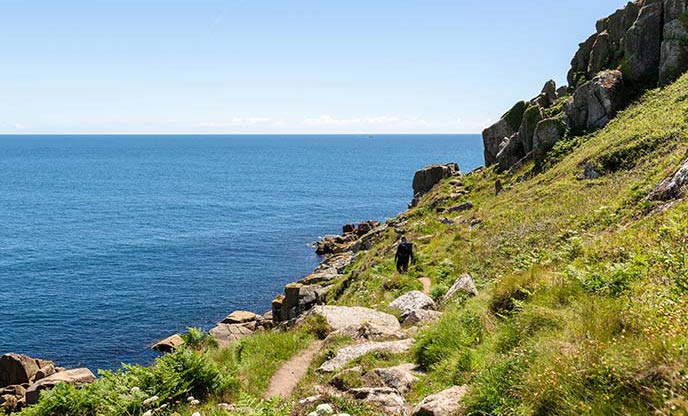 Starting in the far west of Cornwall, this idyllic walk from Mousehole to Lamorna is a great place to begin the adventure. It's tradition that many residents of Penzance walk this part of the coastal path on Good Friday, so be prepared that this route will be busier over the Easter weekend. This sweet little café is the best place to take in the views of the coast as far as St. Michael's Mount. Make your way along the coastal path to the breathtakingly beautiful Lamorna Cove. If you need a refreshment, visit Lamorna Cove Café and grab a local crab sandwich. Follow the inland footpath and once you return to Mousehole, stop in at the Old Coastguard to enjoy a frosty pint or a G & T in their dreamy garden.
The directions linked for this walk send you through the fields to Lamorna, but we believe it's prettier to arrive at this picturesque cove via the coastal path, however, this is entirely up to you!
Where to stay: Take a look at Buttercup, one of our family-sized hideaways in Lamorna.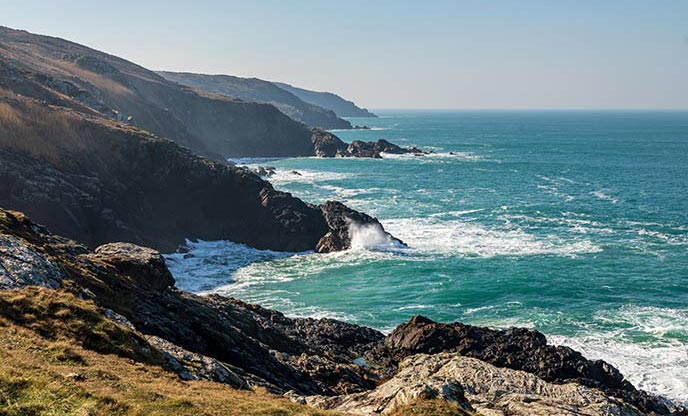 This walk has simply stunning views from start to finish. Begin your walk in the charming hamlet of Zennor. Take some time to look around the local church and see if you can find the famous hand-carved mermaid chair. Start along the rugged coast path and breath in the captivating scenery. It's easy to believe the tail of The Mermaid of Zennor when you witness a bird's eye view of the never-ending, tropical coves along your journey. Once you reach the bright yellow Gurnards Head pub, sit down and soak in the springtime sunshine, while enjoying a refreshing drink. Follow the footpath through the fields back to Zennor and reward yourself with an ice cream from The Moomaid Parlour or with a bowl of chips at the Tinners Arms. The route linked, leads you to the Gurnards Head via the inland path, but we think it's much better to endure the coastal path first and then have the easier, more direct route through the fields back into Zennor after you've done the hard work.
Where to stay: The Shepherds Hut at Georgia Bridge can be found close to St Ive's, near Zennor and would make a magical setting for your spring staycation.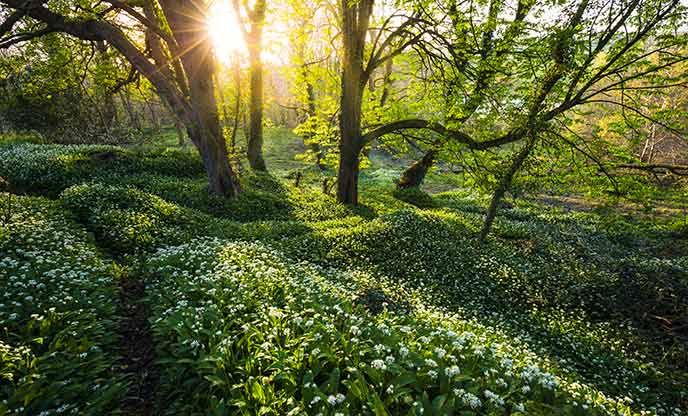 Nestled amongst the trees, Frenchman's Creek is a delightful circular walk to enjoy with all the family. Check the tide times before you head out on your adventure, as this walk is particularly pretty at high tide. Read our booklover's guide to Cornwall and discover why this creek inspired Daphne Du Maurier in her novels. Beginning in the picturesque Helford Village, stick to the footpath which leads you to secluded Penarvon Cove. Follow the signs which lead you to a fairy tale path, scattered with wild garlic and delightful daffodils, spring beauty at its finest! Continue past Kestle Barton, which is a lovely place to visit in the summer months, if you are a lover of art. Arriving back into the Helford Village, recharge at the Ship Wrights Arms, a traditional Cornish pub with plenty of outdoor seating.
Where to stay: Imagine coming back to stay at Little Woon and enjoying a glass of wine while sitting out by the fire pit. Now, how perfect does that sound?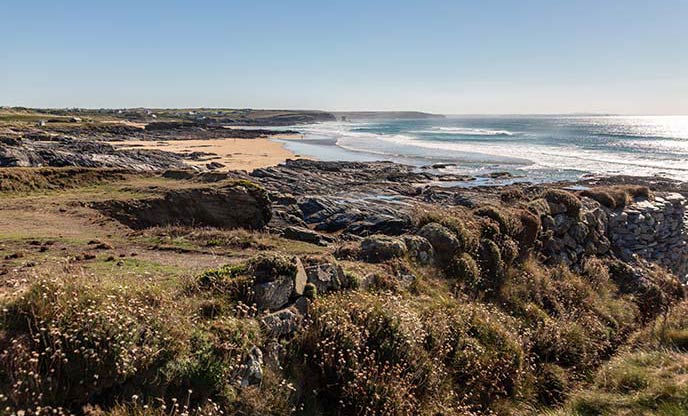 We are now heading further up the north coast, to explore more magic scenery. This walk begins at Porthcothan, a sandy paradise with piercingly blue turquoise water. Fuel up and start with a coffee at Porthcothan Bay Stores. Take the coast path which leads you to clifftops that are popular with bird watchers, so be sure to pack your binoculars. You will venture past Fox Cove, which is quietly nestled away from the crowds. Ramble onwards to Treyarnon Bay and if you are ready for a refreshment, Melt is a great place to take in the unforgettable views and indulge in a famous Da-bara Bakery cinnamon bun. Follow the path to Constantine Bay leading you to Boobys Bay, which is hiding just around the corner. You can either choose to follow the same route back, take the quicker inland path, or there's even the option to hop on the bus.
Where to stay: Tregwelan Shepherds Hut is the perfect location to rest your head after this long walk in the fresh air. Take a look at that view... now that's hard to beat!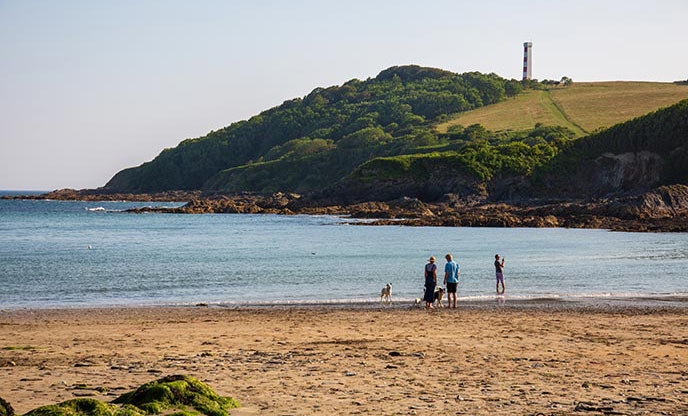 Skipping across Cornwall, this walk is sure to make you feel invigorated! Before you set off, pack yourself a picnic and maybe a little can of Pimm's to enjoy in the sunshine, as there are no refreshment stops on route. It's just you and the breathtaking, unspoilt, natural beauty that the south coast has to offer. Venture from Coombe Farm onto the coast path heading to Fowey. Enjoy the heavenly views of Ready-Money Cove, famous to Daphne du Maurier as this is where she used to live! Ramble onwards past Catherine's Castle and Polridmouth Cove, leading you to Gribbin Daymark. This is a perfect place to enjoy your picnic in the salt-kissed sunshine, overlooking postcard-pretty views. Follow the signs back to Coombes Farm and enjoy that windswept feeling, of a day well spent in the Cornish spring air.
Where to stay: Squirrel Nutkin is a wonderful hideaway for you to unwind, in the hot tub, after a full day of adventure.
Feeling inspired to get outside and embrace the spring sunshine? Take a look at our heavenly collection of one-of-a-kind places to stay across Cornwall. Why not make the most of the Easter weekend and simply slip away to somewhere truly special with the ones you love most?