Historic places in Cornwall
Penned on the 13th June 2022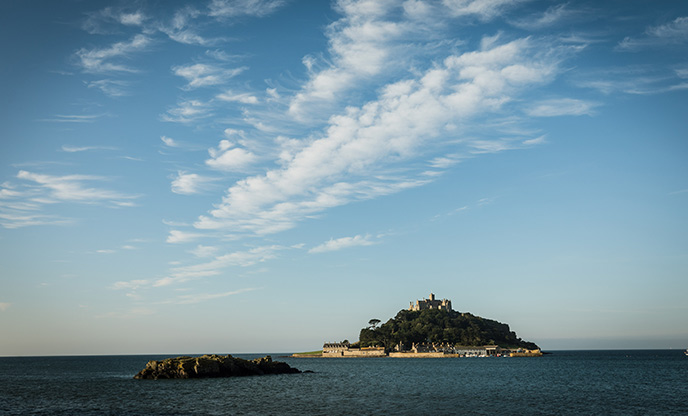 The south west county of Cornwall might be famous for its stunning coastline and picture-perfect harbours, but it's also steeped in rich history and traditional culture, making for some wonderful days out exploring.
From grand estates and coastal fortresses, to its mining heritage and the legend of King Arthur, there are historic sites and tales for all ages and interests to discover. In this guide, we've put together some of our favourites to help you prepare for your Cornish journeys back in time.
Best for: A family day out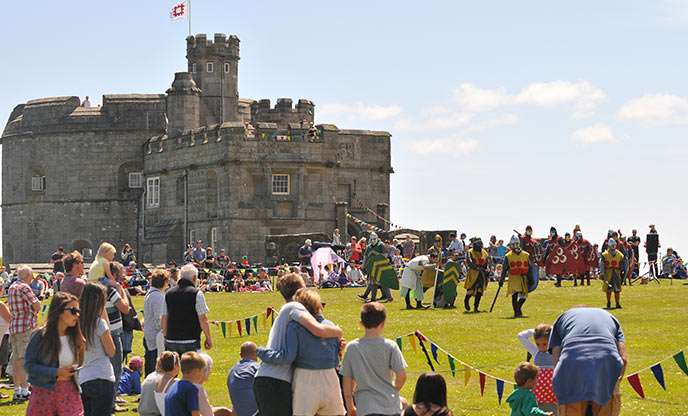 This coastal fortress was built by Henry VIII to defend the country against invasion between 1540 and 1542, and played a vital role during the two World Wars too. Sitting majestically on the headland overlooking Falmouth's town and bay, it's been dubbed one of Henry VIII's finest seaside castles. It's now an English Heritage site where the whole family will enjoy meandering the eerie tunnels, seeing world war two guns and exhibitions, and climbing the winding stone staircase for spectacular panoramic views from the turrets.
Across the bay on a clear day you can see the sister site St Mawes Castle, which is also well worth a visit (boats run regularly from the Prince of Wales Pier in Falmouth). There are all sorts of entertaining events and historic re-enactments held throughout the year at Pendennis, from jousting and Tudor Gun firing to pirate shows and ghost tours, so make sure you check their website for what's on.
For lunch you can grab a treat from the castle café, which serves sandwiches, Cornish pasties and more, or take your own picnic and enjoy the grassy spaces in the grounds while the kids let off some steam.
Best for: Romantic mystery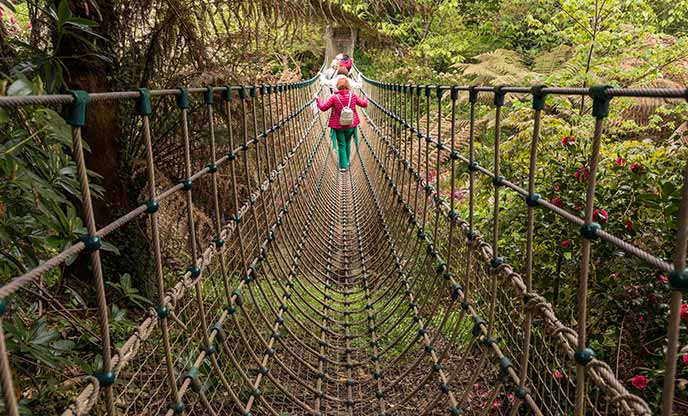 Just thirty years ago Heligan's historic gardens were unknown, or 'lost' as the name eludes. From the 16th century, the estate had been owned by the Tremayne family who developed the botanical paradise over several generations. Sadly, after World War I it became derelict and overgrown with brambles and ivy when the workforce went to war - and never returned. It was only a chance discovery by The Eden Project's founder Tim Smit that led to the restoration and return to its former glory.
Now a thriving attraction in Cornwall, there are 200 acres of heavenly gardens, sub-tropical valleys, ancient woodlands and beautiful sculptures to explore. In the walled gardens, look out for the gardening team at work, using the same horticultural practices as their Victorian predecessors. A 100 foot Burmese rope bridge in the 'jungle' area is a highlight too, suspended above ancient ferns, palms and banana trees.
For a bite to eat head to the Heligan Kitchen & Bakery and savour a home-cooked meal or treat, usually made with fruit and vegetables grown on the grounds.
There are lots more idyllic gardens to visit in Cornwall too, if you want some more botanical inspiration.
Best for: History meeting legend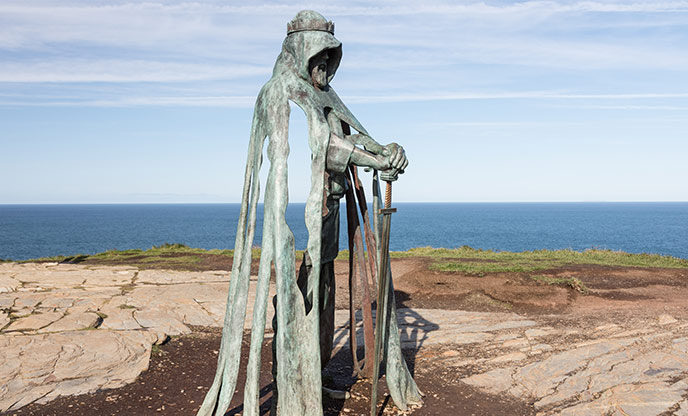 One of the most well-loved historic sites in Cornwall is the rugged Tintagel Castle, a site of romantic ruins on the rocky cliff tops of the north coast. The castle itself was built in the 13th century but the grounds were in use long before that, with the surrounding remains dating back to Roman and Dark Ages.
Tintagel is perhaps most famous of all, however, for its legends of King Arthur. Geoffrey of Monmouth alleged the site to be his birthplace in his writings in the 12th century, and it has since been inspiring writers, artists and visitors from all walks of life. When you cross the dramatic footbridge over to the headland, you'll see why. Imaginations will run wild wandering the ruins, seeing the larger than life bronze statue of the King and exploring Merlin's Cave at low tide, all with the spectacular surrounding landscape of the wild Atlantic ocean.
The Beach Café below is the perfect place to take a break, serving the likes of Cornish Rarebit and cream teas, all made with locally sourced ingredients.
Best for: Haunting history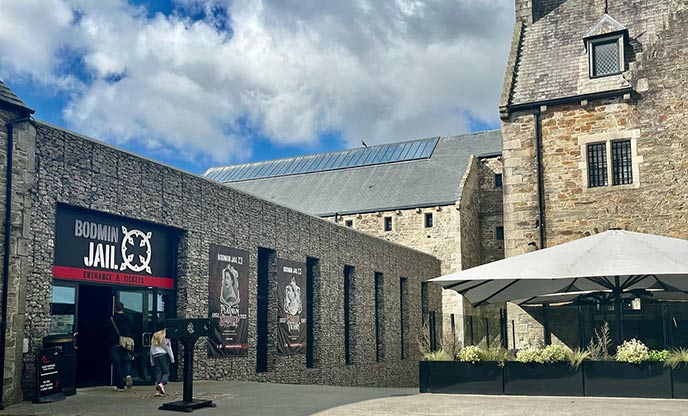 Bodmin Jail is an unforgettable experience, especially for those fascinated with the supernatural. Built in 1779, it was used for more than 150 years in which it saw 55 public hangings of some of Cornwall's most notorious criminals and thousands of prisoners kept in brutal conditions.
Nowadays, it's said to be one of the 'most haunted places in Britain' with regular reportings of paranormal experiences, sights and sounds. During your visit you can explore the jail's ominous cells, corridors and execution shed (a fully restored Victorian hanging pit) or, to learn more about its grisly past and resident prisoners, embark on an immersive tour. Brave over 18s can also tour the jail after dark with the resident medium, or stay late for a scary cinema night.
Just 15 minutes away from the jail you'll find another of the country's most haunted historic spots, Jamaica Inn. Its fame became worldwide when Daphne Du Maurier wrote her best-selling novel with the same title, you can read more in our booklover's guide to Cornwall. Hearty food is served here all day - but with so many strange incidents having been reported at the bar and restaurant, it might not be a feast for the faint-hearted!
Best for: An island adventure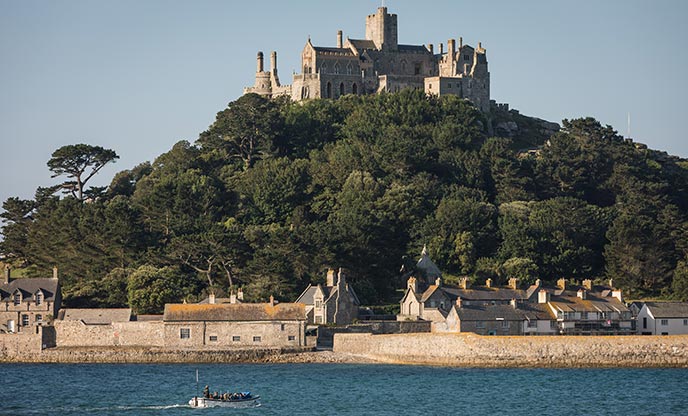 One of Cornwall's most iconic landmarks, St Michael's Mount, has over 300,000 thousand visitors every year - and for good reason. Wander across the causeway if the tide's out or hop on a boat if it's in, and you'll be transported to a breathtakingly beautiful island where modern life meets a thousand years of history. The estate has been home to the St Aubyn family since 1650 (who manage it alongside National Trust), as well as a small vibrant community, a majestic medieval church and castle, and a stunning sub-tropical terraced garden. People of all ages will enjoy uncovering the Mount's history, as well its enchanting myths and legends - including that of Jack the Giant Killer!
Once you've worked up an appetite exploring the cobbled grounds, stop off at the Island Café for a coffee and cake or a traditional Cornish pasty. Or pack a picnic to eat in the gardens surrounded by lush greenery and the glittering waters of Mount's Bay.
Discover more magical places to visit in Cornwall to really make the most of your enchanting visit.
Best for: Breathtaking views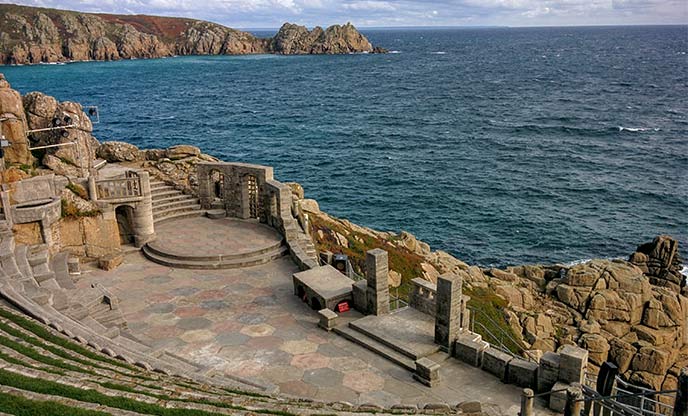 The Minack is one of the world's most famous outdoor theatres and, carved into the granite cliffs amongst glorious gardens overlooking the turquoise waters of Porthcurno, it's a place like no other. Despite its Greek appearance, it was actually built in the 1930s by Shakespearean enthusiast Rowena Cade and her gardener, who mostly used materials hauled from the beach below. You can learn more about this remarkable story and their true labour of love during your visit.
The Minack is open for you to simply wander the grounds but for the ultimate experience, go and see a show. With a full programme of varied events (usually from Easter to September), there's sure to be something that catches your eye. The open ocean makes an unbeatable backdrop whatever you choose - and if you're lucky, you might even be treated to a performance from a pod of dolphins or a basking shark in the crystal clear waters below.
Throughout the day, light refreshments are available from the café or the Terrace shop. Or you're welcome to take your own food and drink (except for alcohol).
Best for: An iconic Cornish landscape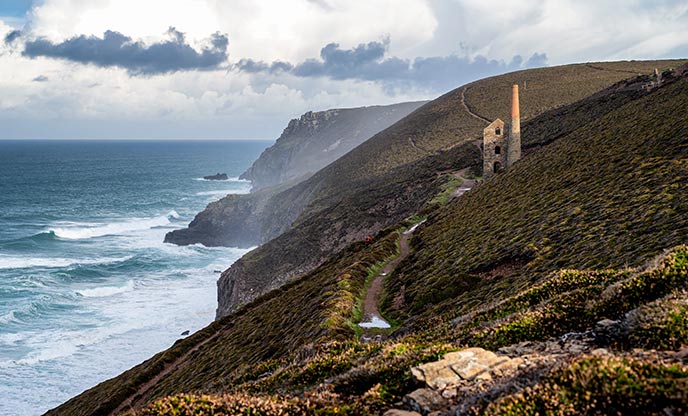 You can't get much more Cornish than the view across to Chapel Porth from the coast path, with Wheal Coates' prominent engine house on the cliffs, jutting headlands as far as the eye can see, and the vast blue ocean beyond. The tin mine operated from 1809 until 1889 and, while the remains are picture-perfect, the reality of this industrial landscape holds a harsh history, with many Cornish miners suffering serious illnesses or death from the dangerous conditions in which they worked. In the mid 19th century the mining industry began to decline and thousands of the miners left to find work overseas - there are now over 160 places in six continents where Cornish miners took their skills and traditions, so it's a truly global heritage.
This National Trust site is one of the Cornish mining sites with UNESCO World Heritage Status and is well worth a visit for a glimpse into the industry of Cornwall's past. There are some easy walking loops here (take a look at the National Trust website) and, with its west-facing location, it's particularly beautiful at sunset.
If you fancy eating out or stopping for a drink in the nearby town of St Agnes, there are plenty of great pubs, cafés and restaurants to choose from including Driftwood Spars, popular for its beachside location and own-brewed ales.
Best for: Glimpses of a luxurious past
High above the valley of the River Fowey, these picturesque ruins are the remains of a luxurious 13th century castle that once belonged to Edward Woodstock, the eldest son of Edward III. It's one of the four chief Norman castles of Cornwall and is particularly noted for its perfectly circular design. Within the grounds the principal rooms are still in remarkably good condition, with large fireplaces, high windows and the Grand Hall giving clues to its once grandeur surroundings. Climbing the stone staircase from the courtyard will reward you with sweeping views across the valley to the stunning countryside and patchwork fields. And in the springtime the castle is surrounded by daffodils and bluebells, making for an especially magical visit.
A 45 minute walking trail links Restormel Castle with the Duchy of Cornwall Nursery, where there's a fantastic café serving quality local food, so why not treat yourself to a leisurely lunch and a glass of sparkling wine from the nearby Camel Valley vineyard?
Best for: History buffs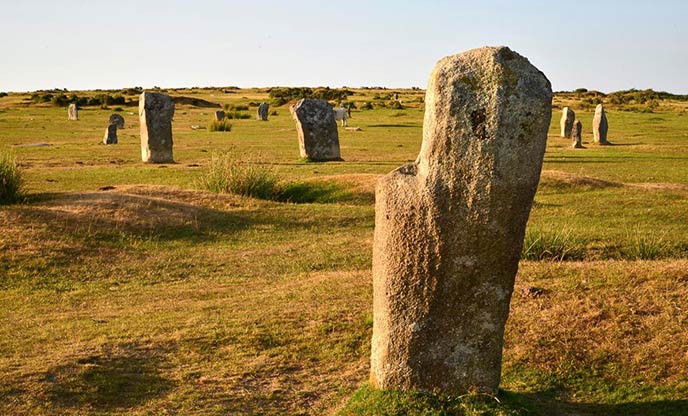 Anyone with a passion for history shouldn't miss the sites managed by Cornwall Heritage Trust, a charity that seeks to 'preserve and strengthen' the county's rich and distinct heritage. Their 12 fascinating sites cover a broad spectrum of history, from Neolithic remains such as the Tregiffian Burial Chamber near Penzance to the Bronze Age Hurler Stone Circles on Bodmin Moor to the 19th century Treffry Viaduct near Luxulyan. They're all further off the beaten track than the more typical tourist spots in this guide, so they're usually much quieter - perfect for history fanatics who want to explore at their own pace.
If you'd like to tie in your visits with a walk, there are lots of beautiful routes of varying lengths and difficulties that incorporate Cornwall Heritage Trust sites too, as set out in this helpful guide from iwalk Cornwall.
Cornwall Heritage Trust wholly relies on donations and memberships so by joining you're directly helping to contribute to the preservation of Cornwall's history. There are joint, family and concession memberships available, and members also benefit from free entry to all English Heritage sites in Cornwall, and discounted entry to King Edward Mine and Wheal Martyn.
Staying in Cornwall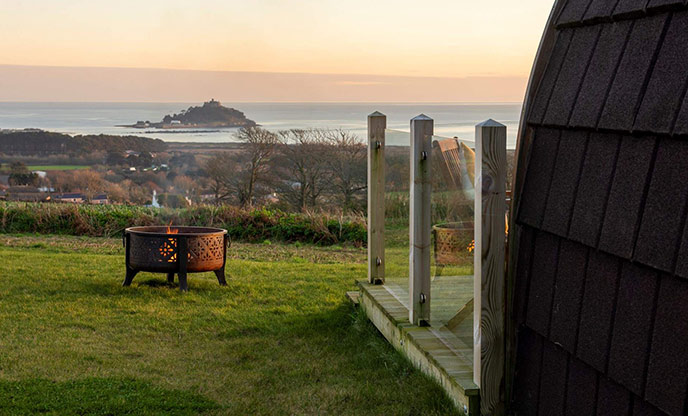 Whether you're visiting for a long weekend or a full fortnight, we have some beautiful hideaways in which to base yourself in Cornwall. Imagine waking to the gulls and the sunrise reflecting in Mount's Bay, making your family breakfast from your beautifully crafted glamping pod. Or perhaps being cocooned in a tranquil tree top cabin for two is more your style, where you can cosy up together while you reminisce on your day of exploring. Take a look at our full collection of Cornwall hideaways, where you're sure to find something that's perfect for you.