Gardens to visit in Cornwall
Penned on the 20th January 2022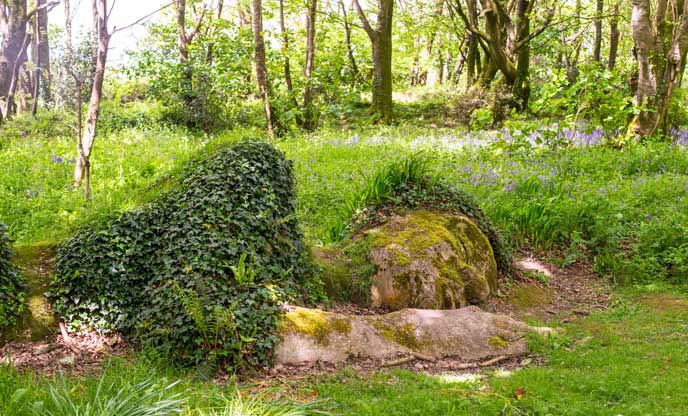 You might know Cornwall for its stunning beaches and coastline - but did you know that it's also home to some of the country's most spectacular gardens? Thanks to the warmth of the Gulf Stream the county is mild all year round, making it the perfect climate for a breath-taking variety of rare and beautiful plants and trees. Some of its species are so exotic, they're not found anywhere else in the UK. We've gathered a collection of our favourite gardens in Cornwall, for an idyllic day out amongst nature.
Best for: A family day out in the rainforest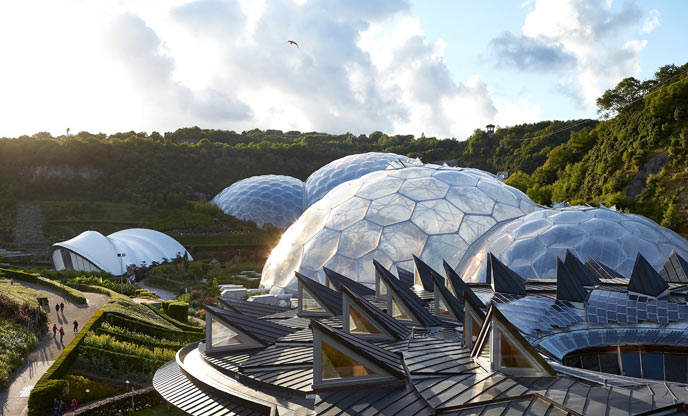 One of Cornwall's most iconic tourist attractions, The Eden Project is famous for its enormous biomes that house tropical plants from all around the globe - and the world's largest indoor rainforest. Inside the humid Rainforest biome, you'll wander through plant life from Southeast Asia, West Africa, South America and more. The accessible canopy walkway provides incredible views amongst the treetops, and younger visitors will love the waterfall and wobbly bridge! In the cooler Mediterranean biome scents of herbs and vines fill the air, transporting you to warmer climates.
There are lots more gardens to explore outside the biomes - and if your legs need a rest, hop on the train that'll take you around the outskirts for stunning views of the whole site. When you're feeling hungry, head to the canteen for a hot meal made with seasonal, locally-sourced ingredients, or enjoy a pizza and a glass of wine in the fitting setting of the Mediterranean biome.
There's always plenty going on here too. Throughout the year musicians and artists from around the world perform at the Eden Sessions, in the winter there's a big festive ice-rink, and in March don't miss The World Pasty Championships!
The Eden Project is more than just a beautiful attraction and events venue - being an educational charity and social enterprise, around every corner there are signposts and displays that'll give you and your family a wealth of new knowledge about the natural environment. It's the perfect day out.
Take a look at our family glamping hideaways here.
Best for: Discovering magical sculptures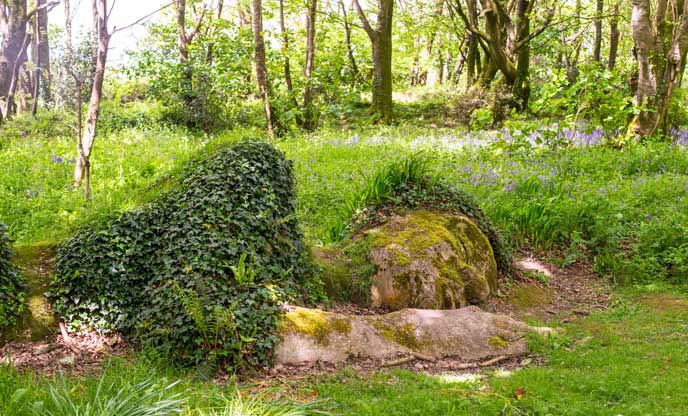 These gardens were, as the name eludes, 'lost' for decades before they were rescued and returned to their former glory by The Eden Project founder Tim Smit after a chance discovery thirty years ago. Just like Eden, it's now one of the most popular attractions in Cornwall and a great day out for the whole family. Within the grounds, you'll find 200 acres of Victorian, Japanese and Italian gardens, sub-tropical valleys and ancient woodland. Look out for the famous mossy Mud Maid and other sculptures as you walk the green pathways - and be sure to visit the farm animals throughout the estate! One of the must-see features is the 100ft Burmese rope bridge in the 'jungle' area, suspended above ancient ferns, palms and banana trees.
Take a break from exploring at the Heligan Kitchen & Bakery, where you'll find hearty home-cooked meals and treats, and fruit and vegetables grown on the grounds.
Throughout the year there are all sorts of events held here too, from The Big Garden Birdwatch to supper evenings to craft fairs. If you're visiting in December, don't miss the Heligan Night Garden where you'll find an enchanting display of lanterns illuminating the flora and pathways.
Whatever your age or interests, The Lost Gardens of Heligan is a place of history, mystery and romance that you'll never forget. It's well worth a visit.
Read more about The Lost Gardens of Heligan here.
Best for: A moment of mindfulness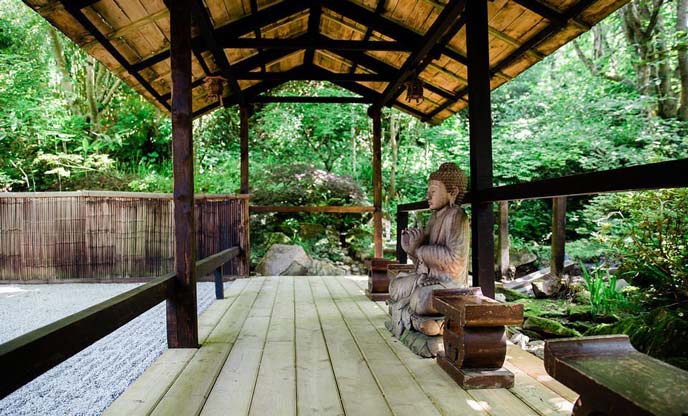 This authentic Japanese Garden in St Mawgan near Newquay was built as a meditative space, so it's the perfect place to enjoy a moment of peace and tranquillity. At just one acre in size, it's a small but serene space. Every tree, plant, rock and ornament has been carefully placed to create a sense of balance and provoke reflection. The paths twist through blossoms, azaleas, exotic trees, ornamental grasses, waterfalls and ponds swimming with Koi Carp.
If you're inspired to start your own Zen Garden space, be sure to visit the gift shop and plant areas where you can choose a succulent, ornament or even a beautiful Bonsai tree to take home.
Best for: Colourful blooms on the coast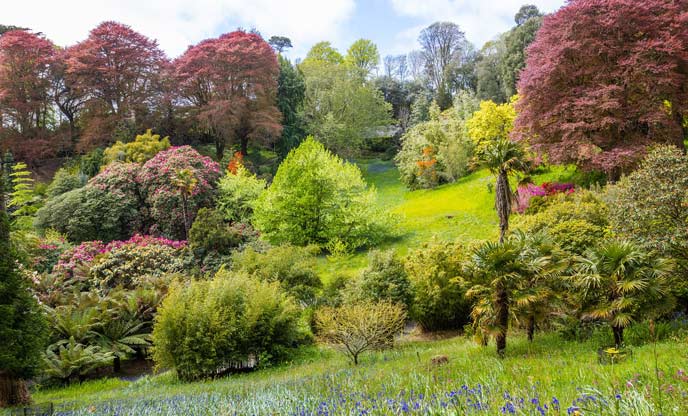 In a beautiful valley on the banks of the Helford River near Falmouth, you'll find the stunning Trebah Garden. This sub-tropical paradise has a coastal backdrop and its own private beach - it's a heavenly place to spend a few hours. Over four miles of footpaths wind through the 26-acre gardens, where you can discover exotic flowers, vibrant tunnels of colour, huge ferns and ancient trees. It's beautiful all year round but in spring Trebah really comes alive, when the 100-year-old rhododendrons, magnolias and camellias burst into bloom. In autumn too, admire the magical Hydrangea Valley of cascading blue and white petals.
Children will be entertained by the bamboo maze and adventure play areas, as well as the beach of course. Take a picnic to enjoy on the shore or treat yourself to lunch at the Mediterranean-style kitchen.
There are often events and performances held at Trebah too, with a diverse range of artists taking to the stage at the amphitheatre.
Whenever you decide to visit, why not make a full day of it and afterwards visit Glendurgan next door?
Best for: A beach picnic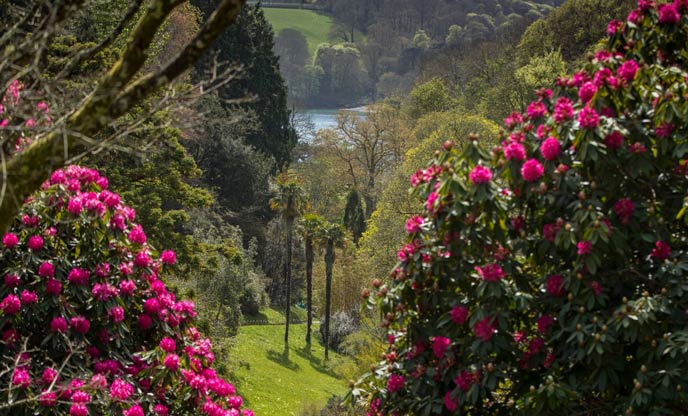 Just next door to Trebah, Glendurgan is another picturesque sub-tropical valley garden that runs down to the ocean and the pretty hamlet of Durgan. This carefully designed National Trust property is home to a wealth of exotic species from far-away countries, such as bamboo, giant ferns and olive trees, beautifully interspersed with native wildflower meadows.
Perhaps the most well-known feature of this garden is the laurel maze, originally planted in 1833, with a Victorian-style summer house at the centre. For a light lunch, tea, coffee or a Cornish ice cream head to Glendurgan Tea House.
There are some stunning walks on this stretch of coast path too - if you fancy a good stomp after your visit head east towards Maenporth and Falmouth, exploring secluded coves and beaches along the way, just perfect for wild swimming.
Best for: Admiring art in the landscape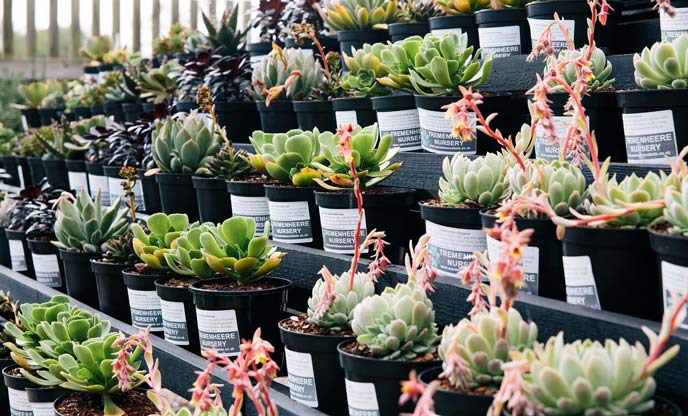 Set in a scenic valley with dramatic views over the sea and St Michael's Mount, this large-scale exotic and sub-tropical garden is interwoven with an evolving programme of contemporary artwork by internationally renowned artists. The sculptures have been created to interact and harmonise with the landscape, amongst woodland, streams, palms, succulents, bamboo and more. The stunning 'skyspace' is an especially striking part of the garden - enter an underground corridor to a calming, white interior space and watch the clouds go by through the aperture in the ceiling.
One of Cornwall's largest purpose-built art galleries is at Tremenheere too, hosting exhibitions from local, national and international artists. And when you've worked up an appetite, visit the Tremenheere Kitchen and enjoy your meal overlooking St Michael's Mount. Before you leave be sure to pop into the nursery to browse the impressive collection of plants - you could even take home a rare succulent as a souvenir.
Best for: A longer walk or cycle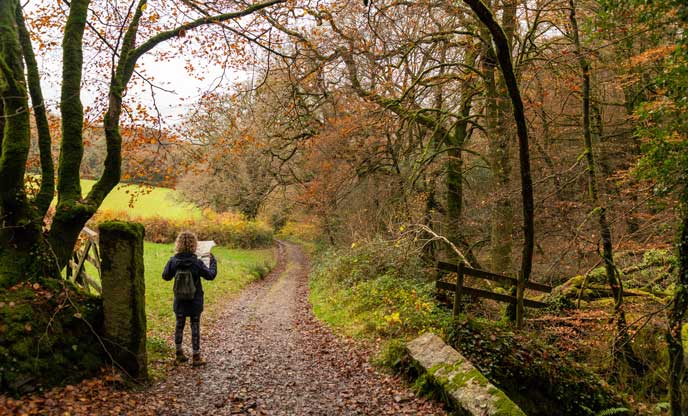 Lanhydrock House and gardens is one of the biggest estates in Cornwall, set in 900 acres of countryside amid the rolling hills of Bodmin. The magnificent late Victorian country house, now a National Trust property, is surrounded by its own formal gardens with herbaceous borders and a stunning array of colourful camellias, magnolias and rhododendrons. In the summer months, it's ablaze with colour.
The pathways continue down the valley through ancient woodlands and rare trees to meet the tranquil riverside - it's perfect for walking, whether you want a casual ramble or an epic trek. Lanhydrock is wonderful to explore by mountain bike too, with cycle trails to suit all experience levels. Bikes are available for hire (check the National Trust website for details).
You can explore inside the historic country house too, and get a glimpse into the life of a wealthy Victorian family home. When you're feeling peckish, the Park Café serves hot and cold food.
Best for: A green city escape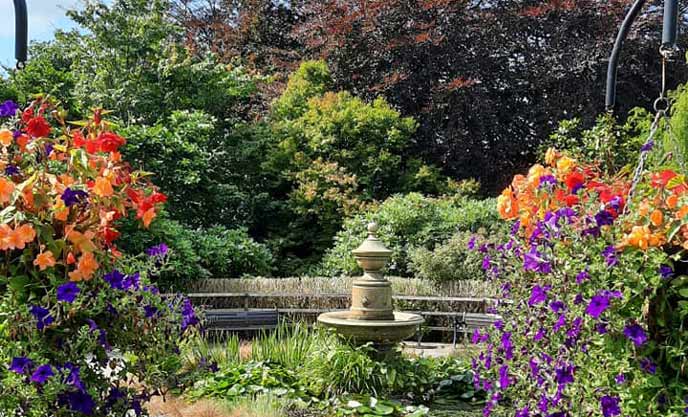 Nestled in the city centre of Truro just across from the Royal Cornwall Museum, this quaint late 19th century garden is a hidden gem. It was originally created to commemorate Queen Victoria's Diamond Jubilee and is filled with exotic trees, shrubs and flowers, laid out on a steep south facing slope. There's a quintessential bandstand in the garden too, where concerts are often held in the summer.
Victoria Gardens is the perfect pitstop from a day shopping and exploring the streets of Cornwall's capital - and aside from the rumble of trains on the nearby viaduct, you wouldn't know you were in the city! On a sunny day, lie back on the lawn and enjoy a few moments of peace amongst nature.
Best for: Seeing bluebells in May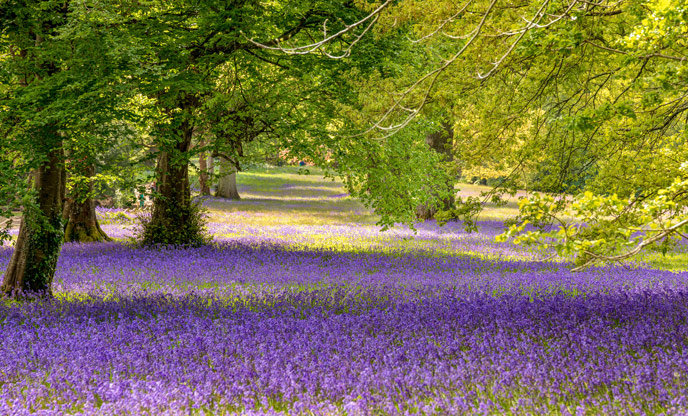 Enys Gardens is set in a small wooded valley between Penryn and Mylor, with a Mansion House and farm courtyard buildings at the centre - and it's believed to be the oldest garden in Cornwall. The historic buildings were largely abandoned until the mid-20th century but the current owners have been restoring them gradually since 2010.
A web of pathways weaves through the tranquil gardens, taking you through a diverse collection of plants and blooms from all over the world, amongst natural woodland. The most magical time to visit though is in early May, when Enys's famous field of English bluebells springs to life in a carpet of breath-taking blue. The event is celebrated with the annual Enys Gardens Bluebell Festival, drawing crowds from near and far to marvel at this natural spectacle.
There's a small cafe on site serving light bites and cream teas, and throughout the year Enys hosts art exhibitions, craft fairs and more - so keep an eye on their events calendar.
Best for: A day trip across the water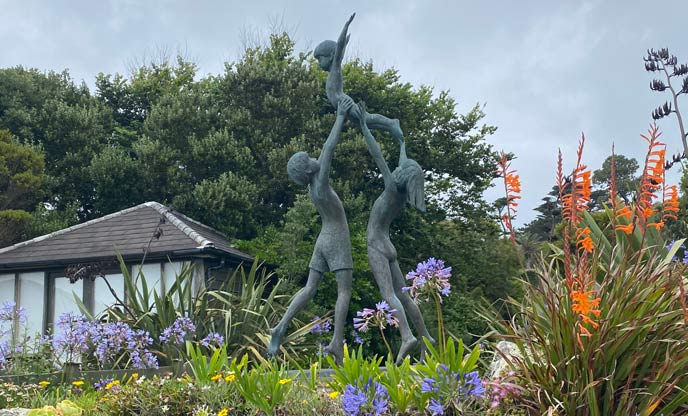 This famous sub-tropical garden on the romantic island of Tresco was established in the 19th century around the ruins of Benedictine Abbey. It's home to 20,000 plants from 80 countries across the world, from towering palms and red flame trees to colourful blooms and luscious succulents. Climbing plants grow beautifully on the old stone ruins of the abbey itself, and viewing points around the gardens offer stunning vistas of the sea. Every season creates a new wash of colour.
Tresco is 30 miles off the Cornish coast - you can take a day trip either via helicopter from Penzance which flies direct, or the Skybus flight and Scillonian Ferry go to the neighbouring island of St Mary's, so when you arrive you'll just need to take a short boat transfer across to Tresco.
There's plenty more to do on the dreamy, car-free island too. After your garden visit, you can spend a few hours strolling on the white sandy beaches, or sharing a seafood platter at The Ruin Beach Café.
Read all about our day trip to the magical island of Tresco here.
Staying in Cornwall
This southwest county has no end of beautiful scenery and wildlife to discover, in and outside of its gardens, so it's well worth booking a short break or even staying for a week to discover all that Cornwall has to offer. From family-friendly safari tents to romantic shepherd's huts with ocean views, we have lots of charming Cornish hideaways to choose from. Take a look at our full collection of Cornwall glamping spots here.