Vegetarian and vegan restaurants and cafés in Cornwall
Penned on the 30th May 2022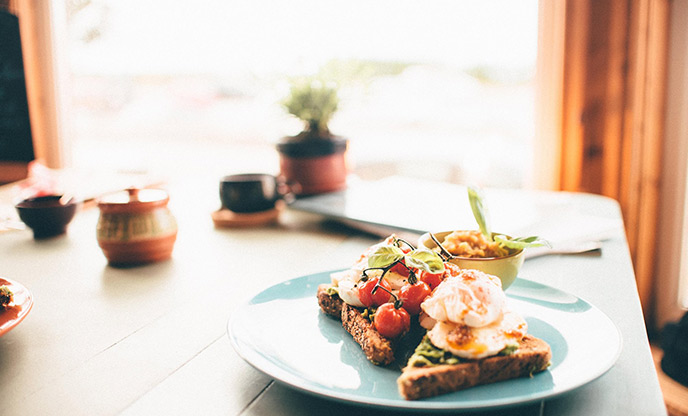 From quick comfort food by the coast to fine dining in the countryside, Cornwall has plenty of choice for plant-based foodies. As the demand for vegan and veggie options grows, forward-thinking cafes and restaurants across this southwest county are offering more and more tasty options on their menus. Here's our pick of the best - and they're so good, we're sure that your meat-eating companions will love them too!
Potager Garden Café, Constantine
Best for: Fresh homegrown produce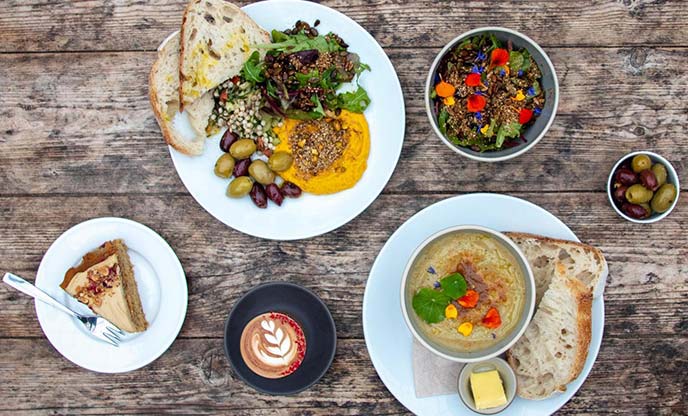 Set in a charming converted greenhouse in the lush countryside, the well-loved Potager Garden Café uses ingredients straight out of their own café garden. Their changing menu features a whole range of tasty, inventive vegetarian and vegan breakfasts and lunches. The choices depend on what's in season at the time, so two visits to the café are never the same - but with the likes of 'Malaysian coconut & lemongrass laksa' and 'Beetroot risotto with pickled beets, toasted hazelnuts and feta' you'll never be disappointed.
After your meal it's worth hanging out for a while in a hammock or wandering the garden grounds to soak up the wholesome, natural atmosphere. They often have a small plant sale area, so you can take a little piece of Potager's magic home.
Potager is a community centre and creative hub too. They often run workshops so if you fancy getting hands-on with crafts during your visit, check out their workshop schedule.
Sunshine Café & Yoga, Penryn
Best for: Yogis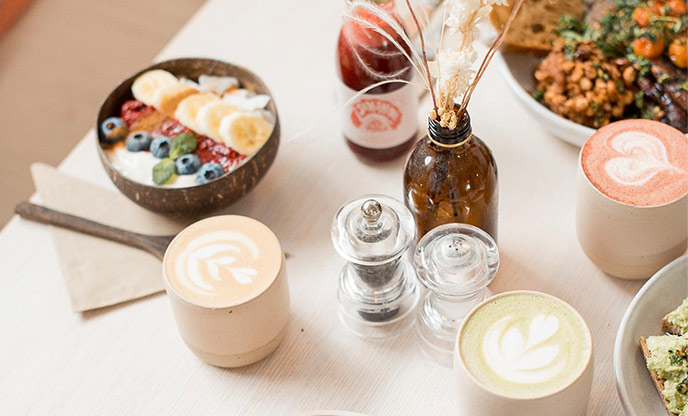 Eateries don't get much more serene than the beautiful Sunshine Café & Yoga studio in Penryn near Falmouth. Their ethos is around 'nourishing your body and mind through a combination of honest food and thoughtful movement' - and their healthy vegan menu, yoga schedule and healing space certainly reflect that. The menu regularly changes but you'll often find delicious deli salads and 'nourish bowls' on offer, as well as a whole selection of vegan cakes, healing lattes and fresh juices.
The light, open space is the perfect place to relax with breakfast, lunch or a drink after a yoga class - of which there are lots of options available every day, whatever your experience level. From gentle Morning Vinyasa to invigorating Awakening Flow, take your pick and enjoy a couple of hours of blissful self-care and connection.
The Cornish Vegan, Truro
Best for: Vegan takes on British classics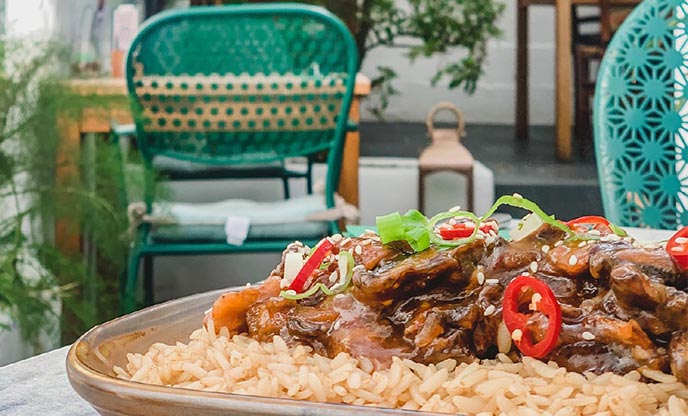 The Cornish Vegan is a café and restaurant in the heart of Cornwall's only city, Truro. After a morning or afternoon wandering the cobbled streets doing a spot of shopping, it's the perfect pit-stop to refuel with some hearty food. The menu has been designed to entice both vegans and non-vegans alike, with lots of meat-free alternatives to classic British favourites such as burgers, f'sh & chips, lasagne, curries and mac & 'sheese'. They also serve a delicious vegan cream tea with scones, jam and coconut cream (jam still goes on first, of course!).
Once you've had your fill, just around the corner you'll find the Royal Cornwall Museum, which is well worth a visit, as well as Truro Arts Company, the largest independent arts supplies shop in the southwest and a treasure trove for creative crafters of all ages.
Sloth & Sparrow, Falmouth
Best for: Planet-friendly street food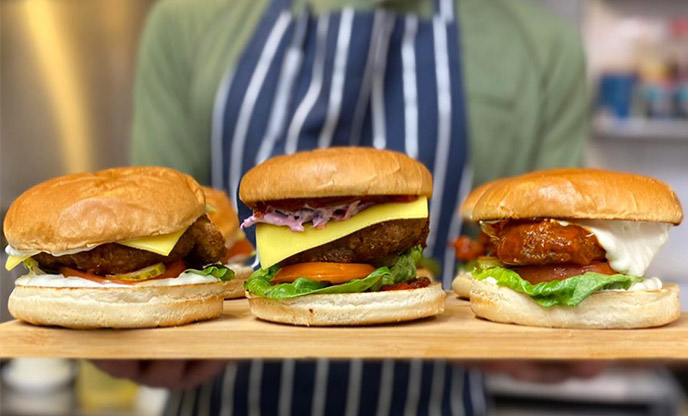 Tucked away in a picturesque alley in the bustling maritime town of Falmouth, the popular Sloth & Sparrow is perfect if you're craving an indulgent fast food treat but want to keep it vegan. Their mouthwatering burgers, loaded fries, hot dogs, 'nuggzz & wingzz' and tempting Sunday brunches are all hearty portions made with plant-based ingredients. The gooey chocolate brownie is a popular choice too! We recommend taking away and eating on the harbourfront in front of the bobbing sailing boats - just watch out for the pesky seagulls.
There's plenty to do in the evening in Falmouth, so after your feed why not wander along to the Cornish Bank to enjoy some live music, or to Small Ships for an espresso martini.
The Bean Inn, Carbis Bay
Best for: Hearty meals near the ocean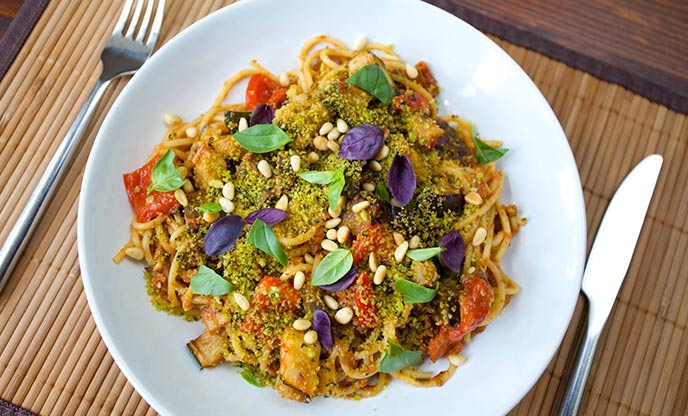 A short walk away from the stunning turquoise waters and golden sands of Carbis Bay, this vegetarian and vegan restaurant is a real gem for plant-based eaters. Eat in the relaxed candlelit restaurant or al fresco on the terrace, or take away (in sustainable plant-based packaging) and enjoy your meal overlooking the bay. There's something for all appetites, from hearty casseroles and satisfying buddha bowls to smaller dishes like salads and paté. They've got a great dessert menu too, including a delectable Chocolate & Orange Mud Pie. All the veggie dishes can be adapted to be vegan so no-one misses out at The Bean Inn. Everything's globally-inspired, colourful and beautifully presented, so you won't be able to resist a snap for your Instagram.
Carbis Bay is nestled between two great surfing areas, St Ives and the sweeping beaches of Hayle, Gwithian and Godrevy. If you fancy giving it a go before your meal, take a look at our 'Best places to learn to surf' blog post.
Archie Browns, Truro & Penzance
Best for: Shopping for vegan goodies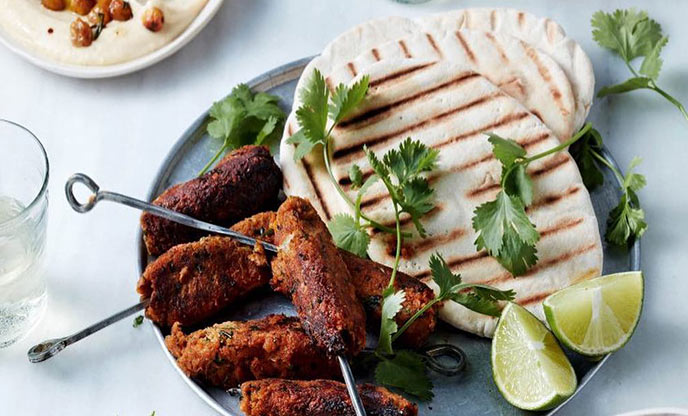 Archie Browns is a thriving health food shop and vegetarian café, with branches in both Truro and Penzance. Both are a haven for those looking to live a more sustainable lifestyle, with everything from chocolate to perfume for sale in their shops. The café (which is takeaway only and only in Penzance at the time of writing this) serves quiches, pies, salads and soups. And the shops sell everything from fresh fruit and veg, to aromatherapy to household goods - so make sure you take your reusable shopping bags with you!
Roots Lounge, Looe
Best for: Sweet treats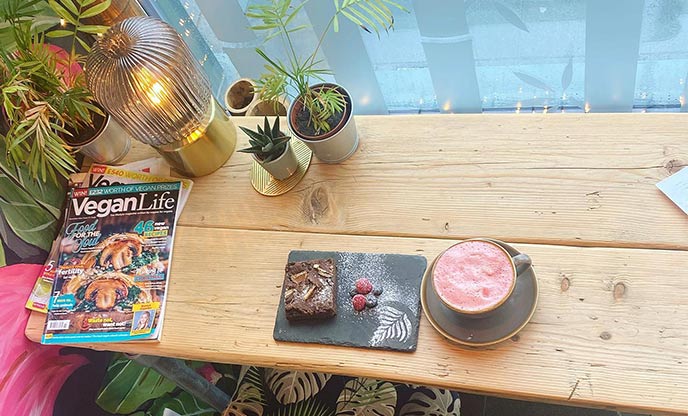 Sitting at the top of the high street in Bude, not too far from Summerleaze Beach, Roots Lounge is the town's first exclusively vegan eatery. The cosy café has a friendly, relaxed vibe and serves light lunches of tasty toasties, salads and more, as well as a selection of delicious cakes, waffles and other sweet treats. They're so indulgent you wouldn't know they're vegan!
There's a stunning part-natural, part-man made sea pool under the cliffs of Summerleaze, so make sure you pack your swimming costumes and towels for a refreshing saltwater swim during your visit. Or if a cold water dip isn't for you, there are plenty of rockpools and coves to comb and look for wildlife, shells, driftwood and seaglass.
Wilder Allotment Kitchen, Mount Pleasant Eco Park (Porthtowan)
Best for: A creative vibe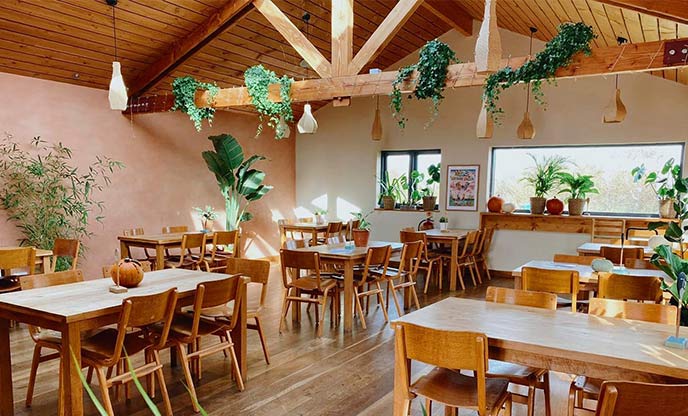 Wilder Allotment Kitchen is based in the sustainable community space, Mount Pleasant Eco Park, where there's often a variety of exciting creative events, live music and workshops happening. There's a lovely free-spirited feel that fits well with the food on offer from the eatery. Everything is vegan and internationally inspired, and wherever possible the ingredients are sourced directly from the organic allotments at the Eco Park. From flavourful thalis to warming laksa, there's a different dish and theme each night, sometimes accompanied by live music. Check out their website or social media to see what's on.
Make sure you allow time to wander the Eco Park afterwards, with its stunning natural surroundings and sea views to Porthtowan beach. You'll leave with your belly full and your soul restored!
Vega, Tintagel
Best for: Tapas style dishes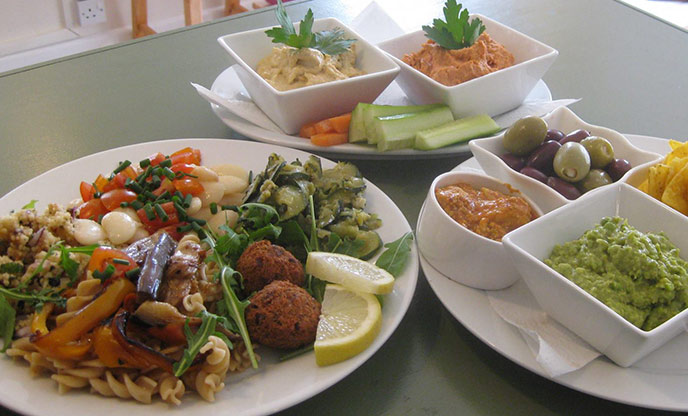 This cafe on Tintagel high street aims to 'explode the myth that vegan food is bland and boring!' and their ever-changing 100% vegan menu certainly does just that. Vega's tapas style dishes allow you to share and sample lots of their food, all of which are made with organic fair-trade ingredients where possible. Expect the likes of Spanish 'meatballs' (made from seitan and chickpeas), quesadillas, Mexican bowls and green lentil pasta bolognese. Finish it all off with a delicious dessert for satisfaction guaranteed!
Tintagel is famous for its legendary connection with King Arthur and historic Tintagel Castle is a must-visit while you're in the area. Cross the iconic footbridge over the rugged cliffs, see the striking bronze King Arthur statue, discover Merlin's Cave and wander the enchanting clifftop ruins. It's all magical and sure to capture the imagination of guests of all ages.
Take a look at more magical places to visit in Cornwall and really fill out your wanderlist.
Featuring vegetarian and vegan options
If you don't mind meat and fish being served where you're eating, there are plenty of amazing eateries in Cornwall that aren't strictly plant-based but have a great range of vegetarian and vegan options. Here are a few of our favourites...
The Cornish Pizza Company, St Agnes
Best for: Takeaway pizza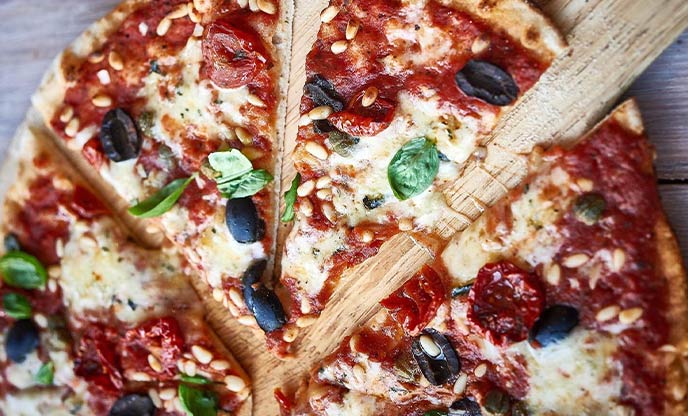 Located in the beautiful village of St. Agnes, The Cornish Pizza Company is popular with locals and holidaymakers alike for its award-winning pizzas. They handcraft and long-prove their dough before topping it with fresh, local ingredients and cooking it in a stone floored Italian Oven… so as you can imagine, the result is authentic and delicious. Each pizza is named after a local mine to reflect the area's rich history - and there are always lots of vegan and veggie options, like the 'Wheal Alfred' with crumbled goat's cheese, semi-dried cherry tomatoes, black olives, onion marmalade, tomato sauce and fresh rocket. All the pizzas are freshly made to order and it can get very busy, so ordering online in advance is recommended!
For dinner with an idyllic view of the ocean and coastline, grab your pizza box and head to St Agnes Head in time for sunset.
New Yard Restaurant, Trelowarren (Helston)
Best for: Relaxed fine dining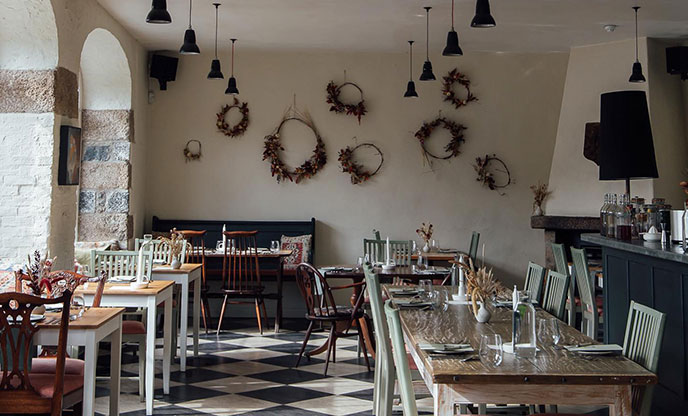 Set in the historic and breathtaking estate of Trelowarren amongst acres of magical woodland and pastures, you'll find the beautiful New Yard Restaurant and Pantry. Their incredible tasting menu changes each night - and every course is entirely composed of produce foraged from the estate, grown in the walled garden or ethically sourced from the local area. In 2021 they were awarded a Green Michelin Star, 'an award that recognises gastronomy as well as sustainable practices at the forefront of the industry'. Vegetarian and vegan options are available for the evening tasting menu, and could include the likes of 'Jerusalem artichoke veloute', 'radishes with wild garlic ricotta' and 'torched marshmallow sorbet'.
The picturesque Walled Garden is open for the public to peruse, so before your meal why not pop in to take a look at no-dig beds and potted plants, where your food for the evening is most likely to have grown.
Cornwall has lots more beautiful gardens to visit if you enjoy a botanical day out.
Caffe Rojano, Padstow
Best for: Mediterranean dishes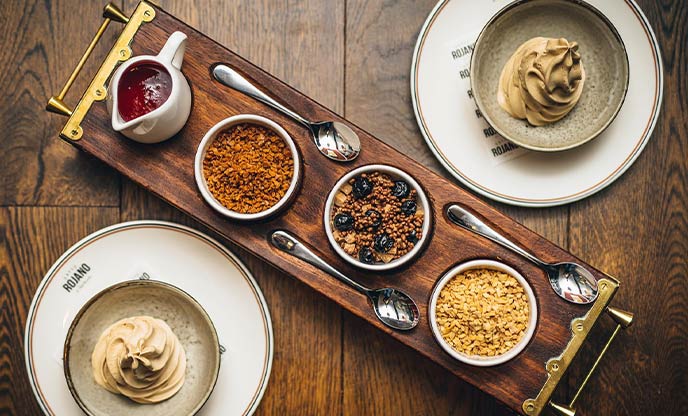 Whilst the foodie town of Padstow is famous for its fish and seafood, Caffe Rojano has a wonderful vegetarian menu, with many of the dishes able to be made vegan too. One of chef Paul Ainsworth's eateries, this relaxed brasserie serves seasonal small plates, Napoletana-style pizzas and fresh pasta dishes. Everything's made with Cornish produce where possible, and cooked with Mediterranean techniques for an authentic flavour and experience. The wine list is extensive, so make sure you've booked a taxi and settle in for a long evening of delicious, quality food and drink by the coast.
If you can, arrive in Padstow an hour or two before your meal to allow some time to explore this picture-postcard port town. Marvel at the colourful fishing boats in the harbour, meander the cobbled streets and browse the characterful independent shops.
Staying in Cornwall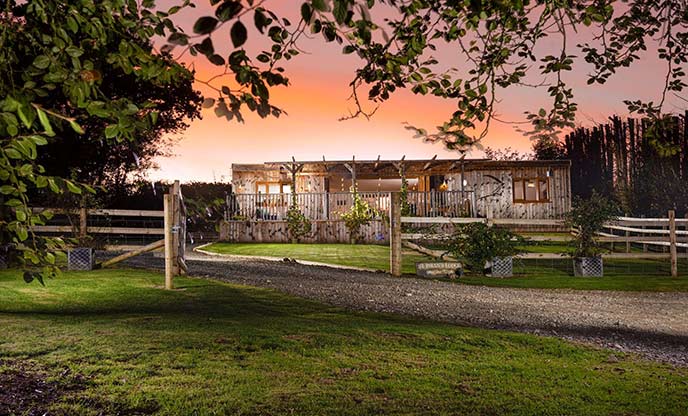 With so much to see and do, miles of stunning coastline to explore and so many eateries to sample, it's well worth staying in Cornwall for a while. We have a whole collection of heavenly hideaways to choose from in this southwest county, including romantic shepherds huts with sea views, rustic countryside cabins and family-friendly safari tents with hot tubs.