A day trip to Tresco Island
Penned on the 5th August 2021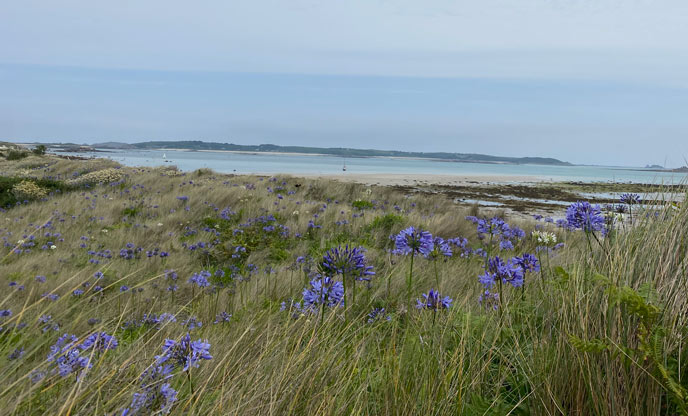 The Isles of Scilly can only be described as a dream. When arriving at these crystal-clear waters and white sandy beaches, you almost feel as if you are hopping onto the soft sandy shores of a deserted Fijian island. You can't quite believe you have discovered this secluded, faraway land just off the coast of Cornwall. Cornwall is of course, one of our favourite places to explore and it has to be one of the most beautiful places to visit in the UK, well in fact the world, but there's something about the Isles of Scilly which is just otherworldly.
We kindly received two day tickets from Isles of Scilly Travel, where we hopped aboard the Scillonian III on misty Monday morning and set sail at 9.15am to St Mary's island. We then travelled across the waters to the private island of Tresco and spent the day exploring this mystical land.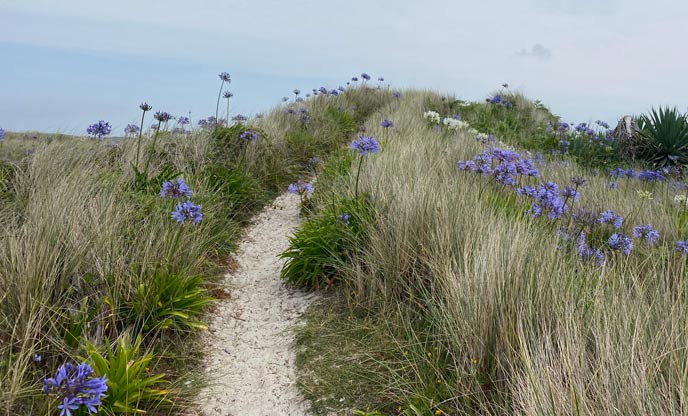 What we packed for our day trip to the Isles of Scilly
Firstly a good backpack is essential for a long day trip. Our favourite day bag has to be The Smith The Roll Pack 25L by Millican. Here's what we packed for our day of exploring the magical island of Tresco.
• Camera- to capture all those picture-perfect moments
• Picnic- you can purchase food on the island or even stop for lunch at The Ruin, The New Inn or The Flying Boat Deli & Café, but we decided to pack some tasty treats and enjoy lunch sat with the sand between our toes.
• Water and other refreshments
• Cash- If you choose to hop aboard another boat to head to a different island for the day, you will need cash to buy your ticket on board. There is a ticket office on St Mary's which accepts cards, but this isn't always open, so it's best to come prepared.
• Beach towel/ small blanket
• Swimming costume- A summer essential. When the sun is shining you won't be able to resist these tropical-looking waters.
• Sun cream
• Jumper
• Raincoat
• Ginger biscuits- for those who may struggle with a little seasickness, ginger biscuits are rumoured to help!
Our day from start to finish
We arrived at Penzance Harbour at 8.15 am to board the Scillonian III. We chose to sit outside so we could spend the journey dolphin spotting. We were lucky enough to see several pods of these truly magical creatures on our voyage to the islands and again on our return. The day we chose to travel was slightly overcast, which made our arrival to this mystical land even more captivating. We set sail at 9.15 am and enjoyed views of Cornwall's majestic coastline. Travelling past Mousehole, Lamorna Cove and Porthcurno before we left the land behind and awaited our arrival at St Mary's around midday. It's popular with day-trippers to stay put on gorgeous St Mary's which is the main island amongst this cluster of heavenly landscapes. However, here at Unique hideaways, we do like to live life a little more off-the-well-worn path, so we made the decision to hop aboard the Seahorse Scilly and head to Tresco. We only shared this journey with two other passengers, which made it feel like our own private voyage to a secret island.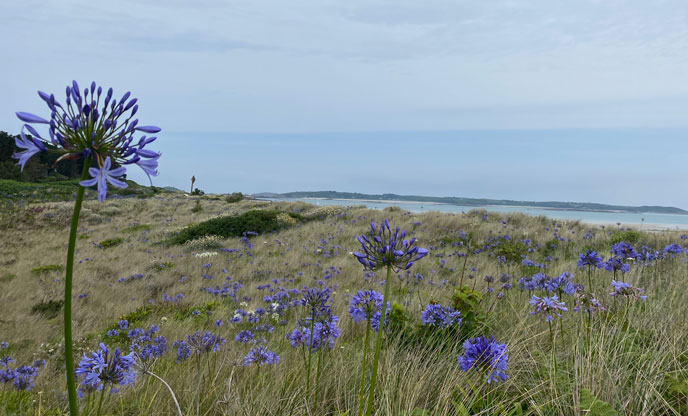 Arriving to Carn Near Quay and onto the white sandy shores of Tresco was a dream. It felt as if we had the whole island to ourselves. There are no cars on Tresco, which makes it even more peaceful, a world away from everyday realities. We walked along the dusty roads which were lined by the iconic Tresco agapanthus. Off the path and onto the softest, glittery sand of Pentle Bay. A long-secluded stretch of aqua waters perfect for those who love a lazy day, reading their book on the beach. As we were only here for a day trip, we wanted to make sure we covered as much of the island as possible, so we continued our adventure by foot, onto The Old Blockhouse. This historical structure was created as part of a collection of forts built around the Isles of Scilly during the reigns of Edward VI and Mary I. This blockhouse saw action during the English Civil War in the 17th century. It was used to protect the island against an attack by a Parliamentarian fleet commanded by the famous Admiral Blake. As well as its unique history, the views from the fascinating landmark are truly mesmerising. You look right out to St Martin's Island and down to Old Grimsby, the hub of Tresco.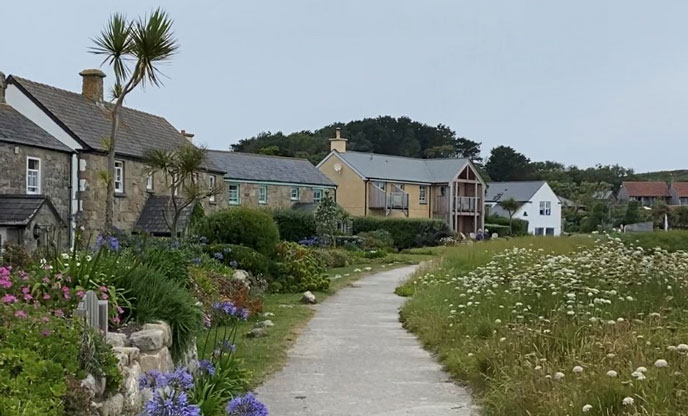 We wandered down the hill and into the heart of the island. Postcard pretty cottages line the sandy roads which sit footsteps away from the beach. Every direction you look you want to stop and take a picture; it really is just so beautiful. Onto Ruin Beach which is where we stopped to have our picnic. We purchased hot coffees from The Ruin takeaway, The Beach Hut, as well as some delicious homemade cakes. The Ruin serves fresh tasty meals and has a wonderful outside seating area overlooking the beach. A perfect spot for lunch if a picnic isn't really your thing.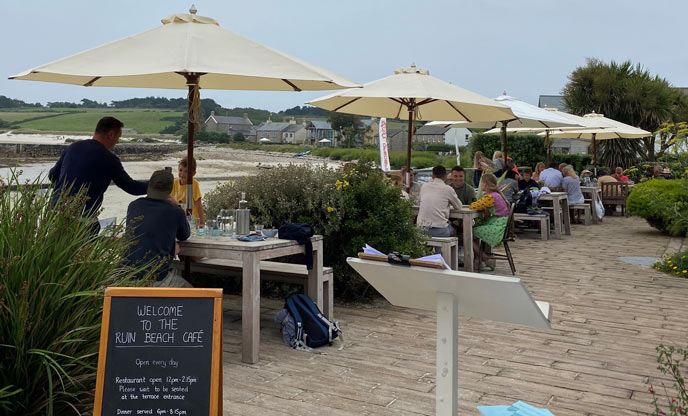 From here we headed across the island past St Nicolas Church and onto Tresco Post Office. A well-stocked shop, full of island goodies, such as Tresco Abbey Garden Gin & Scilly Honey Spiced rum, a perfect tipple over ice and a little lime. Onwards to The New Inn, a lovely pub full of unique charm and an abundance of character. Serving scrumptious, quality, hearty pub grub and lots of fresh local fish. This is a great place to stop and soak up the tranquil ambience of island life.
We then cut along Abbey Road (I love that these beaten tracks are called roads, despite no motor vehicles being used on the island) and had a quick look at Tresco Abbey Garden. When we next return to the Isles of Scilly we will make sure we have enough time to explore these tropical gardens of botanical goodness. Past the mosaic of floral displays and interesting sculptures and onwards to Apple Tree Bay, another idyllic beach around the island to sit and watch the world go by.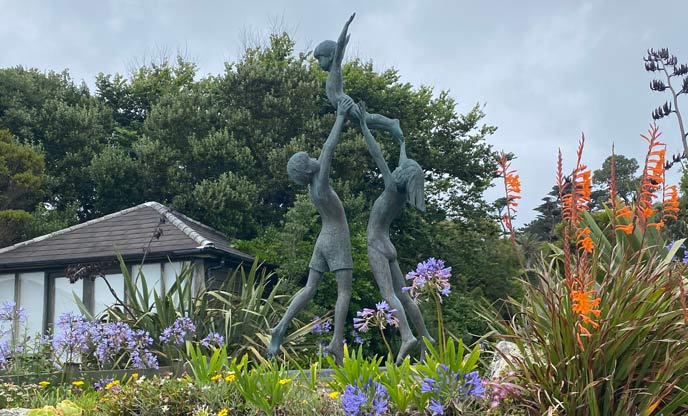 We took our time as we slowly strolled back to Carn Near Quay, wishing we could just pause the clock and stay on this fairy tale island for a little while longer. The Seahorse Scilly arrived at 3.45 pm and dropped us safely back to St Mary's where we stepped straight aboard the Scillonian III in time to set sail back to Cornwall at 4.30 pm. The journey back was spent searching the shores for more dolphins which we were lucky enough to see. The perfect end to a dream day of exploring this truly idyllic, special and unspoilt corner of our planet.
Isles of Scilly Travel
To find out more information about booking a day trip to the Isles of Scilly please click here.
More landmarks to visit on Tresco
Hideaways close to Penzance Harbour
The Hideaway | Marazion | Sleeps 4
Coastal Gaze, Scenic Bay or Mount Lookout | Ludgvan | Sleep 4 | Dog friendly
Mount View Sunrise Safari Tent, Mount View Horizon Safari Tent or Mount View Retreat | Ludgvan | Sleep up to 6 | Safari tents dog friendly | Hot Tubs
Foxglove, Buttercup or Bluebell | Lamorna | Sleep 6 | Dog Friendly | Hot Tubs
The Shepherd's Hut at Georgia Bridge | Nancledra | Sleeps 2