An autumnal weekend getaway at Room With a View
Penned on the 14th October 2022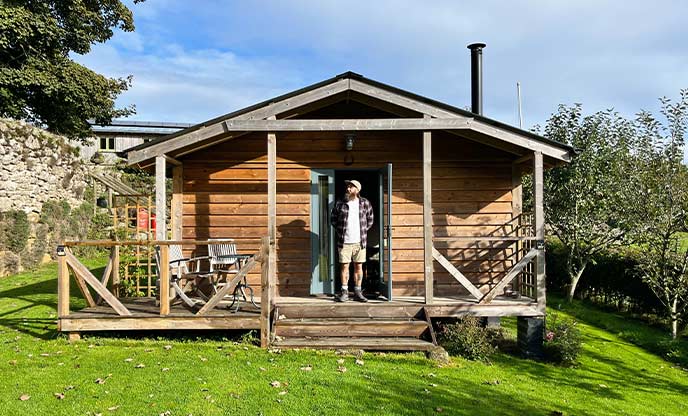 Room With A View is a beautiful wooden cabin in the heart of Dartmoor in Devon. And with a panoramic view across dramatic rocky tors and rolling green farmland, it certainly lives up to its name.
Heavy rain was lashing down and the landscape was falling into darkness as we approached Dartmoor. We followed the route down increasingly narrow winding lanes towards our remote destination, steep hedges and old stone walls illuminated in our headlights, getting further and further into the heart of the moor. We were well and truly off-the-beaten track and it already felt like a wild autumnal adventure. We buzzed with excitement about the weekend ahead of us.
The sat nav took us right to the gated entrance of Room With A View, along a bumpy track and through the owners' working farm. The cabin is set in its own private walled garden with a gate to keep out the neighbouring sheep, and even in the rain and darkness we could see that it was beautiful. The key was left in the door so we were able to arrive and let ourselves in (which is always convenient after work on a Friday!) and from the moment that we stepped inside and hung up our soggy coats, we immediately felt relaxed.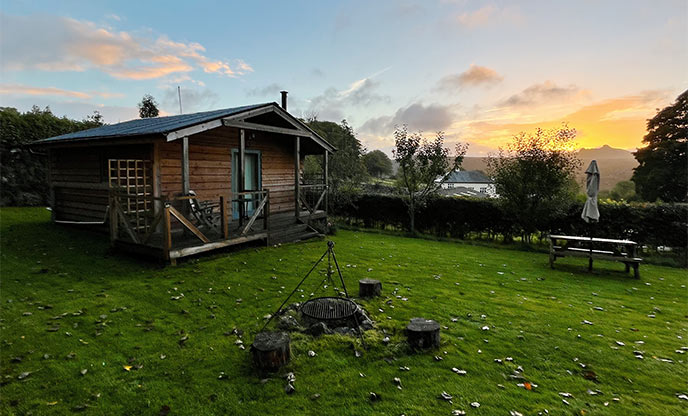 The wooden cabin is beautifully crafted, with a spacious open plan design featuring a sofa, bean bags, coffee table, kitchen, hanging rail, shelving, double bed and en suite bathroom. Everything feels rustic and fitting for the rural setting, from the sheepskin blanket and gingham curtains to the farm animal mugs and placemats.
After admiring our temporary new home, we each freshened up with a heavenly hot shower before getting straight on to lighting the wood-burner (using the logs that were provided). What better way to welcome autumn than snuggling up in comfy pjs with a glass of red wine in front of the fire, on a wet and wild evening? That's exactly what we did, with a delicious cheese board too. It was ultra cosy to hear the rain and wind battering Dartmoor just outside, whilst we sheltered from the elements in our warm, wooden haven.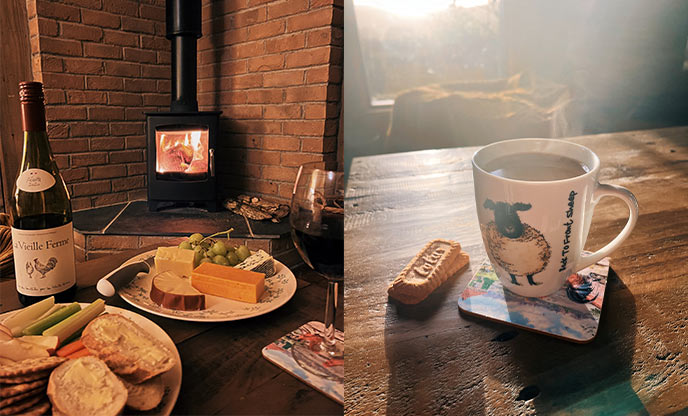 We didn't cook much during our stay but should we have wanted to, there's everything you could need to prepare a meal including a full size gas cooker with four hobs, a fridge, an ice-box sized freezer, and cutlery, crockery, pots, pans, and a corkscrew, thankfully, because we forgot to pack ours! There's a kitchen sink and taps with hot and cold water, but it's not suitable for drinking so the owners provide plenty of bottled water.
There are lots of other little luxuries and thoughtful touches in Room With A View too, like the local Luscombe fruit juices and packet of biscoff biscuits left for our arrival, plus books, jigsaws, spare towels and dog towels on the shelves. There's a digital radio, which meant we could enjoy a background hum of 6 music whilst we relaxed and chatted. And there's wifi, should you wish to connect to the outside world.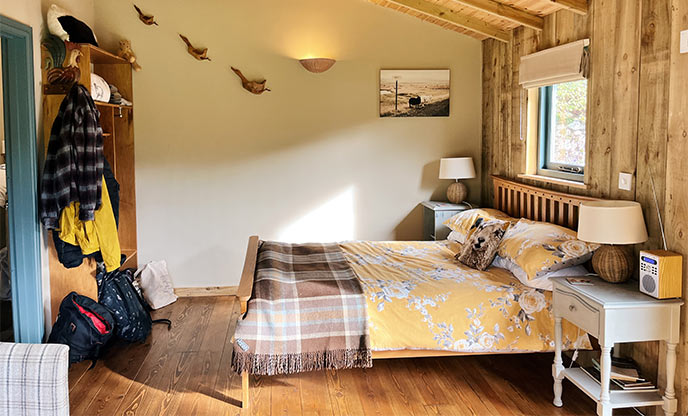 It wasn't long before we felt tired on our first evening so we settled into the comfy bed and drifted off to a peaceful sleep, cocooned under the wooden rafters.
As invigorating as the stormy weather was the night before, I was glad to wake early to stillness and quiet. The gentle birdsong outside our window was the only sound. Glowy beams peaked through the blinds promising a glorious sunrise, so within minutes I was outside, eager to see our surroundings in the light of day! And gosh, I wasn't disappointed. Room With A View is at the foot of the iconic Haytor, with its rocky peaks dominating the horizon to the left. Saddle Tor was visible too. Both were silhouetted against the pinky orange sky as the sun came up and it was breathtakingly beautiful. I could also see the cabin's lovely garden in clear view now, with its bouncy manicured lawn, lines of apple trees, picnic bench and firepit enclosed by the characterful stone wall. It's certainly a lovely spot for dogs, with plenty of room for them to run around without disturbing the farm animals. Beyond the wall I could see the owners' field of sheep and a chicken pen, too. It was all bathed in golden light and a wonderfully wholesome start to the day.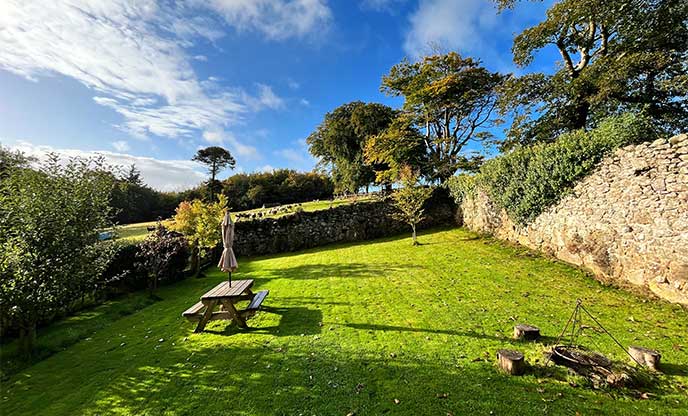 My boyfriend slowly rose from his slumber and I made us a pot of coffee to savour whilst we flicked through the guestbook and the helpful welcome folder, to decide which walks we wanted to do over the weekend. He rustled us up some bacon and egg sandwiches before we set off to explore - and the following morning was spent in very much the same way!
Dartmoor National Park is a paradise for adventure and nature-lovers like us. Its vast open moorland, deep valleys, dense woodland and rocky tors make for a unique and dramatic landscape. In fact there are over 450 miles worth of paths to walk, cycle, run or ride, with endless stunning views and plenty of historic archaeological sites to discover.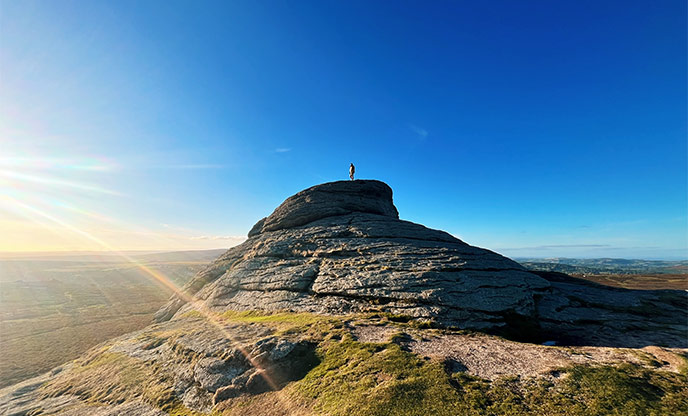 Seeing as we only had a short trip and fancied taking things slow, we decided to stay fairly close by, with walks around Haytor, Saddle Tor, Bonehill Rocks and Hound Tor over the course of our stay. Each of Dartmoor's 160 tors are made up of distinct formations of granite stacks, usually standing up on top of a hill. And the ones we visited were no exception! We were lucky enough to have amazing visibility too, with sweeping views across the moorland and out to sea on the South Devon coast. You'll definitely want to take your camera.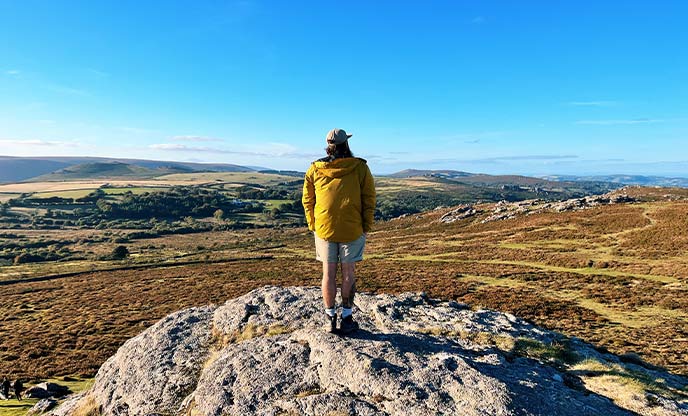 Hound Tor is one of the most popular attractions on Dartmoor, famed for its ghost and witch stories and thought to be the inspiration behind Hound of the Baskervilles. There's also a deserted medieval village here, which we were excited to explore. It was an eerie but magical site and as we walked around the remains of these 13th century stone longhouses, we found ourselves conjuring images of the people and animals that would have lived here all those years ago.
Over 90% of the national park is used for farming, so I'm sure it'll come as no surprise to hear that there are sheep and cows everywhere you go - they're often on the roads too (sometimes even lying down and sleeping!) so you have to drive extra carefully. We also saw lots of Dartmoor's famous resident ponies, hanging out in herds and grazing on the moorland.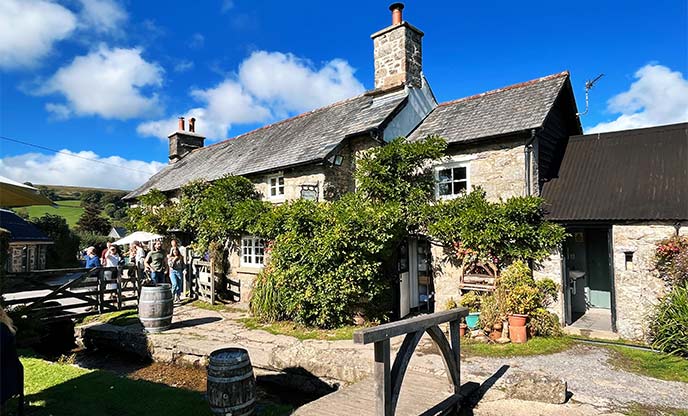 On Sunday we went for lunch at The Rugglestone Inn, a picturesque grade II inn in the nearby village of Widecombe-in-the-Moor. The sun was shining and it was reasonably warm, so it was bustling with people sat outside in the large beer garden. We had a cosy spot inside though, and enjoyed a couple of delicious pies - beef & ale for me, steak & stilton for my boyfriend. The food was great and the staff were welcoming and upbeat, despite how busy they were, so we'd definitely recommend it. For more cosy pub goodness, take a look at our guide to the best pubs in Devon. After lunch we strolled around the village, along a beautiful stream and nostalgically gathered shiny conkers from under a huge horse chestnut tree.
Early on Monday morning when we left the cabin, even before the birds and sheep had stirred, there was a clear sky of glistening stars and the grass was soaked with dew. I took a deep breath of fresh, crisp air and felt full of gratitude as we bundled in the car to go home. We both agreed that all in all our visit to Dartmoor and Room With A View was just what we needed - a peaceful escape to nature in each other's company, with hearty food and a few glasses of wine thrown in for good measure.
If you fancy booking a retreat to one of our heavenly hideaways in Devon, take a look at our full collection across the county.