Best beaches in Somerset
Penned on the 3rd May 2022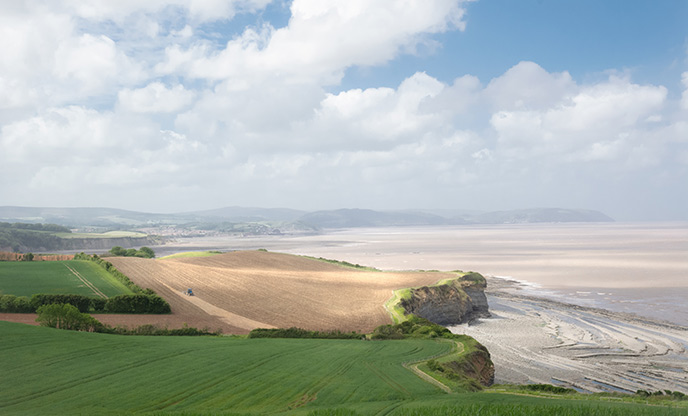 Spanning most of the length of the Bristol Channel, Somerset's coastline is embellished with a tempting selection of beaches, including everything from golden sands for family days out to secluded coves to escape the crowds. With a diverse geography, expect long bays, soaring cliffs and tranquil wetlands, all within close proximity to the county's assortment of characterful coastal towns.
Predominantly a rural and agricultural county, Somerset's beaches are backed by vast expanses of greenery with plentiful space to immerse yourself in the Great Outdoors. As you make your way along the coast, treat yourself to clifftop views over the ocean, and towards some of the county's famous landmarks including Glastonbury Tor. For those wishing to make the most of spending time in nature, tie a trip to the beach in with one of Somerset's excellent walking circuits or coastal paths. There are lots of other things to do in Somerset too, including tasting the local cider, family days out and creative pursuits such as painting and writing. After a day full of adventures, head for some delicious food at one of these lovely eateries.
In this blog, we outline the best beaches in Somerset. Many are secret or lesser-known locations, so that you can enjoy the best that this incredible county has to offer and make the most of immersing yourself within its beautiful landscape.
Porlock Weir Beach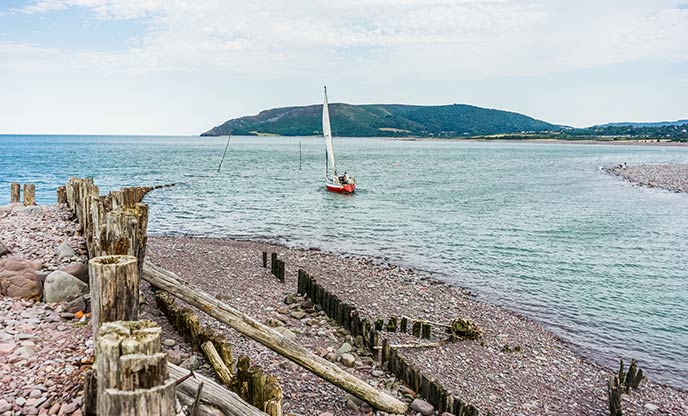 A long, pebbled and rock beach which is popular for both sunbathing and walking, Porlock Weir is backed by marshland containing an abundance of wildlife. The beach is known as a site for fishing and in the winter months it also receives surf. Views across the Bristol Channel to the Welsh coast provide a beautiful backdrop for relaxation and contemplation, and the area has long been a site of literary inspiration, including for R D Blackmoore's Lorna Doone. Just one mile away, Porlock village is amongst the prettiest in Somerset. Thatched cottages and gardens smattered with colourful flora create a welcome setting and there are a wide range of quaint cafés, restaurants and shops to explore.
Parking is available at Porlock Weir with direct access to the beach and toilets in the car park. The beach isn't lifeguarded, but it is dog friendly all year round.
Bossington Beach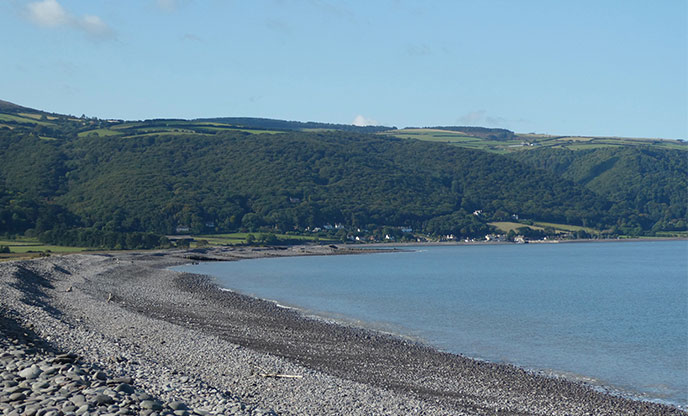 Nestled within the National Trust owned Holnicote Estate, Bossington Beach encapsulates the idyll of the Somerset coast. Its peaceful, pebbled shores are backed by farmland and flanked by the hills of Exmoor to create a sublime area to dip your toes in the ocean. Strong currents and a lack of lifeguards mean it's best to avoid swimming far unless you're particularly capable. However, behind the beach sits a unique marshland, which is an interesting place to discover rare varieties of insects and birds.
A National Trust pay and display car park is in the village around half a mile away, where you can also find traditional tearooms and cafés. From here, cross a small footbridge over a stream and along the coastal path towards the eastern edge of the beach, which is dog-friendly all year round.
Blue Anchor Bay
An expansive sand and shingle beach, popular with summer sun-seekers due to the south facing seats built into the sea wall, Blue Anchor Bay is a quiet alternative to the nearby bustling Minehead beach. The alabaster rock shoreline uncovers a treasure trove of fossils upon closer inspection, as well as pretty pink quartz which glistens in the sun. The coastal path behind the beach is perfect for coastal running and dog walking, making it a great option for those who prefer to keep busy whilst at the seaside. At low tide there is a large width of sand, but be aware of strong currents.
A generous number of parking spaces can be found on the road which sits behind Blue Anchor Bay. There is a café and two pubs – the Blue Anchor Hotel and The Smugglers Inn – nearby. Dogs are welcome all year round and there are no lifeguards. Access is easiest via a cobbled slipway at the eastern end of the beach.
St Audries Bay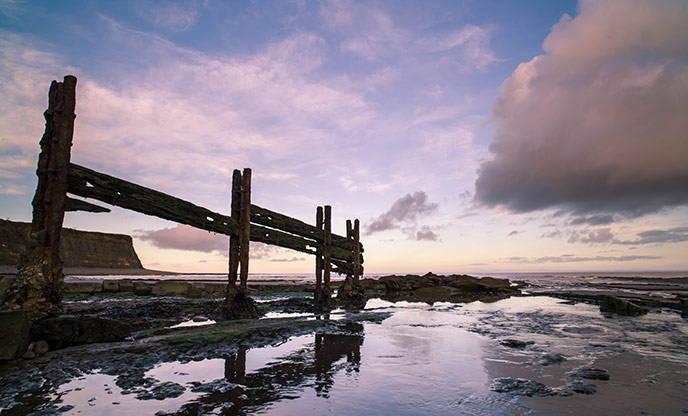 Nothing short of magical, St Audries Bay is a pebble and sand beach backed by two waterfalls which cascade down the face of the red sandstone cliffs. Set at the foot of the Quantock Hills Area of Outstanding Natural Beauty, and lesser known than many of Somerset's other beaches, it is an idyllic spot for a relaxing day out with the family. Swimming across the bay at high tide is wonderful for both ocean dippers and open water swimmers, because of the views and the sense of peacefulness it provides.
St Audries Bay is dog friendly all year round and there's no lifeguard service. It sits at the bottom of a small holiday park, where you can leave your car and pick up snacks from a small shop. Access isn't the easiest here, as the path down has several steps. However, if you're able to make it down it's well worth the trip.
Where to stay: Coombe Lodge | A Scandinavian-style lodge in the breathtaking Quantock Hills Area of Outstanding Natural Beauty.
East Quantoxhead Beach (Kilve)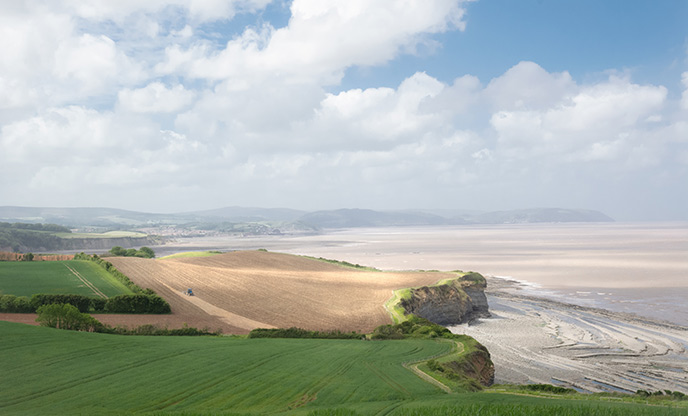 Kilve Bay's rocky shoreline is a Site of Special Scientific Interest due to its abundance of fossils, which can be uncovered amongst the shale. Removing fossils is prohibited here, but it shouldn't stop you from looking at fascinating species of ammonites and sometimes even larger life forms, which have been preserved within the rock for millennia. At low tide, a patchwork pattern of rockpools can provide hours of fun for children or fans of marine ecosystems. Backed by limestone cliffs and a smooth lawn area, Kilve is also a pleasant spot for a picnic with stunning ocean views.
Dog friendly all year round, Kilve has parking spaces just 200 metres from the beach. There's no lifeguard service and the beach is remote, however it's still possible to go for a gentle swim here. The nearby village of East Quantoxhead is home to a lovely tearoom and a delicious tapas restaurant. Both are great spots for refuelling after a day out.
Where to stay: Dulcie | A quirky vardo, Burton wagon, nestled in a quiet corner of a working farm.
Burnham-on-Sea
One of Somerset's most popular seaside resorts, Burnham-on-Sea is a vast, sandy beach at the mouth of the River Parrett. The impressive stretch of sand lasts for almost seven miles and is one of the longest beaches in Europe. Split into four sections, making its way from Burnham to Brean, the Main Beach is backed by marshland, making it a great spot for birdwatching. There are mudflats between the sand and the water at low tide, so it's best to visit at high tide if you're planning a trip to the water. Burnham-on-Sea is also home to the UK's shortest pier and in the summer months you can hire watersports equipment.
Backed by a sea wall and a promenade with a wide choice of cafés, restaurants and shops, everything you need is easily accessible. There are toilets and showers in the nearby Tourist Information Centre. In the summer months, lifeguards patrol the beach and there are dog restrictions in place.
Where to stay: Duck's Puddle | A beautifully fitted-out shepherd's hut with a side order of hot-tub bliss.
Berrow Beach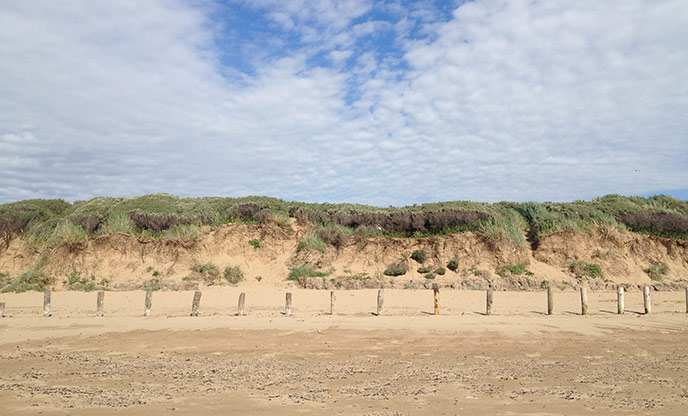 Just a few miles from Burnham-on-Sea's Main Beach, and part of the same stretch of sand, Berrow Beach is a delightful place to go for a refreshing dip. Smooth sand makes it easy to make your way to the water's edge and its famous stilted lighthouse makes an attractive focal point. At low tide a shipwreck is revealed at the south end of the beach, testament to the power of the gale which washed it ashore. Swimming is only permitted for two hours either side of high tide, so be sure to check the tide times before arriving.
Amenities are limited and Berrow Beach is quieter than other parts of the coastline. However, there are lifeguards, and dogs are allowed all year round. A small car park provides access to the beach via the sand dunes.
Brean Down Beach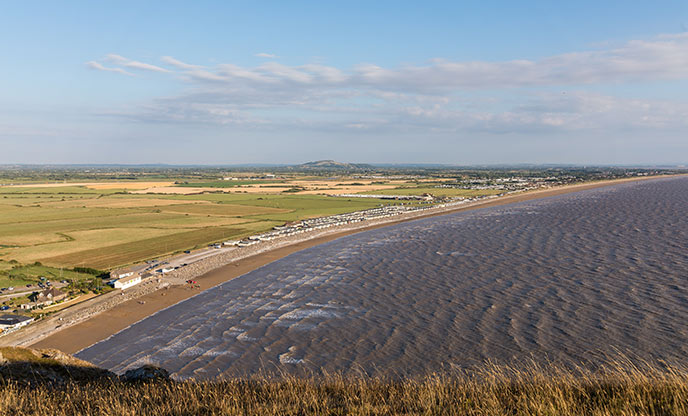 A superb stretch of beach with firm sand, Brean Down is the perfect location to build sandcastles or play games with friends and family. Backed by the peak of Brean Down, there is also the option for a small hike. Standing 97 metres high and looking over the beach, expect to enjoy far-reaching views over the ocean on one side and views of Glastonbury Tor and the Somerset Levels on the other. Swimming is only advised at high tide, because low tide reveals broad tidal flats.
Access to the beach is easy, with lots of parking in designated areas on the beach itself. Toilets and water are available here, and there are often vans serving food and ice cream. Dogs are allowed and there is no lifeguard service.
Where to stay: Collie, our heavenly hut close to the magical town of Glastonbury.
Sand Bay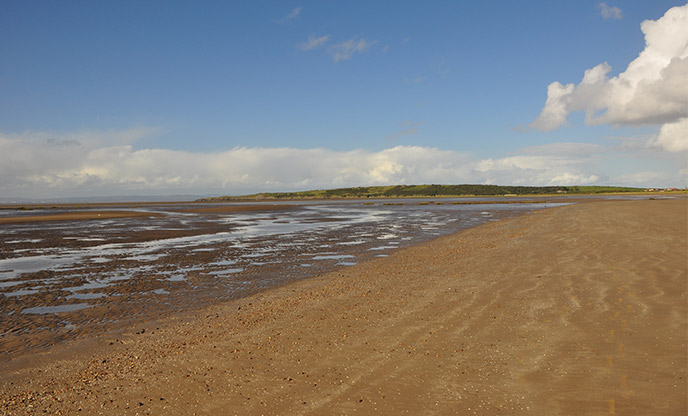 Just two miles north of Weston-Super-Mare, Sand Beach is a long strip of sand, making it a popular site for beachcombing and horseriding. Backed by grass topped sand dunes, its remote location and untouched atmosphere give it a feel of being amongst the wilderness. The views across the Bristol Channel to Wales can be extraordinarily beautiful on a clear day. Perfect for relaxing and escaping the crowds, Sand Bay is frequently referred to as "Weston-Super-Mare's hidden gem".
Amenities are sparse here, apart from a few local food outlets, a car park and some public toilets. There is no lifeguard service, but dogs are permitted all year round. Catch the open top bus from Weston-Super-Mare for easy access and visit the welcoming tearoom near the bus terminus to treat yourself afterwards.
Where to stay: Lady Well's Shepherds Hut | Surrounded by nature and beautiful views, this gorgeous hut is in a serene and secluded spot.
Staying in Somerset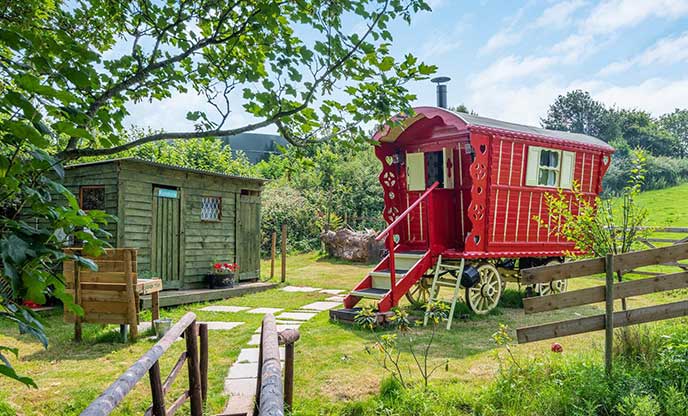 Whether you're looking for a shepherds hut with a hot tub where you can while away your stay or a quirky wagon that creates an utterly unique experience, there are some seriously dreamy stays in Somerset.