How to make your own Christmas wreath
Penned on the 12th December 2022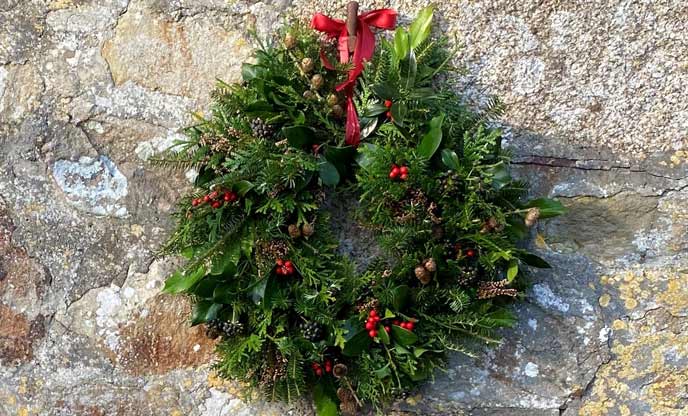 If you can't get creative at Christmas, then when can you. One of our favourite things to do over the festive season is to explore the outdoors and find natural materials to bring into our homes to decorate with. A wreath is a perfect place to start for creating natural décor. Is there anything more wonderful than going on a winter walk and noticing pretty doors decorated with wild wreaths! We love creating our own, especially as everything we use to make our natural wreath, can either be composted or re-used again next year. So grab a cuppa, have a read and get inspired to embrace your creativity...
For more eco-friendly friendly Christmas ideas click here.
What you will need: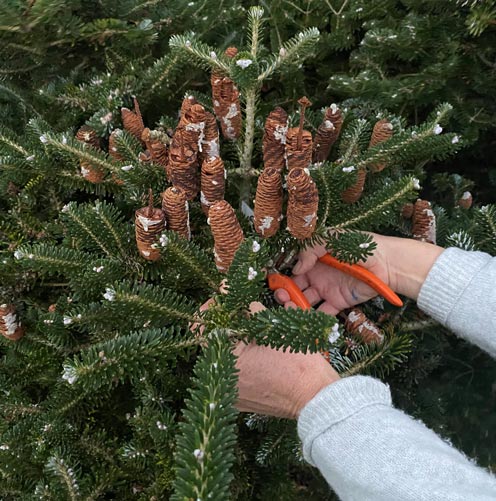 • Metal wreath ring (or you can buy pre-covered natural moss and straw rings from your local garden centre)
• Moss
• Foliage
• Florist wire: around 0.77m thickness
• Secateurs
• Scissors
• Spray bottle filled with water
• Dried oranges
• Hydrangeas (optional)
• Ribbon
• Mulled wine & mince pies (optional, but delicious)
Step One. Gather your foliage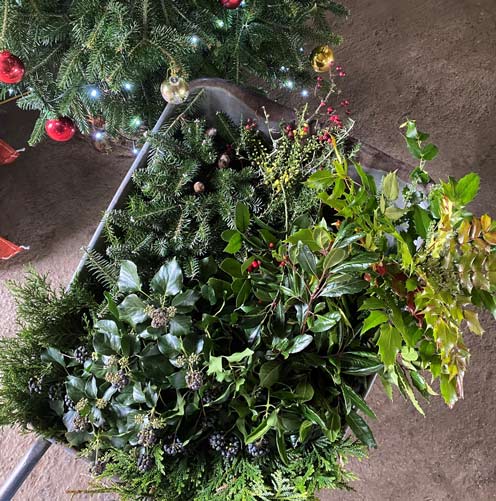 Firstly, decide what foliage you would like to use on your wreath. If you are using a wire base, then you will also need to forage for moss. Here are our suggestions of perfect Christmassy foliage to use:
• Fir: Norman fir works well. It's soft and has low needle drop. If you need to prune this year's Christmas tree don't throw away the cuttings, they are perfect for your wreath! Korean fir is also amazing as it grows small pinecones on the branches which adds extra décor
• Leafy foliage: Bay works well or ivy, especially if you can find some that have gorgeous blue berries on
• A pop of colour: Holly is perfect or any other foliage with red berries
• Something scented: Rosemary and eucalyptus are great. Both smell stunning and both look gorgeous
• Heather also looks pretty and twigs of larch with tiny pinecones on work well.
Where to forage for foliage?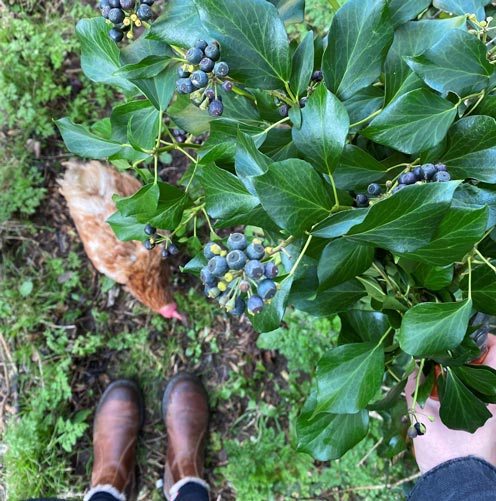 Firstly, if you have a garden or know of someone who is a keen gardener, grab your secateurs and a basket, pop your wellies on and go for a wander. You'll be surprised by all the luscious leafy greens you can find in your own surroundings that are perfect for wreath making. Or why not enjoy a winter walk in nature, embracing mindfulness at this special time of the year while foraging for your holly and ivy? Please be respectful of private gardens as you cannot forage here, but if you head off the well-worn path you will discover beautiful spaces with lots of natural materials. Only take what you require and respect the natural habitats where you forage. If you cannot find everything you need, then head to your local florist or farm shop and see if you can pick up some bundles of seasonal foliage for your wreath.
Top tip: For a long-lasting wreath, soak the ends of the foliage overnight in a bucket of water and store in a cool place.
Step Two. Creating your base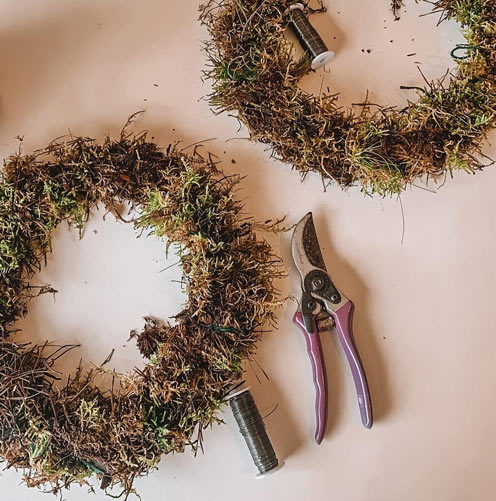 If you are using a wire base, then you will need to begin by layering the moss on top.
• Place patches of the moss onto your ring. You don't want this to be too thick, but you'll be surprised by how much you will need
• Tie your florist wire to your wreath ring and start wrapping loosely around the ring and the moss. Try not to make the moss too tight that you can't push the ends of your foliage through
• Go around again with your wire and do the test… hold your wreath above your head and if the moss doesn't fall off you are good to go!
If you are using a ready-made moss ring, then simply soak in water for ten minutes to ensure it's nice and moist. Give it a good shake outside before you start creating so it's not dripping wet.
Step Three: Creating your bundles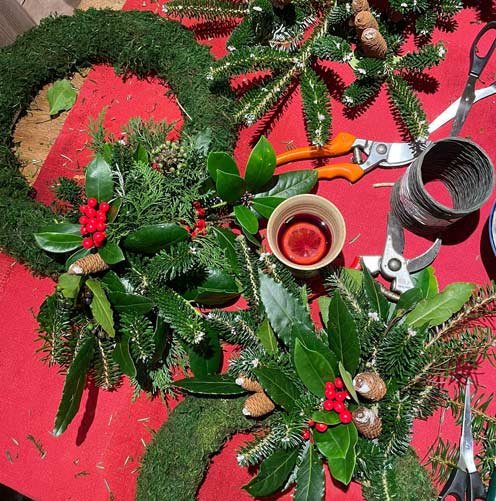 So now you're ready to get really creative. What we suggest is that you start by making a small bundle of three pieces of foliage. For example, a cutting of fir, a twig of bay and a snippet of holly.
• Layer the pieces on top of one another
• Start with the flattest piece at the bottom and the most colourful piece on top
• Snip off a piece of wire roughly 45cm long
• Wrap the wire around the stems twice and leave the rest of the wire hanging, do not cut it off
• Press the ends of the bundle into your damp wreath ring (don't worry if you can't push the ends through, this isn't crucial)
• Begin by having your bundle pointing slightly outwards from the centre of your wreath
• Wrap the rest of the wire around the ring two-three times and then stick the end of the wire into the moss to secure your bundle
• For your second bundle create another posy of three pieces of foliage
• Make this bundle slightly smaller and less bushy
• Wrap the wire around the ends again twice and then place on to your wreath with the foliage covering the ends of the previous bundle
• Push the ends into the moss and make sure your bundle is facing slightly inwards
• Wrap the rest of the wire around and secure by pushing the end of the wire into the moss
Continue with this method. Three pieces of foliage, slightly larger and longer bundles when you are facing out and slightly smaller shorter bundles when you are facing in. Keep using the in and out method the whole way around and remember each time you put a new bundle into your wreath, cover the ends of the previous bundle.
Top tip: As you push each bundle into your wreath ring give the ends a spray of water for lasting freshness!
Step Four: The last bundle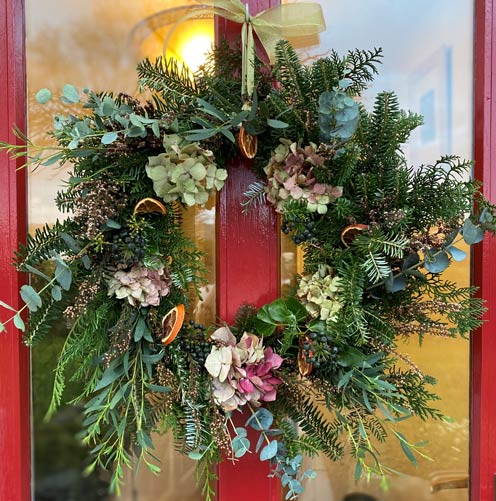 Once you've almost made it the whole way around your wreath ring, leave a little gap. This is where you put your last bundle that needs to face the opposite way to create a full circle. Give the whole wreath a spritz of water to ensure the foliage has had a good drink! To cover the ends of the final bundle, find your ribbon…
Step Five: Tying the knot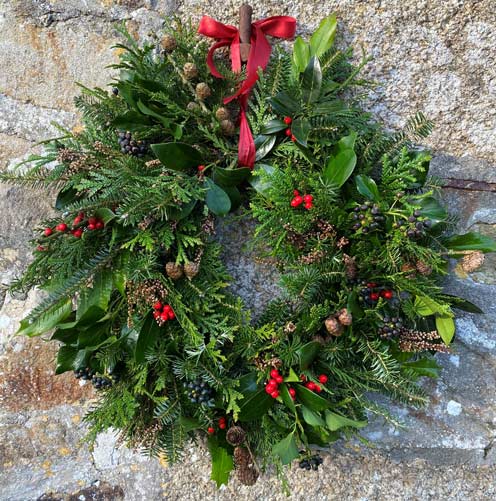 We like to use quite chunky, natural ribbon to finish our wreaths with a big festive bow. You can either tie the bow onto the wreath itself or use the bow to hook onto the door hanger.
Step Six: Final touches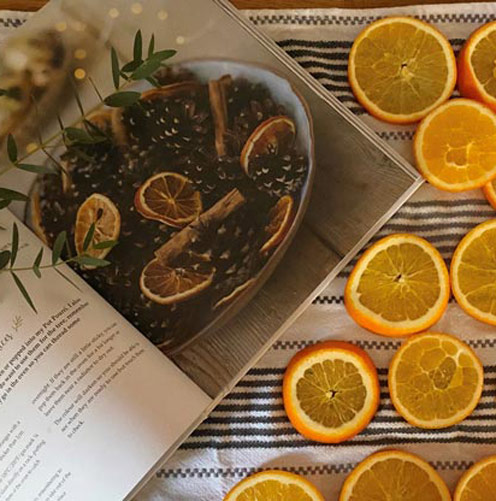 Dried oranges look gorgeous and of course, smell lovely. Take a snippet of your wire, bend it in half and push through the edge of your orange. Then press into your wreath ring. If you are using hydrangeas which we think look lovely and a little bit different, snip the ends at an angle and try to push directly into your wreath ring. Secure with wire in the same way you would oranges. You can add anything you like to your wreath such as fairy lights, cinnamon sticks, or traditional decorations, but we prefer to keep ours simple with just natural materials.
Top tip: Hang your wreath up before adding your final touches. It's easier to see if there are any bald patches in the centre that can be easily covered by the finishing touches. You might also find your wreath needs a little trim in the centre. If you prefer the wild and free look, leave it as it is, in all its natural glory.
And Taaadaa, there you have your very own handmade natural wreath! Hang on your front door and admire your handy work. We would love to see your handmade wreaths so if you do create one, please tag us on Instagram @uniquehideaways.
Step Seven: Dismantling your wreath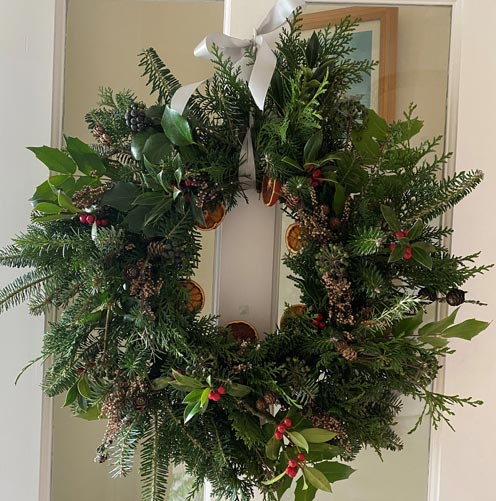 Finally, when the festive season is over, unwrap each bundle and compost the natural materials. You can keep the same moss-covered wreath ring (whether you bought it from a garden centre or created it yourself) to use again next year. Make sure the ring is fully dry before you store it away.
Top tip: Keep the wire to reuse for next year's wreath, it's pre-cut and ready to go.
Have fun creating and enjoy every moment of this magical time of year. Whether you spend the season at home or escape to somewhere truly enchanting we hope you continue to create everlasting memories with your nearest and dearest. With love, the hideaways team x