A magical weekend stay at Into the Woods cabin
Penned on the 1st June 2022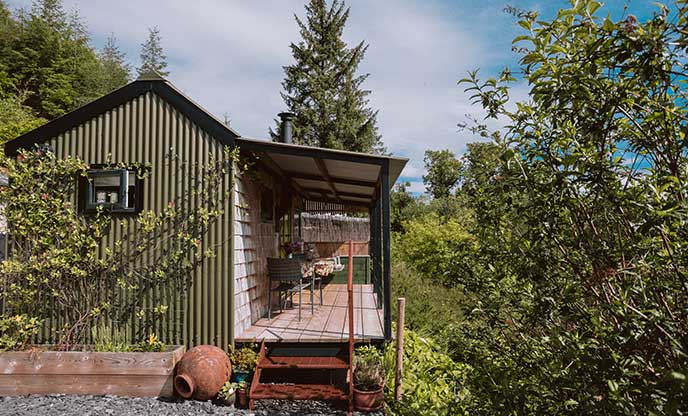 Enveloped by towering pines and rolling hills, Into the Woods is a hideaway that delivers exactly what it promises: a magical retreat amongst the trees.
As we made our way to the quaint village of St Neot in Cornwall on a Friday afternoon, excitement grew for a weekend escape into nature, particularly as the roads transpired into increasingly green surroundings.
Located on the outskirts of the village in a tiny hamlet called Treverbyn Vean, sun-dappled pines line the lane that takes you up to Into the Woods, where the hideaway sits perfectly perched for breathtaking views of the valley below. On arrival we were met by the most welcoming owner, Roger, and the most charming cabin, with everything you could possibly need for a weekend's stay.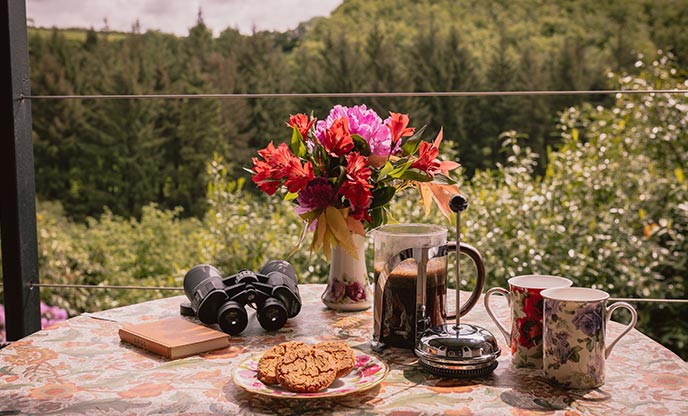 Its highlights include an ever-so-comfy king-sized bed with windows that allow you to soak up the views while enjoying a leisurely morning coffee. Teamed with soothing birdsong from the woodland's residents, you're in for a flawless rest. The outdoor space really allows you to make the most of its position, too, as the elevated veranda, complete with a swinging seat, is a delightful spot to have a glass of wine, read a book, or simply gaze at the views and watch the wildlife going about its business.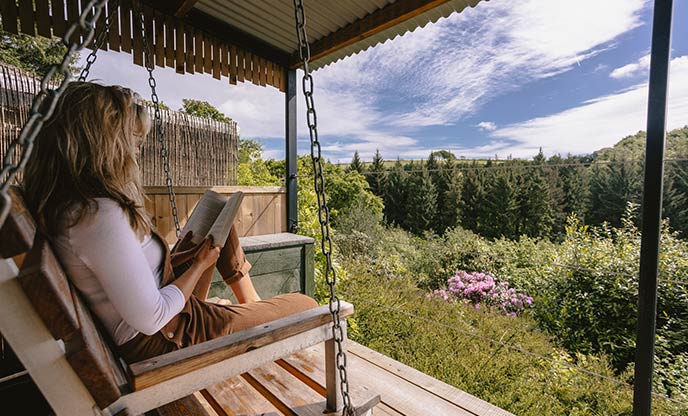 Inside, the cabin has plenty of interesting features to enjoy, from a bespoke wood-carved headboard and vintage Great Western Rail wall lights, to a wood-clad, well-equipped kitchen, dining area and wood burner, all giving a lovely rustic feel while offering plenty of luxury. Something also worthy of mention is the underbed storage, which enables you to neatly pack away all of your belongings - a real plus if you struggle to pack light (guilty!).
When visiting, make sure you read the welcome guide to discover more about the hideaway's unique history, as the cabin was built on the former site of a swimming pool used by Winston Churchill, which is hardly surprising, given the scenery...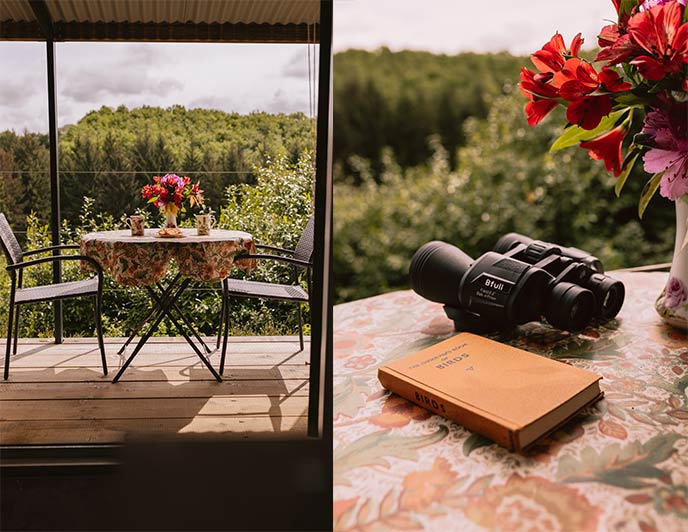 While this hideaway provides a healthy dose of nature, it's also perfectly placed for exploring some of North Cornwall's most beautiful spots. Cardinham Woods is a 15-minute drive away, where you can choose from an array of way-marked walking and cycling routes across its 265 hectares of mixed conifer and native broadleaf trees. We took our bikes along and opted for the fun-filled Beast of Bodmin trail, stopping at one of the many scenic viewpoints for lunch, though there's a popular café on site where you can refuel and reward your stomp.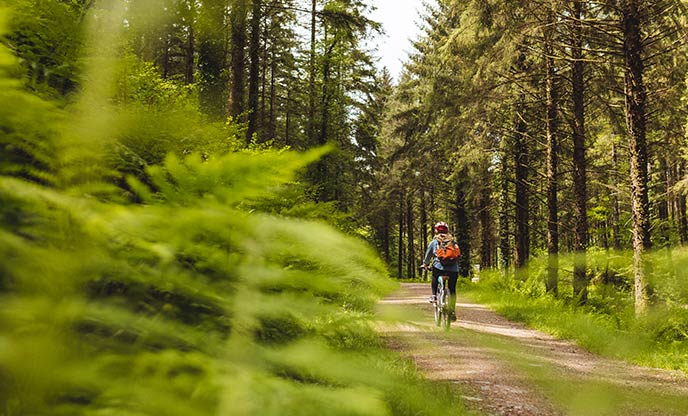 Also just a few miles from Into the Woods is the beautiful Golitha Falls, a section of the River Fowey where a multitude of cascades and waterfalls make their way through the ancient oak trees of Draynes Wood. This National Nature Reserve is a designated Site of Special Scientific Interest, where diverse flora and fauna can be enjoyed in abundance, such as bluebells and countless species of moss and lichen, along with bats, dormice and fish. (And other residents of the river…)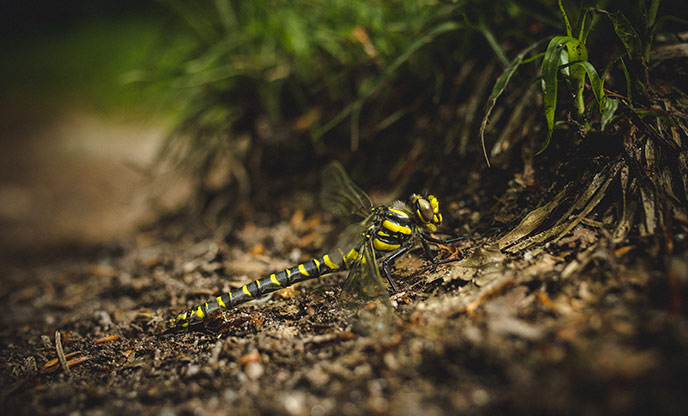 The area can be enjoyed as part of scenic walks, such as the 6-mile Golitha Falls and Siblyback Lake route, or there's a free car park at Draynes bridge which gives you immediate access to the woods if, like us, you just want to amble along the banks and soak up the green space or have a peaceful dip in the refreshing water!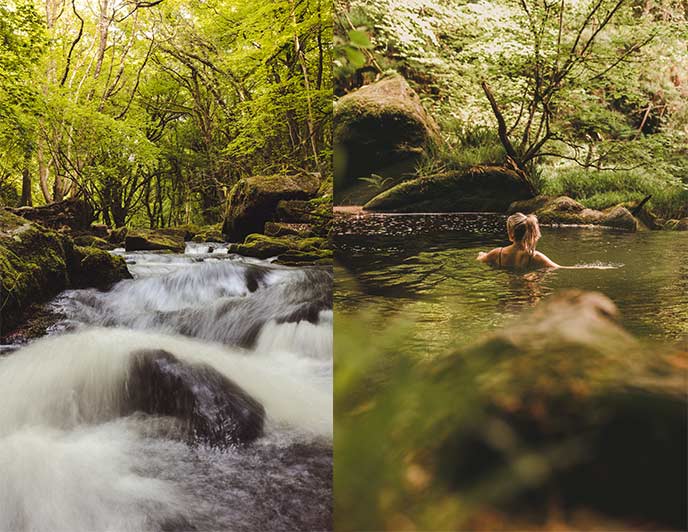 And it's not just a bounty of woodland that sits on this hideaway's doorstep: you can embark on a coastal adventure in the sailing town of Fowey, historic harbour in Charlestown (of Poldark fame), or grab a gem in the antique capital of Lostwithiel, all of which are within easy reach and make for a wonderful selection of day trips when visiting this part of Cornwall.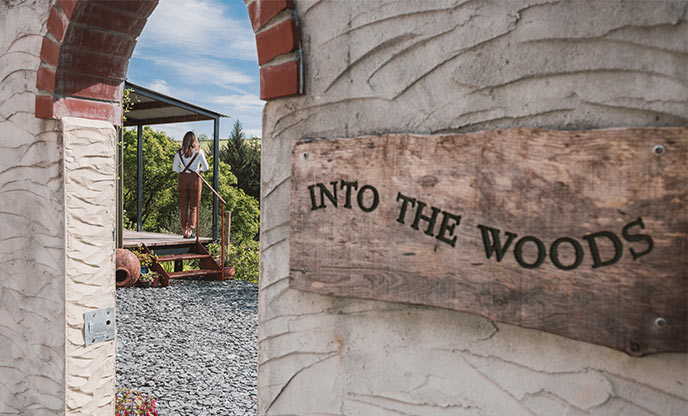 Feeling inspired to stay at Into the Woods? Read more about this magical escape to nature here.