Shepherd's hut holidays
Penned on the 6th February 2020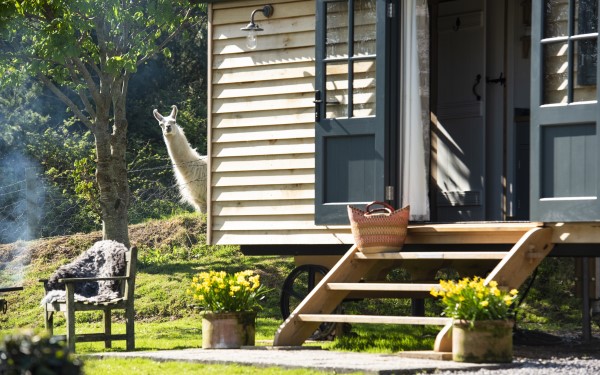 Steeped in history and now one of the most luxurious types of retreat for a glamping holiday, you'll want for nothing at these special hideaways. Truly stunning with all the mod-cons and comfort you could need, find out why shepherd's used these huts in the first place.
What is a shepherd's hut?

As the name suggests, shepherd's huts were originally used by shepherds whilst watching over their flocks of sheep. Thought to date back to the 15th Century, they would have typically been made out of metal or wood (whichever was more available to the maker), with windows on each side (to make watching over the flock easy from inside), strong iron wheels (to withstand all of the moving around from field to field) and hinged stable doors (facing away from the prevailing wind so the flock could be heard). The huts were a kitchen, dining-room, bedroom, sitting-room and store-room all rolled into one and usually had a stove in the corner, for both warmth and cooking. Nowadays, they couldn't be further from the basic accommodation they once were. Modern shepherd's huts have it all – proper comfy beds, kitchens, en suite shower-rooms, insulated walls, under-floor heating, wood-burners – the list goes on and on! However, they still embrace their heritage with traditional features and charm, albeit to a larger scale (they really are surprisingly spacious!).

The difference between shepherd's huts

Modern shepherd's huts come in all shapes and sizes, from romantic hideaways for two to super-size retreats for all the family – whatever you're after you'll find a shepherd's hut to meet your holiday needs.

Take these retreats for examples of how varied shepherd's huts can be:


The Shepherd's Hut at Georgia Bridge
All shepherd's hut manufacturers, of course, have their own way of doing things – Georgia Bridge is a prime example of an Ashwood Shepherd Huts 'luxury hut' for two. Complete with everything a couple could need for a comfortable break away (including a king-size double bed, kitchen, en suite shower-room, wood-burner, under-floor heating and more).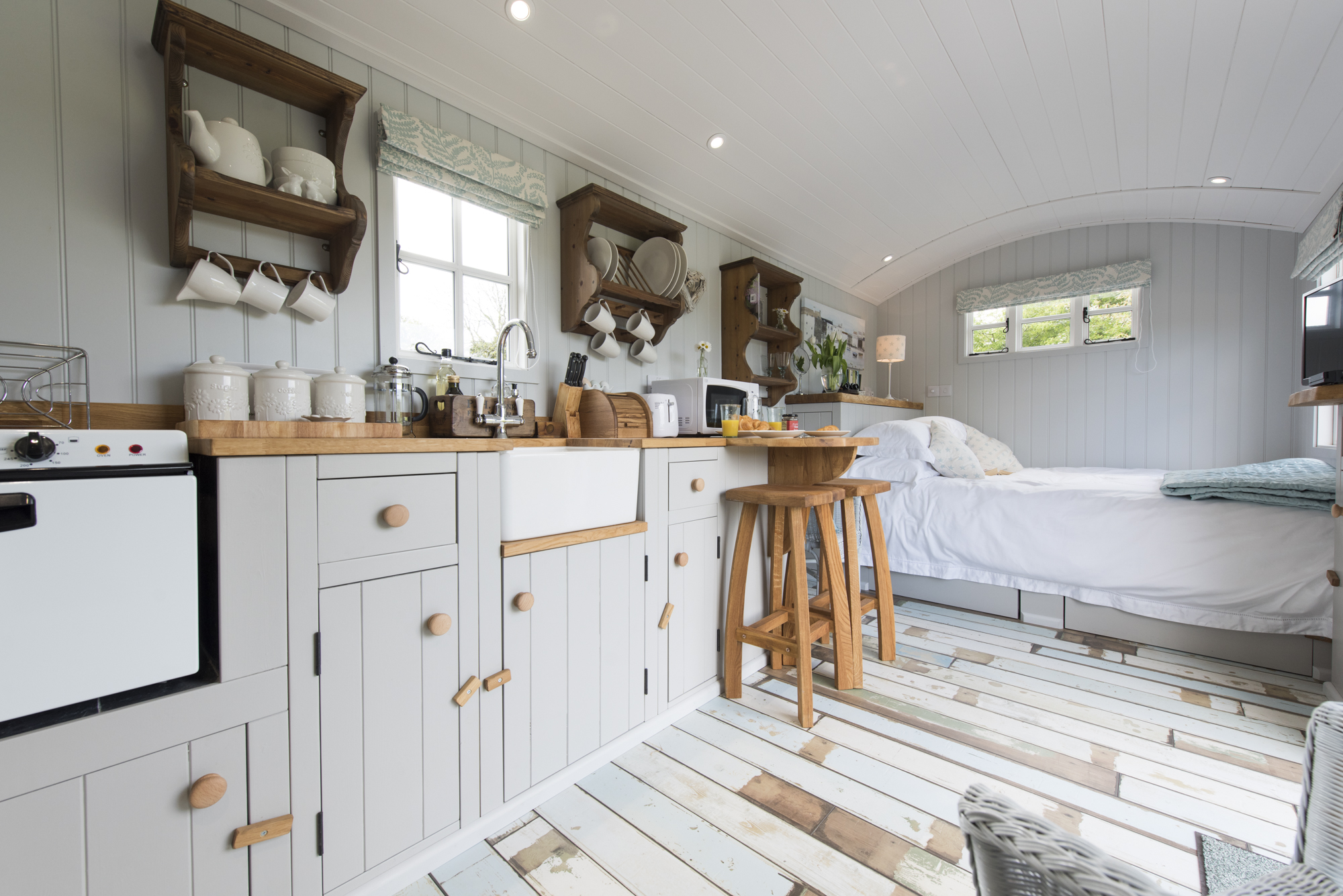 Hayley's Hut
Another idyllic hut for two, this time an example of a 'Turnkey' hut by Blackdown Shepherd Huts. The one big main difference between this and the above being that the bed isn't a permanent feature – it cleverly folds up to reveal a dining table and benches – and has a dreamy stargazing roof above it.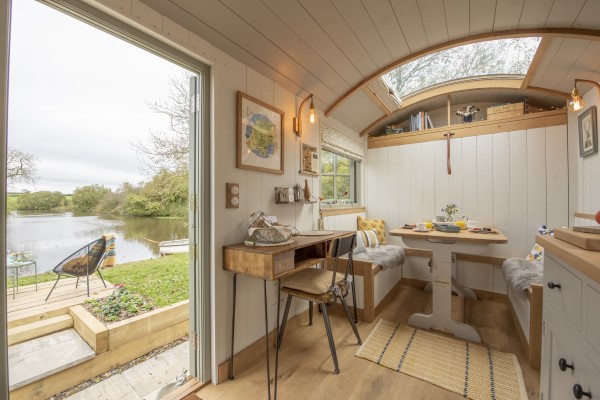 Mount View Retreat
Another beautiful hut from Ashwood Shepherd Huts, but this time their family 'luxury hut' which, in addition to all the features previously mentioned, has bunk-beds – so is perfect for a small family. If it's just a couple staying then the top bunk can be folded up, so the bottom bunk can be used as seating.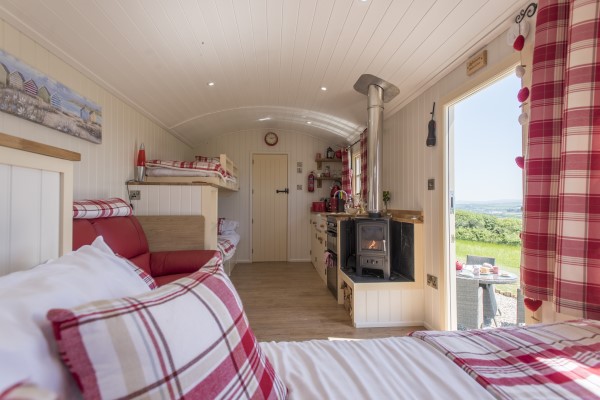 Crannaford Shepherd's Hut
Joshua Rose Shepherd Huts pride themselves in making handcrafted bespoke retreats – their unique feature being an ingenious pull-out deck. Crannaford is a perfect example of their work - a cute hideaway for two with everything you would expect from a modern shepherd's hut.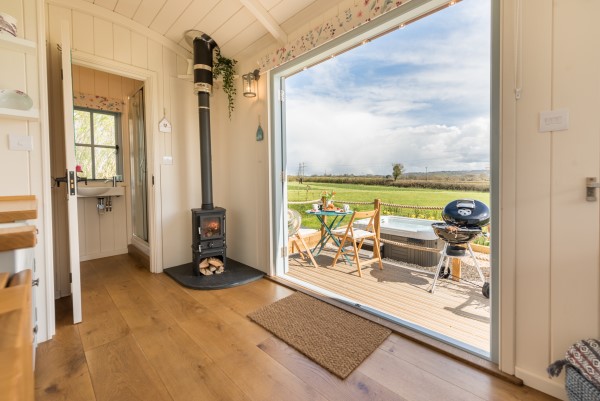 Largin's Shepherd's View
And then you have the utterly unique shepherd's huts – Largin's Shepherd's View was skilfully handcrafted by the owners' son, who has since gone on to make some more fantastic bespoke retreats for other owners of ours. This one includes lots of upcycled bits and bobs – even the wood-burner is hand-made.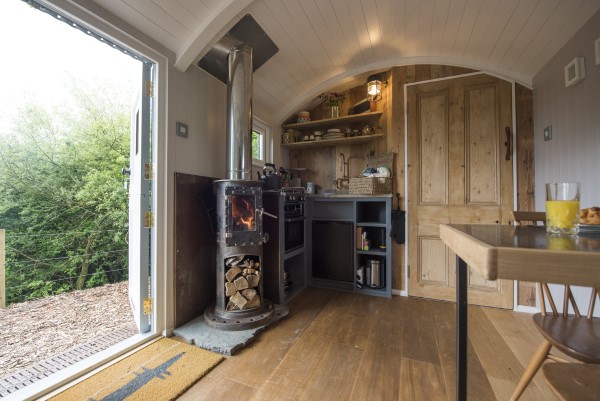 Benefits of shepherd's huts
Where do we start – there are so many! In terms of somewhere really special to stay for a short break or longer, you just can't beat them. So much more than a traditional holiday cottage in so many senses, once you try these unique home-from-homes, you won't go back! In terms of glamping, glamorous camping, luxury camping, there is one obvious plus – an actual roof over your head! Unlike its (very) distant cousin, camping, staying in a shepherd's hut means that you can stay warm and dry whatever the weather is doing outside. It also means en suite facilities with a proper flushing loo and hot shower – no trudging in the middle of the cold, dark nights to the toilet block and no compost loos either. Shepherd's huts are true havens, perfect for a holiday at any time of the year – in the summer, throw the doors open and let the great outdoors in and, in the winter, hunker down in a super-cosy retreat.

Dog-friendly shepherd's huts
No one wants to leave their four-legged friend behind when heading on a staycation, and why should you have to! Fresh air, endless space in which to roam around and plenty of interesting smells to explore – it's a pampered pooch's dream. More dogs than children holidayed with us last year – so we know we're barking up the right tree! Here's just a couple of examples of our dog-friendly shepherd's huts:

Duck's Puddle Shepherd's Hut
Sat close to the foot of the Quantock Hills AONB, this is a great place for a couple and their dog, with all the home comforts you could need plus a hot tub, sat on the edge of the Quantock Hills Area of Outstanding Natural Beauty with wonderful walks aplenty (some can even be reached without getting back in the car).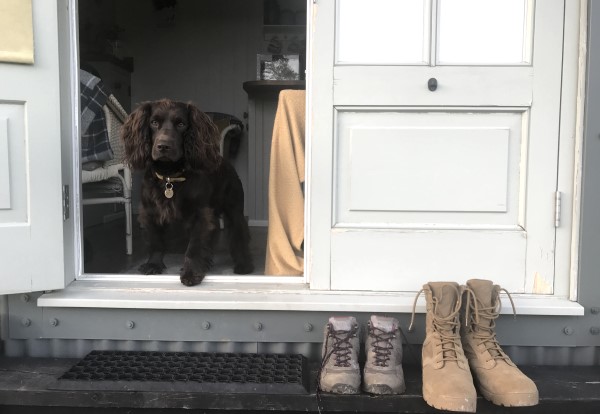 Shepherd's Rest
Nestled away in one of Cornwall's prettiest villages, not only did the owner lovingly handcraft this idyllic retreat but he also made a super-sweet mini shepherd's hut/kennel for your dog (only if they want to use it, of course!). There's also a handy outside mixer tap and plenty of open space for Fido to explore until his heart's content.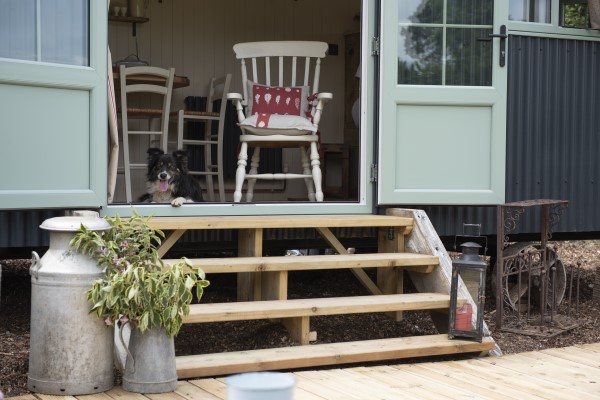 Family friendly shepherd's huts
Watch the children's eyes light up when they first catch a glimpse of a shepherd's hut – it's such a fun way to spend a family holiday, providing the perfect opportunity to embrace a get-away-from-it-all sense of good old-fashioned family fun. Outside, the wide-open spaces are perfect for flying a kite, foraging for hedgerow berries or building a campfire. Inside is just as special – with features like bunk-beds that the kids will love. We've already mentioned two of our fabulous family-friendly shepherd's huts (Mount View Retreat and Shepherd's Sky Super Hut), but here a few more examples:

The Lion's Den, The Enchanted Wardrobe and The Witch's Wagon at Warleggan
Two truly magical retreats, set in idyllic countryside, both private from each other with their own hot tubs and plenty of outside space for the kids (and the dog!) to run wild. Out and about, discover the wide-open spaces of Bodmin Moor, cycle paths at Cardinham Woods, Eden Project, nearby surfing beaches and more! Inside, they each have slightly different layouts, but both have a king-size double bed and fun bunk-beds.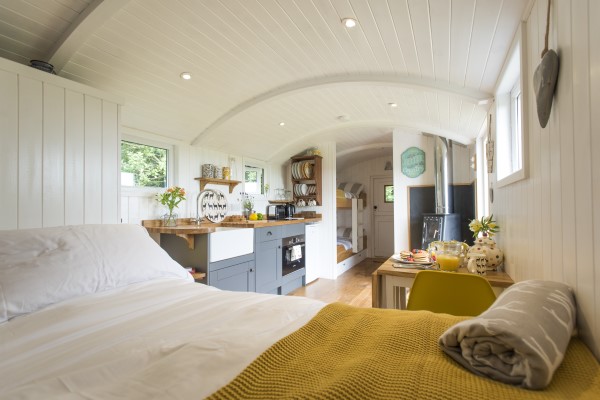 Shepherd's Sky Super Hut
As the name suggest, Shepherd's Sky is a huge hut boasting two, yes two, separate bedrooms – one a either end – perfect for a multi-generational holiday, with everyone getting their own space. There's a large living-area in the middle too, complete with fully-equipped kitchen, sitting-area and dining-area. This is a real example of just how far shepherd's huts have come from their ancestors of yesteryear – it really couldn't be further from what it used to be, both in size and facilities.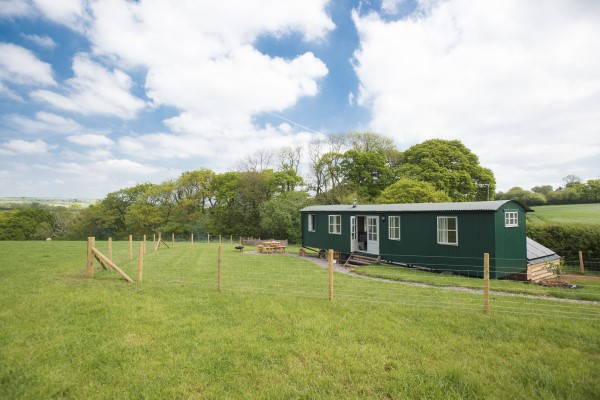 There's plenty more where that came from - check out our whole collection of shepherd's huts here.