Best places to visit in Brighton
Penned on the 12th July 2022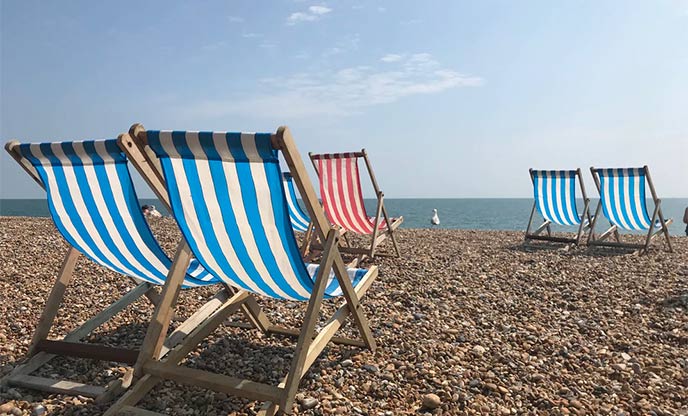 The vibrant city of Brighton in East Sussex has character like no other. During a single visit you can explore its famous pleasure pier in the fresh sea air, wander The Lanes dipping in and out of vintage shops and record stores, sip on single-origin coffee in creative cafes and go and see a live band or cabaret at one of its many small music venues after filling up on a delicious meal and cocktails. It's also known as the UK's LGBTQ capital - a status that the residents are fiercely proud of. In fact, there's so much culture to absorb and sights to see, you might want to spend a few days soaking it all in! To get you inspired for your trip to Brighton, we've rounded up some of our favourite things to do and places to visit in this unmissable destination.
Independent shopping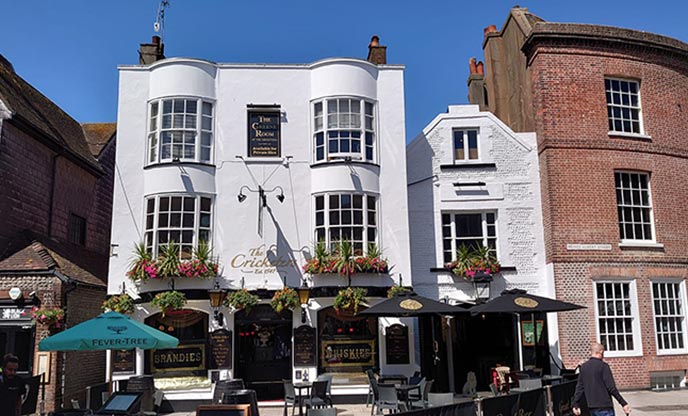 This legendary maze of narrow alleys is one of the city's most arty districts, packed with independent cafes, restaurants, bakeries, record stores, vintage emporiums, bookshops and galleries. It's one of the oldest parts of the city too, with picturesque sixteenth century buildings housing the indie businesses here. Wandering the twisting passageways is not an activity to be rushed, so enjoy a slow afternoon of window shopping to the sounds of the buskers and seeking out secondhand treasures, before getting your caffeine fix or stopping for a delicious lunch. For a true taste of Brighton's historic past visit The Cricketers, the oldest pub in the city dating back to around 1545.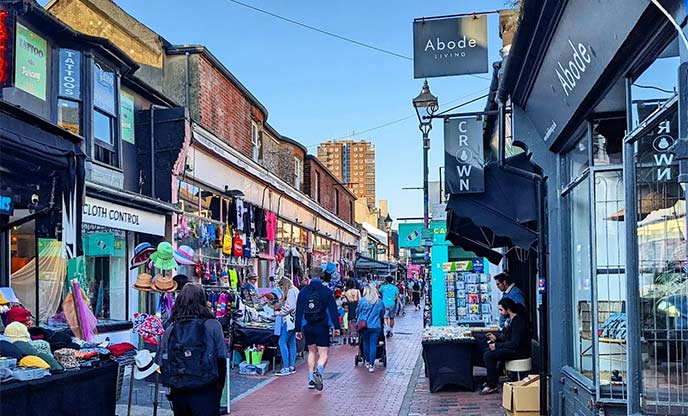 The other main shopping district in Brighton is the buzzing North Laine, where you'll find over 400 colourful boutiques, cafes, pubs, vintage shops, galleries and more in a space of less than half a square mile. Like The Lanes, its a place loaded with history - and nowadays its bohemian vibe and creative community make it a wonderful area to spend a few glorious hours discovering hidden gems or sampling foodie delights. You can't get a much better spot for watching the world go by, so choose a seat out on the street to settle down and sip on something refreshing.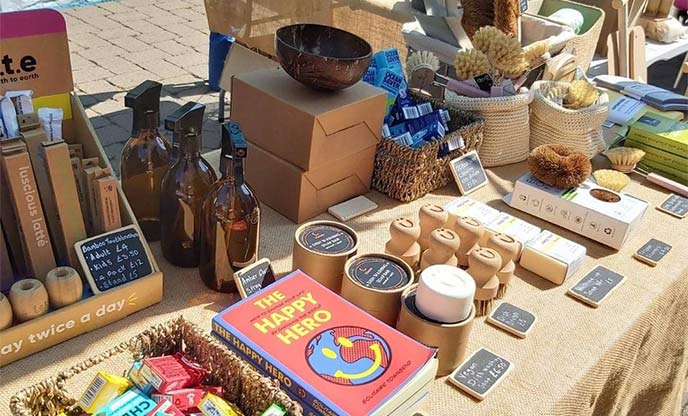 This eclectic market is the only open air marketplace in the city - but it's covered, so you can enjoy it whatever the weather, seven days a week. The stalls are alive with a mix of traditional and contemporary independent vendors, makers, artist studios and street food, with a strong focus on ethical goods. It plays host to special events and workshops for the community throughout the year. And it even has its own radio station! The popular market has a wonderful history too, recently celebrating over 50 years of trading.
Culture
The Royal Pavilion and The Pavilion Gardens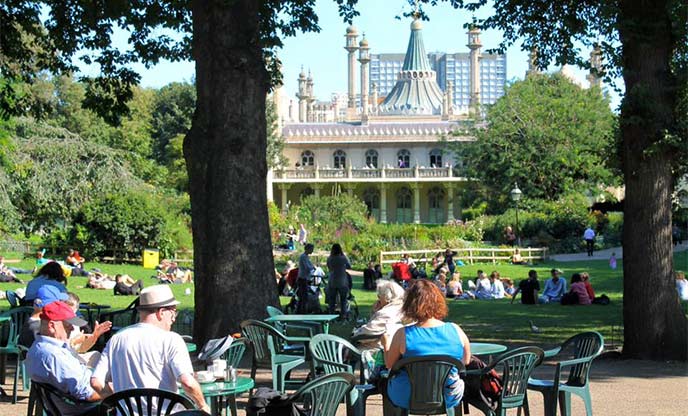 This extravagant Grade I listed palace in the heart of the city was built in the early nineteenth century and was once a holiday home for George IV. Nowadays it's perhaps Brighton's most popular attraction and a must-visit for history lovers. You can enjoy the ornate architecture from the outside or explore inside and see the replica rooms to get a real feel for its rich past.
The stunning surrounding gardens are an idyllic green space for visitors to relax or take a tranquil stroll amongst the plant life too. It's especially beautiful in spring and summer when the flowers burst into colour. And if you fancy staying for a while, stop off at the quaint Pavilion Gardens Café for a light lunch or tea and cake.
This extraordinary performance venue in Brighton's centre presents and produces over 600 events every year, spanning theatre, dance, comedy, classical music, spoken word poetry and more. The Dome famously staged the 1974 Eurovision Song Contest, where ABBA won with Waterloo! Despite the name, Brighton Dome is actually comprised of three unique spaces - the Concert Hall, the Pavilion Theatre and the Corn Exchange - all of which form part of the iconic Pavilion Estate.
In addition to its year-round programme, Brighton Dome also produces the internationally-acclaimed Brighton Festival. For three weeks every May there's a feast of arts and performance to enjoy at the venue and in pop-up spots around the city.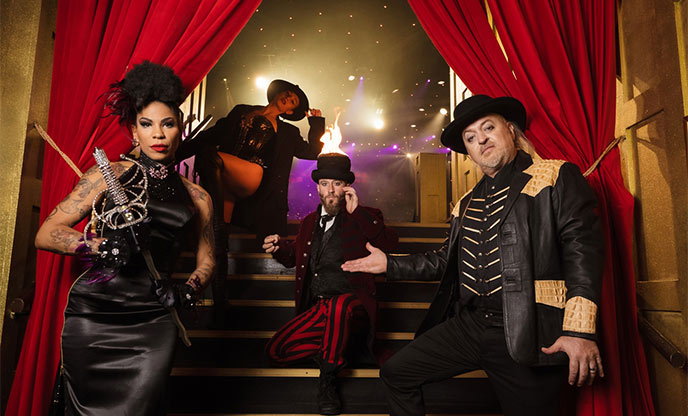 If you're looking for a night out with a difference, head to one of Brighton's world-famous cabarets. Proud Cabaret in Kemptown is one of the best and most grandeur, showcasing some of the finest burlesque, acrobatics, drag and variety performances. Enjoy dinner, cocktails and a show in its lavish ballrooms with hand-painted domed ceilings, and you'll be transported to the heydey of the 1920s and '30s. Kemptown itself oozes charm, community spirit, inclusivity and fun, as one of Brighton's most bustling LGBTQ districts. If you want to continue the night you'll find plenty of vibrant bars and clubs all the way along its streets and seafront.
Family entertainment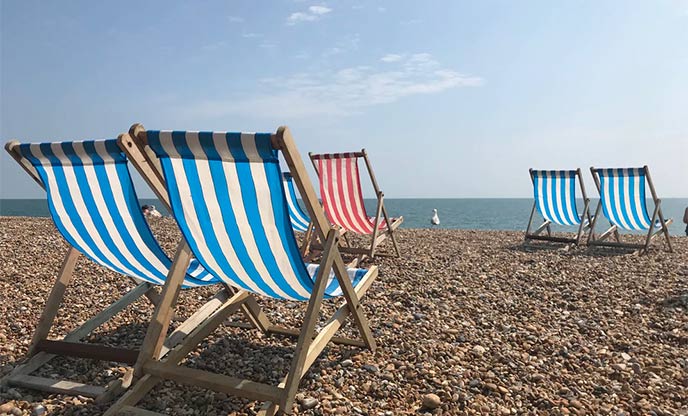 No trip to Brighton would be complete without a visit to its famous pebble beach. Take a leisurely stroll along the 5.4 mile seafront in the fresh sea air, dipping in and out of the independent shops, bars or restaurants in the arches. Or pick up a fish & chips to enjoy on a striped deckchair on the beach at sunset, looking out across the water to the iconic silhouette of the burnt out West Pier. If you fancy getting on the water and seeing the city from a completely different angle, you can rent a kayak or a stand-up paddleboard here too.
If you're visiting in summer, it's worth noting that the beach gets especially busy with visitors from London on warm weekends but you can usually head further along the shore to find a quiet spot.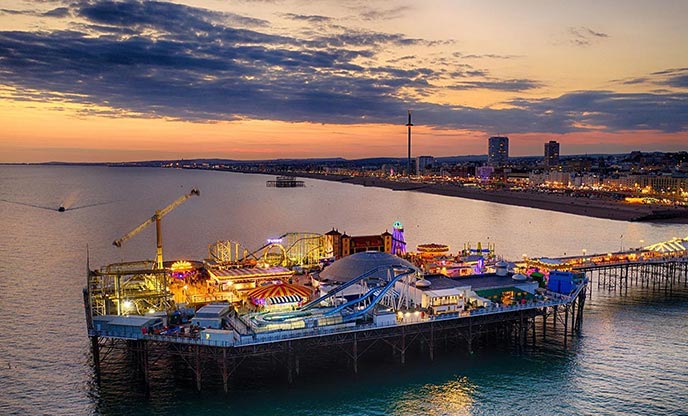 In contrast to West Pier's quiet elegance, Brighton Palace Pier is a bustling seaside attraction complete with fairground rides, arcades, bars and restaurants. If you don't mind the flashing lights and hubbub, it's worth a visit to experience a little quintessential Britishness from the golden age of Victorian pleasure piers. And if you're visiting in late October to March, you might be lucky enough to witness the stunning starling murmurations, a nightly natural spectacle that takes place on Brighton's seafront throughout winter. You can get close-up views of the birds' magical swooping and swirling from the Palace Pier.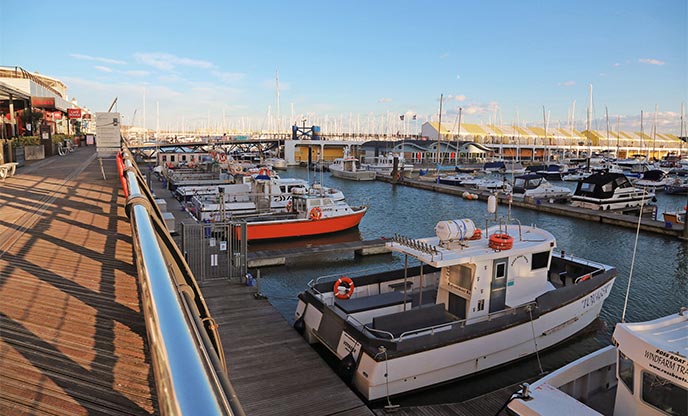 Brighton Marina is the largest marina in the UK and one of the largest in Europe. Filled with bobbing boats and masts, it's a picturesque spot to explore - but there's plenty more to keep visitors of all ages and interests entertained here too. On a rainy day you could see a movie at the cinema, browse the shops or enjoy a bit of healthy competition with your loved ones with a spot of mini golf. Or if the sun's shining, the waterside cafes and restaurants are the perfect place to relax and eat al fresco, watching the yachts sail by. If you want a boaty experience there are plenty of trips to choose from, including mini cruises and fishing charters.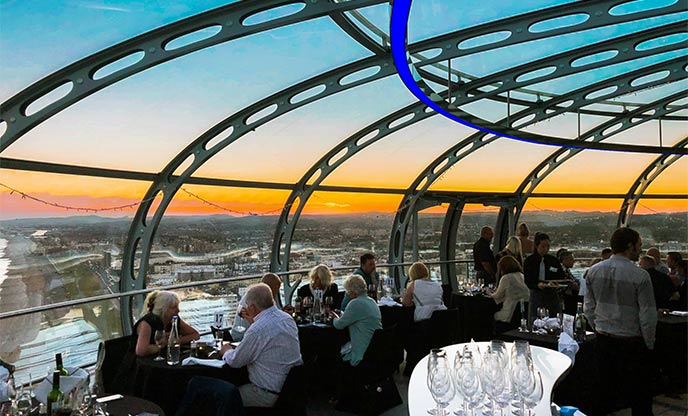 British Airways i360 was designed and opened in 2016 by the same team as the London Eye - and standing at 162m, it's the world's tallest moving observation tower. As you'd expect, the panoramic views from the top are spectacular, towering above the city and the English Channel. On a clear day you can even see across to the Isle of Wight in the west. Inside the futuristic 'pod', where you'll enjoy your 20 to 25 minute ride, you can also treat yourself to a locally produced sparkling wine at the Nyetimber Sky Bar, making the views even sweeter!
Museums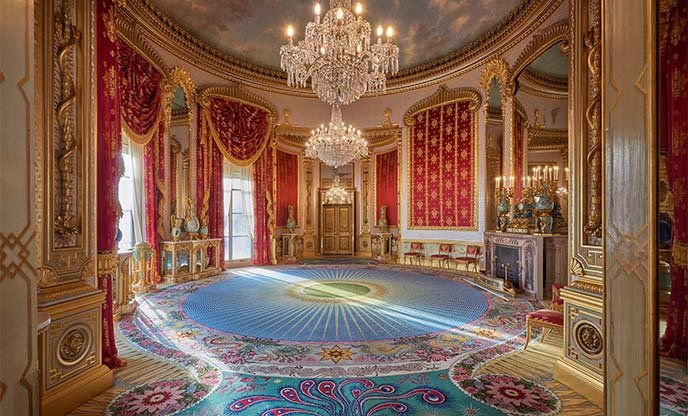 Part of the Royal Pavilion Estate in the city centre, Brighton Museum & Art Gallery holds all sorts of intriguing collections and interactive displays, from fine art and textiles to ancient Egyptian treasure and personal pieces from King George. Young visitors will especially love the 'Performance' Gallery, with costumes, puppets, masks and musical instruments from across the globe. The historic exhibitions and art installations rotate every month and there are often special events too, so keep an eye on their lively calendar to see what's on during your visit.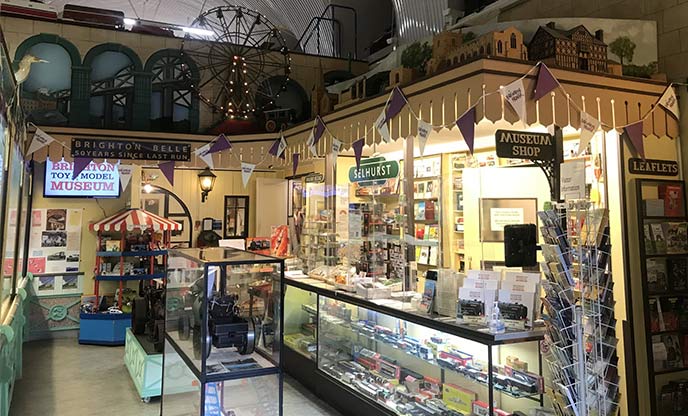 Densely packed into a thousand square feet of Victorian cellars underneath Brighton Railway Station you'll find this immersive attraction, dubbed 'one of the world's great toy museums'. Children and adults alike will enjoy getting lost in this nostalgic world of British toys and childhood memories. And you could easily spend hours doing so - there are more than 10,000 items on display here, from model trains and meccano kits to puppet theatres and doll's houses.
Eating & drinking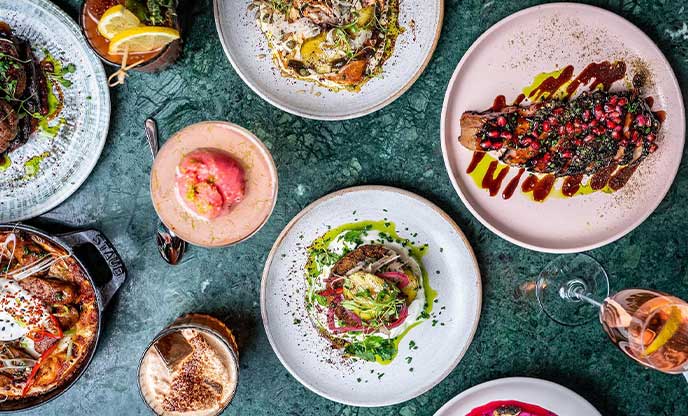 You'll find this glamorous-but-relaxed restaurant and bar in the Lanes in a converted 16th century coaching inn. Run by the team from Brighton's successful restaurants The Salt Room and The Coal Shed, the venue is all about 'wood-fired flavours and well-made drinks'. You can watch the chefs preparing the Mediterranean-style small plates from your stool at the bar or sit out on the popular terrace. After 10pm the menu changes to drinks only, so you can stay and enjoy music and a tipple (or two) long after your meal.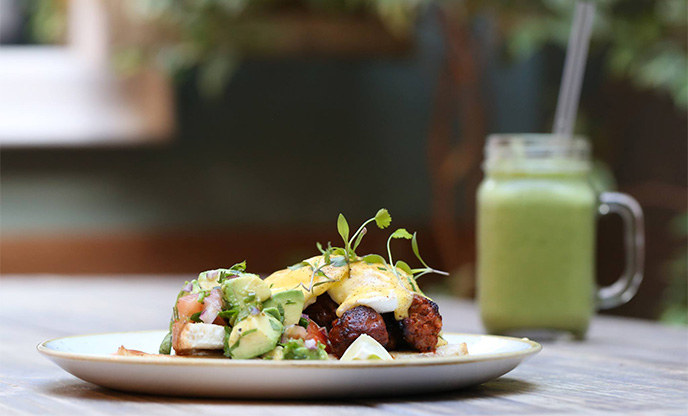 If you're looking for a pitstop for a hearty meal to fuel your day of exploring, look no further. This independent family-run cafe serves 'modern British inspired lunch and brunch' made with local produce, as well as their own blend of artisan coffee, which is popular with locals and visitors alike. They're especially famous for their hash browns so whatever you're ordering, make sure you get a side of those.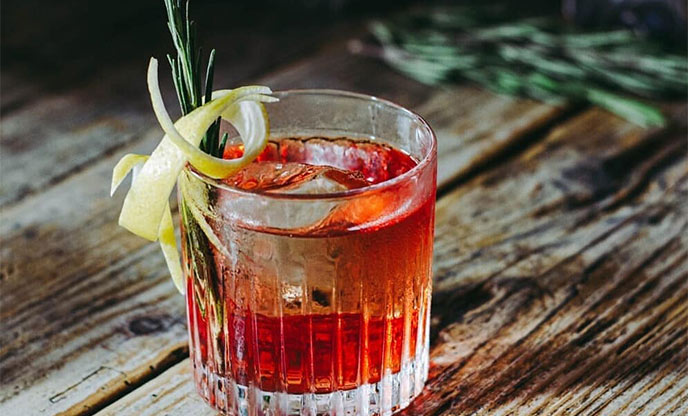 Tucked away behind the busy seafront, this hidden gem is a gorgeous bar to unwind and sip on a special cocktail when the day is winding down. The soft lighting and dark, speakeasy décor make for a cosy and intimate atmosphere, perfect for a romantic evening. And you'll be spoiled for choice when it comes to their inventive, beautifully crafted cocktail menu. Just make sure you've booked a taxi because you'll want to stay a little while.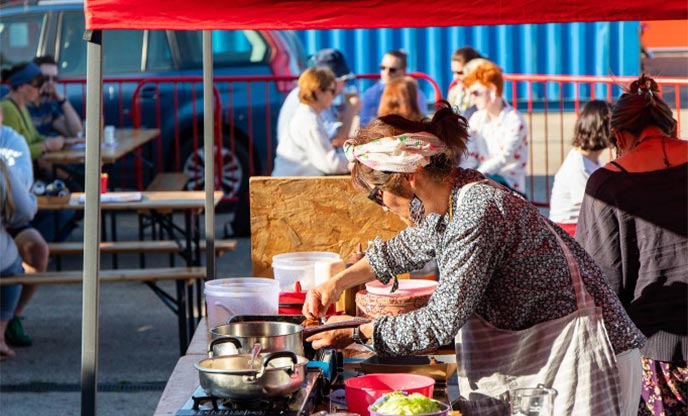 If locally-made craft brews are more your thing, don't miss Brighton Bier. This taproom and brewery is just a short walk from Kemptown and serves a huge range of award-winning beers. Their huge, bright beer garden is perfect for relaxing in the sunshine or if it's a little chilly or wet out, there's indoor seating in the taproom too. They usually serve Japanese street food on Friday evenings - the perfect accompaniment to your hoppy beverage!
Hiking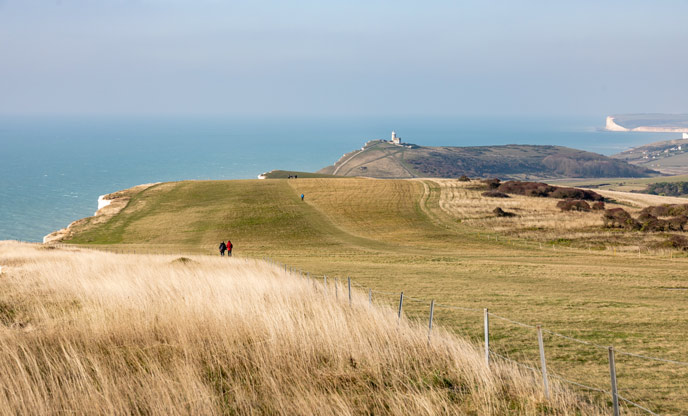 Thanks to its proximity to the South Downs National Park, Brighton has plenty of beautiful hiking routes just a short drive away. There are a variety of pathways to choose from, whether you fancy a quick and easy route or something a little more challenging. Take your pick from the grassy slopes of Ditchling Beacon, the woodlands of Stanmer Park, or Devil's Dyke, a 100 metre deep V-shaped valley. Whichever you choose you'll be rewarded with fresh air in your lungs and breath-taking views of the surrounding green countryside. Don't forget to pack a picnic.
Where to stay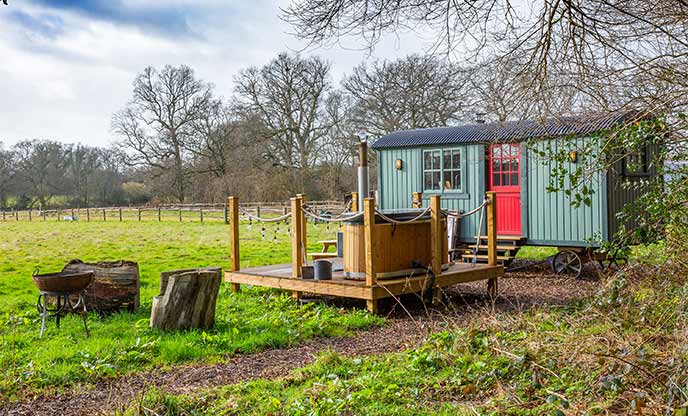 If you're looking for a one-of-a-kind place to stay nearby, take a look at our hideaway collection in Sussex. You can find more inspiration for things to do in the area in our Days Out in West Sussex blog post.