Circular walks in Devon
Penned on the 27th January 2022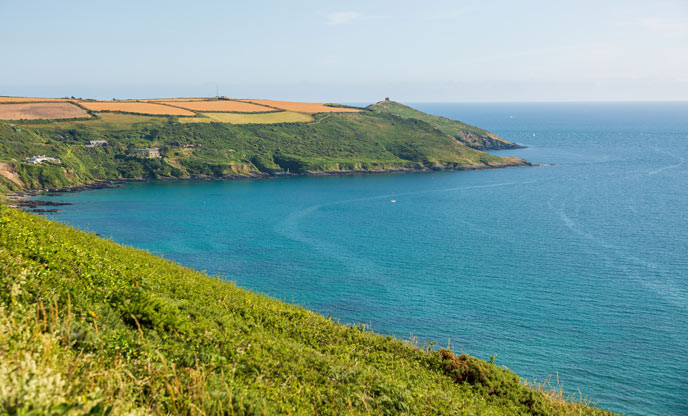 There are plenty of cliff top rambles to be had on the southwest coast path, as well as wanders across rugged moorland, through enchanting forests and around characterful towns and villages. We've gathered some of our favourite circular walks with a variety of terrains, distances, points of interest and views, so there's something for all abilities. Some are well-trodden popular trails and some are lesser-known gems - but all showcase the breadth of beauty that Devon has to offer
Difficulty: Moderate
Distance: 7.5 miles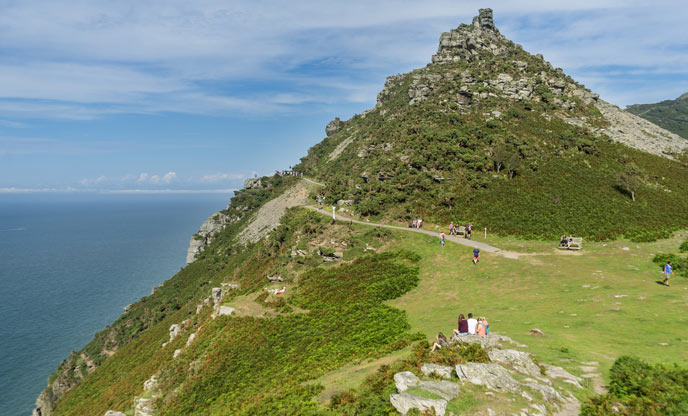 This breathtaking hike takes in two of Exmoor's most beautiful features, the Valley of the Rocks and Watersmeet. It starts and finishes in the port of Lynmouth, where you'll park up and walk up to the town, Lynton - or you can take the charming Lynton and Lynmouth Cliff Railway, the highest and the steepest totally water powered railway in the world, built-in 1830.
From there the pathway leads you to the spectacular Valley of the Rocks. The steep, craggy cliffs and boulders on this section of the walk provide a terrain that's not for the faint hearted - but if you can brave it you'll be rewarded with phenomenal ocean views. And you might even spot the area's famous wild goats!
The inland part of the route takes you through a dramatic river gorge and ancient woodland to Watersmeet, where there are picturesque waterfalls to discover. There's a National Trust tea room too, to pause and enjoy a hot drink and cake before you loop back.
Get the OS Map route here.
Difficulty: Moderate
Distance: 4 miles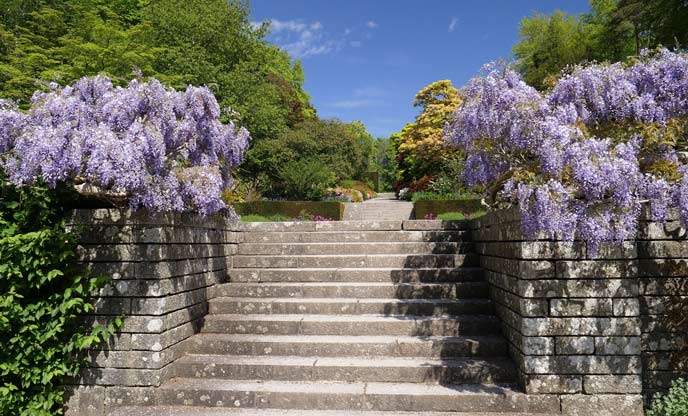 Image: Castle Drogo National Trust Facebook.
This wonderful walk through Teign Gorge near Chagford is perhaps the most famous in Dartmoor National Park. It starts and ends at the picture-perfect Fingle Bridge Inn, where there's plenty of parking space and a pub garden looking over the river. From here, there's a steep ascent to the top of the gorge up to The Hunters Path (not suitable for pushchairs or elderly trekkers). The climb is well worth the effort for the astounding views over the valley along the winding River Teign, especially in autumn when the treetops create a blanket of red and gold.
Signposts along the well-defined paths will direct you to Castle Drogo, the last castle to be built in England, now a National Trust property with a visitor centre and cafe if you fancy a short diversion and a little refreshment. Or, of course, there's the pub garden at Fingle Bridge to rest your legs and quench your thirst before you head home. To make sure all your ambles include the perfect pitstop, read our guide to Devon's best pubs.
You can find a full description of the walking route here.
Difficulty: Easy
Distance: 2.5 miles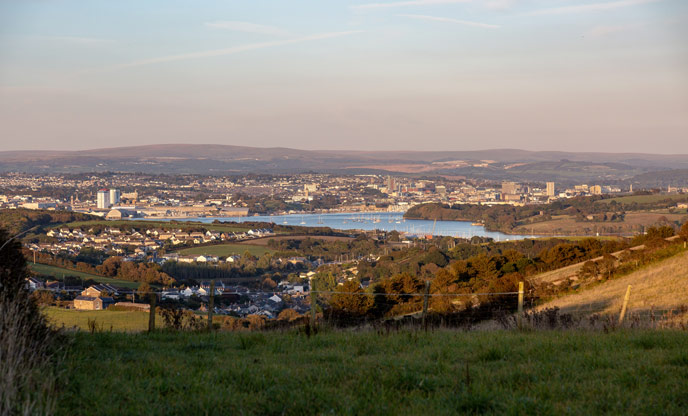 For a waterside wander in the city, head to Plymouth Sound. This gentle meander bypasses all sorts of heritage maritime features and sites of interest, including the Mayflower Steps where the Pilgrim Fathers left for the Americas, the striking Tinside Lido, one of the UK's finest outdoor swimming pools built in 1935, and Plymouth's iconic red and white striped lighthouse, Smeaton Tower.
Start at the National Aquarium museum (the nearest parking is at Sutton Harbour Car Park) and make your way along the seafront, going inland when you reach the Barbican. In this historic area of the city, you'll find ample characterful shops, bars and restaurants along cobbled streets - as well as the famous Plymouth Gin Distillery, if you'd like to tie in a little gin tasting tour with your city walk!
Difficulty: Moderate to challenging
Distance: 3.5 miles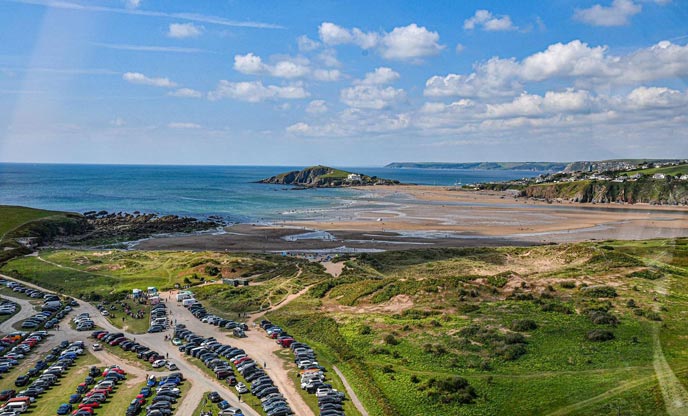 Image: Bantham Devon Instagram.
On this ramble between the unspoilt bays of Bantham Beach and Thurlestone Sands, you'll encounter old haunts of saxons and smugglers, as well as incredible views of Burgh Island and Thurlestone Rock, two of South Devon's most well-known and striking landmarks. With the glittering sea on one side and rolling countryside on the other, the route takes you along the southwest coast path and then inland through a mix of green fields, footpaths and roads. The terrain is mostly even, although there are a few steeper climbs and stiles to navigate!
You'll pass through the quaint coastal village of Thurlestone, so once you've worked up an appetite you can stop for a break and some hearty pub food at The Village Inn. There are parking and toilet facilities at the starting point and finishing point at Bantham Beach, as well as in Thurlestone.
See the full route and description here.
Difficulty: Moderate
Distance: 6 miles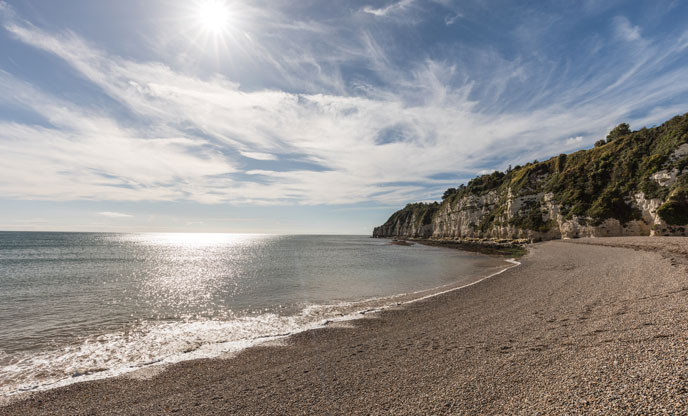 This loop trail near Seaton starts in Beer, a tiny seaside village sheltered by chalky white cliffs on the Jurassic Coast. This stretch of coastline is renowned for its beautiful landscape and geological and historical interest, so it's wonderful to explore by foot. The walk takes you along the southwest coast path to staggering cliffs with stunning ocean views. Be aware that the trail can be steep and uneven at times.
When you arrive at the picturesque village of Branscombe, believed to be the longest village in the country, be sure to stop for a coffee and cake at The Sea Shanty Beach Cafe before you circle back.
There are several car parks in Beer, as well as toilets, shops, cafes and restaurants if you'd like to spend a little longer exploring the area after your walk.
Take a look at the route here.
Difficulty: Moderate
Distance: 3.5 miles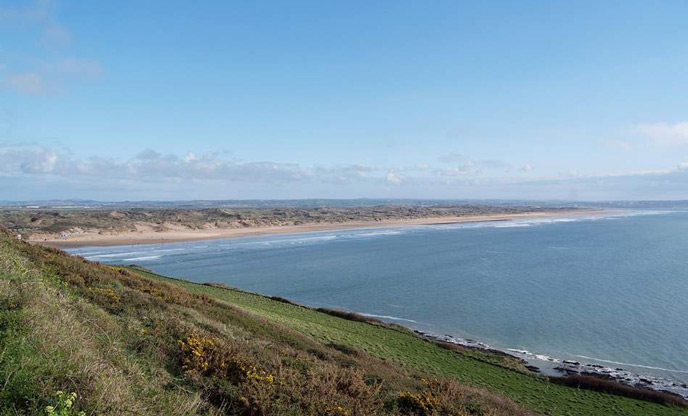 This fantastic coastal walk starts off on the Tarka Trail, North Devon's famous 180 mile, figure of eight shaped route of foot paths and cycle paths, traversing the unspoiled countryside, dramatic sea cliffs and sweeping golden beaches. (View our guide to Devon's best sandy beaches here.) The pathways on this route are narrow and include some steps and ascents, but they're generally even underfoot. Watch the surfers from the cliffs at both Croyde and Saunton, two of Devon's best surfing beaches, and admire the vast wild dunes at Braunton Burrows before heading inland back towards the village of Croyde. The Thatch, a popular pub with locals and visitors alike, is the perfect place to stop for some post-walk refreshments - and there's plenty of indoor and outdoor seating so you can stay for a while, whatever the weather.
If you need a pitstop mid-route, you'll find toilets and the Beachside Grill restaurant at Saunton Sands too.
Take a look at the map and a more detailed description here.
Difficulty: Challenging
Distance: 9 miles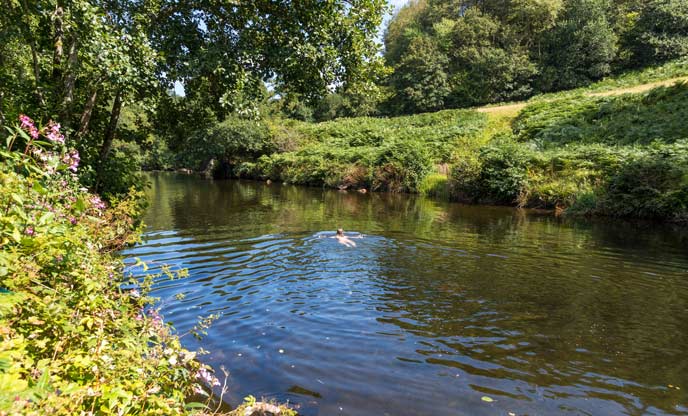 Hidden in a wild, rugged valley on Dartmoor, this undulating hike is definitely one for more experienced walkers. There are even a few points where you might want to take a compass to stay on track with the directions! The adventurous journey follows historic leats, steep-sided riverbanks and imposing boulders, with flora and fauna to discover at every turn and breathtaking views of the landscape. You'll see several of Dartmoor's iconic tors along the way (there 160 in the National Park in total!) and as you come to the end of the walk you can proudly survey the dramatic valley you walked up earlier.
There's a car park at the starting point at Lanehead, but be aware that this walk is in a remote location, so you'll need to take your own food and drink. It's certainly a lovely spot for a long picnic and a rest anyway.
Difficulty: Moderate
Distance: 4.5 miles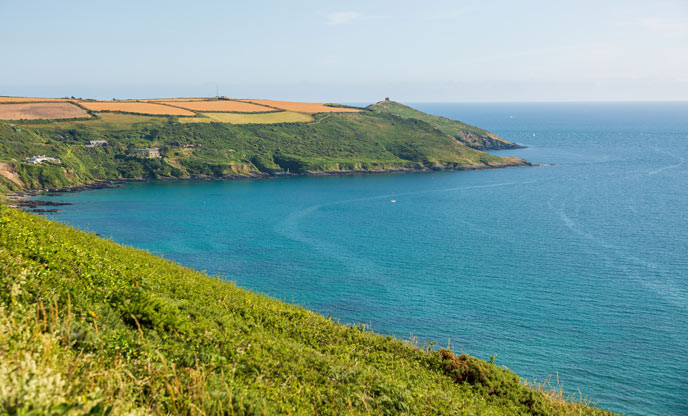 There is no end of beautiful scenery on this South Devon walk, from towering cliffs, headlands, and ocean views to quaint winding lanes. The circuit starts and ends at Hope Cove, an old fishing village with a relaxed vibe and a history of smuggling and shipwrecks. As you make your way up the well-trodden path towards Bolberry Down, the sweeping views extend beyond Rame Head near Plymouth, and well into Cornwall. The pathway is fairly accessible and easy underfoot but there are a few long ascents to reach these views, as you might expect.
As you go inland the countryside lanes are lined with hedgerows that bloom with a mass of wildflowers in the spring.
There's a car park and toilet facilities at Outer Hope, plus several cafes and bistros to choose from to enjoy a fresh seafood platter or a crab sandwich.
Take a look at this Hope Cove circular walk here.
Difficulty: Easy
Distance: 2.5 miles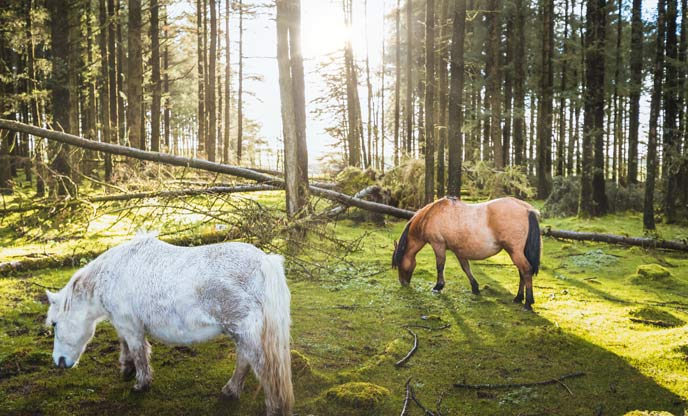 Dartmoor is famous for its moors and tors but lesser-known are its beautiful wooded valleys and stunning forests. Bellever Forest near Postbridge in Dartmoor is one of these hidden gems and an enchanting place for a walk. It's a beautiful and tranquil setting near the River Dart, with Dartmoor ponies roaming in the wild landscape and grazing the forest. There are several trails to choose from, depending on your ability and the distance you'd like to walk - the Bellever Trail is perfect for those wanting an easy, gentle stroll and mostly surfaced forestry tracks. It's suitable for wheelchairs and pushchairs too.
Car parking is available at the forest, as are toilet facilities. There's a picnic area too, so why not bring along lunch and enjoy a few peaceful hours amongst the trees after your walk?
Find out more about Bellever Forest here.
Where to stay in Devon...
From cosy cabins to luxury yurts, we have a wide range of magical glamping hideaways to choose from across this beautiful county. Take a look at our handpicked collection here. And don't forget your walking boots!