Cabin Life | Into The Woods
Penned on the 12th March 2020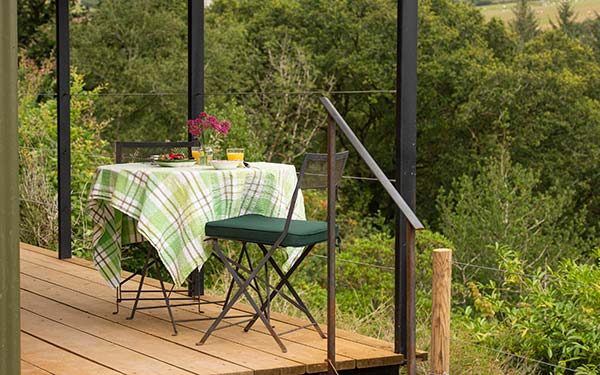 When you go into the woods today… yes I know that's not how the song goes, but it is how you should interpret it from hereon in. Cabin Holidays are on trend for good reason.
There's a romantic mysticism about the lone woodcutter living in the forest, his hand-hewn hut filled with hunter-gatherer spoils and deerskins by the fire. Maybe it's that and our rampant imaginations that makes the idea of a cabin holiday in the middle of a deserted forest seem so appealing. The reality is surely not so…romantic? Well we shall see! I state to no-one but my cat as I stuff another pair of cosy cabin socks into my backpack, ready to embark on my not-so-remote, but just as cabiny, cabin holiday. I want all the adventure, the outdoors experience and the natural environment as I can get, but I don't want to be cold, wet, miserable or scared while doing so. So Into The Woods it is.
"Best to take the moment present
As a present for the moment"
― Stephen Sondheim, Into the Woods
Fresh air, peace, quiet and a completely chilled-out atmosphere are what's on offer alongside a plethora of butterfly photos and macroshots of pretty wildflowers. Yep, sounds good to me. I'm already creating pinterest boards of foodstuffs to eat al fresco on that deck, nibbles that work well when you're sat in a swinging chair and wondering how long a large box of wine will last so I don't have to get up while the sun sets in front of me.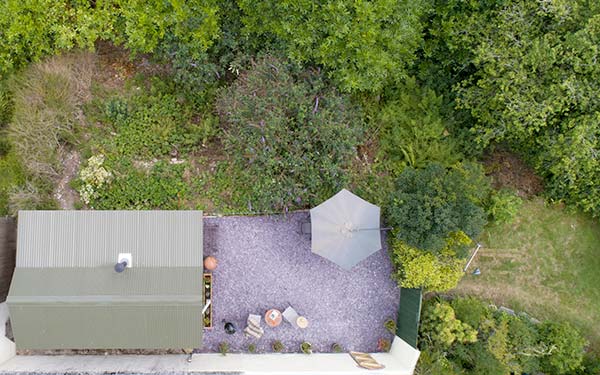 I love that you arrive at the parking area and then have to go through a small doorway in a wall opposite to find the cabin – it makes it feel like The Secret Garden. I'm immediately enveloped in gorgeous greenery, the side of the cabin blending beautifully with its dark green organic exterior clad in hand-cut cedar shingles. It nestles in the corner as if it grew here, perfectly positioned to look out over the woodland and rolling countryside.
There's that swingseat – I don't even bother with the suitcase, just boil the kettle and plonk down in the late afternoon sun with a book and a blanket to recover from the journey (all of an hour in the car). Cuppa consumed I remember the food slowly sweating in the boot so I sort out the shopping, unpack the packing and survey my surroundings properly. This place is vintage meets modern day craftsmanship – it is beautifully made, cleverly designed and furnished in a pretty country style that suits this little corner of north Cornwall.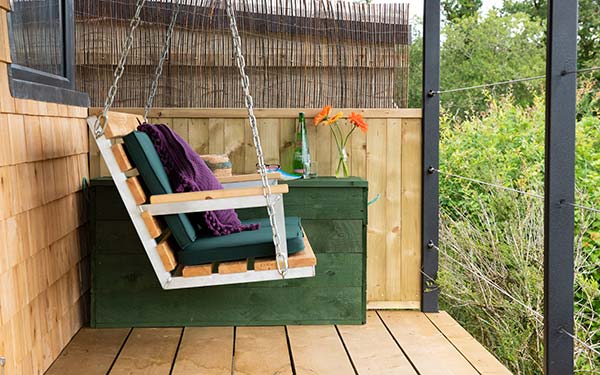 I starfish on the bed, stretch out and breathe deep – the dual aspect windows framing my feet make me feel right at home in nature, but protected from the elements – exactly what I was after. My hands reach up behind my head to take in the smooth warmth of the wooden headboard but my fingers feel grooves and channels. I contemplate my Braille reading skills and realise I need to use my eyes to work this one out – the huge wooden headboard is engraved with a bespoke fairytale 'Into The Woods' theme!
I take my time to taking in all the little details that make this place instantly feel so welcoming. The off-centre pitched ceiling and white, wood-clad walls stop this little cabin from feeling small yet they've managed to fit in a lot of home-necessities – the little kitchen-area is so sweet but includes everything you need to survive, including cheese grater, scissors and egg cups.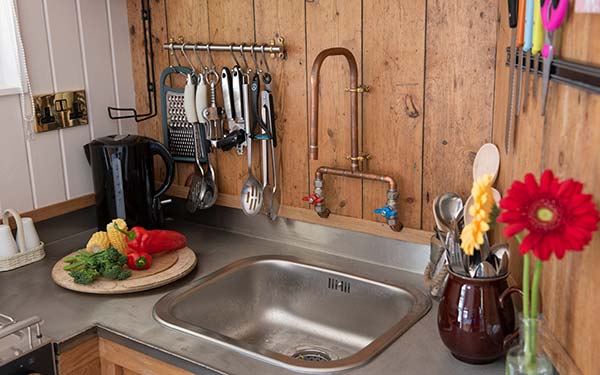 The light fittings are my favourites, the taps even more so – I start googling where they got them from to pin to my house renovation board. Turns out, of course, the plumbing was made by the tiny house maker who created this place. I need to make friends with him to help me with my house… I get briefly distracted by the pinterest board in my head and grand dreams of making these things myself before coming back to reality and realising it would take years before I got to this standard of quality carpentry and metalwork. For now I must simply revel in the aesthetic for my short time here.
My inner interior design mogul satisfied I go back to being ensconced on the swing seat, but this time fully prepared. The mini kitchen is perfectly equipped to whip up the nibbles/tapas I've chosen for the evening's eating and in no time I'm in an extremely happy place for the sun to go down as I do nothing but relax in the sounds and smells of the countryside – that cut grass/fresh air combo you just can't beat in the summer. I am disturbed from my book quite a lot though – my peripheral vision catching sight of a butterfly or bird that I must try to capture in HD quality on my camera phone – tricky while swinging on the swing seat and not scaring the creature in question…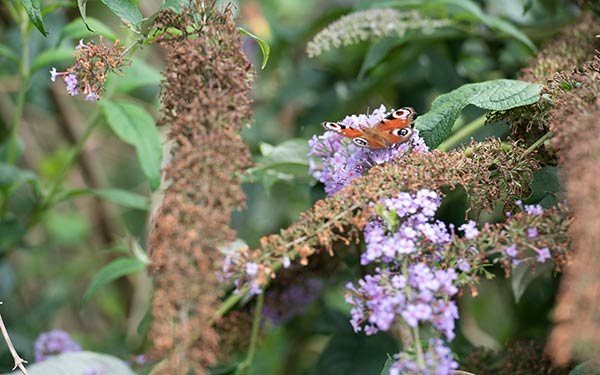 I finish the rest of my book in what feels like record time and all of a sudden it's time for bed. Nestled under that beautiful headboard, surrounded in rural bliss, I'm in for a good sleep filled with fairytale dreams. No, I have not set my alarm for the morning.
WOW – it's gone 10am when I wake, the sun streaming in from all sides, beckoning me outside but I can't move. I don't want to move. Hey, I don't have to move! I've found a place to stay that soothes my soul and my body isn't letting go easily – I am totally at one with the bed.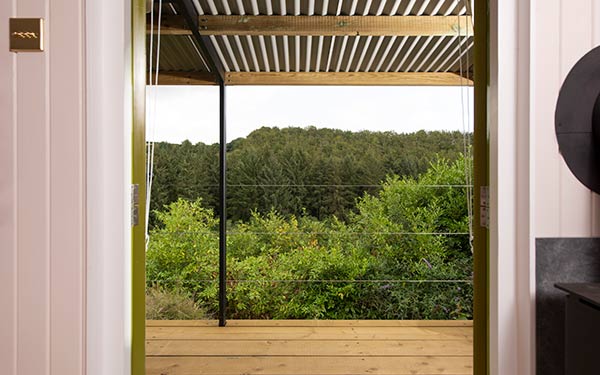 But I do eventually emerge to the chorus of birdsong and feel momentarily like I'm in a Disney movie and start humming to myself, 'if you go into the woods today…'. But what to surprise myself with? Indecision prevails over setting up the easel or starting another book so I shake myself up and go for a good stomp through the countryside for inspiration. By 2pm I am back, refreshed and resolute to stoke the coals and barbecue slowly all afternoon while whipping up a wild garlic pesto to go with my smoky grilled foodstuffs. While setting up my travel easel. While taking arty photos of wildlife. While thinking about the next chapter in my book. Wow, this relaxing lark is a busy game.
Two days later I've gotten in the groove of how to do nothing and everything at the same time. I've slept well, I'm satisfied with my reel of butterfly pictures, I'm barbecued out but I don't want to leave. But I must. And I must return – sooner rather than later to my new favourite wow place to stay.