Where oh where have I been? Captain Blake's Retreat
Penned on the 11th July 2019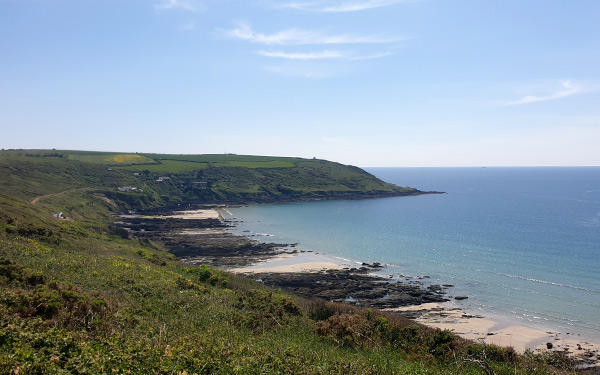 WHERE
Katie, Head of Marketing, jumped at the chance to visit Captain Blake's Retreat, having been to the site when it was but a shell and, having seen the glint in the Estate Manager's eye when talking about the project, knew the finished product would be a show stopper.
OH?
The finished product is a show stopper.
The location is second-to-none
No really, standing there will make your heart beat faster and blow your mind
The edge-of-the-world feeling
That view though
WHERE
Katie says;
'This is alternative accommodation on another level. The Rame peninsula was new ground for me so I was overwhelmed driving along the coast towards Freathy Cliff. It was truly a 'no words' moment – all I could mouth was, 'wow'.
I first visited the site when the services had been fitted and the structure made sound, but it was still a building site. I was trying to concentrate on the plans but I was too distracted by the location. I live in Cornwall, but I've never appreciated an edge-of-the-world, wind-in-your-hair, bubble of bliss like I felt standing on Wiggle Cliff. The building work faded into the background as I took in the openness in front of me, the beauty of the cliffscapes, the blue, the birds, the contented feeling. And that was while standing in a building site. It was only going to be better once the interior designer had done her bit.
And Helen didn't disappoint. The cosy, calm interior belies its clifftop location. You feel very safe and sound inside, with all the mod-cons you need and sumptuous soft furnishings. Just make sure you're prepared to wheelbarrow a food shop along the track and bed in for the duration – not that you'll ever want to leave.'
The first visit, distracted by the view when I should've been talking building progression: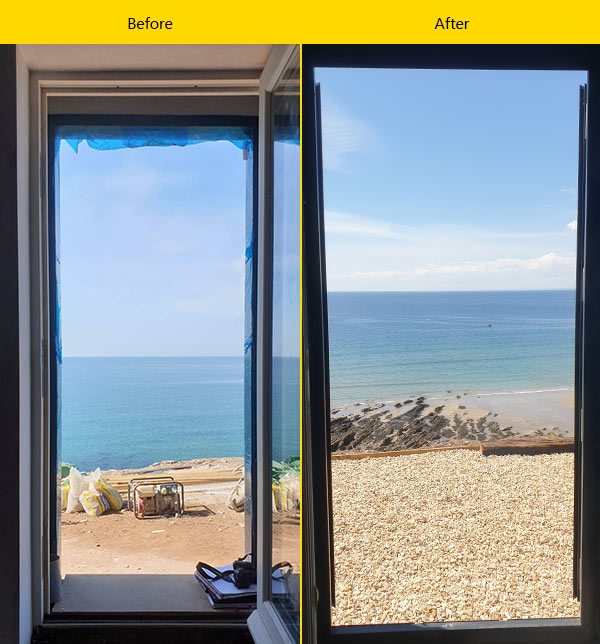 Two very excited glampers with Captain Blake's just visible between our smiley faces.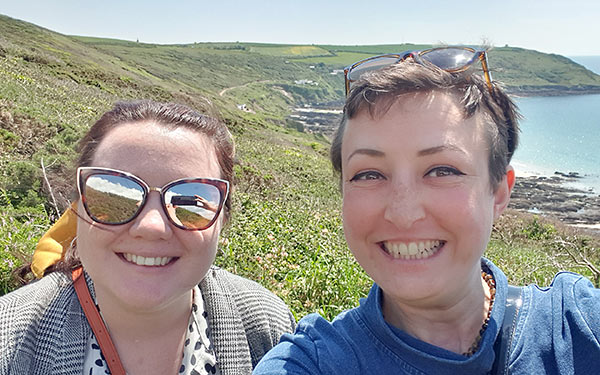 That view though.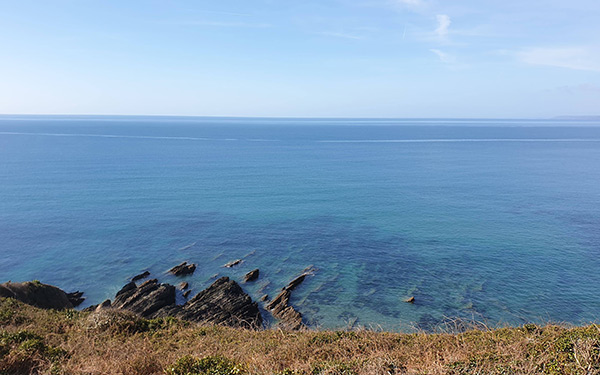 As you can imagine, it's been very popular, but find out more and reserve your stay at Captain Blake's Retreat.